SoundCloud is an audio streaming service that enables its users to listen to music and podcasts online. or upload, promote, and share audio. What makes it unique compared to Spotify and Apple Music, is that SoundCloud is also a community platform where users, creators, and artists can upload, promote, and share their audio.

How to download music from SoundCloud if you are listener? Can I download SoundCloud songs or playlists online? Fortunately, there are a few great online SoundCloud playlist downloaders to download MP3 music from SoundCloud for free. We will share the reviews about these tools. You can either look for the one you want to use in this guide.
Contents Guide Part 1. How to Download Songs from SoundCloud? (Official Way)Part 2. 2 Top Online SoundCloud to MP3 DownloadersPart 3. 3 Best Soundcloud Music DownloadersBonus: Best Spotify Playlists DownloaderTo Summarize It All
Part 1. How to Download Songs from SoundCloud? (Official Way)
SoundCloud for listeners has three plan tiers: Free, Go ($4.99 per month), and Go+ ($9.99 per month). The downloading feature on many music streaming platforms is usually restricted to paid users only, such as Apple Music. Luckily, SoundCloud is an exception. SoundCloud's users can download the tracks for free as long as the artist allows it. How to download songs from SoundCloud if it's allowed by the artist or uploader? Follow the steps below:
Step 1: Visit the SoundCloud website and sign in to your account. If you don't have a SoundCloud account, you need to create one to be able to download music from SoundCloud.
Step 2: Search for artists, songs, playlists, or podcasts you want to download.
Step 3: If you're allowed to download the song, you'll see the download option.
Step 4: Click the Free Download button, and the song will be downloaded to your device.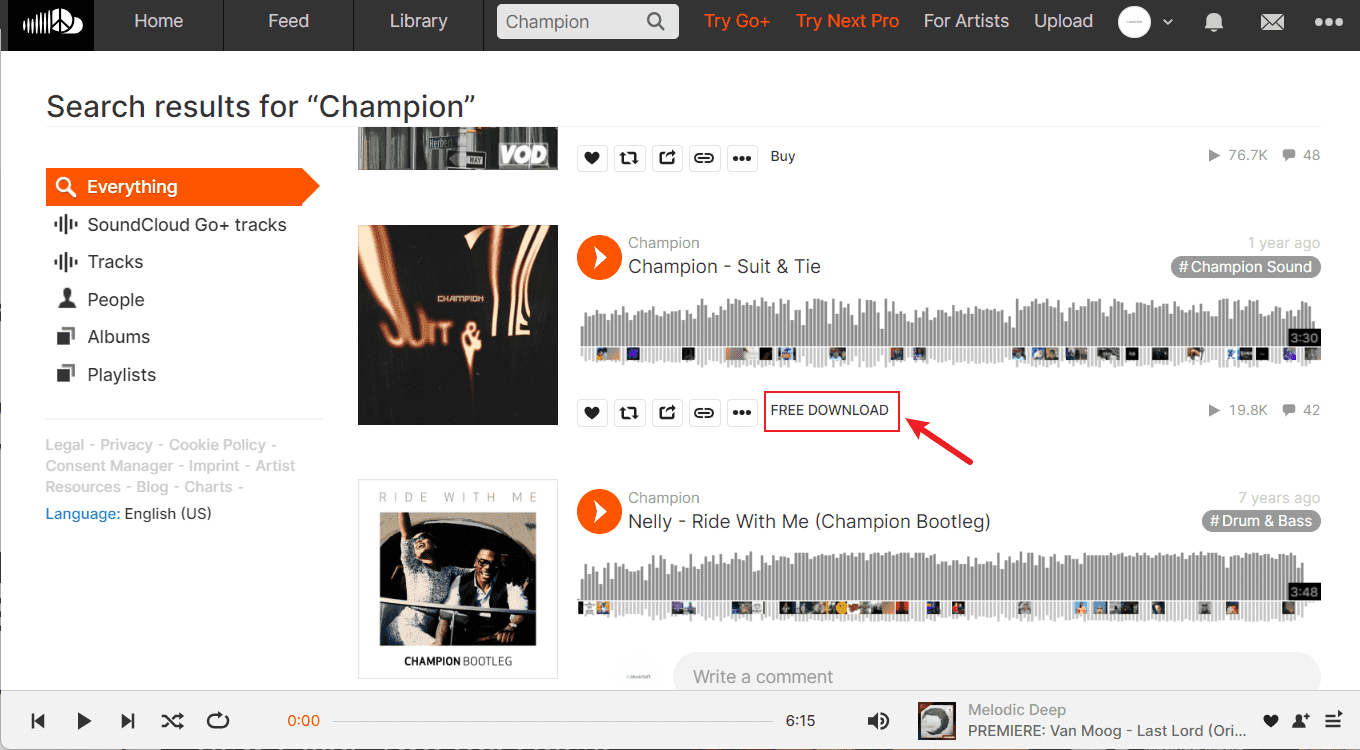 Although free users can download music, not all tracks are downloadable. If you don't see a download file button, it means the user who uploaded it did not intend for it to be downloadable. Moreover, only individual tracks can be downloaded and playlists as a whole are not available. The true power of the service comes alive with a paid Go or Go+ subscription. It is not possible to download a track from a mobile device. However, users with a SoundCloud Go or Go+ subscription can save content for offline listening on a mobile device. If you want to gain access to more tracks, you can try the best SoundCloud playlist downloader tools we've selected for you.
Part 2. 2 Top Online SoundCloud to MP3 Downloaders
Can you download music from SoundCloud online for free? Not all tracks on SoundCloud have download buttons, unfortunately. But there are free online SoundCloud MP3 music downloaders to download songs if you can't do it locally from SoundCloud. Here we share the best two.
Option 1. MusicVerter
The first free online SoundCloud playlist downloader you can try is MusicVerter. MusicVerter offers high-quality 320kbps MP3 audio files, which will retain the same quality as the original file on SoundCloud. This online SoundCloud downloader works on both mobile devices and computers.
How to download SoundCloud playlists to MP3 with MusicVerter? To begin, go to SoundCloud and find the song or playlist you wish to download, copy the URL of the SoundCloud song or playlist. Finally, open your preferred web browser and navigate to the official MusicVerter website, paste the link and click Download.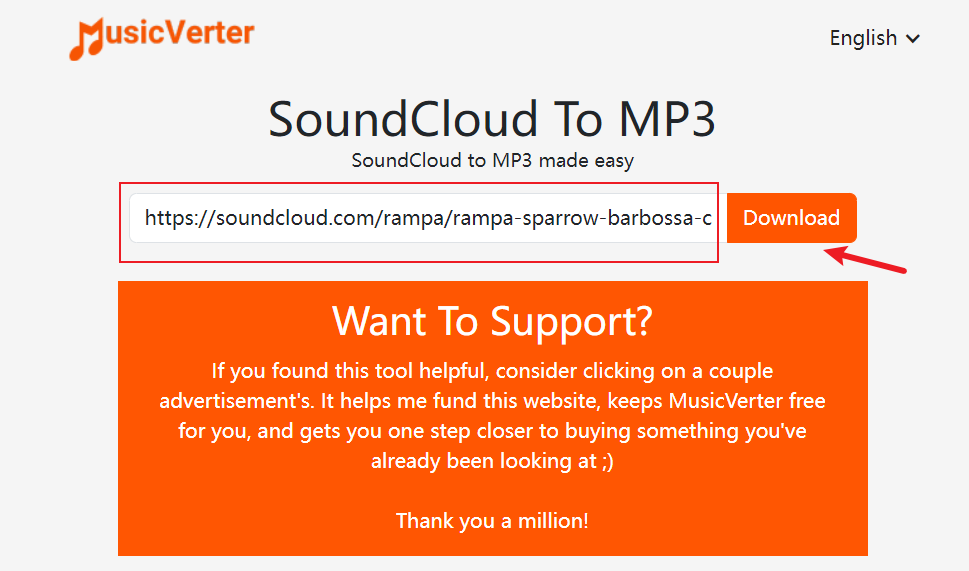 Downloading SoundCloud playlists to MP3 format using MusicVerter is a straightforward and easy process. But the drawback of it is that only supports MP3 output format.
Option 2. SoundcloudMe
Soundcloudme.com is another trustworthy free online SoundCloud playlist downloader. It offers a simple interface to operate it easily too. This online SoundCloud downloader tool can download and convert your favorite music and songs into MP3 format with just one click. Just insert the SoundCloud song link and the tool will do the rest for you. A slight shortcoming of it is that it contains ads on the main interface.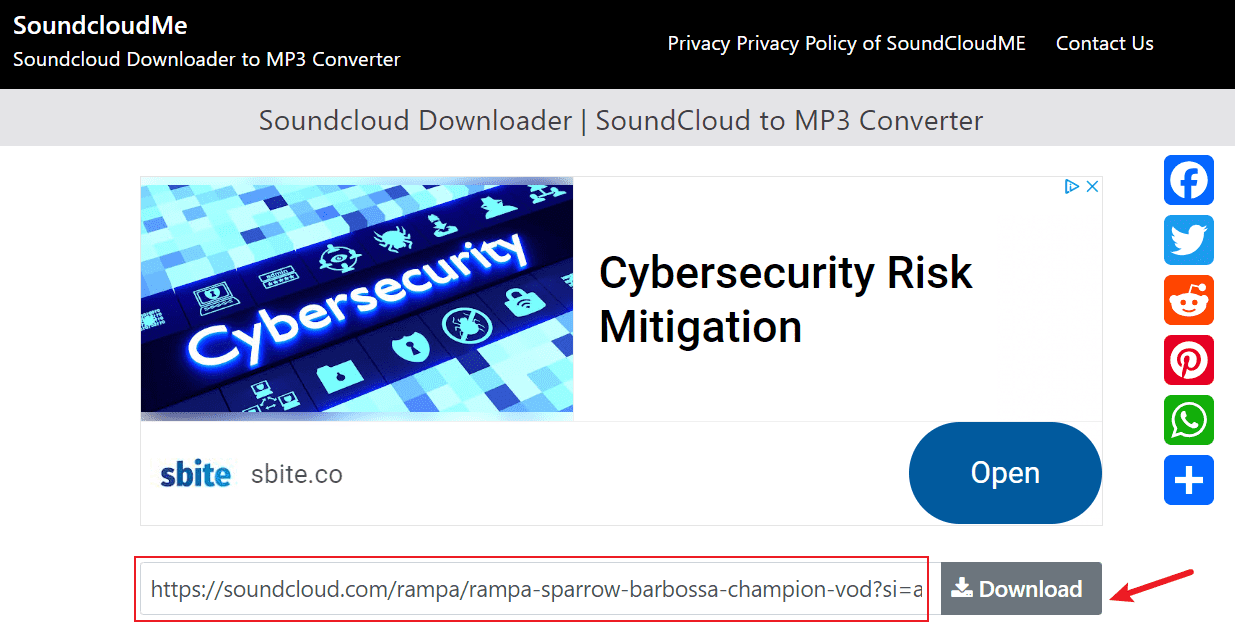 Part 3. 3 Best Soundcloud Music Downloaders
Most of online tools can't provide the best audio quality from SoundCloud, and they require a strong and stable network to finish the download process. Here are some of the best Soundcloud playlist desktop downloaders from which you can choose.
Option 1. Allavsoft
Allavsoft is one of the best SoundCloud playlist downloaders for downloading audio and videos from 1000+ websites like SoundCloud. It supports downloading music from Spotify, Deezer, Qobuz, and SoundCloud, to MP3, AC3, AAC, M4A, and many more. This tool costs 29.99 dollars monthly.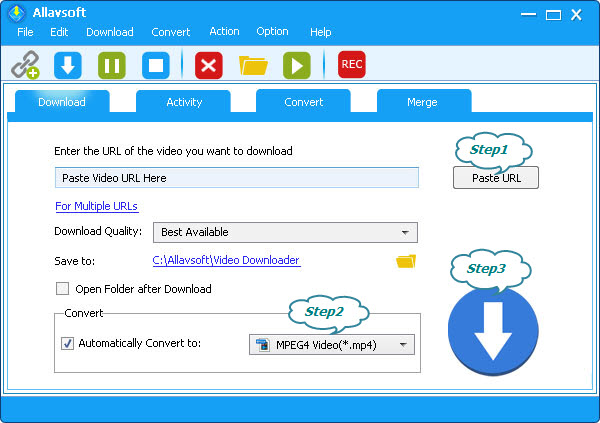 Option 2. SoundCloud mp3 Downloader Pro
Are you looking to download SoundCloud music directly from Android device? SoundCloud mp3 Downloader Pro is the perfect SoundCloud music downloader on the mobile device for you. Not only can you download songs directly to your device, but you can enjoy them on the go with the handy built-in music player. This app is only for Android users.
Option 3. YouTube By Click
YouTube By Click is a video downloader software that supports downloading videos from over 40 websites. Much more than just a regular YouTube downloader, you can also use it to download SoundCloud music to MP3. YouTube By Click is free. But, you can update it for 3 PCs for $19.99.
Bonus: Best Spotify Playlists Downloader
We have shared the best SoundCloud playlist downloader online or desktop above, hope they are helpful. SoundCloud only offers audio at 180kbps for streaming. Spotify's paid version offers music quality at 320 kbps, AAC. In terms of music quality Spotify is far ahead of SoundCloud. If you want to switch to using Spotify to play downloaded playlists with the best audio quality, you should transfer your songs or playlists to Spotify first.

To upload MP3 audio files from SoundCloud to Spotify, you should transcode the file into Ogg/Vorbis formats for its audio quality options via AMusicSoft Spotify Music Converter. If you want to transfer your songs from one device to another but you are worried that technical restrictions like Digital Rights Management (DRM) may hinder you, well this professional Spotify DRM Music Converter may be your lifesaver. It elicits DRM which lets you transfer your songs to any device you want. AMusicSoft can convert music from Spotify to MP3 and other popular audio formats, including MP4, AAC, WAV, FLAC, M4A, and more.
Get a 100% clean and secure Spotify music downloader by clicking the download button below! AMusicSoft will provide a free trial period to invite new users to listen to Spotify songs offline directly.

Download Spotify Music Without Premium via AMusicSoft
Step 1. Download the AMusicSoft Spotify Music Converter and install it on your Windows/Mac. Then log in to get into the web player right away. Search for the music you wish to listen to offline and drag them to the bubble plugin on the right side of the converter.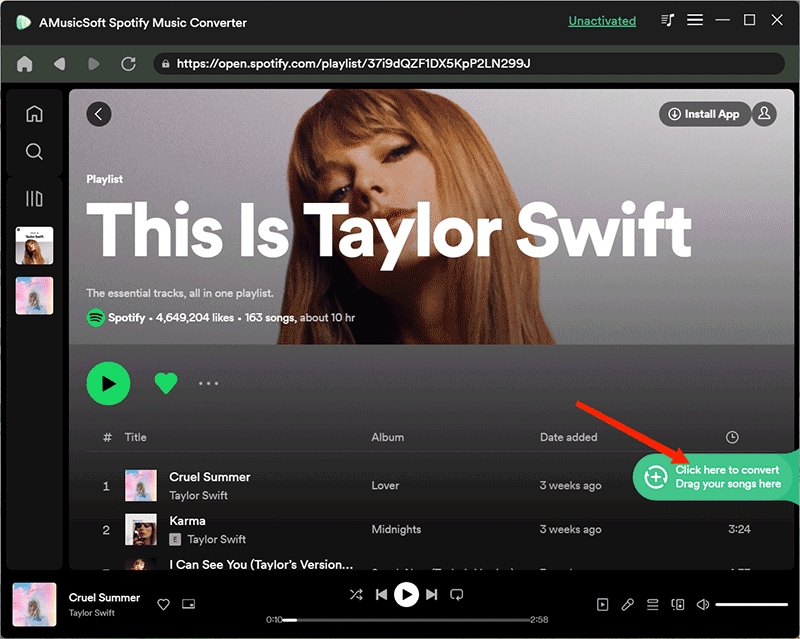 Step 2. From the supported output formats, you can choose one. However, the most recommended is to select the MP3 format as this is the most playable format among all. Also, choosing an output folder is also recommended. This will let you access the files easily after the conversion. This will let you access the files easily after the conversion.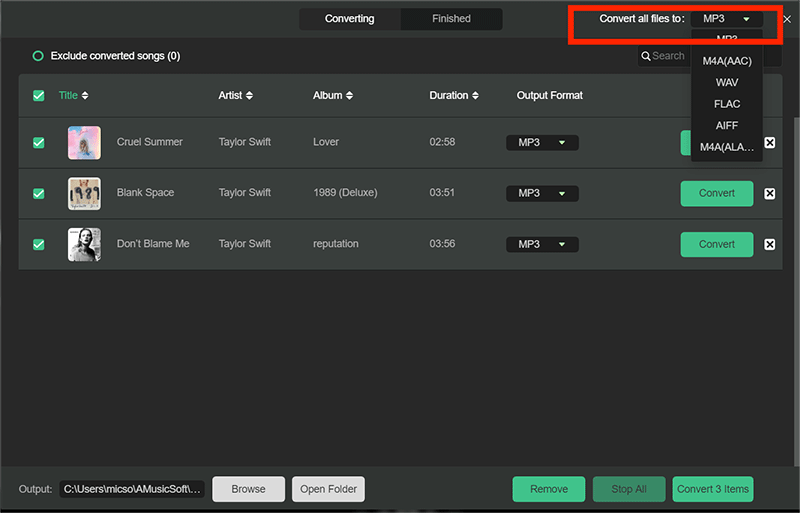 Step 3. Just click the "Convert" button to convert Spotify songs so that you can play Spotify offline without Premium. After completion, you can now see all those converted files in the defined output folder in Step 2.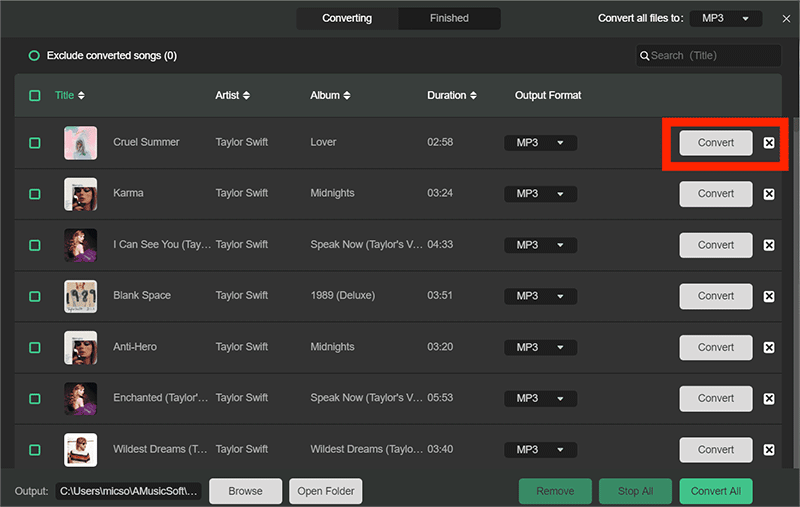 To Summarize It All
There are a lot of online music streaming sites today, it is such a huge help to be able to use tools such as Soundcloud playlist downloader and AMusicSoft Spotify Music Converter to download music for offline listening. The emergence of professional converters is a way for a lot of music lovers can be able to enjoy the music that they love without spending too much of their money and your time.