Audiobooks have been one of the great sources of knowledgeable facts people love to know these days. From history to general knowledge, to politics, and a lot more, Audible has a lot to offer. However, using or enjoying files that are in the Audible AAX format can also make you experience a lot of problems, especially if you are not using an authorized device to access such files. It may end up that you will receive a notification saying, the file format is not supported, especially when you try playing your AAX file using the VLC Media Player or any MP3 player. It simply means that the device that you are using is not compatible with the AAX file type.
In this case, you have to learn how to convert AAX to MP3 online. Aside from making it easier for you to carry out the burden or the inconvenience of dealing with compatibility issues, it is better to learn the proper methods to convert such file types. In this article, we will learn a lot of things about how to convert AAX files to MP3, we are going to dig into the steps and proper methods to follow to successfully execute the task. So, if you are eager to know things about the process, let us begin.
Contents Guide Part 1. What is the Best AAX to MP3 Converters?Part 2. Other Online AAX to MP3 ConverterPart 3. To Summarize It All
Part 1. What Are the Best AAX to MP3 Converters?
Audible AAX files are not accessible to any device or media player you want unless you own an Audible-authorized device. Due to the restrictions that this type of format has, listeners, will find it hard to listen to their audiobooks just anytime they want, but is there a way to fix it? Let us go into the different tools that we can use how to convert AAX to MP3 online. We have listed some of these tools that we can rely on, in case we have to collate our audiobooks in the MP3 format and have them played on any MP3 players that we have or we own.
AMusicSoft Audible Converter
In this part of the article, we are going to share with you a third-party tool called the AMusicSoft Audible Converter. This tool will amaze you in ways that you have never imagined. When it comes to efficiently convert our audiobooks to more versatile file types, this tool is the ultimate weapon. In order to be knowledgeable about the things that the AMusicSoft Audible Converter can cater to its users let us refer to the list that we have below.
Download and convert Audible books to MP3 and other the formats like FLAC, WAV, and M4A. The formats mentioned just now can all be easily accessed on multiple devices. It can burn Audible audiobooks to CD.
Get rid of the DRM in case you wanted to convert audiobooks from the Audible app.
Keep the original audiobook information. And you don't need to worry about losing the chapter information. The information will be preserved after conversion.
Allows users to play Audible audiobooks on Google Home or any device of their choice.
Save time. The tool can convert your audiobook files a lot faster than basic professional converters. You can have the outputs as fast as you need.
Enjoy listening to your loved audiobooks even when you do not have a stable internet connection, and there is no need for you to invest in the monthly fees.
The professional converter is also easy to use and has staple steps that you have to follow. We have also prepared a list of steps of how to convert AAX to MP3 online uisng AMusicSoft Audible Converter.
You have to make sure that you have downloaded and installed the tool on your personal computer. Then, you can open it to see what the tool can offer.
Once you have made your official tour of the app well, drag and drop the Audible books that you are planning to convert. You may also just choose and select them after hitting the Add File button.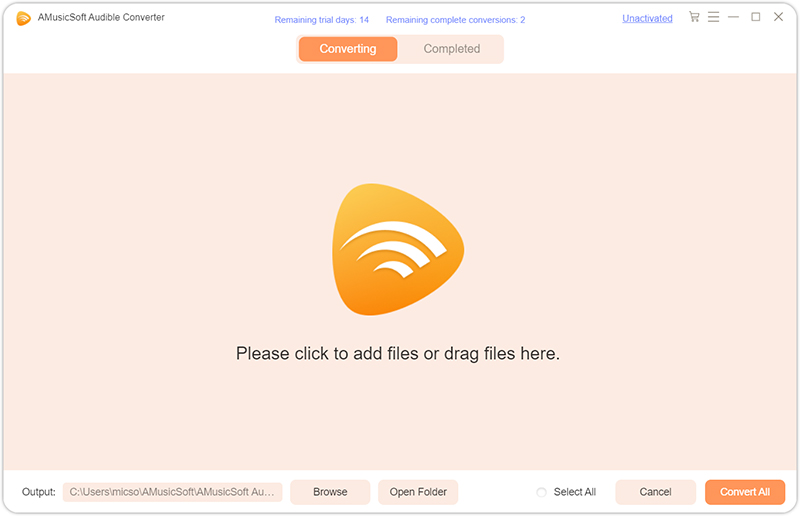 Select any format from the available ones and allot the end folder as well, where the converted audiobooks are to be saved afterwards.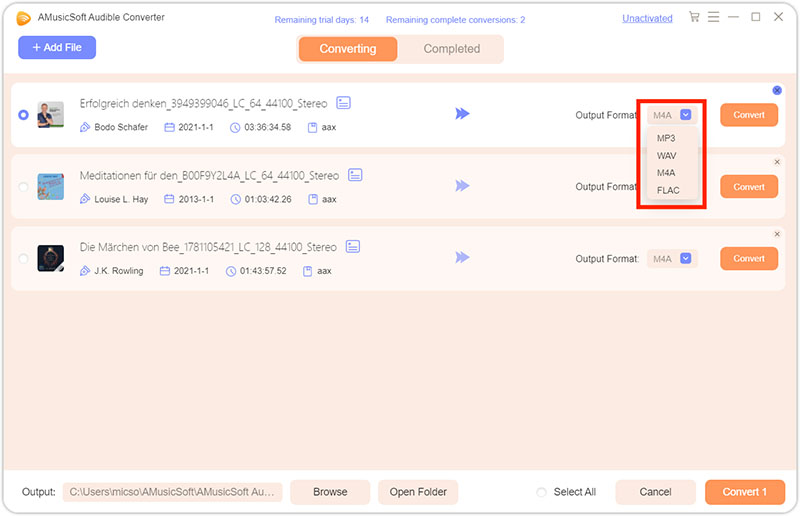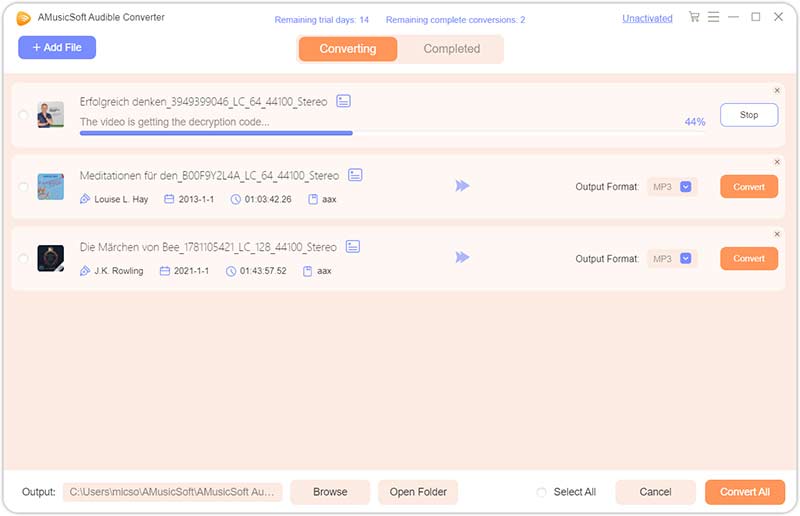 Audacity
If you're looking for recording music and audiobooks, it's tough to go wrong with Audacity. Audacity is available for Apple macOS Ventura, Windows, and Linux. This one is free, which is why it has become so popular with a lot of users. Through the use of this recording tool, you can record audios that you play on your computer. It is one way to record Audible books as MP3 in case you wanted to easily convert Audible audiobooks to MP3.
But Audacity's use of destructive editing is one of its major downsides. This feature means that any changes you make to your newly recorded track alter its original file, and you can't undo these changes later. On the other hand, if you use this audible file converter, and you are just a beginner, you might have complications using it since the interface is not simple, and it is difficult to compress output audio files as well. If you still want to use Audacity to convert AAX to MP3 online, here are the steps.
Set up devices to capture computer playback. Open Audacity, click on the "Audio Setup" button in the the top tooldock and click on "Audio Settings".
Choose your preferred Audio Host, Recording Device and Playback Device from the dropdown menus. On Windows, you can choose the "Windows WASAPI" Audio Host.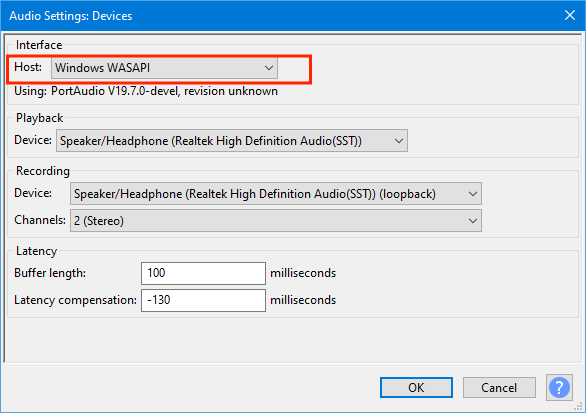 Software Playthrough must usually be turned off when recording computer playback. If playthrough is on, the audio interface will try to play what it is recording then re-record it, creating an increasingly loud series of echoes that may damage your equipment. To turn off Software Playthrough, choose Audacity Preferences> Recording > Software Playthrough (on/off) to conveniently toggle playthrough off and on as required.
Then you can now start recording the selected Audible audiobooks to the MP3 format. Press the red Record button in Audacity, then please play audiobooks that you'd like to download. and once the audiobook is finished tap "Stop" icon to save audiobooks recordings to your computer.

Part 2. Other Online AAX to MP3 Converters
If you do not want to install anything on your computer to convert AAX to MP3 online, we are going to discuss some online converter websites. You can just proceed to the official website of the app, and convert any file you have. The steps on how to use such an online tool are also easy. Everything that you have to do is reflected in the interface of the online tool.
Online Audio Converter
The tool is also free to use, and you can even do a lot of things with your audiobooks here. You can make your audiobook a ringtone for your iPhone, you can edit all the information of the track, and even change the bitrate, channel, sample rate, and a lot more. You can also add all your files for conversion directly from the local folder of the device that you are using, or from Dropbox, Google Drive, or even use a URL.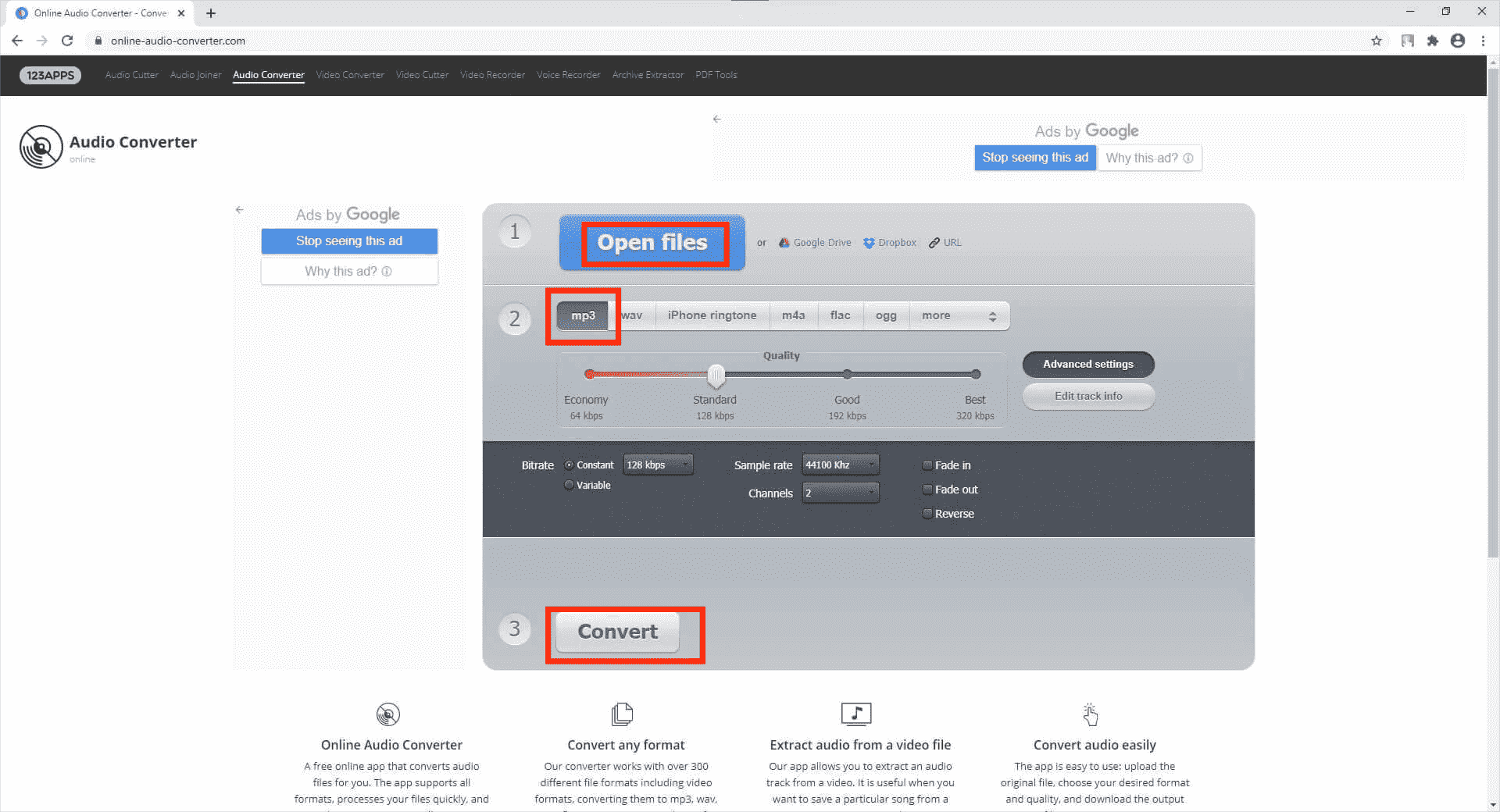 And even though it has a lot of good points, its downsides are very hard to deal with, when you opted to use this to convert AAX to MP3 online, you have to make sure that you have a stable internet connection so that the process will not be interrupted. You also have to take note that if your AAX files are from the Audible app, they are protected by Digital Rights Management or DRM, this tool can only be used for DRM-free files.
AnyConv
AnyConv is also a reliable file converter that works fluently to convert unprotected AAX audio files to MP3 format. Also with high compatibility, AnyConv can be used on all devices, including mobile phones, tablets, and so forth. People can get the files converted at any time when they need to. However, AnyConv is ad-laden and makes the page a bit annoying. Also, each uploading file cannot be over 100MB.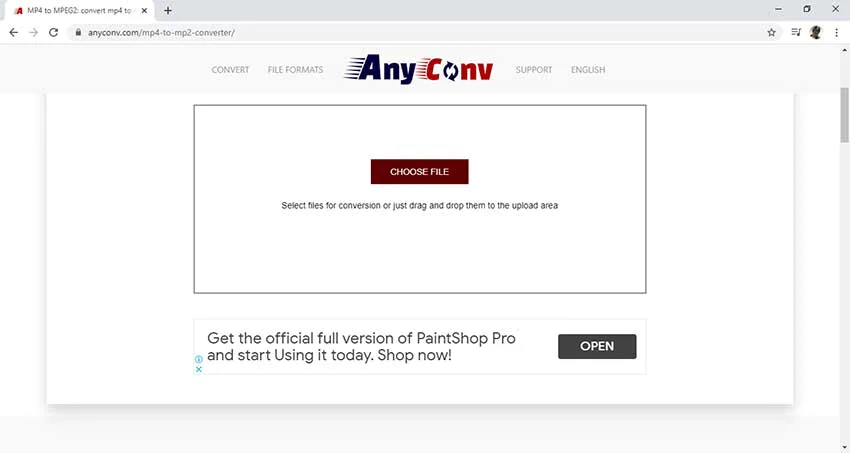 Part 3. To Summarize It All
We hope that we have helped you learn how to convert AAX to MP3 online. It is for sure that there are a lot of ways to do this, and we are so glad to share with you the most feasible tools that you can try to do it. But to convert the protected AAX audiobook files and enjoy unlimited audiobooks on any device, use AMusicSoft Audible Converter. Download to have a try and hope you have an enjoyable time listening to the audiobook you like.
Robert Fabry
Apple Music, Spotify, Amazon Music senior users. Share various tips and solutions.
Last updated: January 31, 2023