Read the best paid and free Apple music converter list here. We'll give you the details on each tool to help you select the one with the best features.
Apple Music is a streaming service in competition with Spotify. It allows you to listen to music anytime, anywhere. With this service, you can access a lot of songs from various artists globally. But, Apple Music tracks have DRM protection.
That's why you may be looking for a paid or free Apple Music converter. Apple Music cannot be played on a device not engineered by Apple. As such, if you own an Android phone or a Windows PC, you may want to listen to your Apple Music tracks.
And similar to a lot of people, you may want to remove the DRM protection from your Apple Music tracks. As such, we are here to help you do just that. We'll tell you the top tools and the steps to use them in order to be able to use your Apple Music tunes on another non-Apple device.
Contents Guide Part 1: How Do I Keep Apple Music Songs Forever for Free?Part 2: The Top Paid or Free Apple Music ConverterPart 3: How Do I Get Apple Music to MP3? Other Tools You May ConsiderPart 4: Conclusion
Part 1: How Do I Keep Apple Music Songs Forever for Free?
In order to be able to keep your Apple Music tracks forever without having to pay for a monthly or yearly subscription, you should remove the DRM protection from the tracks. In this way, you'll obtain copies of your Apple Music songs you can transfer from one device to another.
For this, you will need a paid or free Apple Music converter. These conversion tools typically remove the DRM protection of your Apple Music tracks and convert them from M4P to MP3. The latter file format is a popular one thus it can be played on any gadget or device available in the market.
A paid or free Apple music converter has its own advantages and disadvantages. Usually, a free converter has limitations. For instance, you can only remove the DRM and convert x number of music tracks for a certain period of time.
Thus, it is better to go for a paid rather than a free converter. This is true, especially if you have thousands of tracks to convert. However, if you're going to make sure you keep only one track forever then you should get a free Apple Music converter.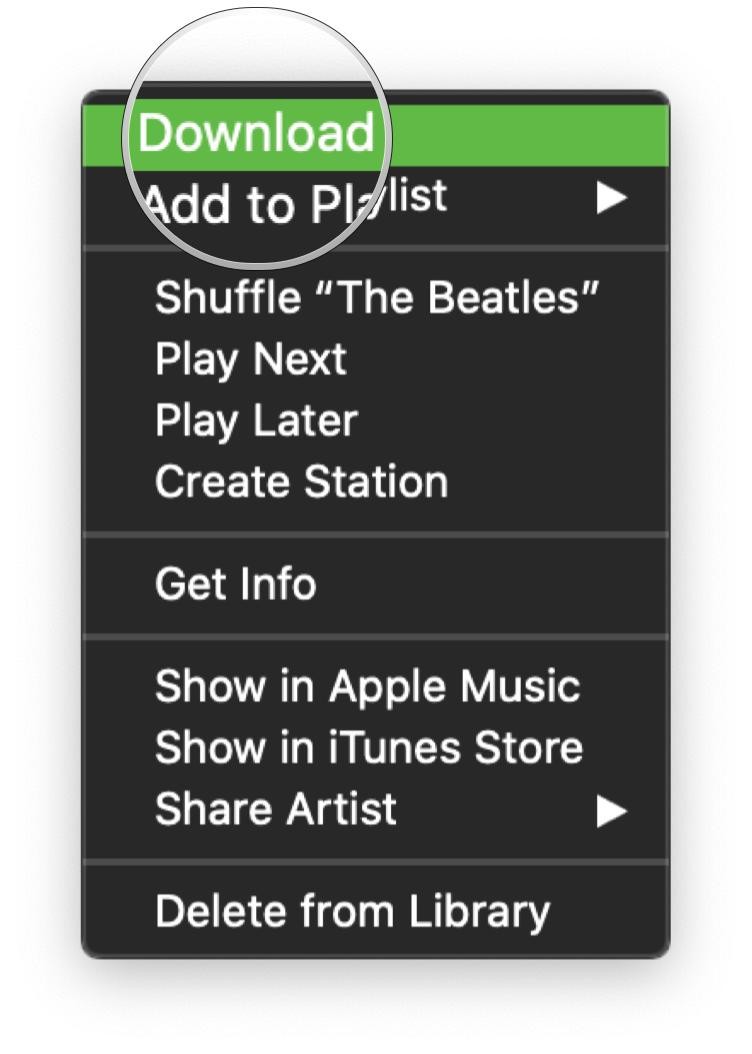 Part 2: The Top Paid or Free Apple Music Converter
The best way to get Apple Music tracks and convert them to MP3 is through AMusicSoft Apple Music Converter. Since you don't have the ability to play Apple Music on other non-Apple devices, you can use AMusicSoft to get the job going. In this way, you'll be able to play the tracks on non-iOS and non-macOS devices.
With this tool, you are able to convert thousands of audiobooks and songs from your iTunes Library. In addition, you can keep your Apple Music on other devices and you don't need to pay a monthly fee for it.
It supports a lot of formats including MP3, M4A, FLAC, AC3, AU, MKA, and a whole lot more. You can make sure that the ID tags of the songs are kept. And the loss of quality is not experienced when converting Apple music to MP3 (or other supported formats).
Here's how to use the tool to convert Apple Music to MP3:
Step 1: Download, Install and Launch The Tool
First, download the software from its official website. Then, install it on your Windows PC or macOS computer. Make sure you download the right version for your operating system. After that, launch the tool on your computer.
Step 2: Preview And Choose
From the main interface of the tool, you can preview the various Apple Music and iTunes songs that you have. Then, select the ones you want to convert.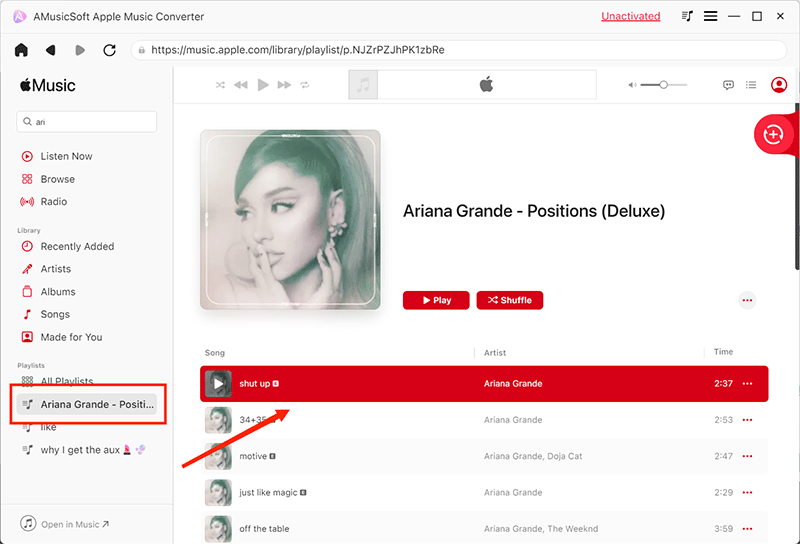 Step 3: Choose Output Settings
Now, select MP3 as the output format. You can modify other settings if you wish. Then, select a destination folder. This is where the newly-converted MP3 file will be saved.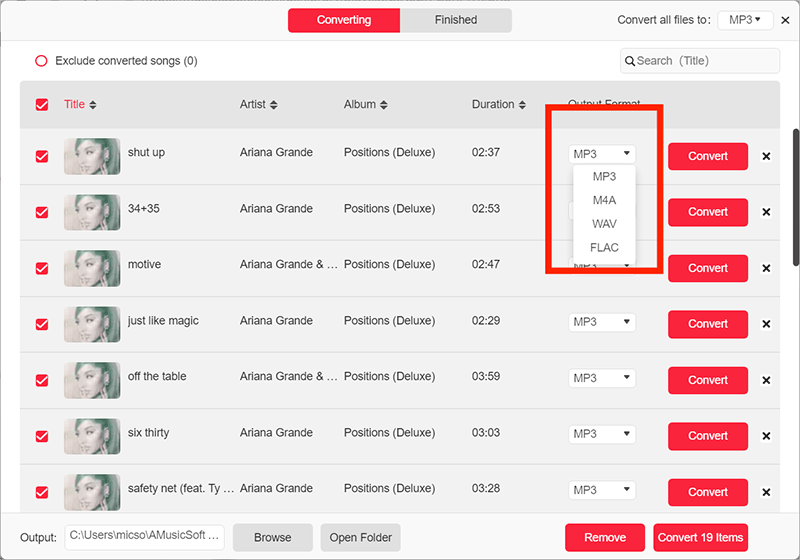 Step 4: Convert
Now convert the selected files by clicking the "Convert" button at the lower right corner of the interface. Once the conversion process is complete, you will see the MP3 file within the destination folder you set in the previous step.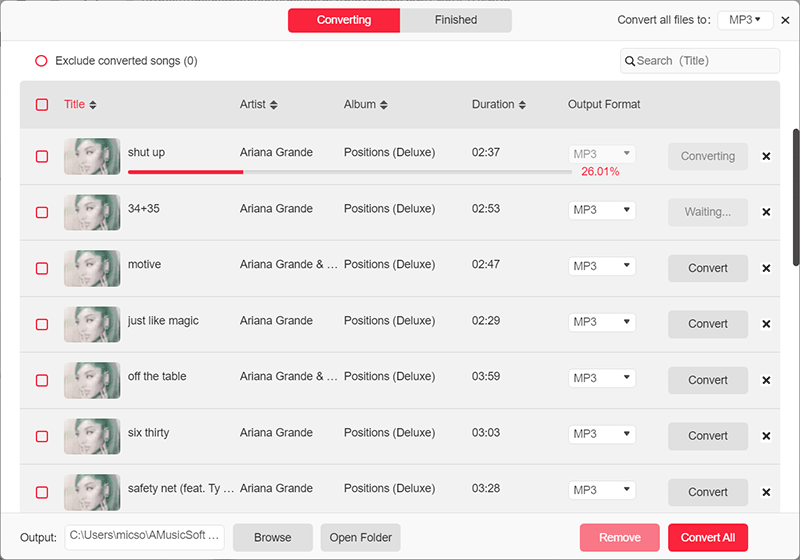 Part 3: How Do I Get Apple Music to MP3? Other Tools You May Consider
How do I convert Apple music to mp3? Our paid and free Apple Music Converter list will give you other options to consider helping you remove the DRM protection from your tracks. These tools can be used to convert Apple Music tracks you wish to that of the MP3 format. Let's get down to business with the list.
Tool 01: NoteBurner
NoteBurner is a brand that develops multiple tools for users. They have an iTunes Audio Converter that acts as a paid or free Apple Music converter. We say paid or free because they offer a trial of their product. You can also opt to purchase it for $39.95 to get more features from the premium version.
NoteBurner is a powerful tool that converts Apple Music songs and iTunes music in the M4P format. These formats can be converted to MP3, FLAC, WAV, or AAC. As such, the tool boasts of fast conversion speeds.
Quality loss is not experienced when using the tool. In addition, metadata are kept within the songs. Thus, you are sure that the title, artist, album, and track number details are not lost after the conversion process.
NoteBurner allows you to easily convert the files with its understandable, clutter-free interface. However, compared to other tools out there, it can only convert the Apple Music and iTunes track into four output formats.
Tool 02: Sidify
The Free Apple Music converter of Sidify contains limited features. That's why it has a paid, premium version that gives you more power, control, and flexibility over your conversion processes. The tool works on iTunes M4P tracks, Apple Music, and audiobooks.
You can convert your music tracks from its original format to the MP3, FLAC, AAC, and WAV file types. Original quality is kept including the ID3 tags. Added features include burning the Apple Music tracks to your CD.
Sidify takes it one step further by helping you upload and even share your music from Apple and iTunes. These can be placed on Microsoft OneDrive or Google Drive. As such, it has two versions, one for Windows PCs and one for macOS computers.
The website explicitly tells that Sidify is for home and personal use only because it is a home edition software. The output of this software is in excellent quality and the conversion speed is faster than normal rates.
If you purchase the software, you are eligible to get free updates from the team. Plus, you get to have technical support that allows you to ask questions if you encounter problems with their tool. The software is always kept up-to-date for use with the latest devices.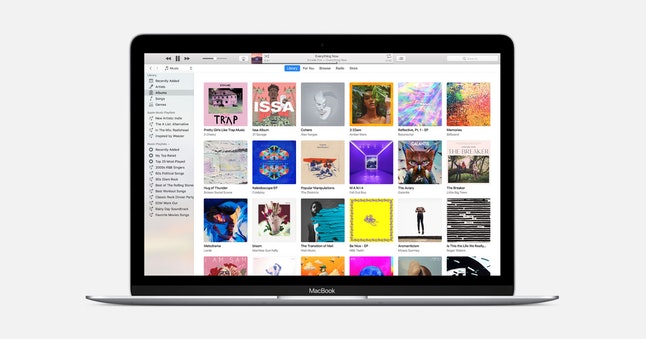 Tool 03: TuneCable
This Apple Music Converter is available for Windows PCs and macOS computers. Thus, you don't have to worry about what type of computer you have. It's specially developed in order to be used as a paid or free Apple Music Converter.
This tool can transform iTunes music to that of MP3, WAV, FLAC, or AAC. In this way, you can enjoy your music on other platforms and devices such as Windows, Samsung, Huawei, and other Android or Microsoft products.
Audiobooks can be converted with the tool as well. Fast conversion speeds at 10x the normal rate are offered by the brand. Batch conversion is also possible with TuneCable Apple Music Converter. All output formats are converted at lossless quality.
The interface is very user-friendly giving you the ability to keep data regarding the tunes safe. Upgrades are free after you have made a purchase. Plus, you can get tech support whenever you need it.
The tool is 100% secure and provides a 30-day money-back guarantee. If you're not satisfied with it, you can get a refund of your past purchase. As such, this tool is a contender on our list of paid or free Apple Music converter.
Part 4: Conclusion
Our paid and free Apple Music converter list will get you started with the right tools to convert iTunes and Apple tracks to the MP3 format. These tools are all offline tools since the conversion process is quite complex.
It is recommended that you opt for the one that suits your preferences. And, you have to ensure that you get the most bang for your buck. There are a lot of tools out there that don't perform well. Thus, you must test out their free trial first before purchasing outright.
The best tool to consider is AMusicSoft Apple Music Converter since it has a lot of supported output formats. In addition, it can convert not only Apple (or iTunes) music, it can convert audiobooks as well.
To get AMusicSoft Apple Music Converter, visit them here. The software will ensure that you can listen to your Apple and iTunes tracks on any device including Windows PCs and Android smartphones. But, what's the best thing about it? You get to try it for free. Get AMusicSoft Apple Music Converter today and never worry about your next subscription payment!