Welcome to the world of immersive music on the PlayStation 5! In this article, we aim to guide you through the exciting integration of Apple Music on PS5 console. With the combined power of Apple Music's extensive music library and the cutting-edge features of the PS5, you can elevate your gaming and listening experiences to new heights. Unlock the full potential of Apple Music on your PS5 here, allowing you to create the perfect soundtrack for your gaming sessions and beyond. Let's dive in!
Contents Guide Part 1. Integration of Apple Music and PS5Part 2. How to Set up Apple Music on Your PS5?Part 3. How To Fix Apple Music Not Working on PS5?Part 4. How to Listen to Music on PS5 Without Apple Music Subscriptions?Part 5. Conclusion
Part 1. Integration of Apple Music and PS5
A Brief of Apple Music
Apple Music is a music streaming service developed by Apple Inc. that launched in 2015. Apple Music has gained popularity due to its extensive library, user-friendly interface, and seamless integration with Apple devices. Users can access their music library, playlists, and preferences across multiple devices, allowing for a seamless and consistent music streaming experience.
A Brief of PlayStation 5
The PlayStation 5 (PS5) is a home video game console developed by Sony Interactive Entertainment, launched in 2020. It was announced as the successor to the PS 4. Not only does the PS5 offer 4K gaming, but it also has seriously advanced haptics, a speedy SSD and immersive 3D audio. All of these and more combine to deliver a console that's truly equipped for next-generation, or now current-generation, gaming.
PlayStation 5 Gets Integrated Apple Music
Gaming consoles have long had music streaming services, but not Apple Music. But Apple Music subscribers who also own a PlayStation 5 can now stream to their heart's content after the gaming console quietly rolled out a new integration for the subscription music service in 2021! Sony's PS5 became the first console to introduce an integrated Apple Music experience!
Apple Music on PS5 adds a new dimension to gaming by allowing users to immerse themselves in their favorite music while playing. Whether it's setting the mood for intense action sequences or providing a calming backdrop for exploration, the ability to customize the soundtrack enhances the overall gaming experience.

With Apple Music directly accessible on the PS5, users can easily switch between gaming and music without the need for additional devices or apps. The integration ensures a smooth and seamless transition between gaming and music streaming, eliminating the need to juggle multiple platforms. If you're done gaming, it's also possible to sit back and enjoy 4K music videos through your console.
Part 2. How to Set up Apple Music on Your PS5?
Setting up Apple Music into your PS5 is a straightforward process that can be accomplished through different methods. Here are three methods you can use to set up Apple Music on your PS5:
Step 1: Get Apple Music App on PS5
Are you looking to install Apple Music on PS5? Apple Music is now available as a native PS5 app. Find simple and easy steps below that will help you move forward:
Ensure that your PS5 is connected to the internet and turned on.
Click Media from the home screen display. Select All Apps.
Use the search function to find the Apple Music app.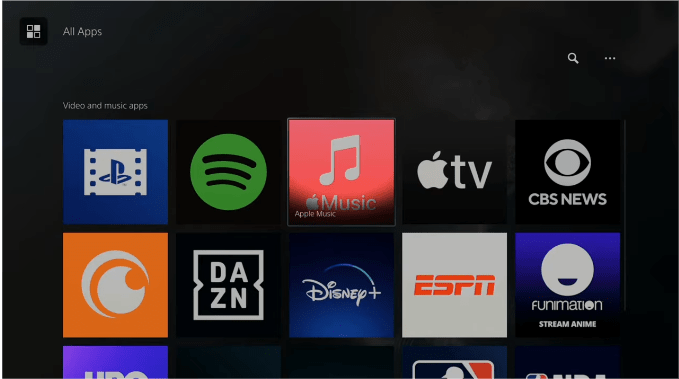 Once you locate the Apple Music app, download and install it onto your PS5.
Step 2: Play Music on PS5 While Gaming
How to stream Apple Music on PS5 during gameplay? Follow these steps:
After the installation is complete, navigate back to your PS5's home screen.
Look for the Apple Music app icon and launch it by selecting it with your controller.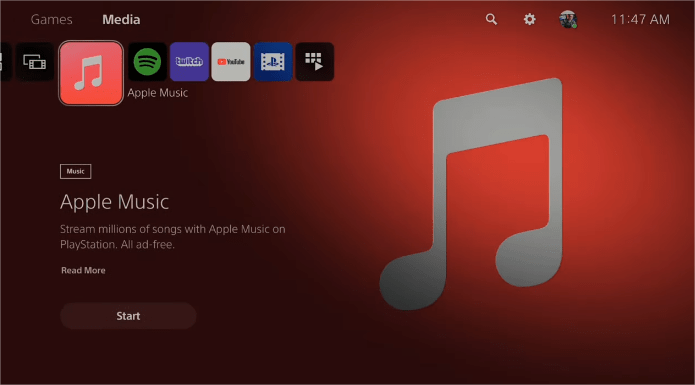 At this point, you will be prompted to sign in to your Apple Music account.
Use your Apple ID and password to sign in. If you don't have an Apple Music account, you can create one by following the provided instructions.
After signing in, you can pick your favorite songs to accompany your gaming sessions.
Start your desired game.
Press the PS button on the DualSense wireless controller during gameplay to access the Control Center and select the Music Function card.
Press the square button on your controller to pause and start track playback.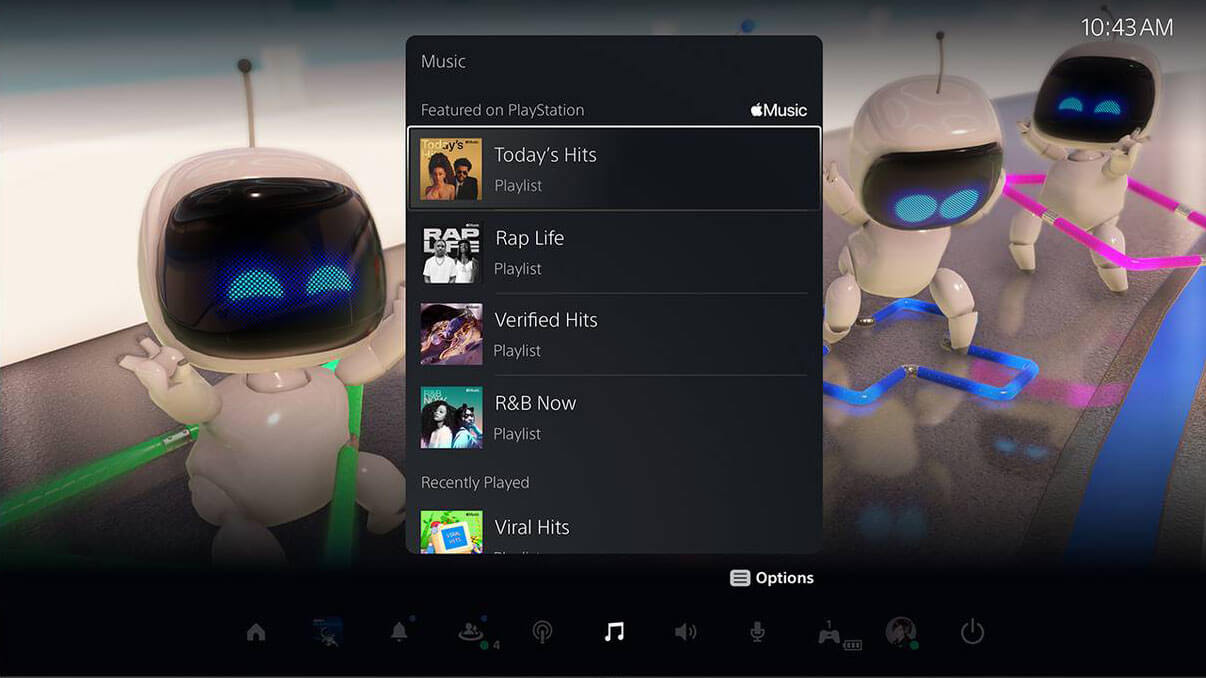 It's important to note that to access Apple Music's full range of features on your PS5, you must have a valid Apple Music subscription. Without a subscription, you may have limited access to certain songs or features. Ensure that your subscription is active and up to date for the best Apple Music experience on your PS5.
Part 3. How To Fix Apple Music Not Working on PS5?
Although Apple Music is also available on consoles, there are some issues with the app on the PlayStation 5. This part is therefore regarding some fixes as well as workarounds for Apple Music crashing on the PS5.
Check for Apple Music App Update
Updates usually bring better stability as well as performance enhancements. Therefore, you can update Apple Music on PS5 to the latest version to ensure optimal stability. In order to do this, you can find the "Apple Music" app in the Media section, you can click on the "option" button on your PlayStation 5 controller. Then, you can tap on the "Check for update" option looks for updates on your App Store.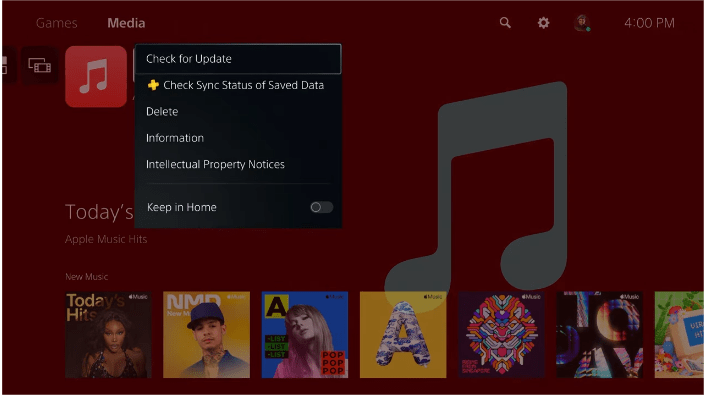 Check the Internet Connection
Ensure that your internet connection is stable. If using a wireless connection, try moving your PS5 closer to the router or connecting via Ethernet cable. Restarting your router or clearing the cache on your PS5 may also help.
Check Your Apple Music Subscription
Verify that you have an active Apple Music subscription associated with your Apple ID. Try renewing your subscription plan, then signing out and back into your Apple Music account on the PS5.
Part 4. How to Listen to Music on PS5 Without Apple Music Subscriptions?
As we talked about above, playing Apple Music on PS5 should keep an active Apple Music subscription. However, Apple is raising the price of Apple Music, Apple TV+, and Apple One since 2022. It is more expensive to pay for Apple Music yearly or monthly now. On the other hand, when the network is stuck or there is no network, it is a bit difficult to play Apple Music online while gaming. At this time, you should try to download music from Apple Music because PlayStation 5 console also can play video and music from disk and USB drives. Music file formats are supported on PlayStation 5 consoles that include FLAC, AAC, and MP3.
However, files downloaded from Apple Music are protected by DRM (Digital Rights Management) protection, allowing only authorized devices to play the content. Don't worry, you should try to use AMusicSoft Apple Music Converter. AMusicSoft Apple Music Converter is a powerful tool designed to help users convert their Apple Music songs into commonly used audio formats like MP3, AAC, FLAC, and WAV. It enables you to remove DRM from Apple Music tracks, allowing you to enjoy your favorite songs on any device or platform without limitations.
To make use of AMusicSoft Apple Music Converter, follow these steps:
Download and install the AMusicSoft Apple Music Converter on your computer. Launch the software and you will see a user-friendly interface.
Add Apple Music songs to the converter by clicking the "Add" button. You can select individual songs, entire albums, or even playlists to convert.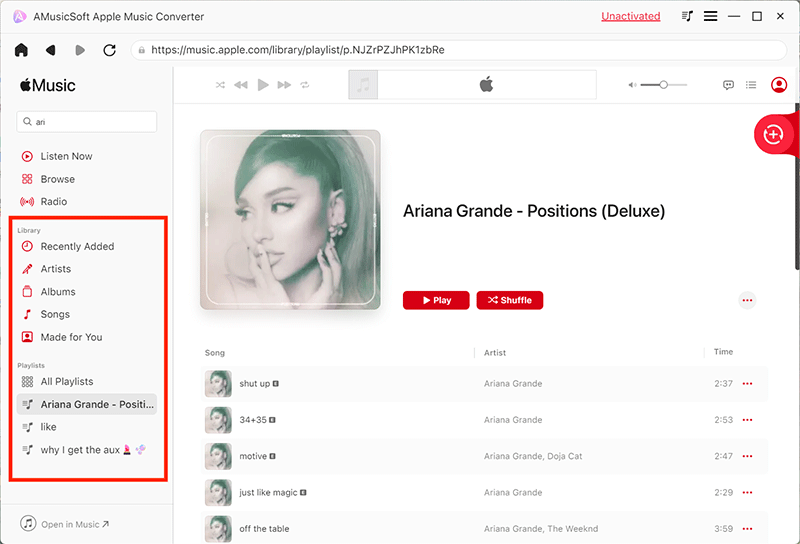 Customize the output settings according to your preferences. You can choose the output format, the output quality, and the output folder where the converted files will be saved.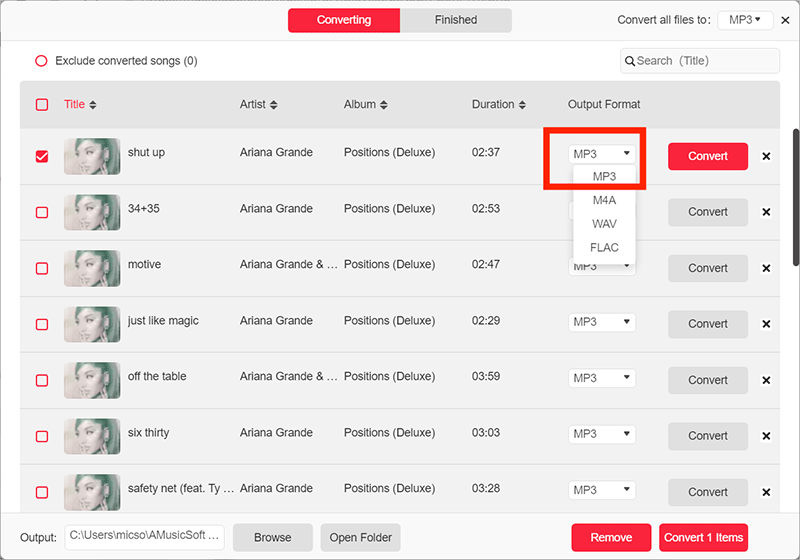 Once you have set the desired options, click the "Convert" button to start the conversion process.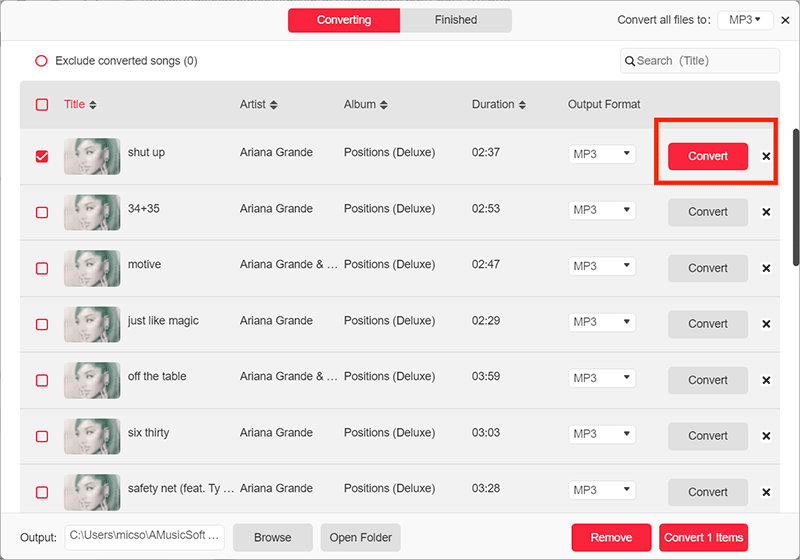 After the conversion is complete, you can locate the converted files in the output folder you specified earlier. Now, you can transfer the converted Apple Music songs to any device or platform of your choice, including MP3 players, and smartphones, or even burn them to a CD.
Part 5. Conclusion
In conclusion, playing Apple Music on PS5 brings the world of music seamlessly into your gaming experience. Remember to troubleshoot common issues, keeping your Apple Music subscription active for access to the full range of features. To enhance your Apple Music experience further, consider using a tool like AMusicSoft Apple Music Converter. By leveraging AMusicSoft Apple Music Converter, you can unlock more flexibility and convenience in enjoying your Apple Music collection.
Robert Fabry
Apple Music, Spotify, Amazon Music senior users. Share various tips and solutions.
Last updated: September 7, 2023