The fastest way to learn about different audiobook concepts is through Audible. This has been the best option for users when it comes to exclusive audiobooks. It allows its users as well to download and stream Audible books offline. To have the best experience in Audible, getting a subscription would be a good decision.
The question now is, can I download my Audible books after canceling my subscription? Is it possible to still stream the books once it gets canceled? How to easily cancel my Audible subscription? Learn about these concepts by reading the article below.
Contents Guide Part 1. How to Cancel Your Audible Membership?Part 2. What Happens to Books After Cancel Audible?Part 3. Bonus: How to Download Audible Books Without LimitPart 4. Conclusion
Part 1. How to Cancel Your Audible Membership?
Before knowing the answer to "can I download my Audible books after canceling", let us discuss first the procedure on how you can cancel your Audible membership. The procedure to do such may vary slightly depending on what device you use for this procedure.
See the procedures below on how to cancel Audible subscription via desktop/Windows, mobile phone and Audible Customer Support team.
Via PC/Desktop
If you wish to finish the process in the fastest and easiest way possible, I would suggest doing it via computer instead. This is a hundred percent proven more effective and quicker compared to any other device. Check out the steps below and follow them to cancel your subscription to Audible.
Get started by opening your browser and selecting a new tab to search for the Audible website.
Once landed on the site, sign in with your Audible account and then click on your username placed in the upper right corner.
Upon clicking on that, a submenu will open in which you have to choose the option of Account Details.
By doing this step, you might be asked again to provide your account username and password to proceed.
A new window will show up particular to your membership. At the bottom part, there is a Cancel Membership button which needs to be clicked to continue with the process.
If you have already decided that you won't be renewing your account again, knowing that every single item left on your account will be deleted and inaccessible after account subscription cancellation, tap on the "No thanks, continue canceling" option.
This will open another window wherein you have to provide the reason why you would cancel the subscription. Choose one reason among the options given and then click Cancel Membership.
After a minute, your account will already be canceled.
Via Mobile Phone
The steps to follow in canceling your Audible subscription via desktop are pretty much the same as the procedure above. Kindly study and follow the steps enumerated below.
Open a browser on your phone and then navigate to Audible official website.
As you can see, at the top right part of your screen, there is a three-dot button that you have to click to see the menu containing Desktop Site option.
After doing so, log in with your Audible account and then proceed to the Account Details section.
In the new window that has opened, look for the Cancel Membership link. This is usually placed at the bottom part.
Once clicked, tap the Confirm button appearing on the next page.
Follow it with the selection of reasons why you plan on canceling your membership. After choosing one, tap the button of Cancel Membership and within a few minutes, the cancellation will be in progress.
Via Audible Customer Support
If by chance that you are having non-stop errors in doing the steps and are having trouble deciding which step to do next to solve the issue, you may ask the customer support team to help you in canceling your Audible subscription.
Here is how to do it.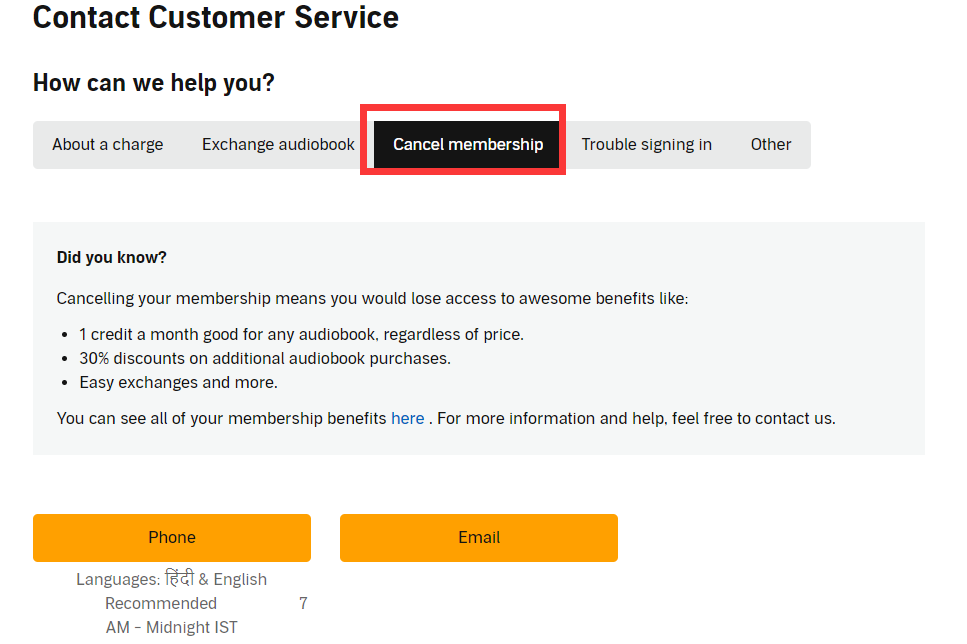 Open a new tab on your browser and then proceed immediately to the Audible Customer support section.
Under the Contact Customer Service section, there is a description of "How can we help you". Right under it are options for selection where you have to choose the Membership tab.
After doing that, you will be given an opportunity to make a selection in relation to the Membership option. Among the options displayed, choose Cancel Membership.
You may also choose whichever communication media would you use to talk with the team. Select one between phone or email. If the phone is selected, kindly provide your actively registered number for the scheduled talk with the Audible team. On the other hand, if the email is the selected communication method, membership cancellation must be sent through an email.
For this method, prepare beforehand all the details and documents that are most likely to be requested to proceed with the cancellation of Audible membership.
Part 2. What Happens to Books After Cancel Audible?
After following the procedure above and having your subscription successfully canceled, the question now is what will happen to all the items saved in your collection before? Can I download my Audible books after canceling my membership?
Let us see below the things that you may encounter once your membership is gone.
All the Audible books that you have purchased and saved in your library will still remain even after membership cancellation. The books can still be accessed by just navigating to your Audible library via Audible website and Audible application.
All the credits you saved and earned so far will all go to waste if not used before cancellation. You won't be able to use them once your membership is canceled or once you resubscribe again.
Those books you purchased are the ones accessible for streaming along with the free titles that are available for playing even through a canceled or expired subscription. This also includes the books purchased via Audible monthly membership credits. Books and podcasts that are not purchased via mentioned methods could not be accessed anymore at the end of your last billing.
Purchasing Audible books after membership cancellation is still possible but won't be able to buy them at a discounted price. This is because all credits earned have been terminated after the cancellation.
Answering the question can I download my Audible books after canceling, it is possible but this might require you to get help from a third-party application. Also, I would suggest downloading them in a different format before you proceed with canceling your Audible subscription. This will help you to keep the books accessible on every device even without Audible membership.
Also, you may try to return the books you have purchased. Audible might give you a refund if you would do it before ending your subscription.
Part 3. Bonus: How to Download Audible Books Without Limit
If you have asked yourself multiple times already and still, wish to cancel your Audible membership, despite the alternative lower rates available in availing subscription plans, below is the other method to use to still be able to enjoy your favorite Audible books even without a subscription.
Talking about the concept of whether can I download my Audible books after canceling the subscription, it is possible through AMusicSoft Audible Converter. As you would know, all Audible items are DRM protected making it impossible for you to download and produce another copy of them. If they are already downloaded into an accessible format, you will be able to enjoy them in every music player you want. Before we tackle the detailed steps on how to do that via AMusicSoft, let us discuss first below the key features of this Audible Converter.
Key Features of AMusicSoft Audible Converter
Capable of both conversion and download of Audible books as many as you want.
Supports the formats of MP3, FLAC, WAV and M4A. These output formats could all be accessed in most music players.
Removes the DRM protection from files making the conversion and download possible.
Retains all the chapters and divisions of audiobooks even after conversion.
Make sure that users are able to stream the best quality of Audible audiobooks.
Very fast working speed to reduce the time to be consumed from waiting.
How to Download Audible via AMusicSoft Audible Converter
For the procedure in particular to can I download my Audible books after canceling the subscription plan, check out the steps explained in detail below to get the items you want from Audible.
Step 1: Open a new tab on your used browser and then navigate to AMusicSoft official website. Look for the Audible Converter application and download it on your device.
Step 2: Add the Audible books by tapping on the required area and start selecting the books to convert.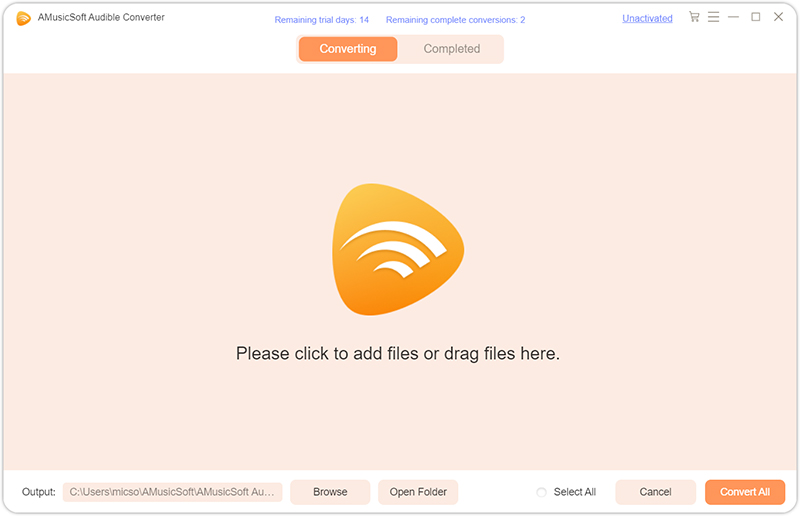 Step 3: Select both output format and output folder. In AMusicSoft, you are allowed to create some modifications to the resulting output by doing some adjustments in the output settings.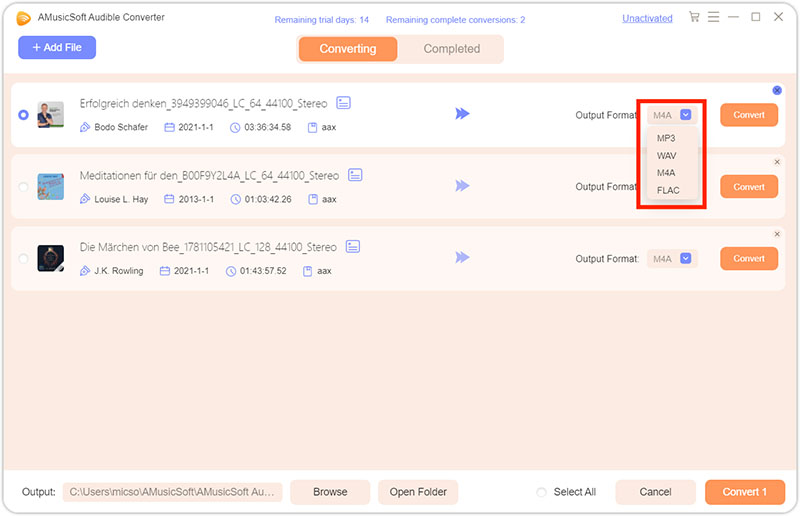 Step 4: Once done, click the Convert button and wait until the process is done.
Step 5: Select the Converted tab to check the number of titles that have been converted already.
Part 4. Conclusion
As you reach this part of the article, I hope that you learned the simple procedure on how to cancel an Audible subscription. On the other hand, when it comes to the idea of whether can I download my Audible books after canceling the subscription, I would suggest using AMusicSoft Audible Converter. This tool will help you keep a permanent copy of your favorite Audible books.
Robert Fabry
Apple Music, Spotify, Amazon Music senior users. Share various tips and solutions.
Last updated: August 1, 2022