Spotify already has millions of subscribers around the globe that keeps on growing from time to time. Spotify boasts a massive 75 million-plus songs catalog. However, downloading Spotify songs for offline streaming will only be possible if you have a Premium Spotify account. Have you ever thought about finding other alternatives to it? Do you know a lot about the Spotify Chrome extension?
With the use of Chrome extension programs, you may be able to get all of your favorites without worrying about getting a subscription. Fortunately, there were a lot of reliable programs that can be used to download the Spotify tracks they like. How to download Spotify songs Chrome extension? The discussion below will enumerate and explain the list of the best Spotify Music Chrome Downloaders that you are free to use to save the playlists and albums from Spotify. Included as well is the tool that can convert Spotify links into accessible formats such as MP3.
Contents Guide Part 1. Are There Spotify Chrome Extension?Part 2. The Best Way to Convert Spotify Link to MP3Part 3. What Are the Differences Between AMusicSoft & Spotify Downloader ChromePart 4. Conclusion
Part 1. Are There Spotify Chrome Extension?
If you really wish to get a copy of your favorite Spotify items, aside from using the Spotify application, you may also do it by using Chrome extensions. Discussed below are the most recommended programs to use in doing the process to download Spotify songs Chrome extension.
DZR Music Downloader
The first one to download Spotify songs Chrome extension is the DZR Music Downloader. One advantage of this tool is that not only Spotify users can gain from using this. It is because it can download music files as well from Deezer, SoundCloud, Jamendo, Apple Music, and more streaming platforms. Another benefit that you can get from DZR is that it downloads the Spotify songs into MP3 format automatically. This means that after using this tool, you can stream the songs to any music player you want since they are already encoded in MP3.
Fortunately, finding DZR Music Downloader won't be a problem. You will just go to Google Web Store or Google Web browser and you can now easily locate the music downloader to download Spotify songs Chrome extension. After finding it, you may then install the Chrome extension and use it to get Spotify files with high-quality sound.
Pros
Program can be used for free.
Downloaded music files are guaranteed to have a good quality.
Cons
Does not support the conversion of entire Spotify music library.
Spotiload Music Downloader
Spotiload Music Downloader is also one of the best programs to download Spotify songs Chrome extension. It is also called as Spotify VK Downloader, so, some of you might not be familiar with the previously mentioned name. This tool will work on your device even without installing it and even if you do not have an internet connection. Although it is very good, one drawback that you should note is that it does not work on other web browsers, only on Chrome. To add, it has region restrictions as well. Not all countries can have an access to Spotiload. So, if you are planning to change your location, you should know if Spotiload is announced available in it or not.
Luckily, Spotiload is very easy to use and understand. With just a few simple steps, you can already download Spotify songs Chrome extension.
Pros
Can be used without fee to pay.
Cons
Could be deleted permanently from Google Play Store.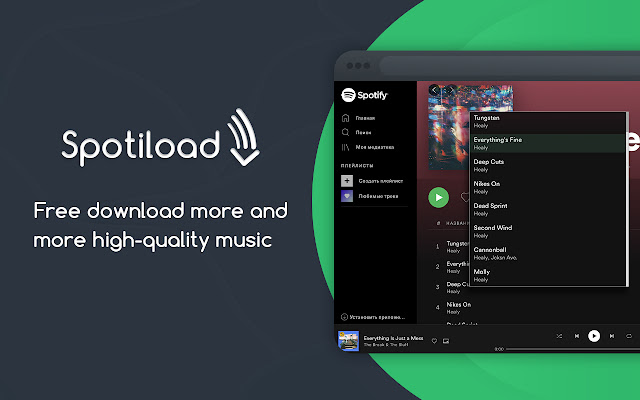 Spotify & Deezer Music Downloader
From the name itself, Spotify and Deezer Music Downloader can both be used for Spotify and Deezer streaming platforms. To add one more, you can also utilize it to save songs from SoundCloud. After installing it on your Chrome extension, you may now start using it to download Spotify songs Chrome extension and convert them into MP3 format. Take note, this program will let you do things even if you do not have the Spotify application and even if you are not subscribed to Spotify Premium.
Pros
Allows the download of playlists and single tracks.
Cons
With high chances of being unavailable in Google Play Store. The stability of the tool is not guaranteed as well.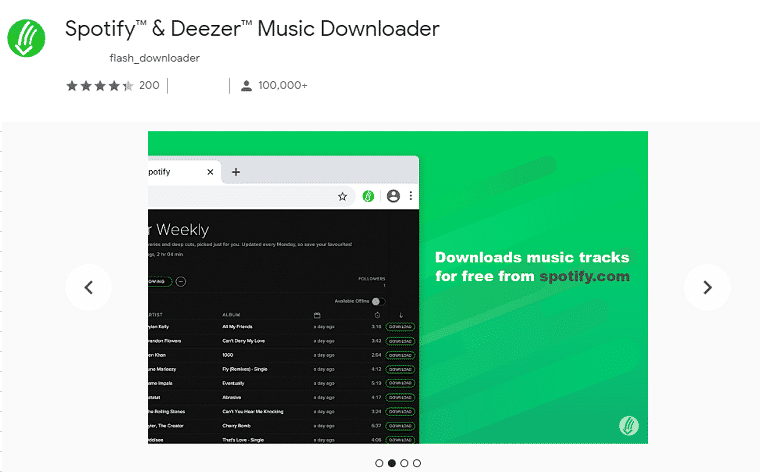 How to Use Spotify Music Downloader Chrome?
See the steps below on how to use Spotify Music Downloader Chrome to download Spotify songs Chrome extension.
Begin with selecting the extension icon in order to launch the web player of Spotify.
Once it has opened, start searching for all the music items, including playlists, artists, albums or single tracks, that you wish to download.
Notice the Download button next to each track and then hit it to begin with the download process. After a few seconds, you will already have the MP3 formatted music files on your local computer.
Part 2. The Best Way to Convert Spotify Link to MP3
Aside from the process to download Spotify songs Chrome extension, there is another way how to save the songs you love and be able to enjoy them anytime you want without Spotify Premium. This is through the help of a professional music converter that can make Spotify songs unprotected so that conversion to MP3 would be possible for them. After the conversion of songs into an accessible format, it will support the download process next. With a speed that is 5x faster, AMusicSoft Spotify Music Converter can finish the entire process in just a few minutes. You are also guaranteed that the converted files are of the best audio quality.
Naming the formats that you may get from using AMusicSoft, you can have MP3, WAV, FLAC, AAC, AC3, and M4A. Fortunately, all of these formats are very easy to open and listen Spotify songs on other devices offline. Follow the guide steps below and convert your favorite Spotify songs into one of the mentioned formats.
Go to AMusicSoft website and get the Spotify Music Converter by selecting the Download button. After the complete download, install and launch it on your computer to start with the main process shortly.
Copy the link of the song to convert and paste it into the music converter. You may also drag and drop the music files into the application alternatively.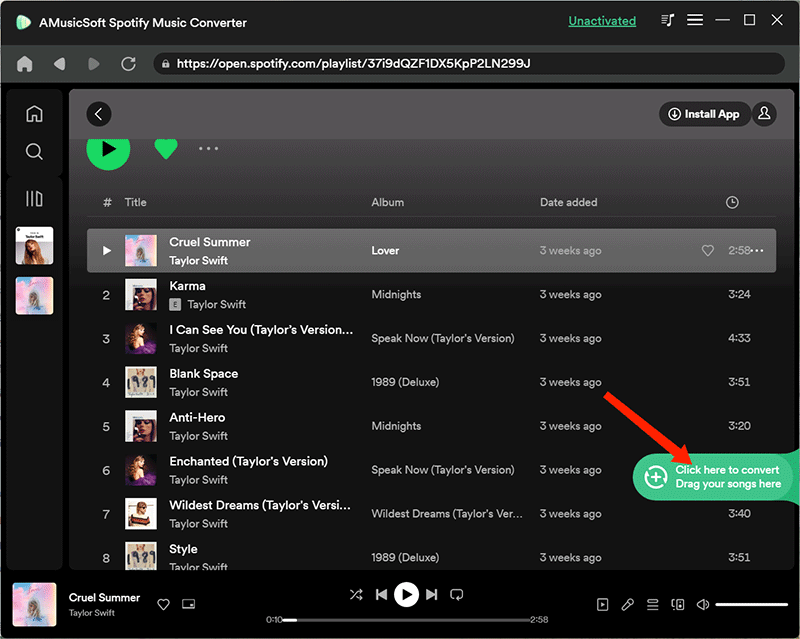 Choose an output format to use and select an output folder as well.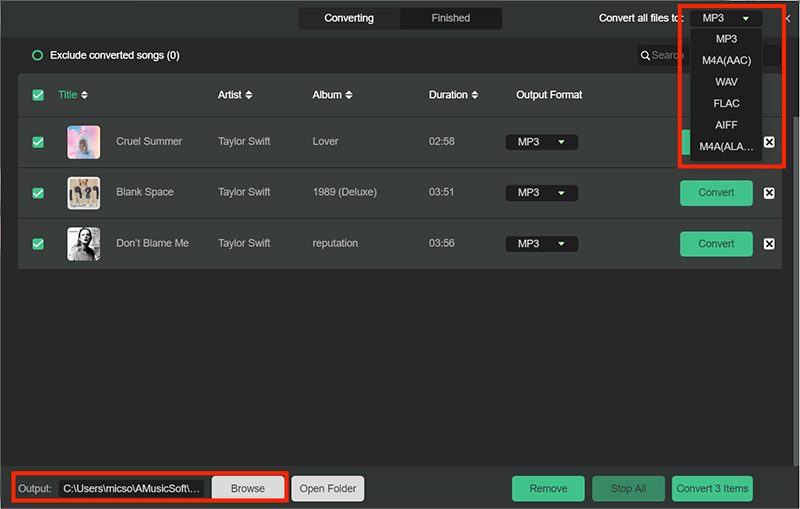 Tap the Convert button located at the bottom part and then wait until the process is done.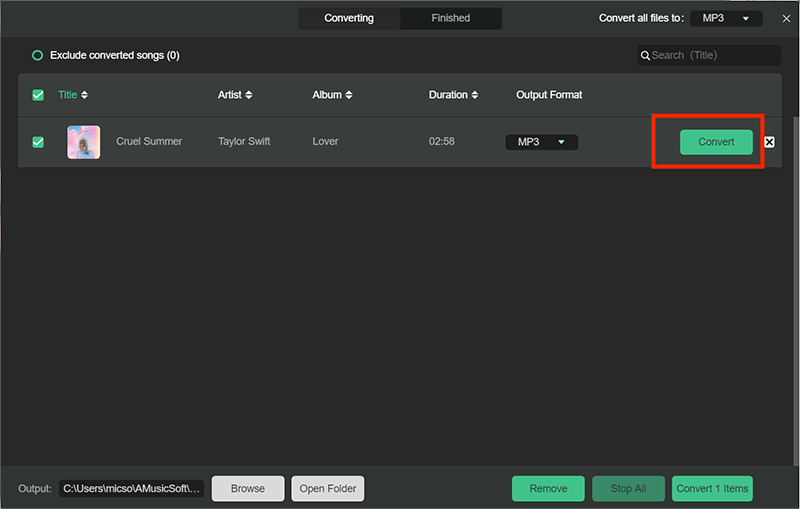 Now, download the songs by getting them from the Converted tab placed above.
Part 3. What Are the Differences Between AMusicSoft & Spotify Downloader Chrome
After tackling all the programs that can be used to download Spotify songs Chrome extension and AMusicSoft, it is very understandable if you still cannot decide which is the right method to use. So, to help you with that, let me give you a summary of the differences that you should consider in selecting which is the best way to utilize in getting your Spotify favorites.
Benefits That You Can Get from Using AMusicSoft Spotify Music Converter
Easy and simple to use.
Five times quicker working speed that can shorten your waiting time.
DRM can be removed so other restrictions could be lifted up, such as the limited type and number of music players that are allowed to be used in streaming the Spotify songs.
You can have the best audio quality of converted music files.
You may choose from having multiple accessible formats aside from MP3.
Can keep the music permanently allowing you to stream them without any limitations.
Downloaded and converted songs could be managed well.
Available in Windows, Mac and other devices.
Benefits from Using Spotify Downloader Chrome
Most of them are free to use since they can be found online.
With just a few clicks to do, you can already have the results.
Does not only support Spotify Music, but also some other streaming platforms as well.
Disadvantages from Using Spotify Downloader Chrome
Stability and security are both not secured.
The resulting quality of the converted audios are not assured to be the best.
Most of the time, MP3 is the only supported format.
The success rate of the download process is not a hundred percent sure.
With all the explained differences of the two, I hope you now get to decide whichever is perfect for you.
Part 4. Conclusion
In my personal opinion, it is still better to use AMusicSoft Spotify Music Converter over any Spotify Music Downloader Chrome since it will give you more secure results. With all the benefits of AMusicSoft Spotify Converter discussed, you can get more from it. Also, it will allow you to do a lot of things since DRM is surely removed at the end of the process. But of course, this does not mean that using Chrome extension tools is not a good thing to do. Since they work online and can be used for free to download Spotify songs Chrome extension, you can also rely on using them to get the MP3-converted Spotify music items.
Robert Fabry
Apple Music, Spotify, Amazon Music senior users. Share various tips and solutions.
Last updated: August 26, 2022