Spotify is offering over 70 million songs that can be played on pretty much any device you own. Spotify music can be streamed over the internet or a mobile network or downloaded directly to your device for listening. Every download process will require you a stable internet connection to proceed. Also, in Spotify, only those who have a Spotify Premium subscription are capable of such a procedure. After downloading the music files on your device, you will just have to do a few steps and you may now stream them even if WIFI is not present.
On the other hand, if you are using Spotify for free, you are not allowed to download songs and play them offline, but you can play them as long you have an internet connection. Sometimes internet connection wasn't necessarily stable, how can download Spotify songs without WIFI for free users? However, there are always restrictions that will limit you while using it.
In that case, I suggest learning about the most effective alternative to use in order to continue streaming your favorites even without Premium. It will surely help you to enjoy your Spotify favorites even without exactly doing the process to download Spotify songs without WIFI.
Contents Guide Part 1. How to Use Spotify Offline Mode on Multiple Devices? (Premium)Part 2. How to Download Spotify Songs Without the Premium?Part 3. Conclusion
Part 1. How to Use Spotify Offline Mode on Multiple Devices? (Premium)
Tackled just a while ago that downloading Spotify songs if an internet connection is not available is surely not acceptable. So, instead of trying to learn and look up the procedure to download Spotify songs without WIFI, let us learn below how to save your Spotify favorites through your Premium account and then stream them offline on multiple devices. Downloading the contents in advance is a requirement to proceed with offline playback.
How to Download Spotify Songs on Desktop (Mac & Windows)
Download the Spotify application on your desktop, and Log into your Spotify Premium account.
Find the Spotify playlist you like to download from Spotify.
Tap the three-dot icon right next to the item's title and choose the "Save to Your Library" button.
A few seconds upon selection of the mentioned option, a "Download" toggle switch will appear near the titles. Switch the button oppositely to start the download process.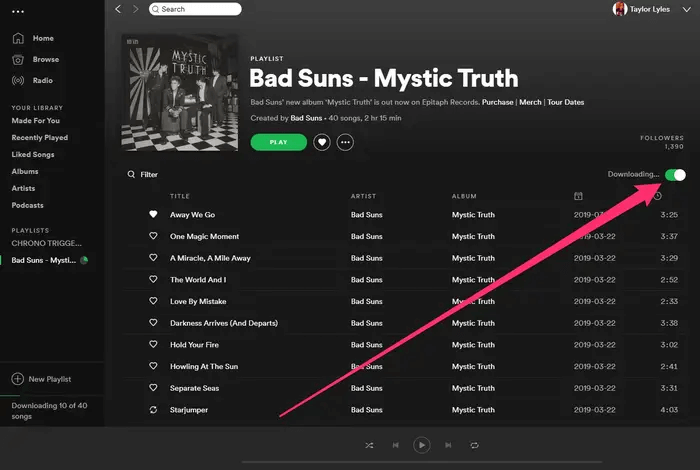 How to Download Spotify Songs on Mobile Devices

Open the Spotify app on your iPhone or Android device and log into your Spotify Premium account.
Find the playlist or album you want to download. You can either search for them or open them from the "Your Library" tab.
In the playlist, tap the "Download" button so that the toggle turns green. This will immediately download the songs in your playlist. You'll see a green downward-facing arrow next to each song when the download is complete.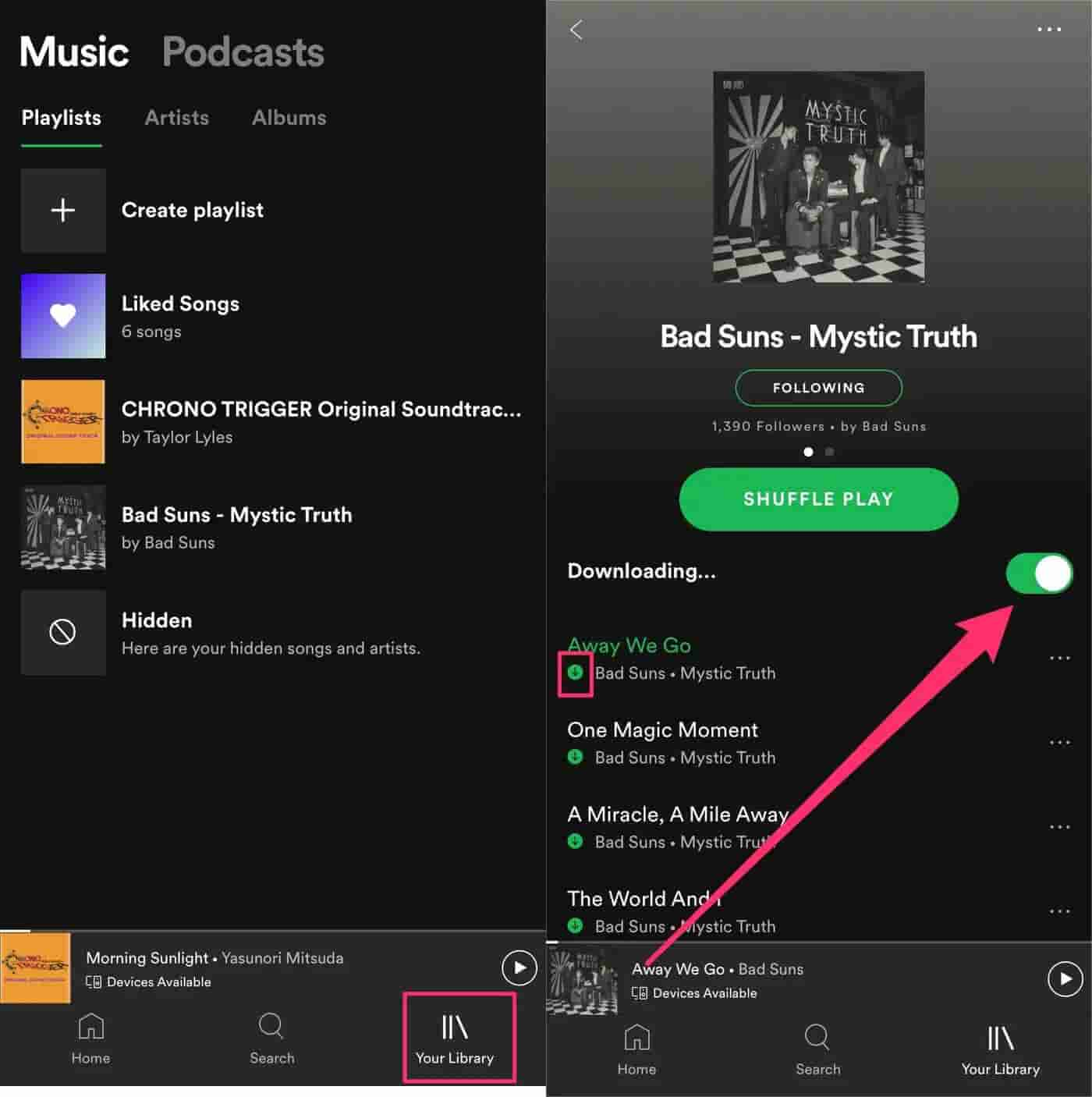 If all the files are downloaded already, they will now be available for offline playback. To proceed, you have to set your Spotify into Offline Mode.
How to Enable Spotify Offline Mode on Mac, Windows and Mobile Devices
On Windows, take a look at the upper left corner and notice the three-dot icon located in it. After clicking the said icon, tap the File button and choose Offline Mode option.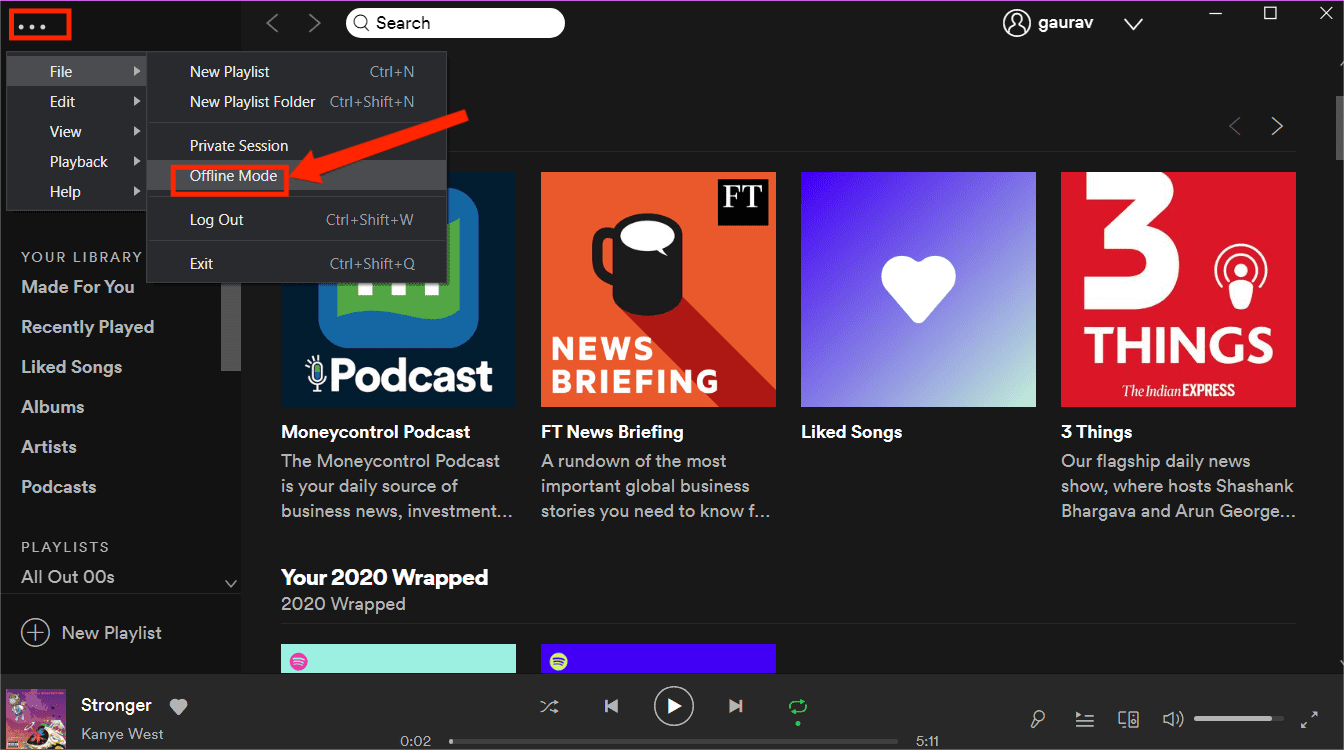 On Mac computers, placed at the top part is a button for Spotify. Select this and click the Offline Mode button next.
On mobile devices, head to the Settings section and then scroll continuously until you find Playback. Tap on this button and enable the Offline Mode feature.
In the coming section, the best substitute to the procedure on how to download Spotify songs without WIFI will be discussed thoroughly, so, make sure to take important notes.
Part 2. How to Download Spotify Songs Without the Premium?
We have learned above that it is not possible to download Spotify songs without WIFI but you can stream songs without the internet. This is possible only if the items are downloaded on your device and the Offline Mode feature is activated. With this case being mentioned, I think it is better if you would know how to download Spotify songs even if you do not have a Spotify Premium subscription.
Without Premium, you can alternatively use AMusicSoft Spotify Music Converter which is capable of conversion and download processes. AMusicSoft help you to download Spotify songs to MP3 format. It also supports formats such as FLAC, AAC, WAV, M4A, and AC3. If the songs are converted into any of the mentioned formats, playing them on any device will not be a problem. It also has a 5x faster and very fast conversion speed and it can download the output files in just a few minutes of waiting.
You can also commend the high quality of the converted files and also the convenience of using the application itself. It has functions that are super easy to follow, which is very helpful, especially for some who are not used to doing such kinds of procedures. With AMusicSoft, you can download Spotify music on Mac or Windows without limits because it offers DRM removal services.
See the steps below in using AMusicSoft Spotify Music Converter and follow them instead of trying to download Spotify songs without WIFI.
Start with the download and installation of AMusicSoft Spotify Music Converter. You will just navigate to the official webpage of AMusicSoft and then click the Download button right below the Spotify Music Converter.
Then, add the Spotify songs by copying and pasting of link or by dragging and dropping them into the converter.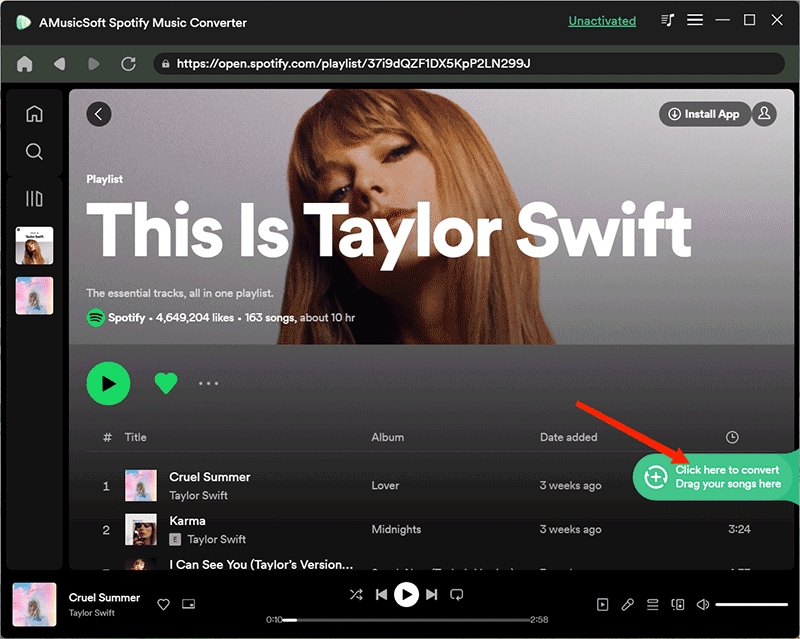 Select any output format from the available ones and then modify the output settings if you have a preferred output in mind. Also, select an output format to save the files.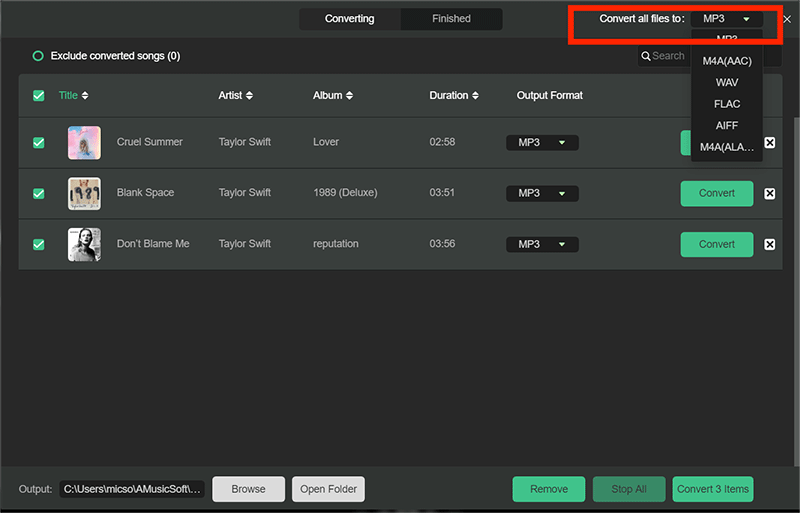 Click the Convert button and wait until the process is done.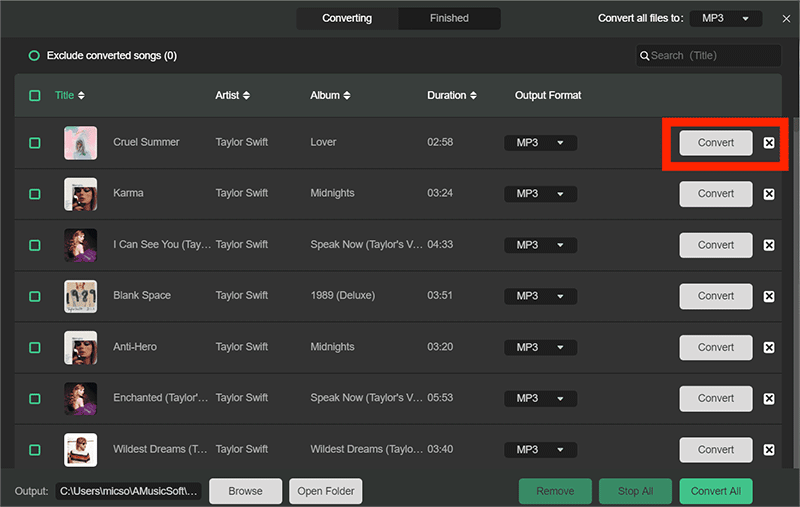 Download the finished songs and save them on your local computer.
Part 3. Conclusion
The best alternative to the process on how to download Spotify songs without WIFI is through the use of AMusicSoft Spotify Music Converter. As discussed above, not only it is easy to use but it can guarantee you a perfect streaming experience with Spotify. This will assure you as well in having high quality files.
Robert Fabry
Apple Music, Spotify, Amazon Music senior users. Share various tips and solutions.
Last updated: August 24, 2022