The convergence of gaming consoles and multimedia entertainment has transformed the way we experience digital content. Xbox One, Microsoft's popular gaming console, not only caters to gamers but also offers a diverse range of entertainment options. One such feature is the integration of Apple Music, Apple's renowned music streaming service, into the Xbox One ecosystem.
In this article, we aim to provide an ultimate guide to help readers navigate and utilize the Apple Music on Xbox One consoles effectively. Whether you're an avid Xbox gamer or a music enthusiast looking for seamless access to your favorite tunes, this guide will assist you in setting up Apple Music, exploring its features, and optimizing your music streaming experience on the Xbox One platform. Get ready to enhance your gaming sessions and groove to the rhythm of your favorite tracks with Apple Music into Xbox One.
Contents Guide Part 1. Overview: What's Apple and Xbox One?Part 2. How to Play Apple Music on Your Xbox One?Part 3. Troubleshooting and FAQsPart 4. Best Method to Enjoy Apple Music Free While GamingPart 5. Conclusion
Part 1. Overview: What's Apple and Xbox One?
What is Apple?
Apple Inc. is a famous global technology company known for its innovative products and services. The company is famous for creating iconic devices like the iPhone, iPad, Mac computers, Apple Watch, and Apple TV. One of Apple's notable offerings is Apple Music, a popular music streaming service launched in 2015. It provides a vast collection of songs, handpicked playlists, and exclusive content to millions of subscribers worldwide. With its stylish designs, user-friendly interfaces, and integration with other Apple products, Apple has established itself as a leading player in the technology industry.
What is Xbox One?
The Xbox One is a gaming console made by Microsoft. It was released in 2013 and is known for providing immersive gaming experiences. It has powerful hardware and great graphics, allowing players to enjoy a wide variety of games. You can play games using discs or by downloading them digitally. The console also offers online gaming through Xbox Live.
In addition to gaming, the Xbox One offers other entertainment options. You can stream movies and TV shows, watch videos, and use music apps. It acts as a central hub for all your entertainment needs. The Xbox One has a large and dedicated community of gamers and remains a popular choice for console gaming around the world.
Does Apple Music Support Xbox One Background Music Now?
Xbox users can play background music on Xbox One. Abundant songs can be the background audio for games now, which makes Xbox One gaming experience more entertaining. The best music apps available on Xbox One supporting background music playing include Pandora and Spotify! Now, Microsoft has linked up with Apple to finally offer an Apple Music app on Xbox consoles! The integration of Apple Music on Xbox One provides a rich and immersive audio experience, combining the best of gaming and music for entertainment enthusiasts.
Part 2. How to Play Apple Music on Your Xbox One?
Apple Music is now available on the Microsoft Store for the Xbox Series X, Xbox Series S, and Xbox One, providing subscribers with access to the streaming music service. As noted by users on Reddit, music can be played in the background while gaming. To enjoy Apple Music on Xbox One, follow these steps provided below:
Step 1. Get Apple Music on Xbox Consoles
Ensure your Xbox console is connected to the internet.
Navigate to the Microsoft Store on your Xbox.
Search for the "Apple Music" app and select it.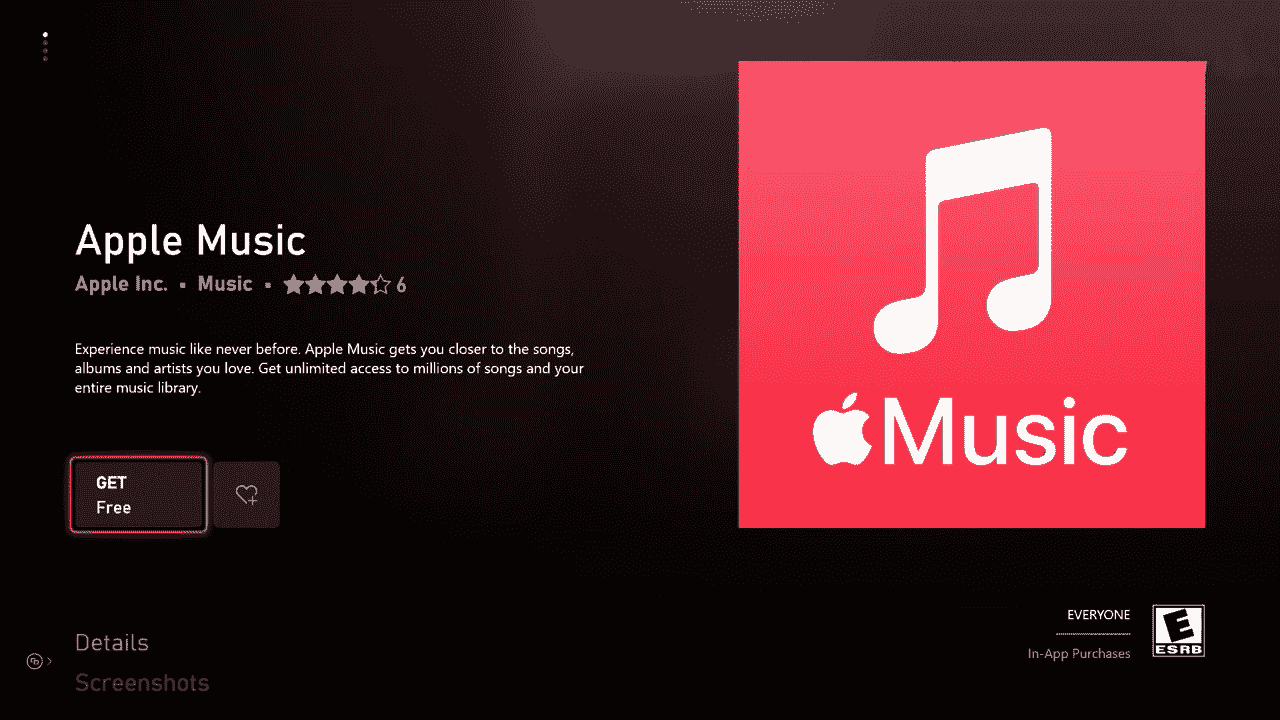 Click on "Install" to download and install the app on your console.
Launch the Apple Music app on your Xbox.
Sign in to your Apple ID or create a new account if you don't have one.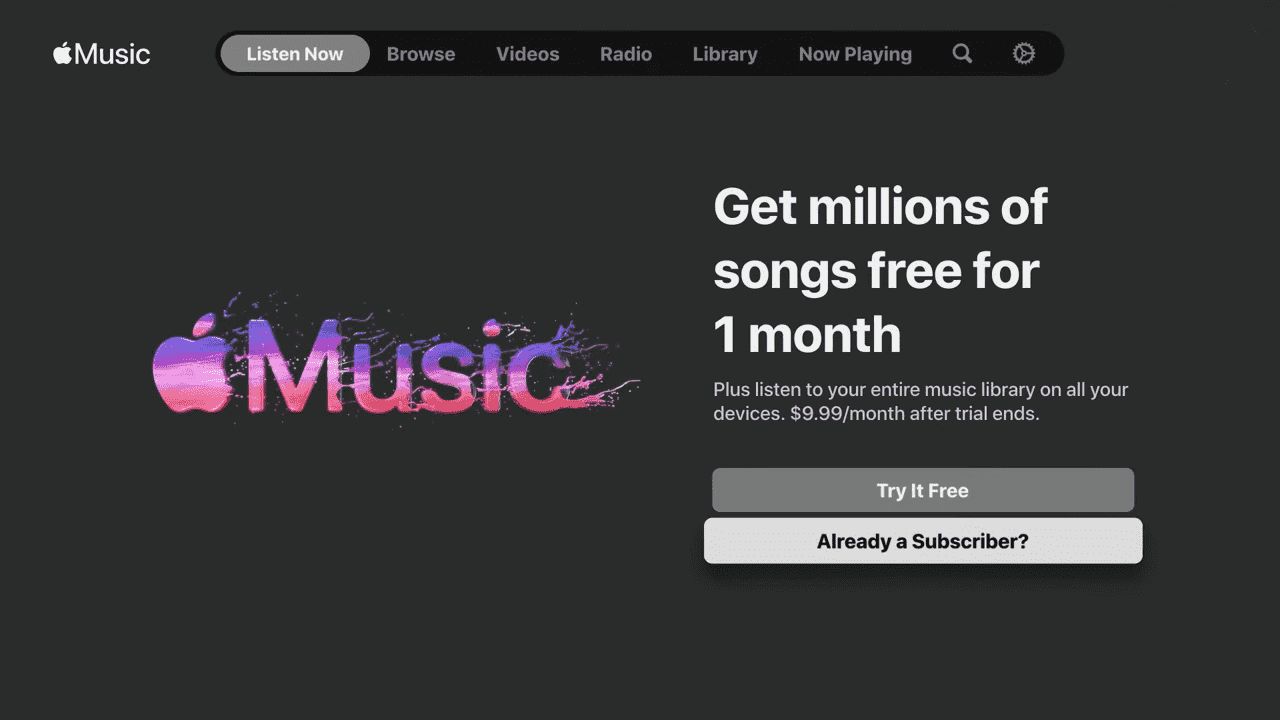 Once signed in, you can access the music library from the Apple Music app on Xbox.
That's it! Now, make the most of your gaming experience with Apple Music on Xbox One!
Step 2. Play Apple Music While Playing Xbox Game
Use the Music app's interface to browse through various music categories, including genres, charts, and new releases. You can also search for specific songs, albums, artists, or playlists.
Select your desired music, and start playing.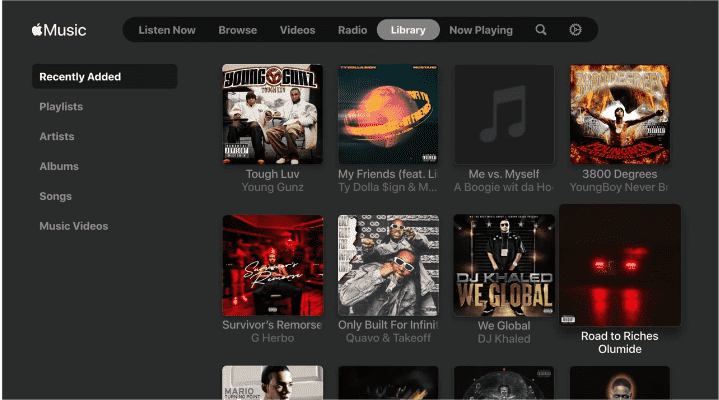 Go back to the main interface on Xbox. Launch a game you want and start playing.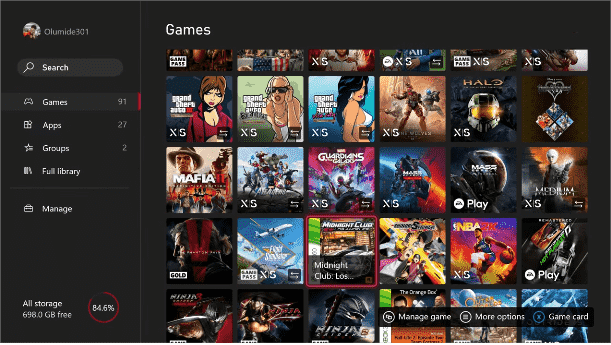 When the music is playing, you can launch the Xbox One game you want to play. Music will keep playing in the background.
Press the Xbox button on your controller to access the Guide.
Adjust the volume and audio settings within the Apple Music app to optimize your gaming experience.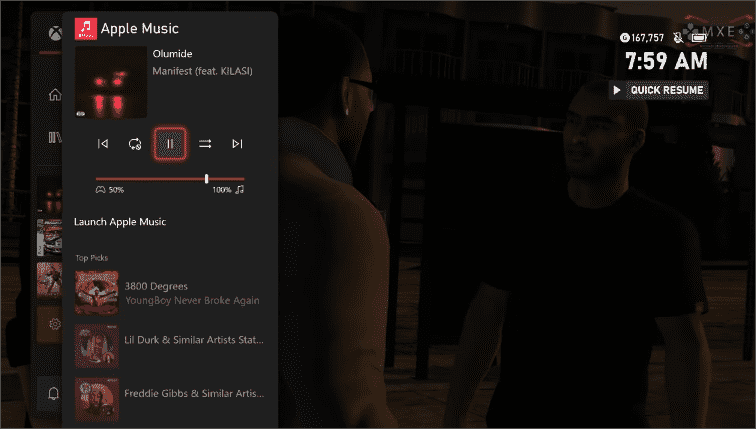 Part 3. Troubleshooting and FAQs
Troubleshooting
When you are streaming Apple Music on Xbox One, it may stop working, not load, or freeze to a black screen. You will definitely get disturbed because of this. Here are some common issues and their solutions:
Server Issue: During Apple Music server outage times, you might not play a song as background music on Xbox. Please wait until the developer resolves the issue. To check the status of the Apple Music server, you can visit the official Apple Music social media handles for any announcements or instructions regarding the server outage.
Network Connectivity: Troubleshoot connectivity issues by ensuring your Xbox One is connected to the internet.
Improper Installation: If the Apple Music app on Xbox One is not working correctly, try reinstalling the app or checking for updates.
Subscription Expired: Verify your Apple ID and password, and keep your Apple Music account active.
Delaying Software Updates: Ensure your Xbox One and Apple devices are updated with the latest software versions to maintain compatibility.
FAQs
1. How Much Does Apple Music Cost?
Apple Music requires a subscription, which includes $10.99 per month for individual subscriptions, $5.99 per month for students, $16.99 per month for family subscriptions and a Vocie plan that allows you to access Apple Music via Siri for $4.99 per month. In addition to four stand-alone Apple Music subscription plans, there are three Apple One plans to choose from. All three tiers bundle together access to Apple Music and additional Apple services.
2. Can I use Apple Music on my Xbox One without an Apple device?
Yes, the Apple Music app is accessible on Xbox One without the need for an Apple device. However, having an Apple device can enhance the overall experience and offer additional functionalities.

Part 4. Best Method to Enjoy Apple Music Free While Gaming
With the above methods, you can listen to Apple Music on Xbox One while playing games, but there is a better way to play music without a subscription! The solution we'll recommend here is to download Apple Music songs to a USB drive so that you can play Apple Music songs with the built-in audio player of Xbox One.

But how? To get it done, you'll need the help of a third-party tool called AMusicSoft Apple Music Converter. Since files from Apple Music are protected by Digital Rights Management, you cannot play Apple Music on Xbox without the Music app. If you stop subscribing to Apple Music, then you can't continue to play music while gaming. Therefore, here AMusicSoft Apple Music Converter is a software tool that allows you to convert Apple Music tracks to various formats and remove the DRM from Apple Music, enabling you to enjoy your Apple Music on any device or media player without limitations. Here are some standout features of AMusicSoft Apple Music Converter:
Remove DRM Protection: AMusicSoft Apple Music Converter removes the DRM protection from Apple Music tracks, allowing you to play the converted songs on any device or media player without restrictions.
Preserve Original Quality: The converter retains the original audio quality of the Apple Music tracks during the conversion process, ensuring that you can enjoy your favorite songs with the same high-quality sound.
Batch Conversion: You can convert multiple Apple Music tracks simultaneously, saving you time and effort.
As long as you convert Apple Music songs to DRM-free audio files, you can freely move Apple Music files to other devices or media players for playing. Here you can copy Apple Music songs to your USB drive, then you can play Apple Music songs on your Xbox One from USB. Not only Xbox, you can also play music while streaming on PS4! Just follow the guide below and be able to enjoy your favorite music.
Download and install AMusicSoft Apple Music Converter on your computer.
Now, after the application is downloaded, install and launch it on your device. Then start adding the songs by selecting the box before each song title you want.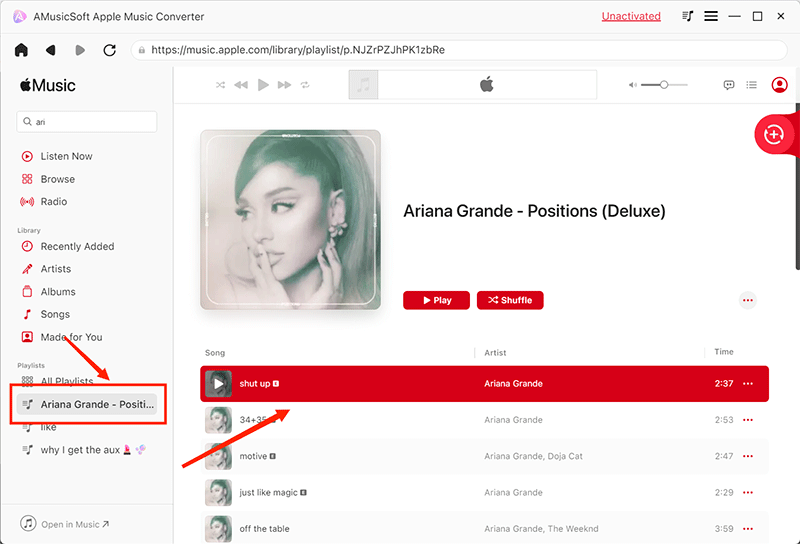 Customize the output settings, such as the output format, output quality, output folder, etc., according to your preferences.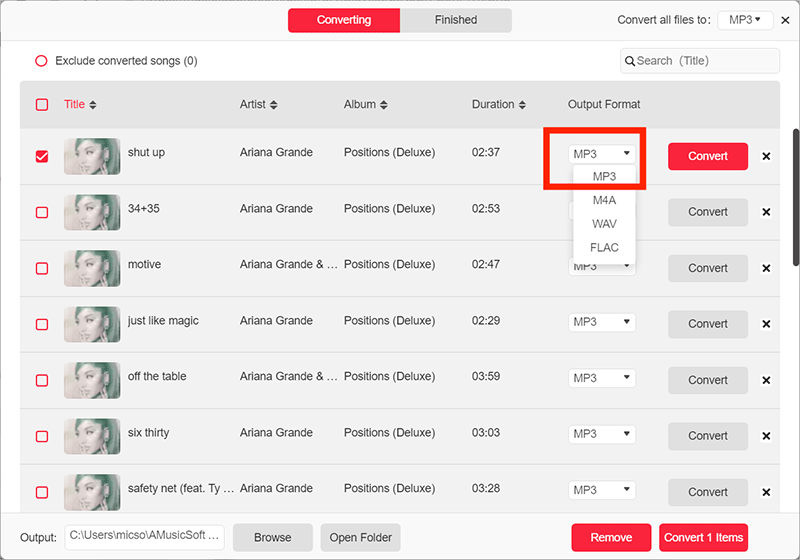 Click on the "Convert" or "Start" button to begin the conversion process. The converter will start converting the selected Apple Music tracks to the specified format.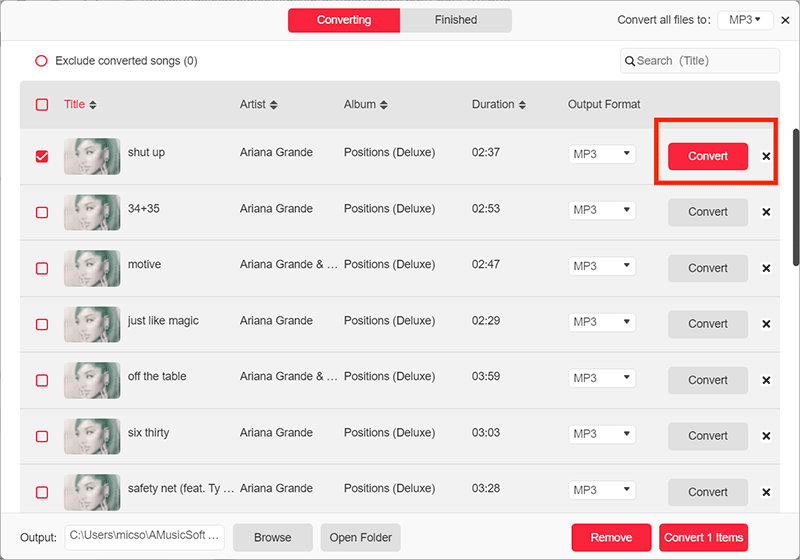 Once the conversion is complete, you can locate the converted files in the output folder you specified. Now, you can transfer and enjoy your Apple Music tracks on any device or media player without DRM restrictions.
Part 5. Conclusion
Overall, in this post, we deliver the method to stream Apple Music on Xbox One. The seamless integration of Apple Music into Xbox One allows you to customize game soundtracks, and play music in the background. Unlock a new level of immersion by customizing your music selection, accessing exclusive content, and enjoying a personalized soundtrack while gaming.
Additionally, if you'd like to enhance your Apple Music experience further, you can consider using AMusicSoft Apple Music Converter. With this software, you can convert Apple Music tracks to various formats and enjoy your favorite songs on any device or media player without limitations. AMusicSoft Apple Music Converter unlocks the full potential of your Apple Music library and takes your music enjoyment to new heights.
Robert Fabry
Apple Music, Spotify, Amazon Music senior users. Share various tips and solutions.
Last updated: September 7, 2023