Are you ready to embark on a captivating journey through the power of words? Get ready to dive into a world of imagination, knowledge, and entertainment with a revolutionary companion –Audible and Apple Books! Whether you're commuting, exercising, or simply craving a moment of pure literary bliss, let Audiobooks be your gateway to a universe of remarkable narratives, all at your fingertips. Get ready to listen, learn, and unlock a world of limitless possibilities with audiobooks on Apple Books app!
Contents Guide Part 1. Can You Play Audible Books on Apple Books?Part 2. How to Play Audible Audiobooks Using Apple Books?Part 3. Best Way to Listen to Audible Downloads on Any DeviceConclusion
Part 1. Can You Play Audible Books on Apple Books?
People may listen to books instead of reading them thanks to a medium known as audiobooks. Audiobooks provide a different approach to taking in works of literature, making it possible for people to interact with works of literature even when they are on the go, juggling other tasks. Audiobooks have grown more user-friendly and available to a wider audience as a direct result of the proliferation of mobile devices such as smartphones and portable listening devices. If you want to find audiobooks, which service should you use?
1. Audible
Audible is one of the biggest audiobook producers and sellers on the planet, a go-to for many to catch up with their reading goals. Audible is available on most major platforms, including Android and iOS devices, Windows, Amazon Alexa, and Google Play. One of the best things about this compatibility is that your Audible books are always synced between your devices.
2. Apple Books

Apple Books is an eBook reader and bookstore native to Apple devices including iPhones, iPads, and Macs. You can buy eBooks or audiobooks or read previously downloaded material. At the moment, Apple Books doesn't involve a subscription. The app is free to use, but most books are paid. Apple's audiobook service is tightly integrated with the broader Apple ecosystem. For example, users can access their audiobooks through Apple CarPlay when connected to a compatible vehicle. Additionally, Siri's voice commands can be used to control audiobook playback, making it convenient for hands-free listening.
If you own Apple products, their eBook service is a more suitable option. It features that familiar Apple interface and allows you to sync audiobooks across all your devices via iCloud. Some books are pricey. In comparison, Amazon Audible is much more versatile platform-wise, so it's suitable for a larger audience. But the loss of audiobooks if you cancel your Audible membership.
Is it possible to play Audible audiobooks on Apple Books to enjoy their advantages together? Moving your books from Audible to Apple Books app, you can enjoy cheaper audiobooks without Audible monthly plans. Because Apple Books has no monthly subscription fees. Moreover, Apple Books offer enhanced features that go beyond straightforward narration. These enhanced audiobooks may include sound effects, music, or ambient background sounds to enhance the storytelling experience. These additional elements can create a more immersive atmosphere and bring the book to life in unique ways. Enhanced audiobooks often provide a richer and more dynamic listening experience compared to standard narrations on Audible.
Part 2. How to Play Audible Audiobooks Using Apple Books?
Here's a step-by-step guide on how to access Audible audiobooks on Apple Books app:
On a browser, head to the Audible webpage and log in to your account.
Go to the Library page.
Find the audiobook you want to stream on Apple Books and click Download next to the audiobook. The book will be downloaded in .aax format.
Once the download completes, click on the file, and it will automatically launch Mac's Books app.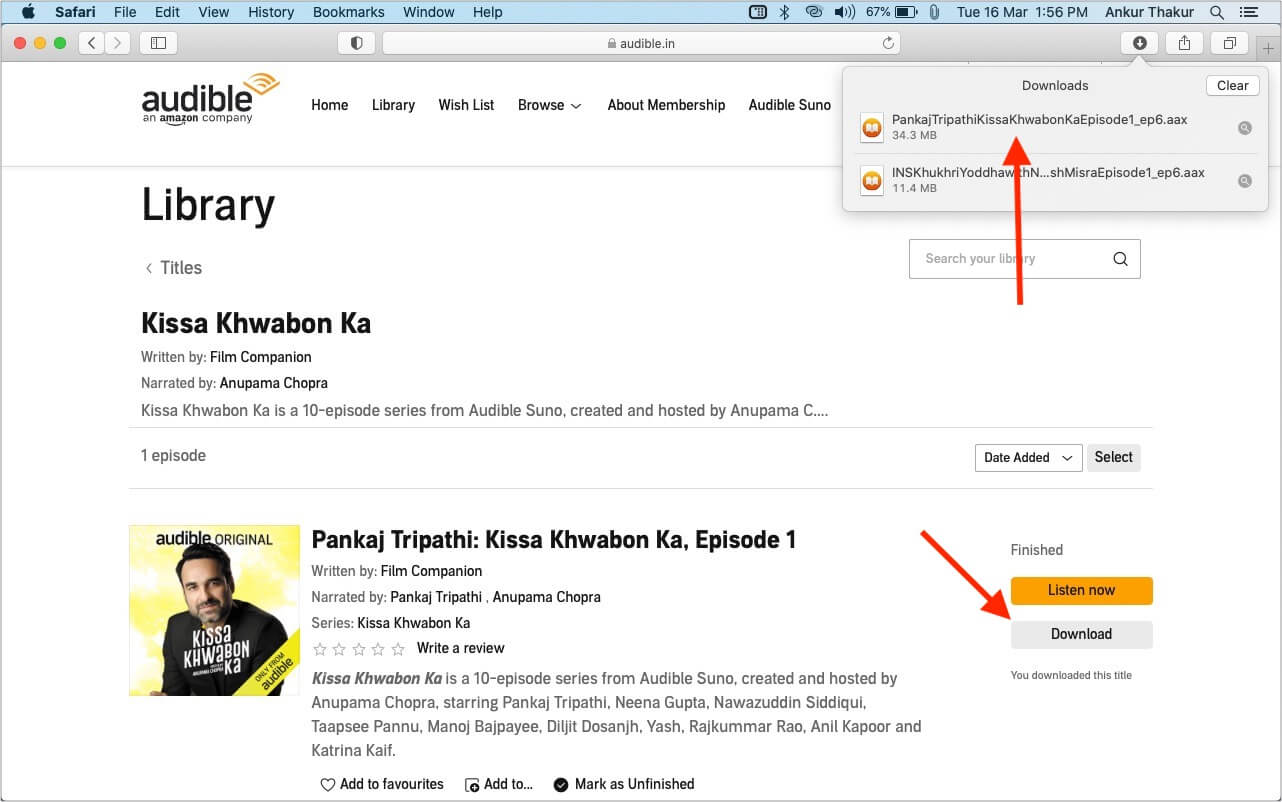 If this is the first time you are using Audible in the Books app, you will have to authorize this computer. To do this, click Yes.

Sign in to your Audible with login details.
Click Activate in iTunes.
Now the Books app will automatically open, and the audiobook will start playing.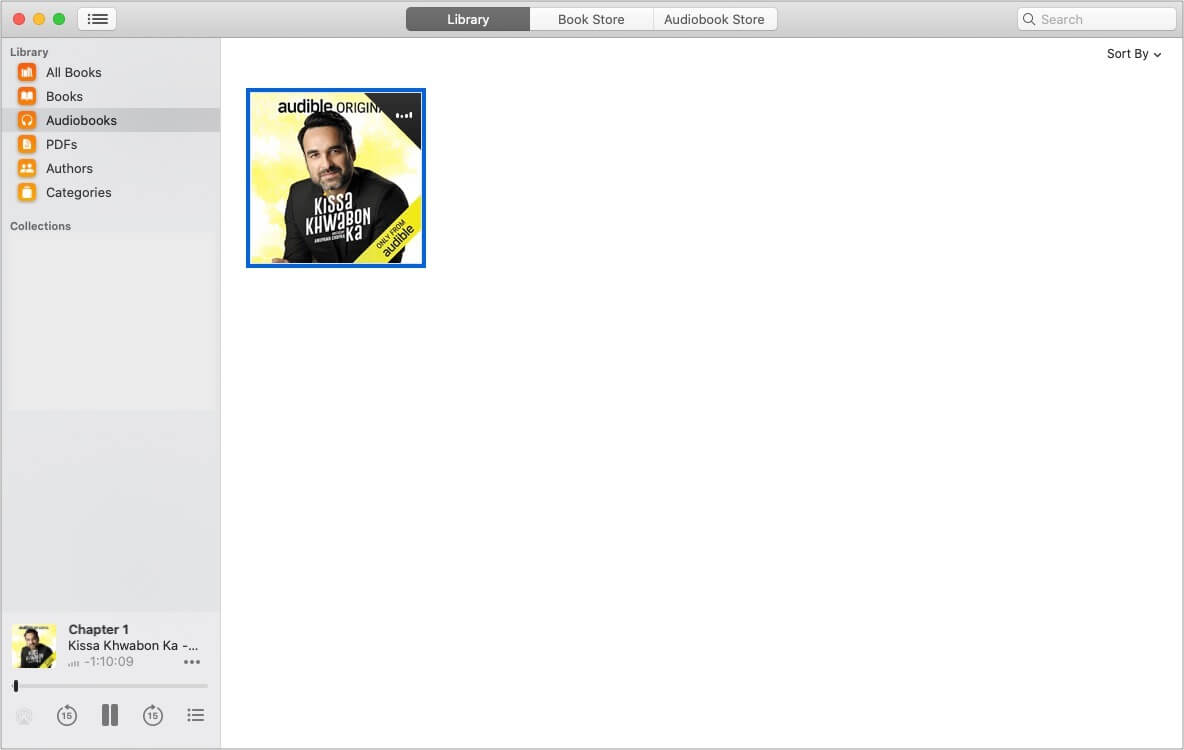 If you want to play Audible audiobooks on Apple Books using your iPhone or iPad, you can transfer Audible Content to your iOS device. Now, let's check out the detailed steps below.
Connect your iOS device to your Mac and open "Finder."
Locate your device from the menu under "locations" and click on it.
Click on Audiobooks and check the box next to Sync Audiobooks". Then choose All Audiobooks or Selected Audiobooks
Once you have chosen the method and titles you want to transfer, click Apply.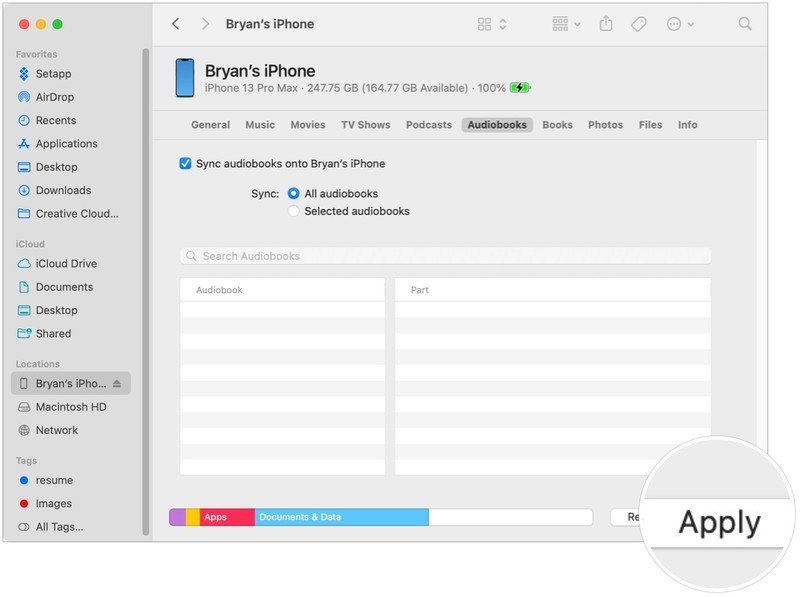 Your audiobooks will begin to transfer to your iOS device!
By following these steps, you can access and make use of Audible audiobooks on your Apple Books app to enjoy your favorite titles on your Apple device.
Part 3. Best Way to Listen to Audible Downloads on Any Device
If you have a Windows computer rather than a Mac, you can not enjoy Audible audiobooks on Apple Books app. Moreover, the Audible app for Windows has been deprecated and can no longer be used to access Audible or listen to titles in your Library. It seems to be difficult to stream Audible books for Windows users. The great solution is to convert Audible AAX books to a playable format then you can freely play Audible audiobooks on any device without limitations. Here you can use the AMusicSoft Audible Converter to help you.

AMusicSoft Audible Converter offers an excellent solution for members who want to fully convert those Audible audiobooks into MP3 or perhaps those other audio formats, expanding their options for listening on various devices. For instance, you can play Audible books on Alexa. For the conversion process, you may choose from MP3, WAV, FLAC and M4A.
The process of using AMusicSoft Audible Converter is simple and user-friendly. The following steps must be taken in order to convert and save Audible books using AMusicSoft Audible Converter.

On your computer, tap the browser icon to head into the main website of AMusicSoft. From here, you will be able to download AMusicSoft Audible Converter application.
Right after downloading the app, install and run it on your local computer. Then once it is done, start adding your chosen Audible books to convert. By clicking on the area specified by AMusicSoft, you will be navigated to your library to select the titles.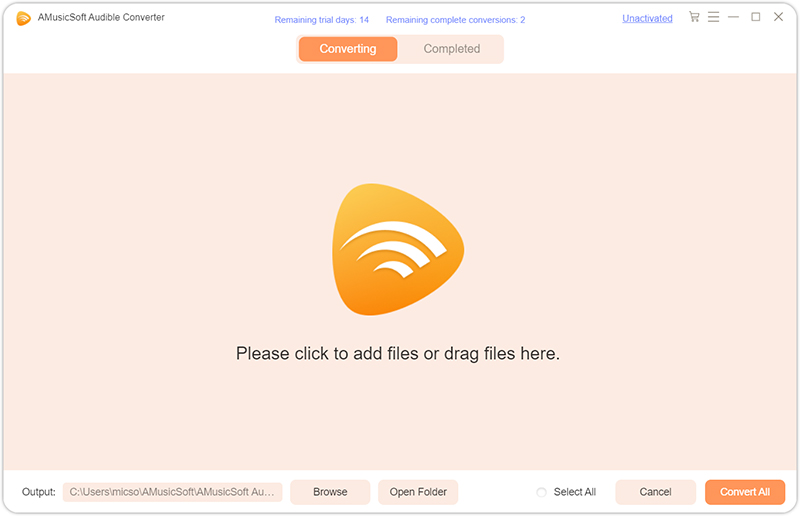 Now, select one format from the menu shown. You must set the output folder as well.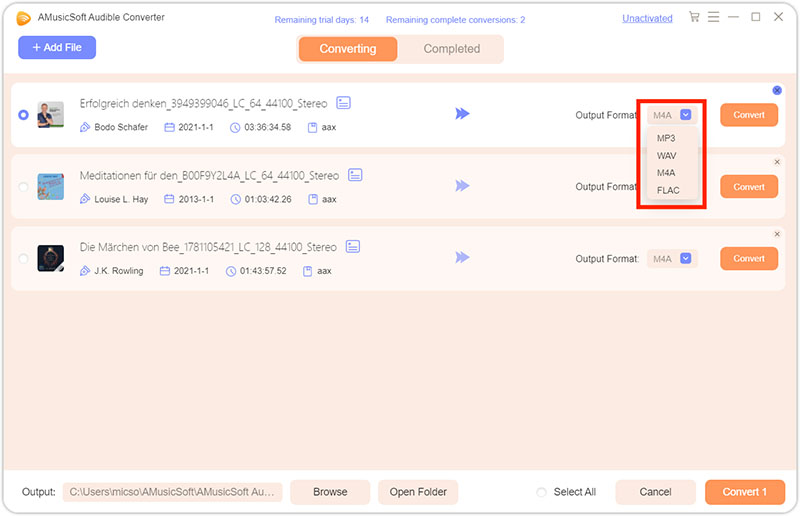 At the bottom part of the current page, there is a Convert button that must be clicked to get started with the process.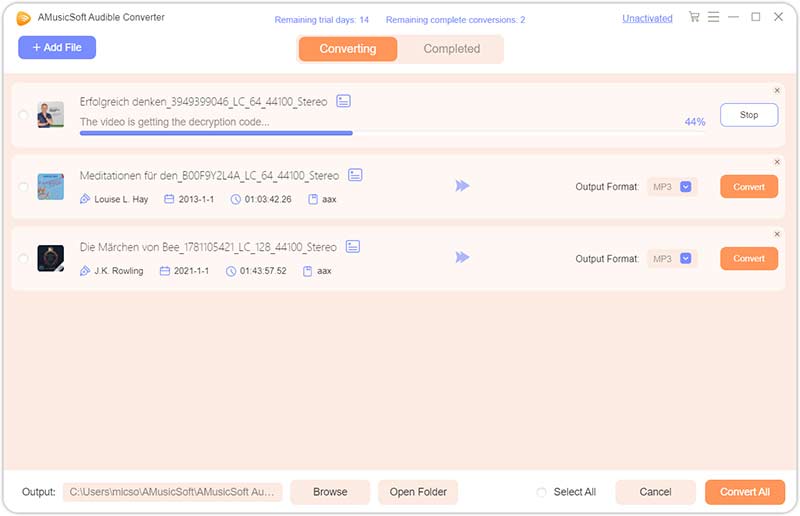 After initiating the conversion process, they can transfer the converted audiobook to any device that supports the chosen output format. By utilizing AMusicSoft Audible Converter, Audible subscribers can unlock several advantages. Firstly, it enables them to play their audiobooks onto a wider different device beyond the Audible app, expanding their flexibility and options. Additionally, indeed it serves such a valuable backup solution for their audiobook collection in case of any issues with their account on Audible, such as compromised access or loss of account privileges.
Conclusion
In conclusion, playing Audible audiobooks on Apple Books offers a convenient and immersive way to enjoy literature for iOS users. Additionally, AMusicSoft Audible Converter is an effective solution that empowers Audible members to enjoy their audiobooks on a broader range of devices for free. That's all have a wonderful day ahead!
Robert Fabry
Apple Music, Spotify, Amazon Music senior users. Share various tips and solutions.
Last updated: September 5, 2023