Lately, there seems to be a lot of changes in the membership plans that Audible offers, given with the new Audible monthly plans introduced removing the old Platinum and Gold subscriptions. The newly created plans are expected to have a cheaper cost of monthly subscription and an unending access to the enhanced Audible library. This new library is composed of all the exclusive Audible titles from known artists, which could be estimated up to 11, 000 titles in total.
If you wish to know for more details about the different monthly membership plans on Audible, the discussion below will surely help as it contains a very detailed explanation of their differences, starting from the prices to pay per month down to what each plan can cater. To help you quickly get to the particular topic that you want to learn, the jumper links are provided below.
Contents Guide Part 1. What Are the Monthly Plans on AudiblePart 2. How to Download and Forever Keep Audible Books for Unlimited Streaming?Part 3. Conclusion
Part 1. What Are the Monthly Plans on Audible
All monthly plans and annual plans on Audible are awarded the opportunity to enjoy an unlimited access to Audible Plus Catalog. When it comes to giving credits, you can enjoy them if you have the Premium Plus membership, in which credits given each month can be used in return for any Audible book that you want. Let us see below the more detailed guide and comparison of the Audible monthly plans.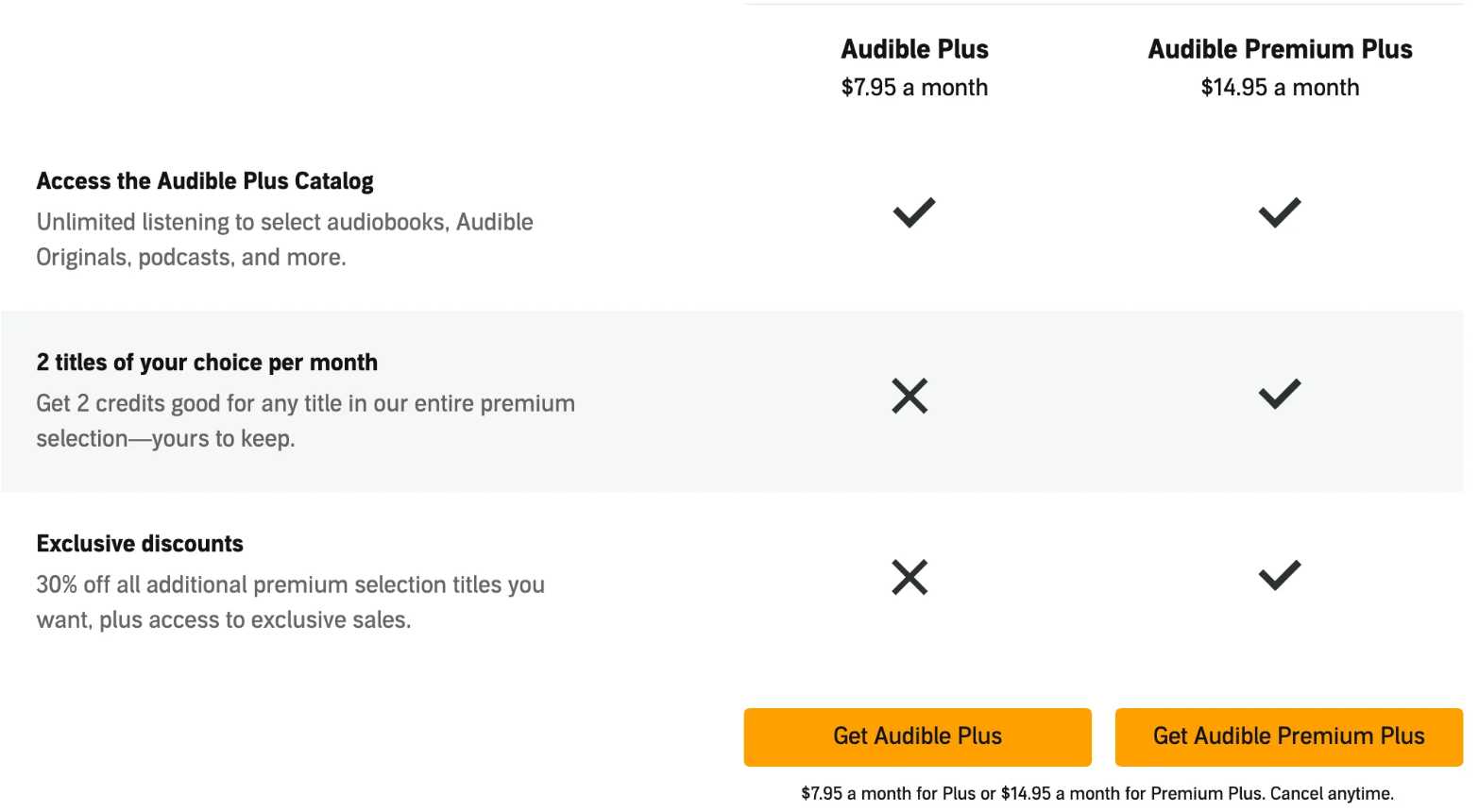 Audible Plus
Starting with the Audible Plus membership, this is also included in the list of Audible monthly plans, which means that you have to pay for a subscription fee every month in order to continue streaming Audible books. You need to pay for only $7.95 every month which is cheaper compared to the previous plan. All subscribers of this plan can access the Audible Plus library for free and unlimitedly. All users can choose from the 11, 000 audiobooks in the library and stream them all they want. To add, in purchasing audiobooks through your plan, you'll enjoy a discount of 30 percent for any title on the Store.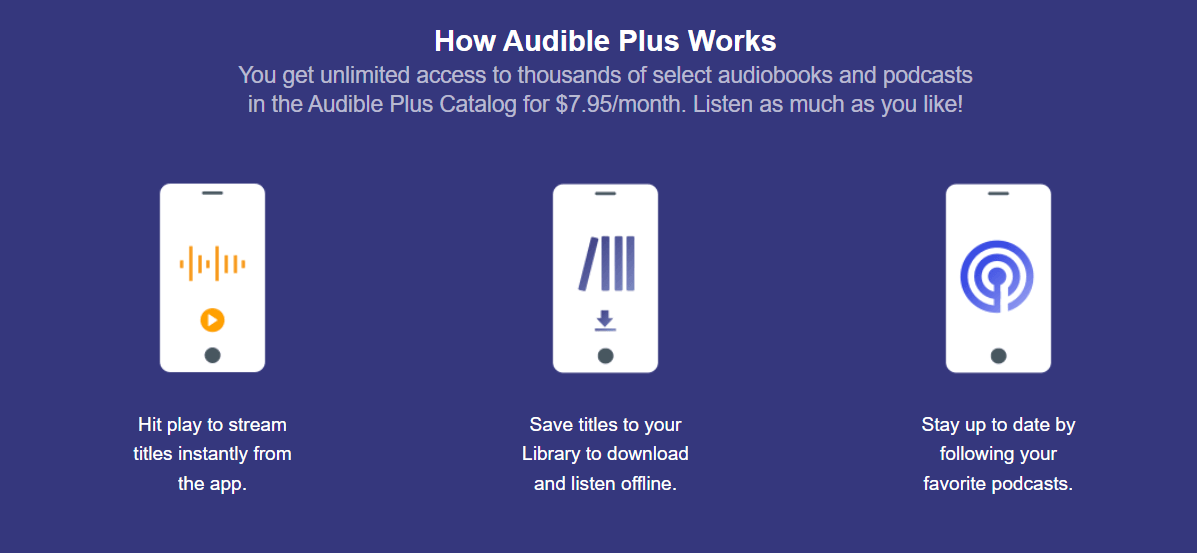 Audible Plus is actually the new replacement of Audible Gold membership. This is made to award the users more opportunities and privileges such as the unlimited access to Audible library, as mentioned previously, and the cheaper monthly subscription to pay.
The only drawback got in this membership plan is the loss of free audiobooks per month, which was answered in return by the amount of money that you have saved pus a wider range of Audible titles to stream. To name some, you can enjoy different genres of comedy, wellness, documentaries, self-help ideas and a lot of Audible Originals.
Audible Premium Plus
Audible Premium Plus is also one of the best Audible monthly plans. If you used to stream audiobooks via Gold and Platinum plan, Audible Premium Plus is now the counterpart. You can pay for $14.95 each month, but you can also get the annual plan at once. This means that you will just have to pay for the twelve months total at a single time for $149.50.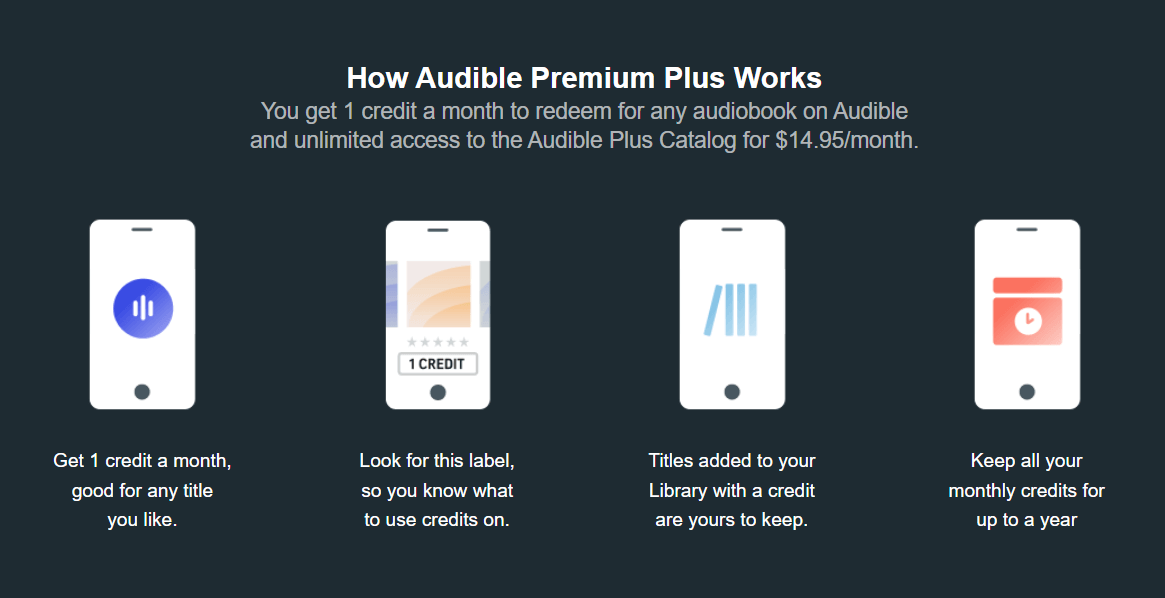 The services it offers include the unlimited access to Audible catalog along with the given Audible titles for free. You can choose for up to two Audible title that you desire on the Audible Store every month. If you wish to acquire other titles that are not included in the free audiobooks, you can also use the 30 percent off when checking them out.
Part 2. How to Download and Forever Keep Audible Books for Unlimited Streaming?
The inclusions and services that you can get from Audible monthly plans are discussed in detail above, so, by now, let me say that you must have decided already which to subscribe and not. As you can see, getting your favorite audiobooks through Audible is just easy and simple. You can get the Audible app for free in the Apple App Store and Google Play Store to find the audiobooks you like.
But the fact that you cannot have them played on any device that you want after purchasing them lessens the enjoyment that you are supposed to feel when listening to them. This is because your streaming experience would be limited. Can you listen to Audible offline?
To make sure that you can have the best streaming session with your favorite Audible books, you have to download them and convert into accessible output formats. This is the only way to open and play them on any music player of your choice. You don'e need the Audible Cloud Player anymore. For the Audible Converter to use, I will recommend using AMusicSoft Audible Converter. This is by far, the best and the most promising tool when it comes to a fast conversion and download of audiobooks. This is made possible by its designed working speed that is met to finish every process included in just a few minutes.
AMusicSoft Audible Converter is also capable of DRM removal procedure. The formats that it can produce include MP3, WAV, FLAC and M4A. All of the resulting formats are expected to have a very good quality that is just the same with the original copy. It also has a simple procedure to follow that is not only convenient to do but is also quick to finish.
Check out the complete procedure on how to use AMusicSoft Audible Converter in downloading audiobooks from Audible.
Get the Audible Converter application from the official page of AMusicSoft. This can easily be landed on by just opening your browser and typing for the website's name. Tap the Download button and wait until the download is complete. Install it on your device right after.
Add the audiobooks onto the Audible Converter by selecting the Add File button or through the drag and drop method.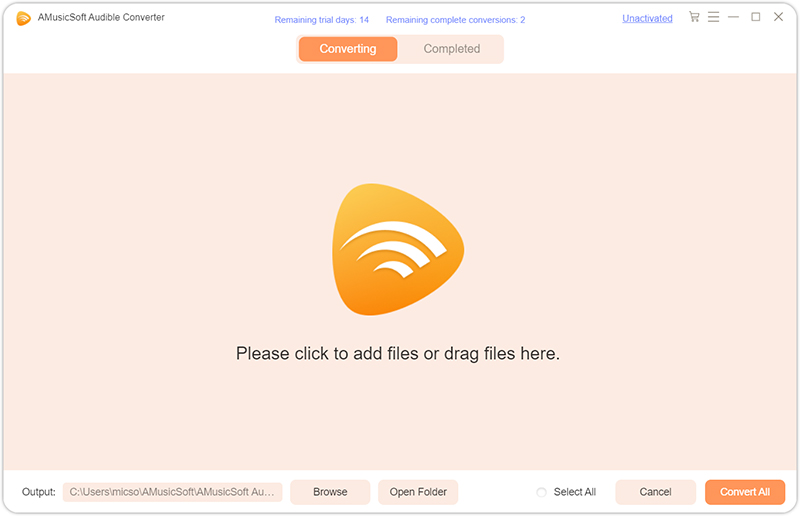 Among the available formats mentioned, choose any that you want and keep an output folder as well.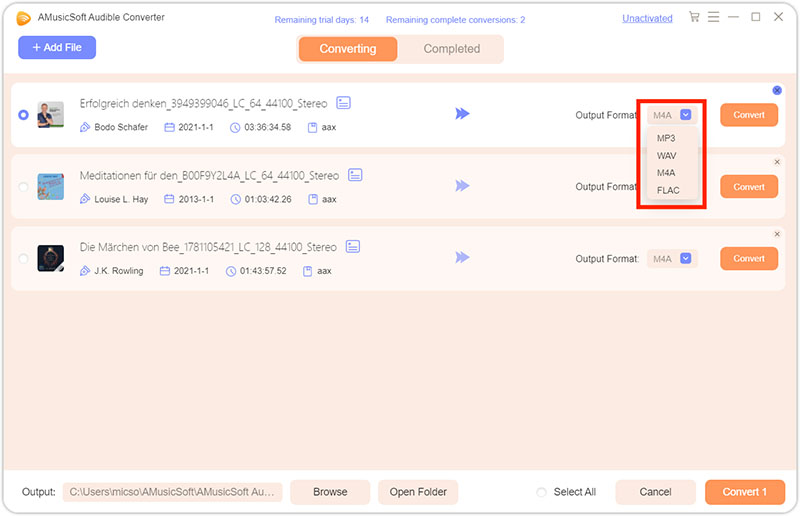 Click the Convert button to start with the process.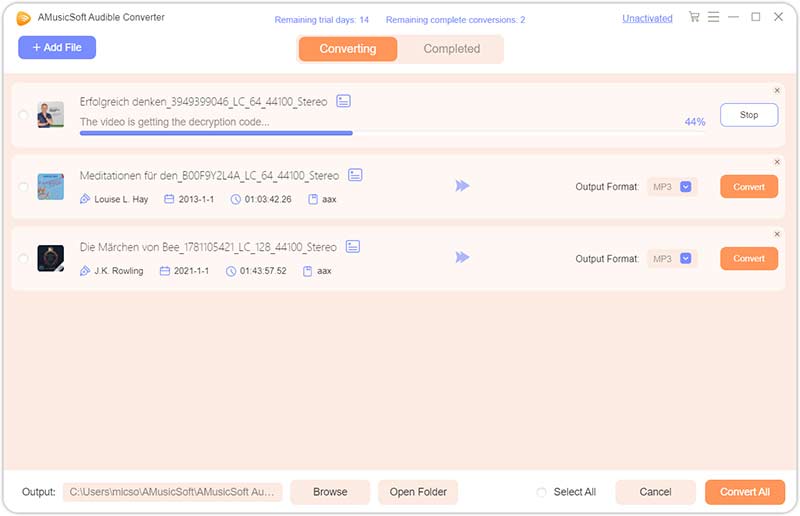 Lastly, download the resulting files once conversion is done.
Part 3. Conclusion
To conclude, all Audible monthly plans are explained above, so, choosing and deciding which one to invest your time and money would be up to you now. Make sure to clearly understand and learn first all the features that you can enjoy once a particular plan was selected. On the other hand, if you wish to keep and save the Audible books on your device for an unlimited streaming without restrictions, you should use AMusicSoft Audible Converter then. Follow the detailed guide on how to use it to get the best results that you want.
Robert Fabry
Apple Music, Spotify, Amazon Music senior users. Share various tips and solutions.
Last updated: January 18, 2023