Talking about audiobooks, Audible is definitely the most successful service provider for years. This Amazon service has been in the industry for quite a long time now and it became very famous due to its library that is composed of lots of audiobooks which people wanted. Despite the features that it can offer, there are still users who reported about the unsatisfaction they felt towards Audible. This is why some have been wondering about Google Play audiobooks vs Audible, which is better and which could give a better service for them.
Just like Audible, Google has also entered this industry. Way back 2018, when Google Play audiobooks were launched in the market, competing officially with Amazon. Since most users are more familiar with Audible than Google Play, let us have a clear comparison between Google Play audiobooks vs Amazon Audible.
Contents Guide Part 1. Detailed Comparison of Google Play Audiobooks and AudiblePart 2. Bonus: How to Enjoy Audible Books Without Membership and AppPart 3. Final Words
Part 1. Detailed Comparison of Google Play Audiobooks and Audible
See below the major differences between Google Play audiobooks vs Audible. Know where to invest your time and money.
Pricing Details
Audible is known to offer multiple monthly and annual membership plans with different subscription prices to pay. Users may choose between the Audible Plus ($7.95 per month) and Premium Plus ($14.95 per month) offered. Newly registered users can get a 30-day free trial with 1 free audiobook. The credits given by Audible can be used to get an Audible book that you can permanently own. Apart from the use of Audible credit in purchasing audiobooks, members also get to pick 2 Audible Originals each month.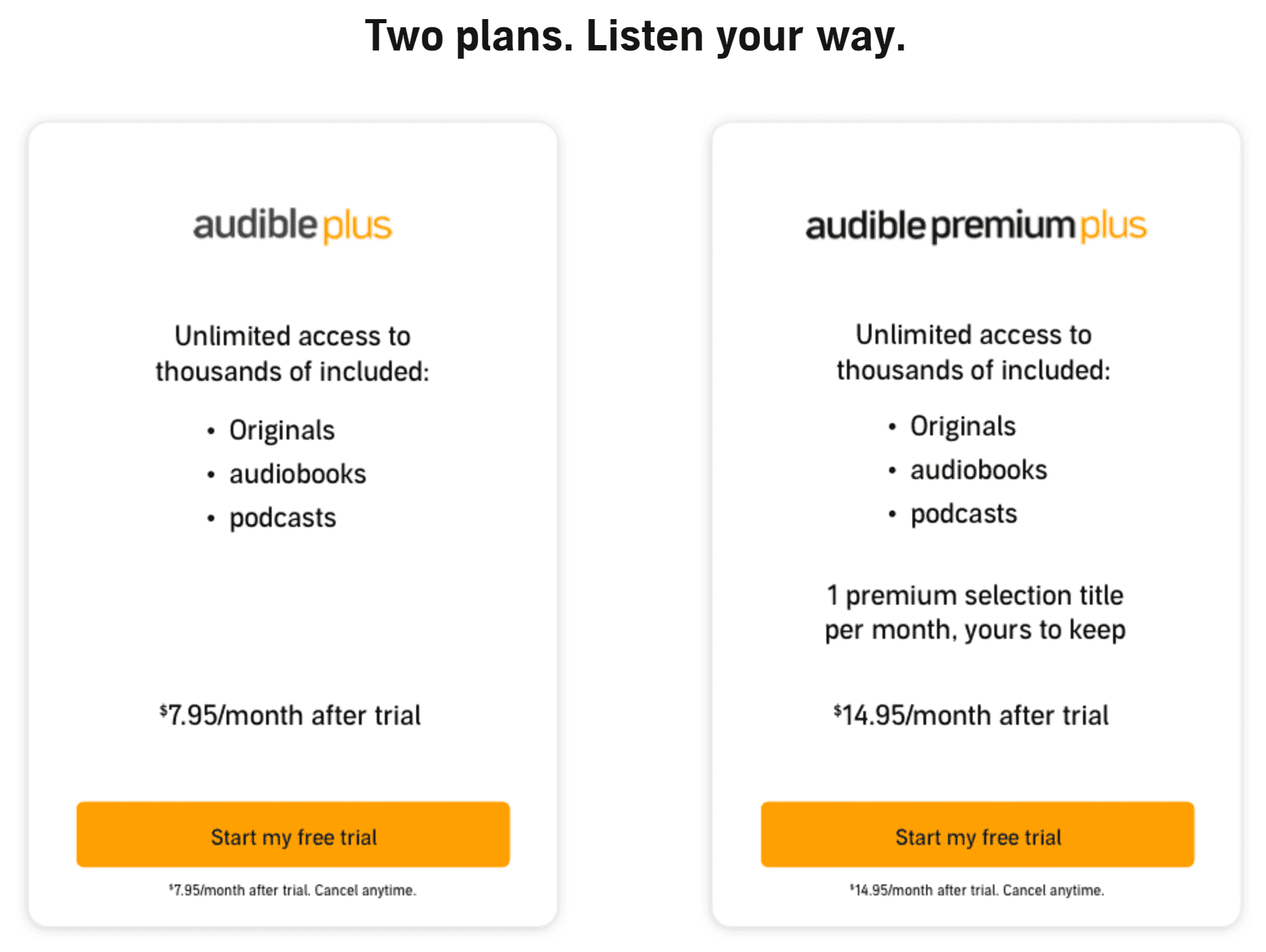 If Audible is membership plan-based, Google Play is different. It encourages users to buy the books in advance and stream once the purchase is completed. Google Play does not depend on subscription plans as long as the audiobooks are legally purchased from them. It also offers promos wherein people can buy the audiobooks at a much lower price compared to the original.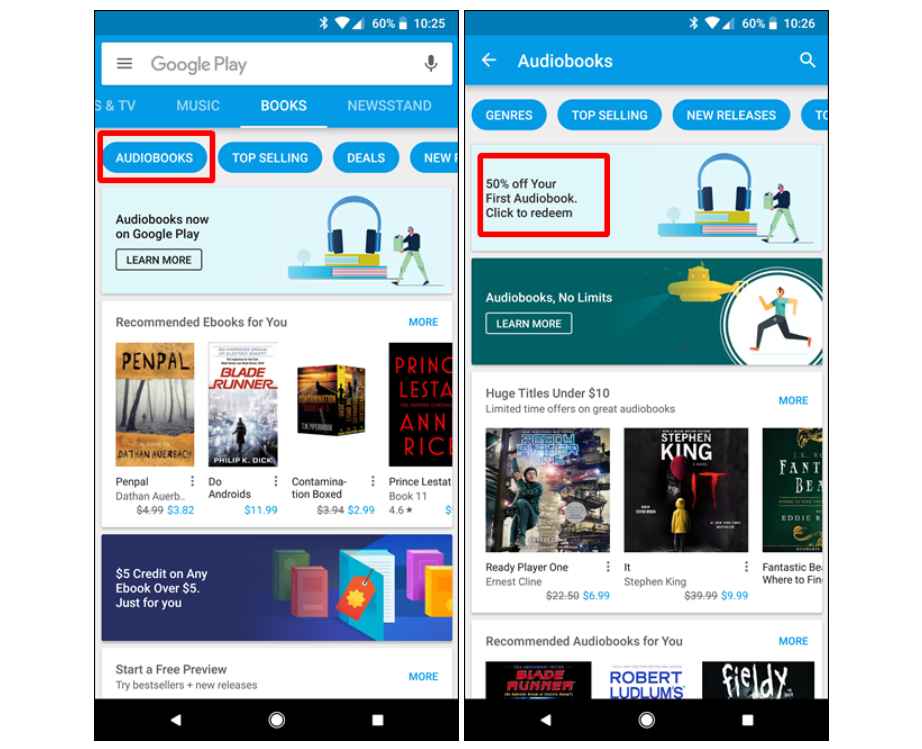 Audiobook Collection
Audible has stayed in the market in a longer time. It is only expected that it has a more extensive library compared to Google Play. As of now, Audible reportedly has 400, 000 audiobooks in total, catering all sorts of themes and genres. So, when it comes to library of Google Play audiobooks vs Audible, Audible is surely the better service.
Compatible Players
Both Audible and Google Play audiobooks can be played on multiple devices including the most common ones such as Android, iOS, Windows, and Mac. The benefit of having audiobooks in Google Play is you can listen to them via your Google Home speaker without having to connect to another device via Bluetooth. You can also listen to them through Chromecast with the Google Play Books app.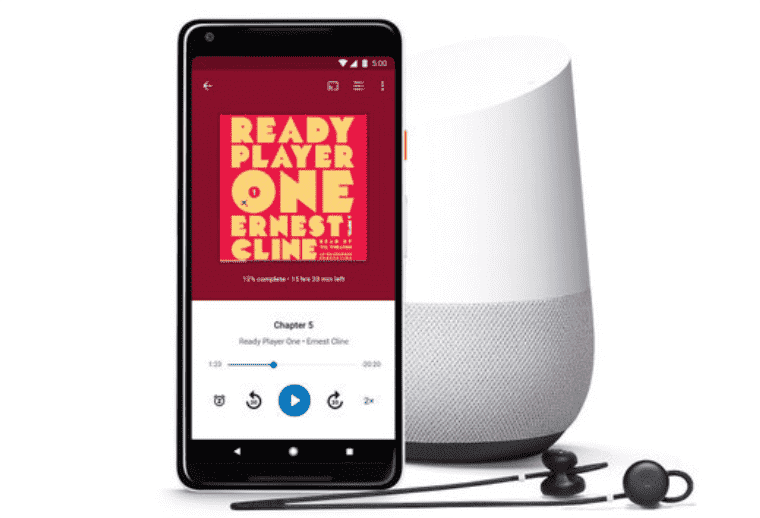 But now downloading Audible audiobooks to Windows 10 is impossible because the Audible app for Windows 10 has been deprecated and can no longer be used to access Audible or listen to titles in your Library. Keep in mind that you cannot play the Audible books without the Audible app. So, Audible streaming is still limited compared to Google Play audiobooks.
After Sales Service and Conditions
You can also see a big difference between Google Play audiobooks vs Audible when it comes to their after sales service. Audible offers better conditions as it allows the users to return any purchased audiobook they are not satisfied with. This is under their Return or Exchange Book Policy where the total equivalent amount used, or credits, will be returned in exchange of the audiobooks.
While on Google Play, returning of audiobooks is limited. You can return the audiobooks after purchase only if you had a problem in playing them or if it isn't downloaded properly.
Availability
Google Play audiobooks are supported in 45 countries and they can be accessed in 9 different languages. Audible, on the other hand, can be enjoyed fully alone on US places, which can be played in French, Chinese, Italian, Spanish and German. But you can still use Audible outside of US, but it is not guaranteed that all Audible titles can be accessed.
Part 2. Bonus: How to Enjoy Audible Books Without Membership and App
Let us say that you still chose Audible after tackling the differences between Google Play audiobooks vs Audible since this is what you have been using for years now and are already used to it, I am sure that you always wonder if there is a way to get rid of the limitations on Audible streaming. As said, Audible books couldn't be played on unauthorized devices and you should have an Audible app to play them. However, despite the good performance of Audible, it is still inevitable for problems to occur such as loading your library or your app and the like.
So, let me share with you the best way to enjoy Audible offline even if you do not have a membership plan and the Audible app. All you need is a professional audiobook converter, which in particular is AMusicSoft Audible Converter. This tool can produce high quality of audio in the shortest time it can in the formats of MP3, WAV, FLAC and M4A. With its designed working speed that is multiple times faster than other converters, you won't have to wait for long until the procedure is done. AMusicSoft also comes with a simple user interface that can be managed conveniently.
The detailed steps that you must follow in using this tool are listed below.
Open the browser on your computer and then search for AMusicSoft website to download AMusicSoft Audible Converter. Installation should follow after download is complete.
Click the Add File button at the upper part and then select the audiobooks that you wish to convert. Alternatively, you may also drag and drop the audiobooks from your library to the converter, respectively.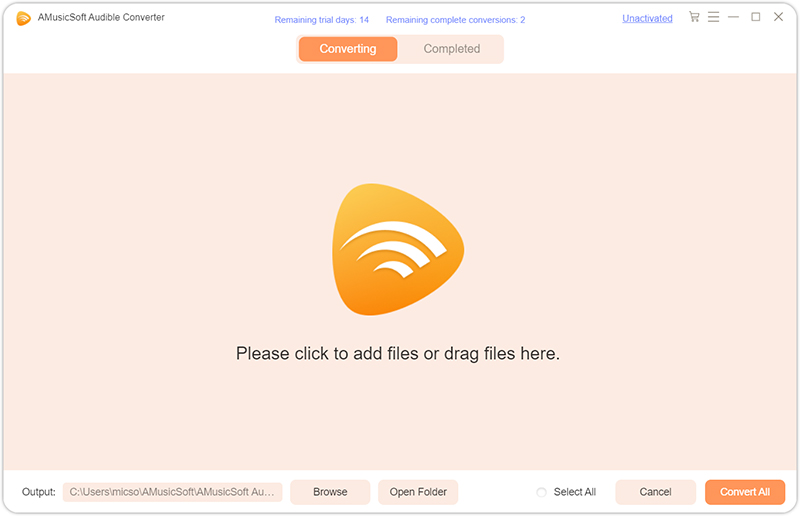 Choose the format that you wish to utilize and select the destination folder as well.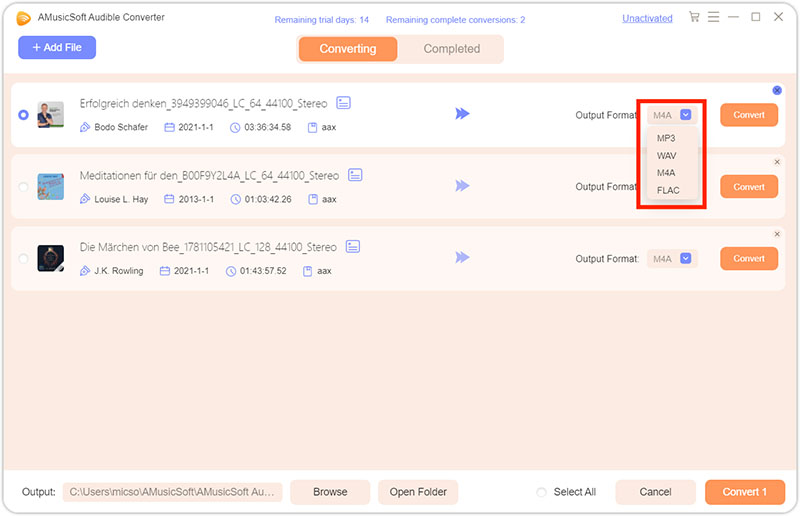 Tap the Convert button to get started with conversion and wait for a while until it is done.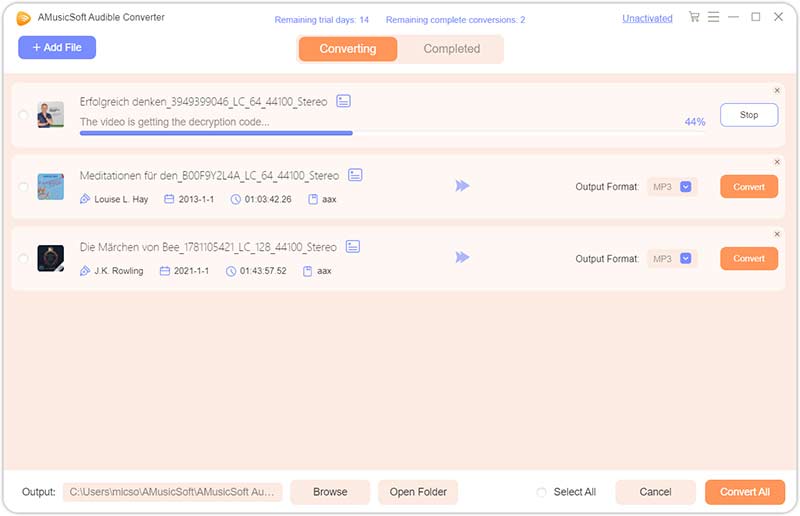 Finally, download the results once conversion is finished.
Part 3. Final Words
Choosing between Google Play audiobooks vs Audible is now easier as long as you've understood the differences between the two via the guide shared above. But nonetheless, both services can give the best streaming experience with all the audiobooks that you want. On the other hand, if you prefer streaming Audible offline on any device that you want, I would recommend using AMusicSoft Audible Converter. This converter can surely give you the best and unlimited streaming session.
Robert Fabry
Apple Music, Spotify, Amazon Music senior users. Share various tips and solutions.
Last updated: January 18, 2023