If you are an avid user of Audible, you must be wondering why and how do Audible download problems happen. Some serious causes include the server of Audible itself having issues or some current maintenance activities. This factor is the main reason that requires you to wait until the server is working again, the maintenance is done, and everything is back to normal.
Discussed below are the most usually encountered reasons behind Audible books not downloading problems. The immediate fixes to solve these issues are also explained, so, choosing and doing the procedure properly is all that you have to do.
Contents Guide Part 1. Factors Causing Audible Not to Download ProperlyPart 2. Fix Audible Book Won't DownloadPart 3. Download and Stream Audible Without Internet ConnectionPart 4. Conclusion
Part 1. Factors Causing Audible Not to Download Properly
Apart from the causes mentioned, there are surely more. Collected below are some of the most common factors behind Audible download problems. These factors are mostly according to what other users have already experienced. See if you happen to encounter the same and let us know how to fix it in the second part of this post.
Slow or weak network connection.
Audible app is outdated and so as the operating system of device used.
Device storage is full and not insufficient for incoming downloads.
Too many cache files.
Download settings is not proper and lacking.
Issues on the device used are present.
Part 2. Fix Audible Book Won't Download
The previous part has shared the most common Audible download issues. For the first response to quickly do when such problems are encountered, force close the Audible app, restart your device, and then relaunch the Audible app. Before relaunching the app, make sure that you have a stable internet connection to load the resources completely. Now, if this method did not create any difference with the Audible books download problems, stated below are the procedures that you may do to immediately fix them.
Solution No. 1: Log out of Audible and Login Again
Once your WIFI connection is checked and stable, try signing out of your Audible account and then close the application. Wait after a few minutes before launching the Audible app and sign in again. After doing so, try downloading new audiobooks on your account and see if you are not experiencing Audible books download problems anymore.
Solution No. 2: Update Your Current Audible App
As mentioned, if your Audible app is outdated, then Audible download problems are most likely to occur. This is because the new features and services are only introduced in the new version and won't work in the old version anymore. Some settings changed might be in relation to download, so, it is only expected not to proceed with saving audiobooks smoothly. Follow the procedure below on how to update your Audible app.
On Mobile Phones (Android and iOS)
On Android phones, proceed to the Google App Store. On iOS devices, go to App Store instead.
After that, click the My Apps section or your Profile icon for Android and iOS, respectively.
Then begin typing and searching for the Audible app. If there is an Update button shown next to the app, quickly tap it to proceed updating.
Wait for a while until the app is completely updated before launching it again and download audiobooks.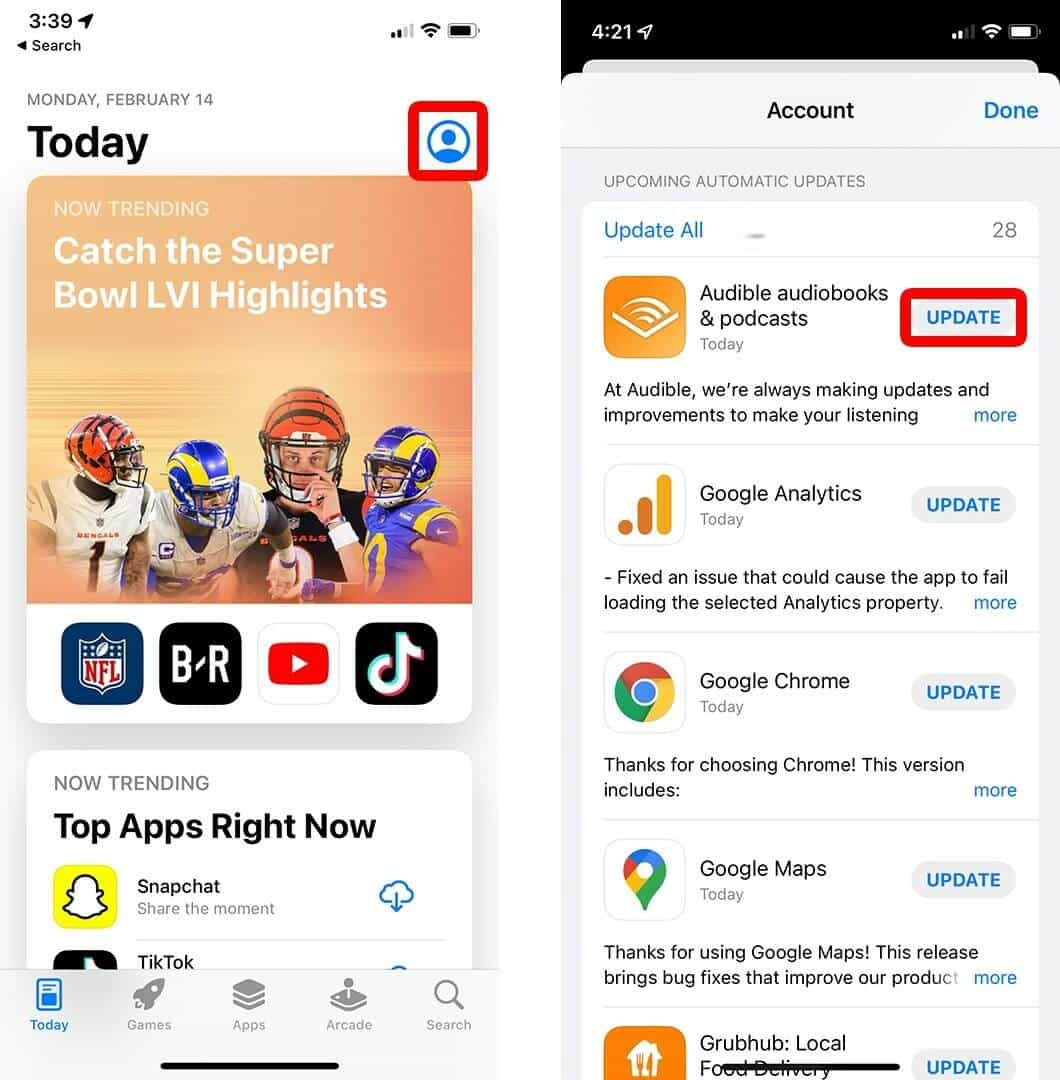 On Windows Computer
Sadly, as of July 31, 2022, the Audible app for Windows 10 has been deprecated and can no longer be used to access Audible or listen to titles in your Library. But now Microsoft is working with Amazon, Audible has returned to Windows 11. PC users can finally start using the service again. You can download and update the Audible app for Windows 11 from the Amazon Appstore.
As you open your computer, go to the Microsoft Store. Search for Amazon Appstore and install it.
Enable virtualization in your device to run the Windows Subsystem for Android. The computer reboots at this point. Log back into Windows.
After restarting your computer, open the Amazon Appstore.
Login using your existing Amazon credentials or create an Amazon account.
You may find the Audible app in the Search bar or Editor's Picks page.
Click Get/Update next to the Audible app.
Keep in mind that you will only see the Update button if your currently installed application is outdated. This is the easiest and surest way to confirm if your application is outdated or not.
Solution No. 3: Modify the Download Quality of Audible Books
You must know that the resulting download quality of the audiobooks is also a contributing factor to Audible download issues. Sometimes, a higher quality can interrupt the process, especially if this is not compatible working with your device's download settings. Also, a higher quality will surely result in a bigger file. So, here comes another problem which is related to your storage space. Apparently, the download won't proceed if there is not enough room to stock the downloads.
Changing the download quality can surely affect and help in solving Audible books not downloading on your device. Check out the detailed procedure below about how to do this in detail.
On Android and iOS Devices
Get started by launching the Audible app.
Tap the gear-like icon which represents the Settings section.
For Android users, select the Downloads option next, whereas for iOS users, tap Data and Storage.
After doing so, select Download Quality and choose another setting.
On Windows
Launch the Audible app and then navigate to the menu section and select the Settings button.
After doing so, tap the Downloads button and then Download Formats.
Enable the new download quality that you wish to utilize.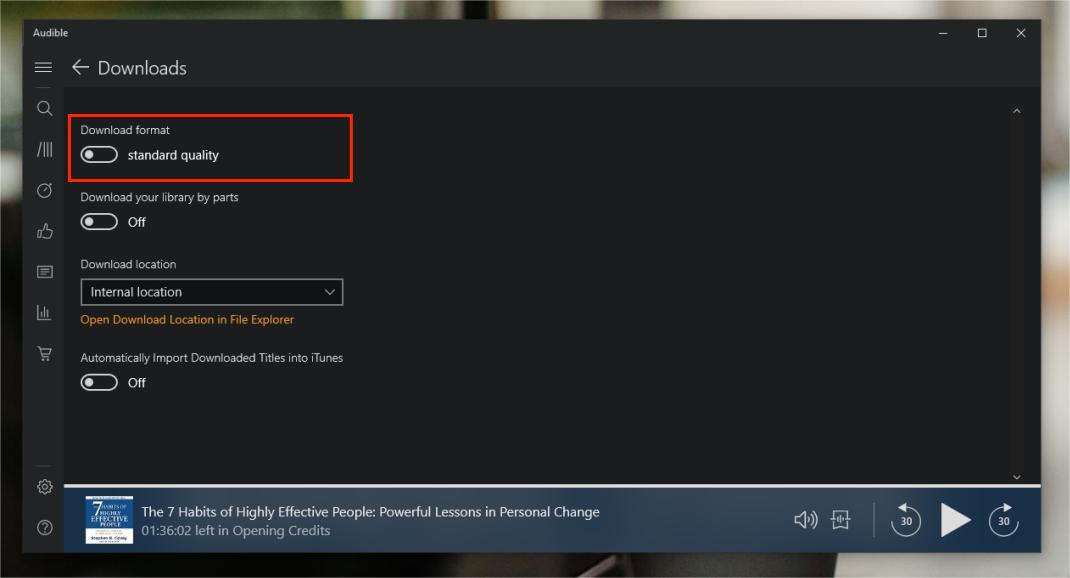 Solution No. 4: Update Your Used Device by Updating Its Operating System
Too old operating system will indeed work slower and buggier. Also, an outdated system is more prone to virus and malware. As a result, multiple errors are being experienced including Audible download problems.
Fortunately, this issue can be solved immediately by simply updating your device. As an advice, please update it to the latest software version released for your device. Now the latest version for iPhones is iOS 16. For Android users, Android 13 is the latest version of Android, it arrived first on Google Pixel phones but was quickly rolled out to Samsung Galaxy devices as well. Phones from OnePlus, Nokia, and others slowly followed. Let us see below the complete guide on how to do it.
On Android and iOS Devices
Begin with launching the Settings app on your device and then choose the General button next.
On Android phones, you may directly click the Software update button while for iOS users, do it right after clicking General.
Then tap the Check for updates option and see the available version for your used device.
Select the Install Now button and wait until everything is installed completely.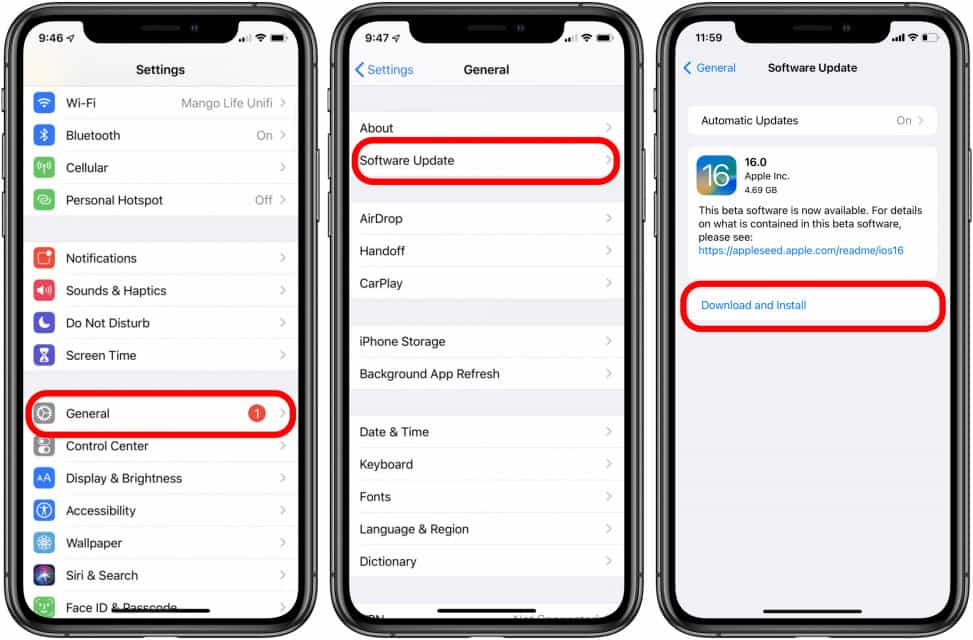 Solution No. 5: Clear Cache Files
Another cause of Audible download problems is about the Cache files. Sometimes, there comes a conflict between the cached version and the latest data on your account and device. The easiest way to counter this problem is through the deletion of the cache data. For the steps to follow, check out the list below.
On Android Device
Launch the Settings app on your mobile phone and then choose the Application Manager button.
After doing so, select the Other Apps button and then choose the Audible app from the list shown.
Click the Audible app and then select the Force Stop option that you see.
Then proceed with clicking the Storage button and then Clear Data option.
On IOS Devices
Go to the Settings app and click the General button.
From the new window shown right after, select iPhone Storage.
Then choose the Audible app option and then click on offload.
Clicking on this will automatically delete all the cache data in your Audible app.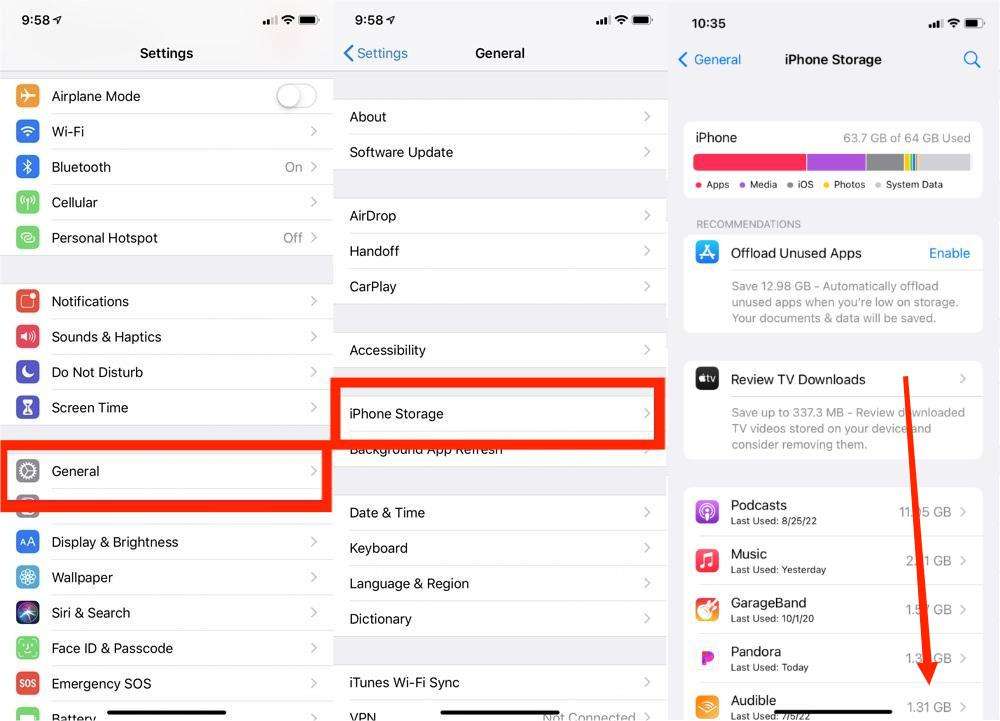 Part 3. Download and Stream Audible Without Internet Connection
Audible download problems can be caused by several factors. If you can only get rid of them, then you won't have to worry about downloading them anymore. After fixing this issue, streaming will follow. However, playing the files is much better if you can do it offline. But how are you going to make it possible? The answer is simple. You will just have to use AMusicSoft Audible Converter. With all the features it has, you can surely expect for the best results that this tool can provide. AMusicSoft Audible Converter comes with the following features:
Ability to convert Audible books to MP3 and other multiple accessible formats including WAV, FLAC, AAC, AC3, and M4A.
Ability to download the converted files right after conversion is done.
Allows users to play Audible audiobooks on Apple Watch or any device of their choice.
Designed with a simpler interface that can easily be understood, with an easy list of steps to follow.
Ability to provide the best quality of converted audio with no difference compared to the original.
Keeps significant information such as ID tags and Metadata info.
With a fast-working speed that can shorten the length of each process, making it finished in just a few minutes.
Detailed Guide In Using AMusicSoft Audible Converter
Open any of your browsers to search for AMusicSoft website. You can get the Audible Converter app on this page by simply clicking the Download button. Proceed with installation right after.
Install it on your device once the download is complete and add the audiobooks to convert. To do that, you may tap the Add File button or drag and drop the files into the converter.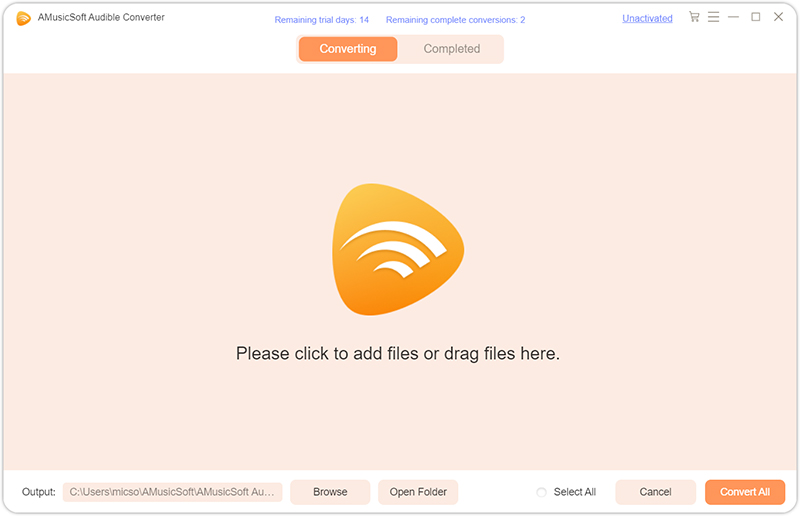 Then select the output format for conversion and follow it with the output folder.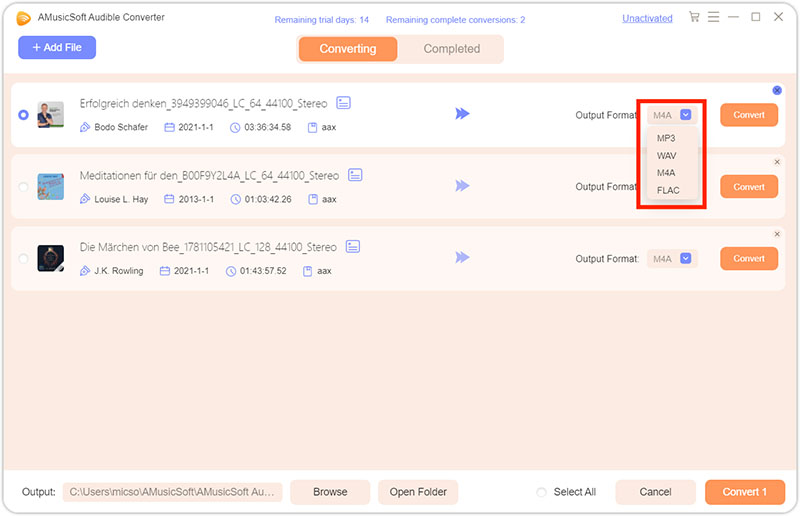 Click the Convert button to let the process begin.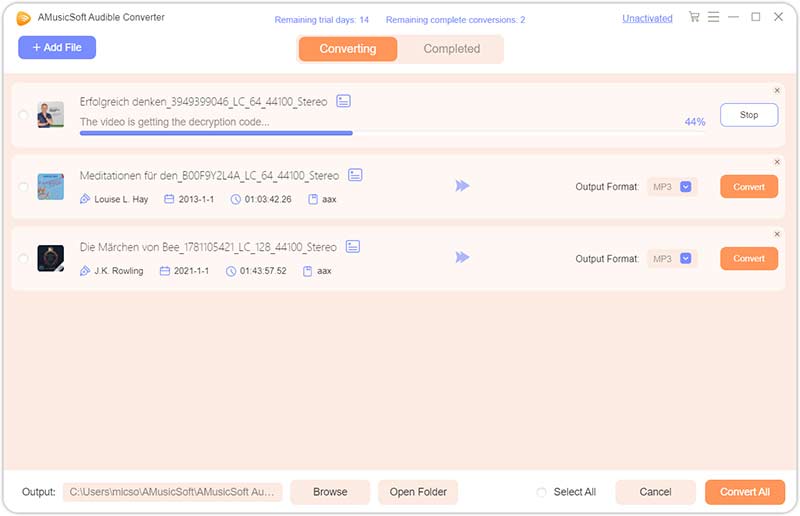 Finally, download the converted audiobooks and stream them offline.
Part 4. Conclusion
Even if there are so many and possible causes of Audible download problems, by following the correct and corresponding fixes, you may quickly get away from it. On the other hand, use AMusicSoft Audible Converter to download the audiobooks into playable formats and enjoy them even if you are not online.
Robert Fabry
Apple Music, Spotify, Amazon Music senior users. Share various tips and solutions.
Last updated: January 16, 2023