AAX audio format was invented to give a clear sound to audio files. You can enjoy smooth sound vibrations when using AAX format. This is why audible prefers to use this audio format on their books. In addition, it has an extension that allows attaching encryption. However, how to play AAX files on pc is a disaster.
Get the best way you can play this format in this article. The article opens with a list of media players that can play AAX format. Then the second part has four methods you can play Audible AAX files. There is a step-by-step explanation for each method.
Contents Guide Part 1. What Player Can Play AAX FilesPart 2. How to Play Audible AAX AudiobooksPart 3. Conclusion
Part 1. What Player Can Play AAX Files
How to play AAX files on pc and what kind of players can do this? There are several media players that can play AAX files. However, the AAX format is not compatible with most media players because of the M4b encryption. This format is common for audible audiobooks; hence the audible application is the best program for this format. The audible app is the default media player for AAX files.
Moreover, there is an audible application for windows 10 and windows 8 that can play both audible aa and AAX files. This application is Audible for Windows, it can download audiobooks on Audible and play them offline. The Audible for Windows has the chapter navigation option, which is best if you have many books. You can also use it to organize your library.
Audible for Windows has extra features like the ability to sync audible bookmarks and notes. You can also adjust the listening speed and position when you are using different devices. An excellent feature is how you can transfer books to authorized MP3 players.
On the other hand, there is the Audible Manager. How to play AAX files on pc with Audible Manager? Does it work? You can easily confused with the audible application. It is an old application but can play AAX files without worry. Audible manager allows you to transfer audible books to other devices and bookmark them.
Windows media player is also another option to play AAX files on pc. You can burn audible books to cd using this media player. In addition, you can also copy and cast books from audible to different devices. Moreover, you have a chance to rate the books and manage them on the platform.
Part 2. How to Play Audible AAX Audiobooks
Method 1. Audible app
How to play AAX files on pc? The audible application is the main media player for AAX audible books. But you must purchase the books and download them to your library. If your PC runs on Windows 10, Audible is available on the Microsoft Store, you can listen to your audiobooks by downloading this free app. Here is how to play audible books with the Audible app.
Step #1. Go to Microsoft Store. Search 'Audible' and press Get.
Step #2. Launch Audible and enter your Amazon or Audible login credentials on the login page.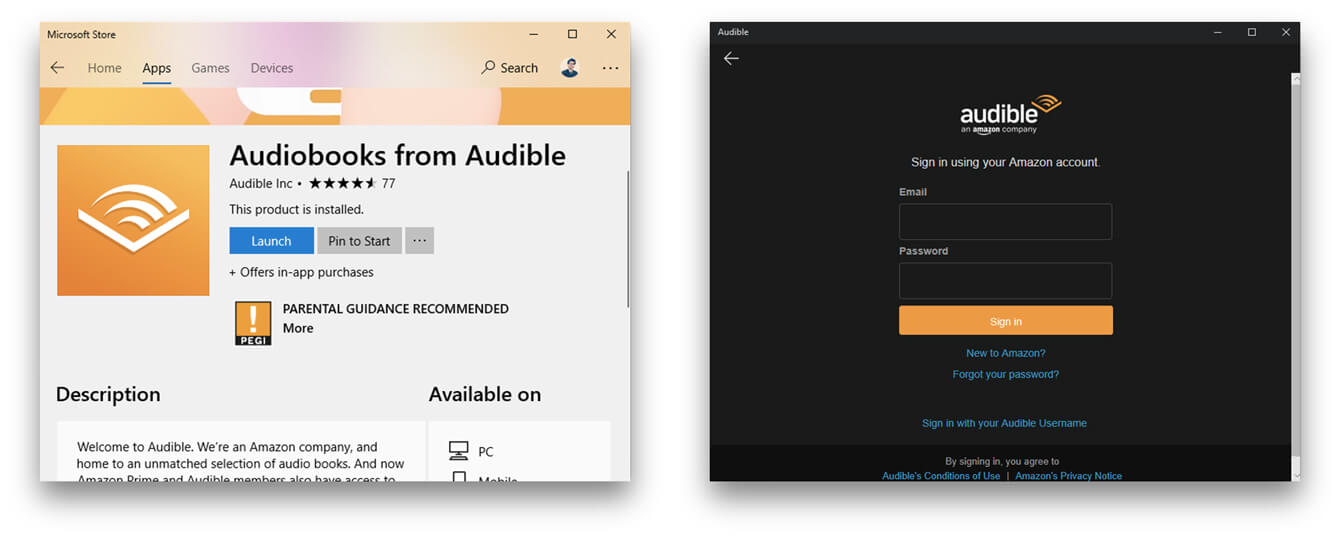 Step #3. Now you can search for your titles in the library and play them.

Sadly, as of July 31, 2022, the Audible app for Windows 10 has been deprecated and can no longer be used to access Audible or listen to titles in your Library. The Audible platform is recommending users switch to the Audible mobile app or use the Audible Cloud Player.

Method 2. Desktop browser
Did you know you have the option to listen to audible books directly on the audible website as long as you purchase the book and log into your account? However, you must have a good internet connection for a smooth listening experience. Here is how to play AAX files on pc through the Audible website.
Step #1. Open any browser on your pc and head to the Audible website.
Step #2. Log into your account and open your library to see the list of audiobooks.
Step #3. Click on the "Listen now" button and you start streaming the audiobooks.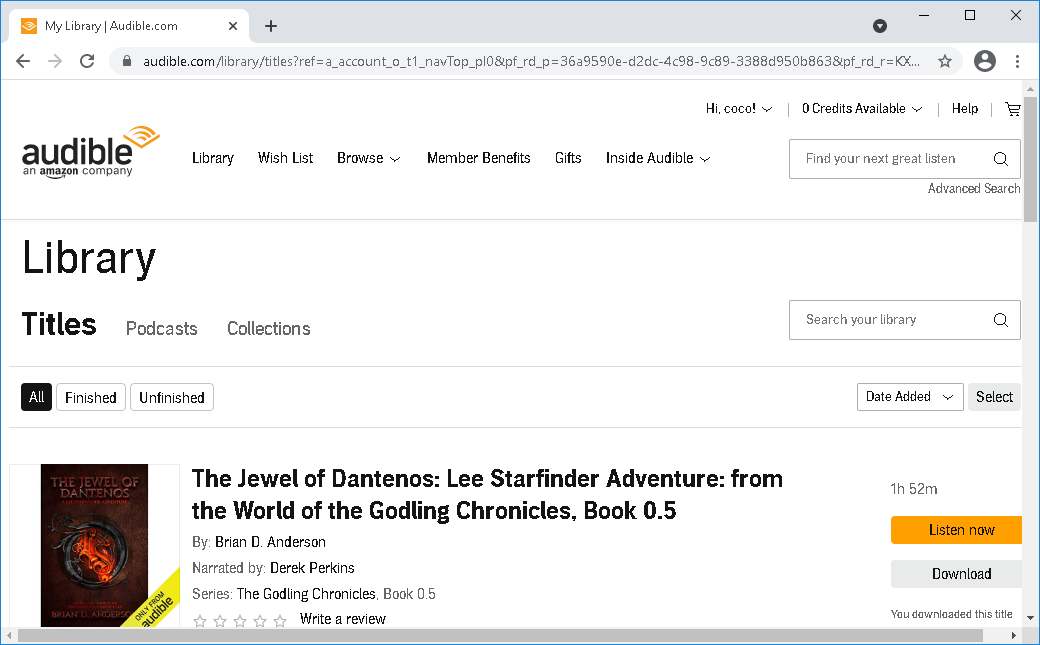 Method 3. iTunes
iTunes is a software program that acts as a media player for Windows and Mac computers which is developed by Apple Inc. It is one of the authorized media players to play AAX files. Moreover, it has a chapter navigation option for many books. Another feature is the way you can edit the files, including metadata information. Below is how to play AAX files on pc with iTunes.
Step #1. Ensure you download the audible books to your hard drive using the audible app.
Step #2. Open the folder with the books and right-click on the book you want to listen to. Then select to open with iTunes.
Step #3. A prompt will appear asking you to authorize your computer. At this point, click on "Yes," and you will log into your audible account to activate the computer. Click on "Activate now" you can play the books on iTunes.
Method 4. AMusicSoft Audible Converter
How to play AAX files on pc without DRM protection? Here is the best solution to playing AAX audible audiobooks. AMusicSoft Audible Converter is third-party software that allows you to play audible books on any media player. This is because it removes DRM protection from Audible and converts Audible books to MP3 or other common formats. The software has excellent features and below are some of them.
Remove DRM from Audible files
Download Audible audiobooks on any device without account authorization
Convert Audible files to MP3, WAV, M4A, and FLAC format
Faster Conversion Speed to Shorten Your Waiting Time
Highly compatible with the latest Mac/ Windows OS
Keep Chapter Information and ID3 Tags, 100% Lossless Quality
The steps below show how easy it is to use the application of AMusicSoft Audible Converter.
Step #1. Open the application on your PC and add the audible books to the main window. Remember to first download the books to your computer. Once done, you may now start uploading the audiobooks into AMusicSoft. Click the area suggested by the converter and then select the books you want.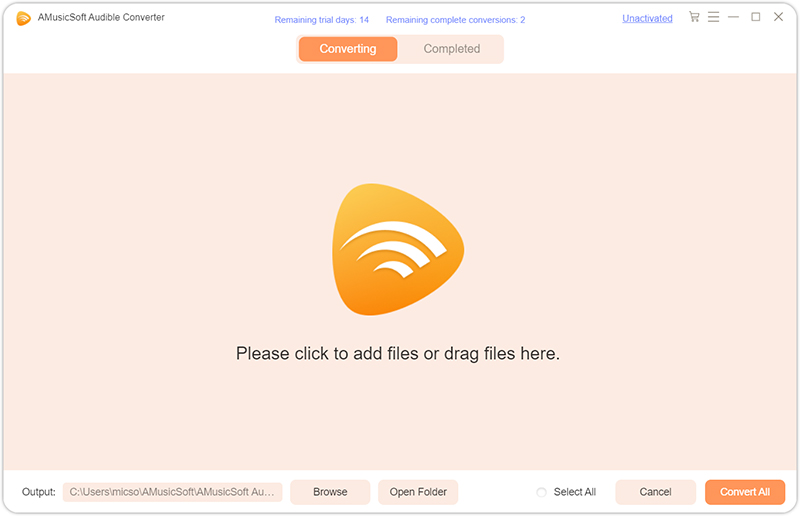 Step #2. Select the output folder and output format from the preferences icon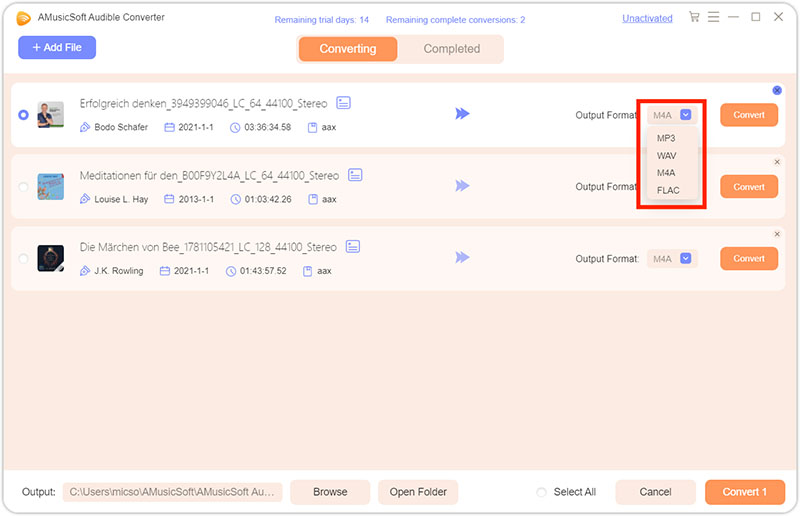 Step #3. Lastly, click on the convert button, and the books will start the conversion process.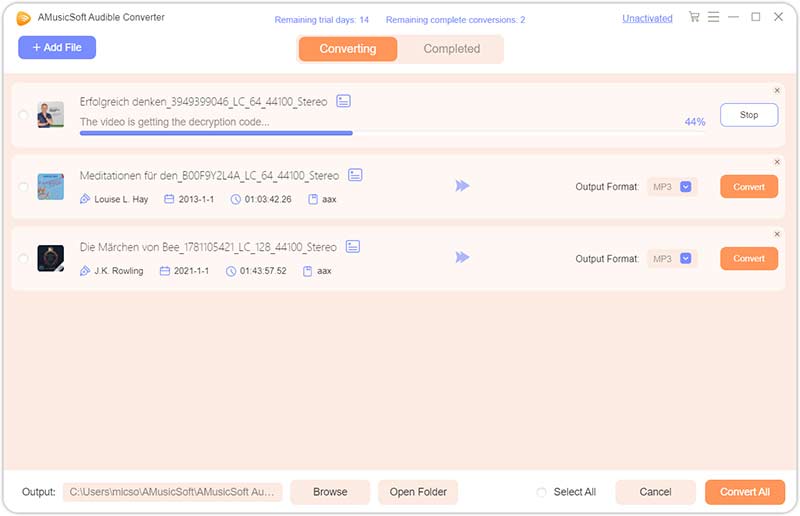 Part 3. Conclusion
Of course, the audible app is the best way to play AAX files on pc. Windows media player is another option but can reject some files. iTunes for windows can also help, but it has a complex process. How to play AAX files on pc with easy steps if I don't want to download the Audible app or iTunes? The excellent idea is to convert the files to other compatible formats using AMusicSoft Audible Converter. Download it from the official website.
Robert Fabry
Apple Music, Spotify, Amazon Music senior users. Share various tips and solutions.
Last updated: July 21, 2023