If you have a lot of Audible book recommendations, you would be happy, for sure, to know that there are simple and possible ways how to share Audible books with your friends and family. Audible has shared two official ways to help users share their favorites with others. To share all of your favorites with ease, continue reading until the end of this post to learn about the proper procedure on how to do it.
Contents Guide Part 1. Official Methods to Share Audible Books with Friends and FamilyPart 2. The Best Way to Share Audible BooksPart 3. Conclusion
Part 1. Official Methods to Share Audible Books with Friends and Family
Explained below are the two Audible ways on how to share Audible books.
Share Audible Books Through Send This Book Feature
The first one is via using the Send This Book feature. The Send This Book feature is officially introduced in the Audible app. So, you will not be able to use this if the application is not downloaded on your device. Keep in mind that you cannot do the process on the website. To proceed, just navigate to App Store and Google Play store for iOS and Android devices, respectively and get the application. To use this feature properly, check out the steps below.
After downloading the Audible app, install and launch it on your device. You must have an account in order to do this, so, it's either you'll sign in or you'll sign up, if you do not have an account yet. Make sure to use a valid email address and other details required in order to have the account.
Once done, all of the audiobooks that have been purchased will be shown on your account.
From the list of books, choose which titles do you wish to get shared. Then tap the more icon next to the Audible title to see the options including "Send This Book".
Click the said option and then select the media that you prefer to use for sharing. You may choose among email, message app or WhatsApp.
Right after that, choose the contact to which you'll share the book with.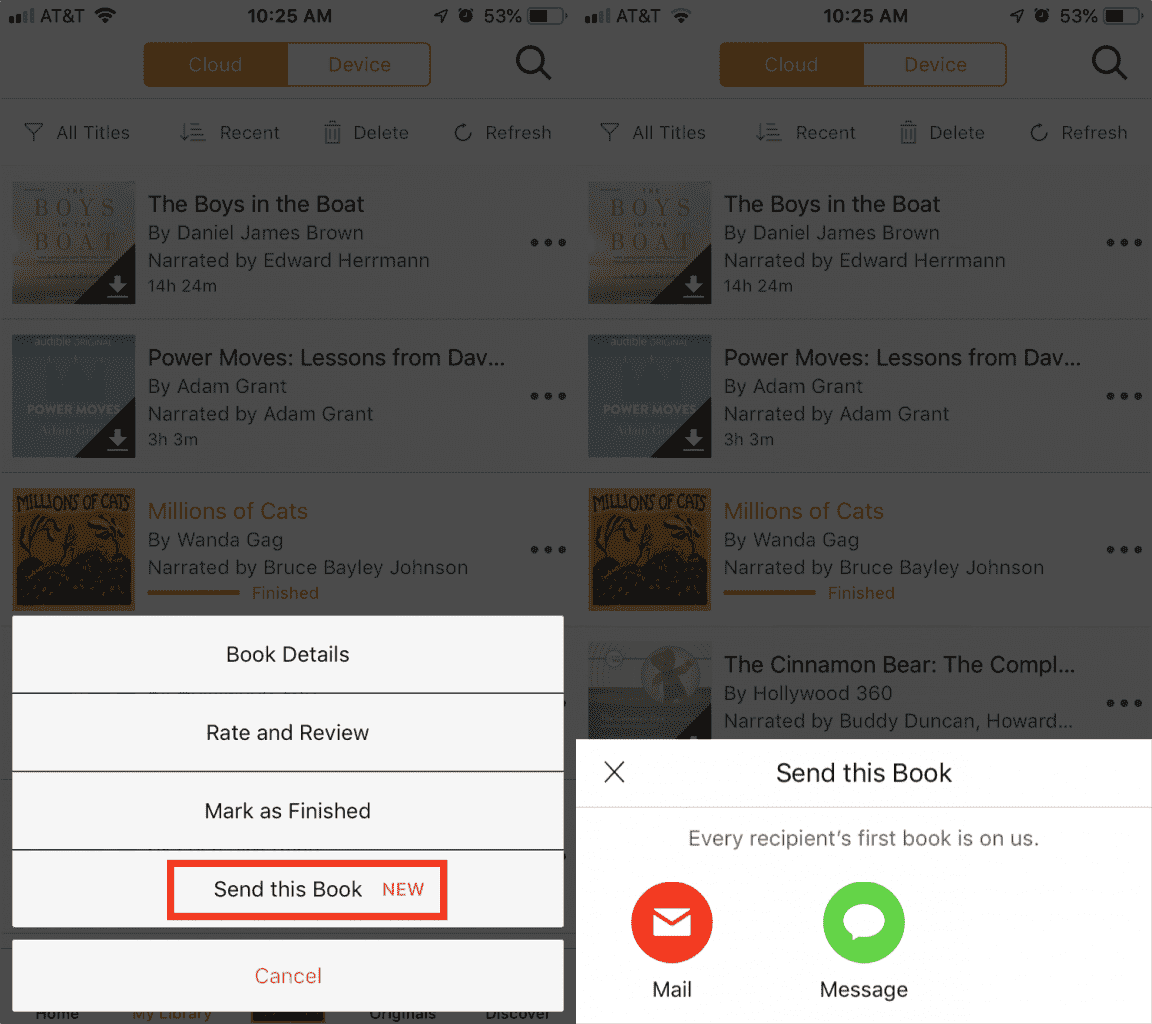 Once the steps about how to share Audible books, your friend or family will have to receive the book by redeeming it. In order to do that, the recipient will have to use a credit which is to be given to them for free.
Share Audible Books Through Amazon Household Sharing
The next method on how to share Audible books is very useful, especially for users who love to share not only books but also movies, audio clips, and even gaming videos. This is best for all families with members who enjoy listening to audiobooks. However, unlike the first method shared, even if you have the Audible app, you cannot just proceed with the steps since you have to first create an Amazon Household account with members added to it already. For every household account, a maximum of 10 people can be added alone. Another one to remember is that only one adult account can be used to share books among the members.
Follow the steps below on how to share Audible books via Amazon Household Sharing.
Start with setting up a Household account. Open your Amazon account and then navigate to the section of Manage your Content and Devices. From here, select the Preferences option.
After that, click Households and Family Library and then choose Learn more about households.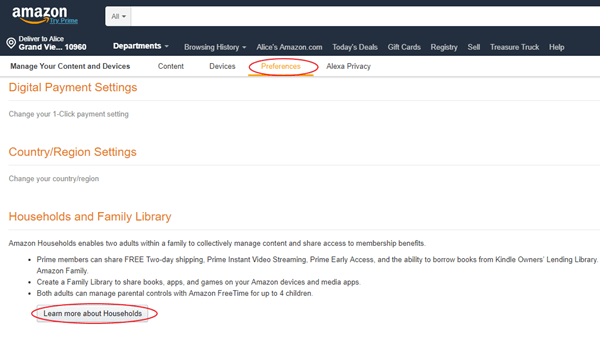 Tap Add adult and then add the member by providing both his name and email address. Once the first member is added, continue adding the next ones by entering the same details and then clicking the Verify second adult's account.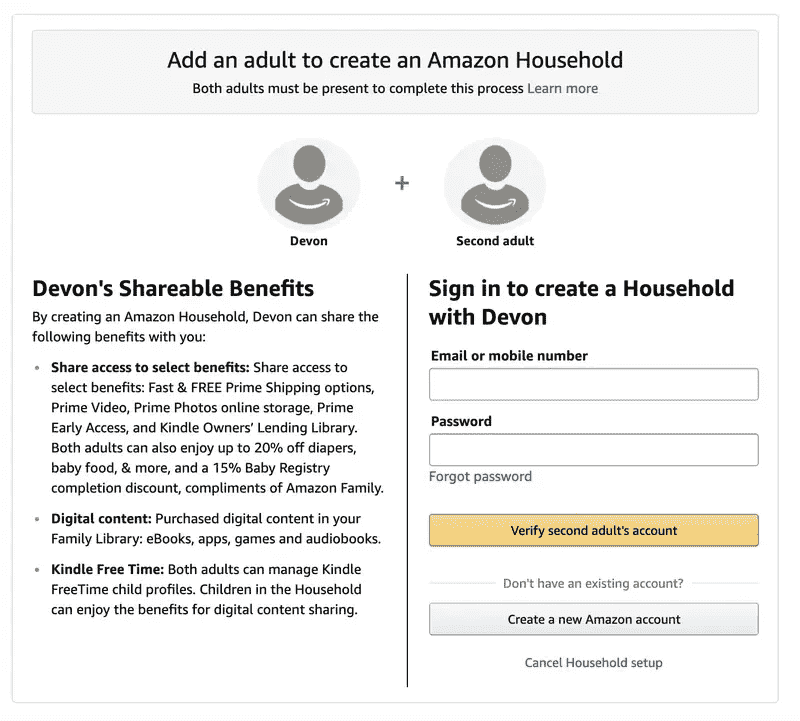 Now, it is time to go with sharing Audible books. In order to do this, just add all the items on the family library so that all members added would be able to access the titles. After finding the book, click the button of Add to Library.
Part 2. The Best Way to Share Audible Books
The two methods that are discussed above about how to share Audible books are both useful as long as you have the Audible app or an Amazon account to create Amazon Household Sharing. You must know as well how to properly execute the steps shared to accomplish your goal of sharing books. But aside from that, there are other ways to share the books with others, assured that no issues would arise even if you continue using the application.
To make that possible, you should use AMusicSoft Audible Converter. This tool is the best converter that can be used for downloading and converting Audible books to MP3 format. All of the formats that it can produce could be accessed anywhere and they can be shared with others without limit.
Can you listen to Audible without a subscription? Of course, you can! Because AMusicSoft Audible Converter is also a very capable app that can remove the DRM protection of Audible audiobooks. Audiobook fans can get audiobooks without the need for a password or membership.
It has a commendable speed of conversion and it can guarantee the best audio quality of the resulting files. Another good thing is that using this tool is just easy and the steps are simple. Check out the procedure below.
Get AMusicSoft Audible Converter from the website of AMusicSoft and then install it on your computer. Proceed with launching it right after the complete launch.
After that, add the Audible books to convert. Just tap the Add File button located at the upper left corner and select the books to upload.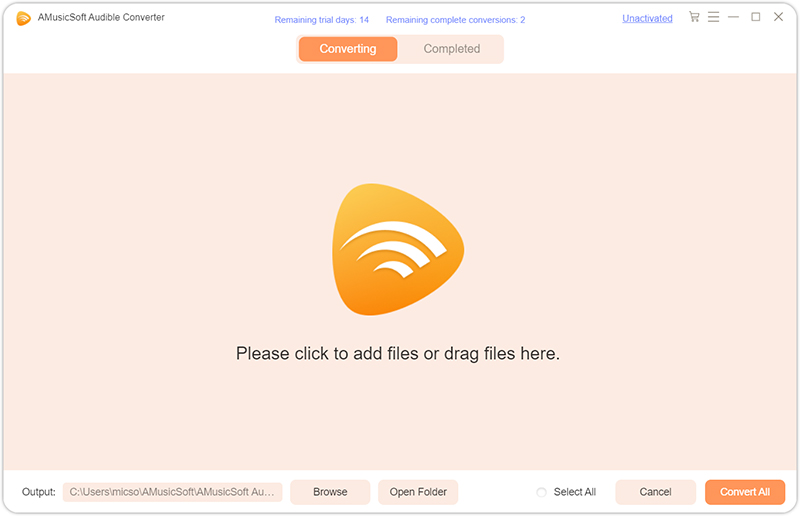 Once done, choose the format of conversion. In AMusicSoft, you may select among MP3, FLAC, WAV and M4A. After the selection, you should allot an output folder to save the results.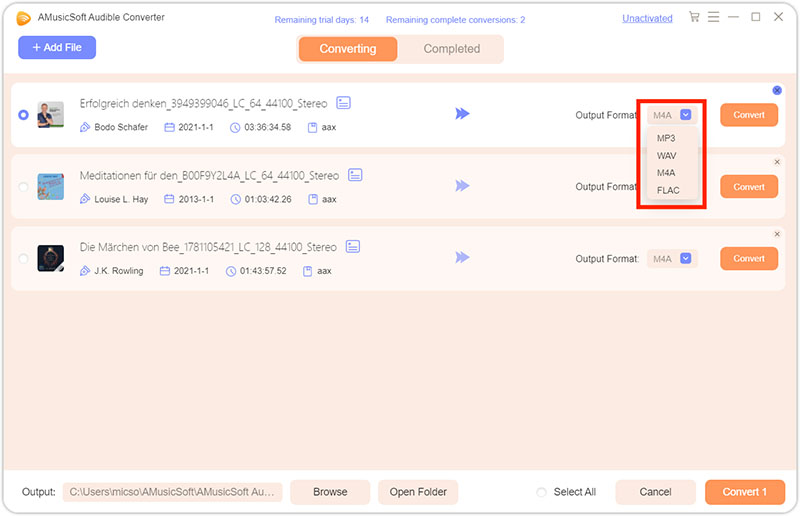 Then next is to click the Convert button to start the conversion process.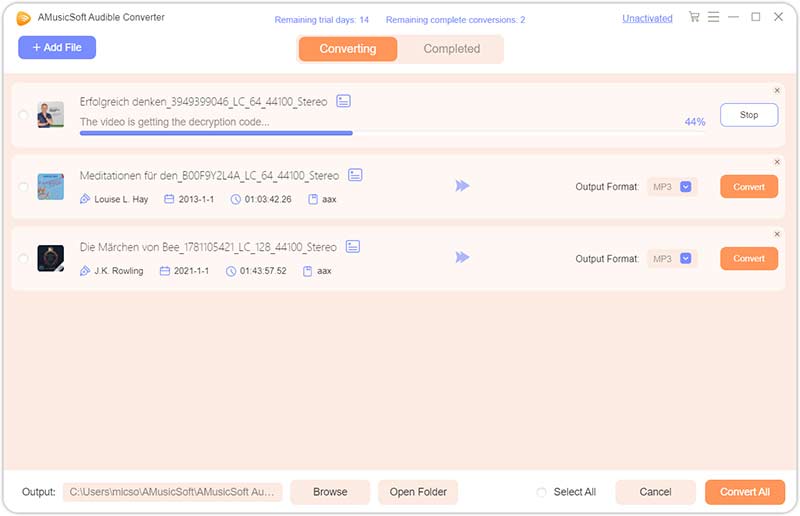 Lastly, download the converted Audible books and then save them on your computer in order to proceed with sharing.
Part 3. Conclusion
For the process on how to share Audible books, you may use the Send This Books feature, the Amazon Household Sharing and also AMusicSoft Audible Converter. They are all effective and useful as long as correct procedures are followed. Among the three methods introduced, the best one would be AMusicSoft as this tool can let you stream and share your favorite books without limit.
Robert Fabry
Apple Music, Spotify, Amazon Music senior users. Share various tips and solutions.
Last updated: November 21, 2022