The most straightforward way to share Spotify albums and songs with others is by sending them a link to the said items. Luckily, getting the URL of Spotify songs is just a very trouble-free procedure to do. Also, having a copy of the URL makes you capable of doing the process to download Spotify songs by link. But since Spotify contents are not accessible outside the platform, you might need assistance from a professional music converter, with capabilities of DRM removal and conversion.
With the help of this post, learn about the best method to download Spotify songs by link as well as the music converter that can help you convert them into reachable formats. At the end of the article, you will find the most frequently asked questions of users along with their respective answers.
Contents Guide Part 1. How to Find The Spotify URL for A Song/Playlist?Part 2. The Best Way to Convert Spotify Link to MP3Part 3. FAQs of Spotify URL to MP3Part 4. Conclusion
Part 1. How to Find The Spotify URL for A Song/Playlist?
Each item in Spotify has their respective link, which will allow you for an easy navigation towards the song or playlist. Meaning to say, if you are given the URL of an album, for example, and you copied it to your browser, you will end up landing on the item quickly. Obviously, this makes searching way more convenient and faster, that is why it is good to know the procedure on how to download Spotify songs by link.
With that being mentioned, check out the set of steps below and learn how to get the link of your favorites.
Begin with running your Spotify Music app.
Then go to the music library and browse the entire collection to see the items that you wish to share with your friends or family.
If all the items inside the album or playlist selected are planned to be shared, then tap the three-dot icon next to it to see the submenu.
From the options shown, select the Share option.
After that, choose Copy Spotify URL.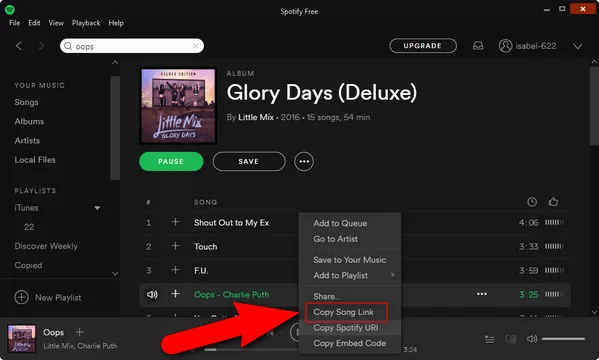 To allow other people to see what is within the link you got, just paste the link that you just copied and send it to them. Upon clicking on the link, you will be directed to either the web player or the application itself.
Part 2. The Best Way to Convert Spotify Link to MP3
In the previous section, you have learned about the simple guide on how to download Spotify songs by link, but this does not make them accessible in just any music player you want to use. Simply said, even if you have the link downloaded, they are still encoded in their original format and not in MP3. Apart from Spotify being encoded in OGG Vorbis format, all Spotify songs are DRM protected making them not playable in just any unauthorized device.
To make this thing possible, you have to use a professional music converter that can do a very good job of converting and downloading Spotify music files into MP3 format and other accessible formats. So, after the process to download Spotify songs by link, the best way to convert all these downloaded links to MP3 is through the use of AMusicSoft Spotify Music Converter. This is a professional application that will enable you to listen to Spotify offline.
With AMusicSoft, streaming high-quality songs is possible. Take note, that all of the processes mentioned could be done in just a few minutes. This is because AMusicSoft has a working speed of 5x faster. Even with this speed, it was still able to keep the ID tags and metadata info of songs. Lastly, AMusicSoft has very simple steps to follow making it very convenient to use.
See the listed procedure on how to use AMusicSoft Spotify Music Converter correctly in converting Spotify songs to MP3.
You cannot start the process if you do not have the application yet. So, go to your browser and direct it to the AMusicSoft webpage. Hit the Download button below Spotify Music Converter and proceed to installation once the download is complete.
The next step is to add the Spotify songs into the music converter by just copying and pasting the link of songs. To upload the songs in another way, you may just drag and drop them.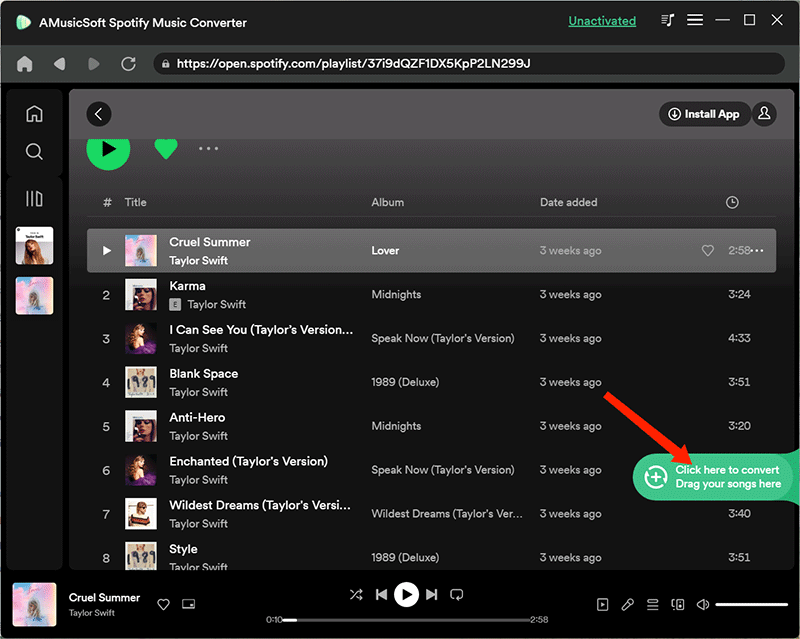 Choose output format and a destination folder to save the resulting files after conversion.. In addition to MP3, other supported formats of AMusicSoft include WAV, AAC, FLAC, AC3 and M4A. Among the mentioned formats, choose MP3.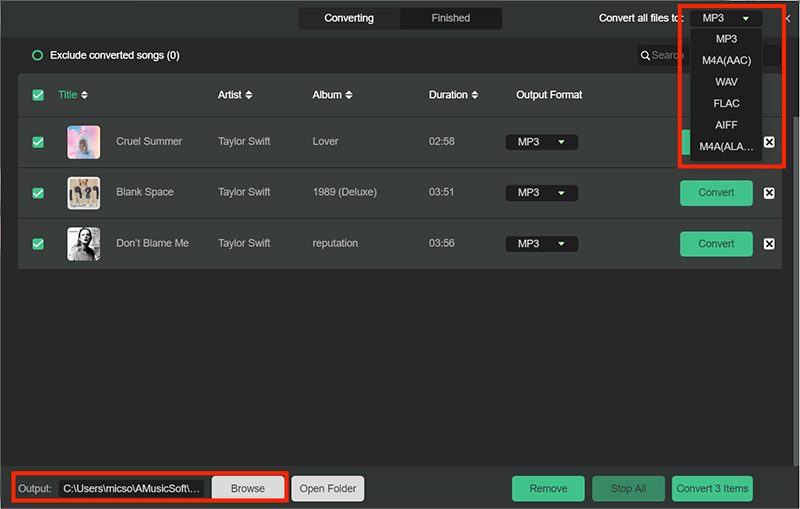 Select the Convert button and wait for a while since the process will end shortly.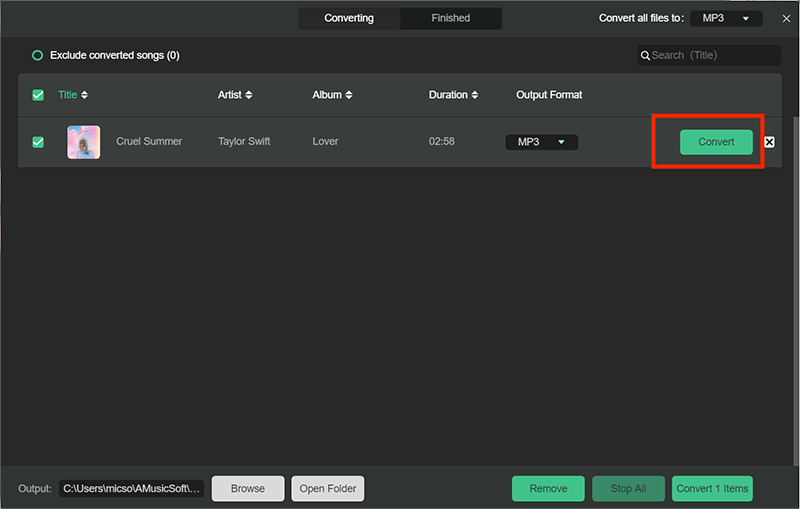 Download the converted files by selecting them from the Converted tab.
Part 3. FAQs of Spotify URL to MP3
Two of the most frequently asked questions about the process on how to download Spotify songs by link are discussed below. See if you have the same question in relation to the mentioned topic.
1. Can I Download Spotify URL to MP3 Online?
If you search over the net regarding online converters that can download Spotify songs by link to MP3 format, you will surely see a lot of results. However, some of these online converters are not good enough to do such task without glitches. So, it is still better to use a safer and more secured way in downloading Spotify to MP3, which is through AMusicSoft Spotify Music Converter.
2. Can I Play the Downloaded Spotify Music on An MP3 Player?
After successfully completing the process to download Spotify songs by link via AMusicSoft Spotify Music Converter, you will be able to play the downloaded files in any music player of your choice without limit. This includes MP3 players.
Part 4. Conclusion
I hope this post has been very advantageous in knowing the process to download Spotify songs by link and has enabled you to share your favorites with your loved ones. On the other hand, I suggest using AMusicSoft Spotify Music Converter if you wish not only to keep the songs permanently but also to share the accessible files with others without so much restrictions to go through.
Robert Fabry
Apple Music, Spotify, Amazon Music senior users. Share various tips and solutions.
Last updated: July 18, 2023