With Spotify Premium subscriptions, you can download more than 100 million songs, plus audiobooks, and podcasts from Spotify but only play on the Spotify web player, Spotify desktop apps, or its mobile apps. To play them on other players, such as CD players and MP3 media devices, you will need a Spotify ripper to break the DRM protection from Spotify audio files and rip OGG Vorbis format songs to MP3 compatible with your music player or device.

How do I convert Spotify to MP3 for free? In this article, we will be talking about 5 free Spotify music rippers for Mac, Windows, Android, iOS, and web browsers, you can keep reading and find the most suitable one for you.
Contents Guide Part 1. Is It Possible to Rip Spotify Music?Part 2. Best Pick: AMusicSoft Spotify Music Converter (Windows & Mac)Part 3. 2 Best Online Spotify Downloaders (Windows & Mac)Part 4. 2 Top Spotify Music Downloaders (Android & iOS)To Summarize It All
Part 1. Is It Possible to Rip Spotify Music?
To be able to listen to Spotify offline, you should upgrade to a Spotify Premium subscription to enjoy its Offline Mode. However, even if you download Spotify songs as a Premium subscriber, you can only play them on the Spotify app. This is because audio files on Spotify are protected by Digital Rights Management (DRM). Even if you own a professional hi-fi speaker, Spotify songs also can't be played on it to get sound that's more natural and comfortable to listen to. On the other hand, once you unsubscribe from Spotify, you will lose the songs and playlists that you have downloaded while using the application.
Can you rip music from Spotify to MP3? Actually, Spotify doesn't offer a built-in tool to convert MP3 songs. Luckily, Spotify ripper tools will allow all users to download music from Spotify and rip them to a common format. Is it legal to rip Spotify to MP3? It is legal to use Spotify music for non-commercial, personal entertainment use. From the guide below, we will teach you how to rip Spotify songs, playlists, podcasts, or albums to MP3 via the best 5 Spotify music rippers, depending on your device.

Part 2. Best Pick: AMusicSoft Spotify Music Converter (Windows & Mac)
There are many Spotify music rippers available for Windows or Mac users, the first pick we shared here is AMusicSoft Spotify Music Converter. AMusicSoft program can rip Spotify songs, tracks, albums, playlists, and podcasts to frequently-used audio formats like MP3, WAV, FLAC, AAC, MP4, M4P, and AC3 with 320kbps high quality without hassle. In the process of ripping Spotify music, the DRM will be removed by AMusicSoft software. So you can play music on any device you want. You can also back up them on your local computer and restore Spotify playlists quickly once you lose your songs.
No matter if you are a Spotify free user or a premium subscriber, you are able to enjoy the great features delivered by AMusicSoft Spotify Ripper. This will also mean that you do not need to pay for the monthly dues of Spotify Premium anymore. Aside from the money you can also save time. 5X speedy conversion speed and batch conversion are also available on AMusicSoft Spotify Music Converter.
Get the most clean, secure, and professional AMusicSoft Spotify Music Ripper! The AMusicSoft tool has been designed with a built-in Spotify web player. Click the download button to directly rip Spotify songs on Windows and Mac!
Use AMusicSoft to Rip Music from Spotify
Step 1. Once you launch AMusicSoft Spotify Music Converter and log in with your Spotify account, drag and drop the songs, albums, or playlists you need to rip to its interface.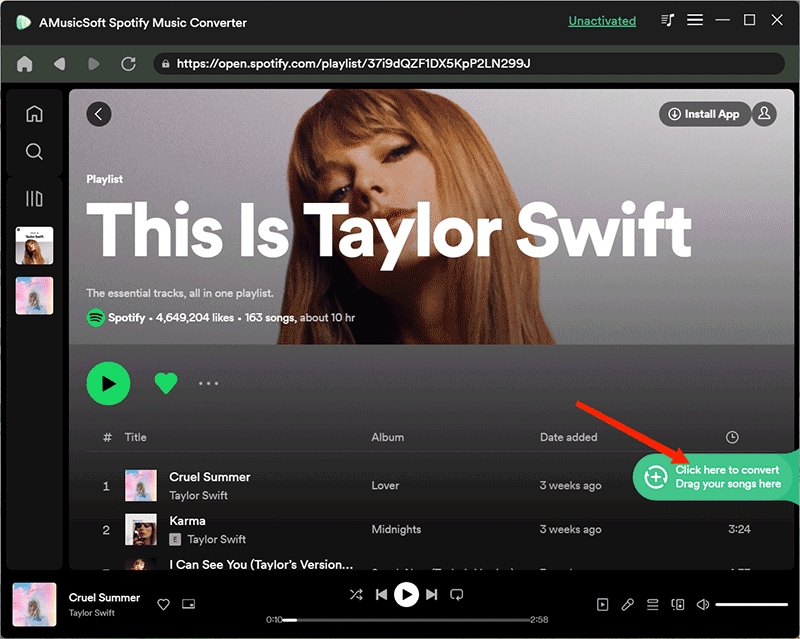 Step 2. Then, Choose the format of the file that you need. To rip Spotify to MP3, select MP3 from the format list. Once the format type is chosen, proceed to create a folder where the files will be saved once the process of conversion is finally completed.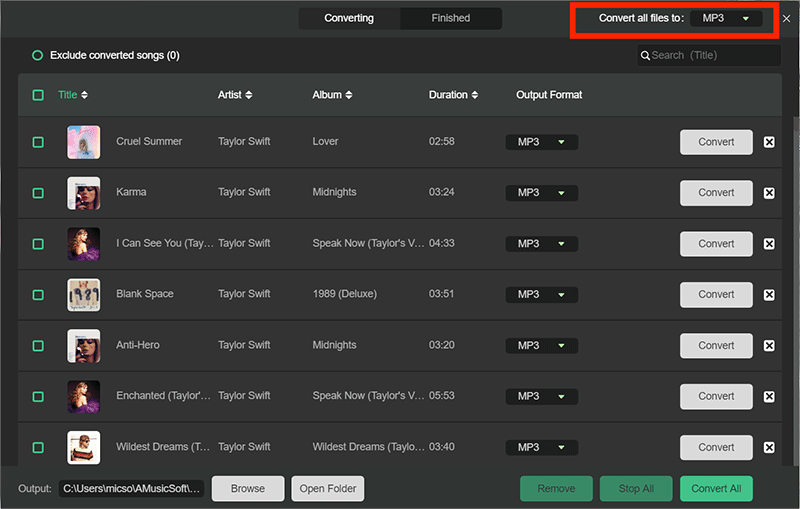 Step 3. The last step is to click the "Convert" tab to rip Spotify music, and then you are finished.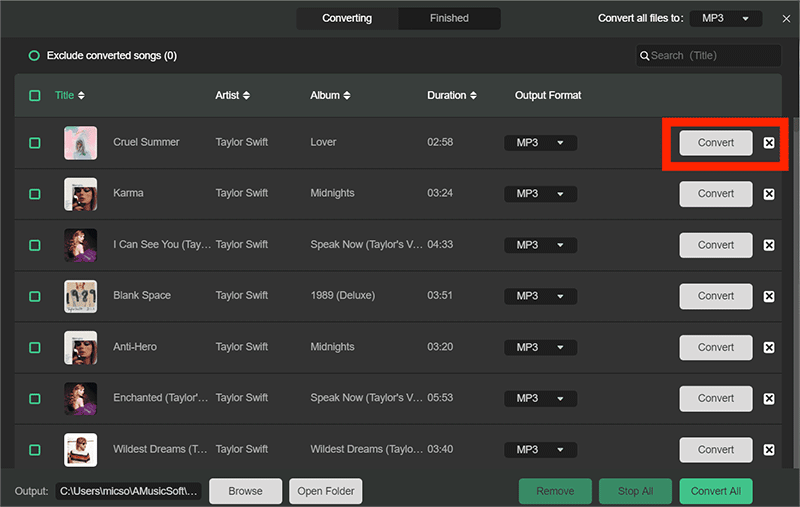 Step 4. After that, you can find all the ripped Spotify songs from the "Converted" tab. AMusicSoft Spotify Music Ripper offers nearly lossless quality audio. You can transfer them to any device you want for offline listening.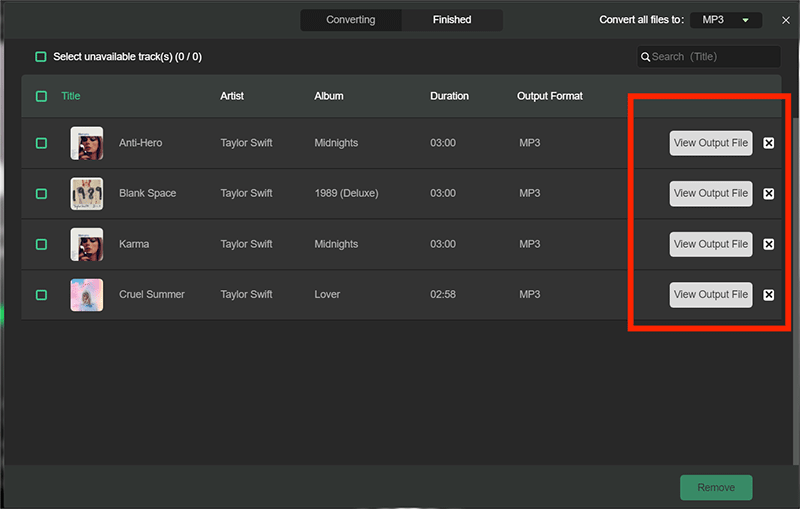 Dig deeper:
Part 3. 2 Best Online Spotify Downloaders (Windows & Mac)
Aside from the professional AMusicSoft Spotify Music Ripper, there are also other online examples of Spotify rippers. One of the advantages of these tools is that they are free and are also easy to access. Let us discuss these online tools one by one.
Option 1. SpotifyDown
The first online Spotify to MP3 Ripper is SpotifyDown. If you are looking for an easy-to-use downloader that is compatible with Mac, Windows, Linux, and other operating systems, you can try SpotifyDown. This online tool lets you quickly and easily download any song, album, or playlist from Spotify. Best of all, it's free and easy to use! Enter the URL of the song, album, or playlist you want to download, and SpotifyDown will take care of the rest.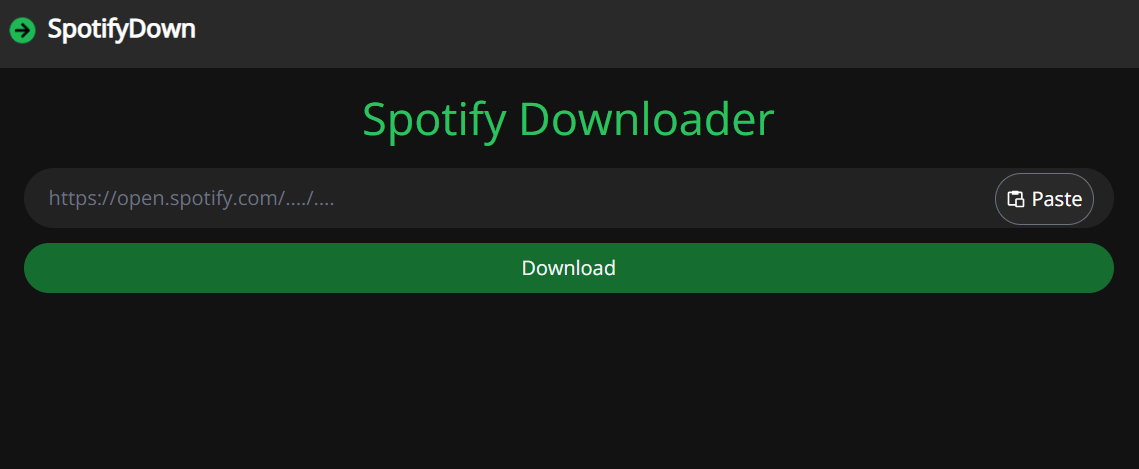 Please note that you need valid Spotify track, album, or playlist links to use the tool effectively. Once songs are greyed out on Spotify, you can't rip music to MP3 smoothly. See How To Listen To Greyed Out Songs On Spotify to fix this bug.
Option 2. MP3FY
Another online Spotify Ripper and Spotify MP3 music downloader is MP3FY. It is also free and it is considered one of the most used and fastest converters of YouTube audio to MP3 online. You can go to the MP3FY official site, paste the link that you want to convert, and then hit "Convert". However, the audio quality could be only 120 kbps when using a website tool.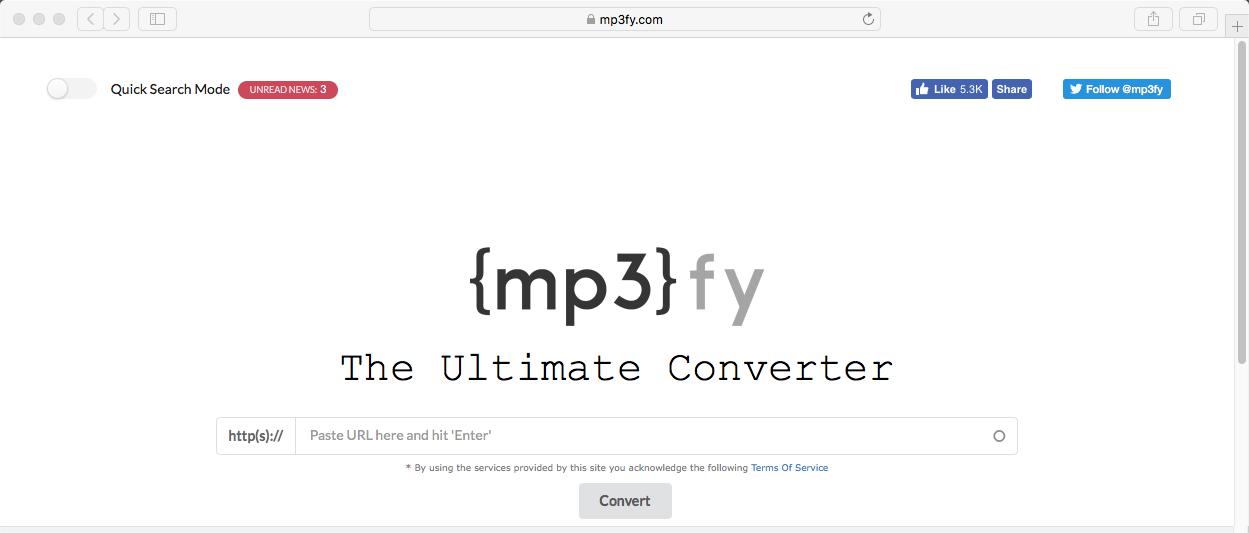 Part 4. 2 Top Spotify Music Downloaders (Android & iOS)
If you prefer to use a mobile device to play Spotify music offline, we will also share two free Spotify music rippers for Android and iOS users.
Option 1. SpotiFlyer (for Android)
To rip Spotify songs on your Android device, SpotiFlyer is a free Spotify ripper that can help you download music from Spotify for free. With SpotiFlyer, you can listen to music whenever and wherever you want, even when you aren't connected to the Internet. Aside from Spotify, you can also download and rip music from YouTube, Gaana, Jio-Saavn and SoundCloud.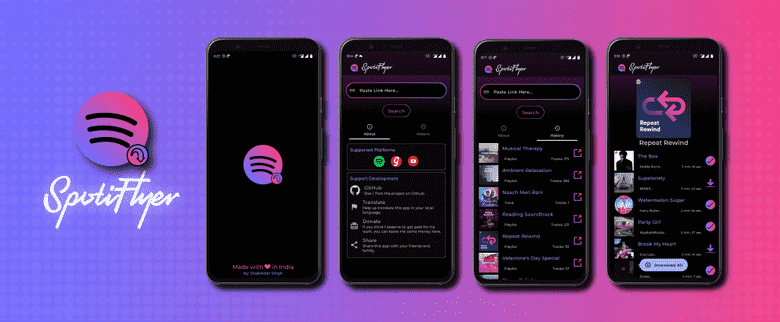 However, SpotiFlyer cannot offer a batch-ripping feature. Sometimes, it may fail to rip some copyrighted songs. If you find the songs can't be ripped many times, then you can try to use AMusicSoft Spotify Music Converter to rip them to MP3 first, and then move the MP3 files to your Android.
Option 2. Spotify++ (for iOS)
How about iOS users? To rip Spotify music to MP3 on iOS devices, you can try installing the Spotify++ app. Spotify++ for iPhone/iPad is a modded version of Spotify's official iOS app, With it, you can use all the Spotify Premium Features for free, including ads-free experience, unlimited shuffles and skips, Spotify Connect unlocked, and more.
But the free Spotify Premium APK like Spotify is not safe, as it may have several risks and consequences. A hacked Spotify app will be emailed by Spotify with a warning, that your account may be banned. Sometimes people would add malware to Spotify Premium APK. If you download cracked software, you should scan and check if no virus or not.

To Summarize It All
What is the best Spotify Ripper? You can try any of these 5 Spotify music rippers we mentioned in this guide. All these possible ways have their own pros and cons. If you desire a software-free way to rip music from Spotify, you are able to SpotifyDown or MP3FY directly. Please note that make sure your WiFi network is stable and strong to keep ripping music smoothly.
To rip Spotify music to MP3 with 100% original audio quality, AMusicSoft Spotify Music Converter is the best one. It can fundamentally decrypt the DRM on Spotify songs and then convert them to MP3 format without quality loss. You can now play Spotify songs on multiple devices more easily, with no additional interruption. AMusicSoft supports playlist ripping or batch conversion features will help boost efficiency quite a lot. Download the trial version to rip Spotify music to MP3 for free!