In this post, the solutions to fix Apple Music keeps crashing error as well as the causes of it will be listed and explained. If you are bothered with the same problem, keep on reading this post to easily have your problem fixed.
Apple Music is a very good streaming platform to use when enjoying your most-loved albums and playlists. It is not also that big application to show poor performance most of the time. However, there are still chances that it will work poorly resulting in errors such as Apple Music keeps crashing.
To fix that, below are the best methods that can easily be done. Learn about the real causes of it as well.
Contents Guide Part 1. Why Does My Apple Music Keep Crashing?Part 2. Some Simple Methods To Fix Apple Music Crashing IssuesPart 3. Bonus: How To Enjoy Apple Music Without Apple Music AppPart 4. Conclusion
Part 1. Why Does My Apple Music Keep Crashing?
The problem about Apple Music keeps crashing could be caused by several factors. The major ones are to be discussed in this section and see if you have been encountering the same factors causing your Apple Music keeps crashing while being used.
Not Enough Storage Space
In order to download a lot of music files and be able to save them on your device, you must have a storage area that is sufficient enough to handle all these files. If it has only a very small space left, then some files would possibly not be saved or worse, won't proceed on downloading.
Apple Music Server Is Down
One possible reason why Apple Music keeps crashing could be Apple Music itself. Sometimes, the server is down for some maintenance purposes, and sometimes could be just an error that is suddenly occurring within the system that causes the streaming app to crash in itself.
Unstable Internet Connection
Your Apple Music keeps crashing because your internet connection might not be so stable to handle such processes governed by Apple Music as downloading or streaming music. So, before doing any service or function in Apple Music, you have to check first if you have a stable connection to proceed with the process.
Outdated Apple Music Application
There are some features newly released in Apple Music that are working alone on the updated version of the app. Also, old versions of the application are more prone to bugs and glitches. So, if your installed application is currently not updated to the latest one, then you should expect already that issue about Apple Music keeps crashing is very possible to happen.
Outdated iOS Version
In addition to the factors that may cause the Apple Music keeps crashing error is in relation to software updates. Just like the Apple Music application, if you are using the outdated iOS version, glitches have a higher chance to happen. Sometimes, there are also some cases wherein software versions are damaged causing the crashing problem of the application.
Too Many Applications Running On Your Background
If there were a lot of applications opened on your device and all of them are running, the memory and data that are supposed to be used for the Apple Music app are eaten up by those active applications instead. This is also a possible reason why you keep on having your music app freeze and crash most of the time you try on opening it.
Part 2. Some Simple Methods To Fix Apple Music Crashing Issues
If your Apple Music keeps crashing all the time due to the factors mentioned above, you must have them solved in the most effective way possible. The guidelines on how to solve this were enumerated below.
Close Your Currently Opened Apple Music App
The most common troubleshooting method in solving such errors about Apple Music keeps crashing is the closing of the application forcedly. If this was closed, the app settings will refresh and will turn back to their original state.
Make Sure To Update Your Apple Music App
As you can notice, most of the time a new version of the Apple Music app was released, and the former version will soon start experiencing some unusual errors and bugs that keep the application getting slower. If it seems that the case is the same for you, then it is the sign to start updating your current application and get the newest version.
Have Your Apple Music App Deleted And Reinstalled
Forced closing of the app sometimes fixes the problem immediately. But if this does not solve the error about Apple Music keeps crashing, then deleting the application and reinstalling it once again might solve the issue instead. If you have the application removed from your device, all of the data that it has are usually not backed up and would be deleted as well along with the application. There are some cases where the error keeps on happening due to the data associated with the formerly installed application. So, having it removed and reinstalled once again would be a great help to fix the problem.
Reset Device Settings
Another mostly used troubleshooting method is resetting the settings of your device. This method is used in fixing most problems encountered in using the Apple Music app. This will return your device to its initial settings enabling it to have a fresh start all over again.
Check And See If You Have Enough Storage Space
Included in the factors above is the factor regarding your storage space. Full device storage will not only cause the error about Apple Music keeps crashing but will cause a lot more errors in the long run. So, in order to avoid this, try on freeing up some of your storage space by simply deleting your unused videos, photos, or recordings saved. If this is done, try to observe if there are no more problems encountered when downloading the Apple Music songs. You must check as well if they are already appearing on your downloads folder. Also, notice if there are still some issues showing up on your music app right after doing this method.
Try To Change Your Apple ID Country And Region
In some regions around the world, there are only selected albums and playlists that can be accessed by people. So, if by any chance you landed in a region with a limited number of songs to play and then you are not well aware of the possibility of having effects from staying in some other location, you might think that your Apple Music app is crashing and not working perfectly. So, to allow yourself to stream your favorite music every place you go, you have to start by changing your Apple ID's region settings.
Check Your Internet Connection
Another factor that might add to the possible causes of the Apple Music keeps crashing issue is your weak internet connection. Most of the problems related to Apple Music are fixed after disabling the WIFI settings. Although the connection of this factor to the error about crashing could not still be explained, this is proven one of the most effective solutions how to stopping Apple Music keeps crashing problem.
Restart Your Used Device
In most problems, not just only in Apple Music but also in other applications and programs, restarting the device right after experiencing the error is proven a good way in solving the issues faced at the moment. After doing so, try to run the Apple Music app once again and check if the functions are working fine again.
Part 3. Bonus: How To Enjoy Apple Music Without Apple Music App
If all the methods given above were tried but did not result in any reliable effect to solving Apple Music keeps crashing problem, the only way left for you to avoid it from happening is to discontinue using the music app. But since you really love the music from the streaming platform, you cannot just let go of it easily. To tell you the good news, even without the Apple Music app, you can still continue playing your favorite music through the help of a professional music converter that can reliably do the procedures of downloading and converting music into different output formats.
When it comes to such processes, you may use AMusicSoft Apple Music Converter which is not just very good in conversion and download procedures. It can also make protected songs unprotected by removing DRM from them. Apart from that, the best quality of the songs is surely guaranteed if this tool is used for streaming. To add, AMusicSoft can as well finish the entire process in the fastest way it can which is up to 16x faster.
The steps to follow in using AMusicSoft Apple Music Converter are listed below. Make sure to follow it in order to have the best results that you wish to have.
Begin the process by downloading the application of Apple Music Converter from AMusicSoft's official website. After succeeding on that, proceed to installation and launching of it.
Get started with the addition of songs by ticking the box before each song title is selected.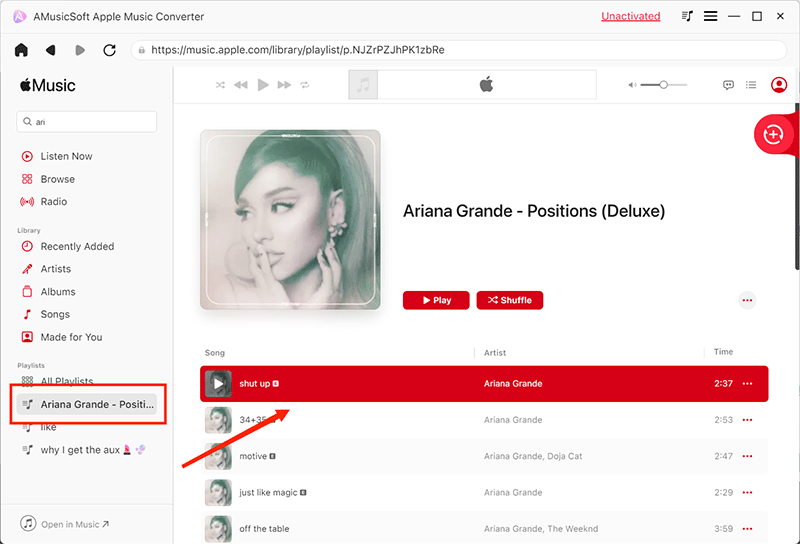 Select an output format to use. In AMusicSoft, you may choose among MP3, FLAC, WAV, AAC, AC3, and M4A.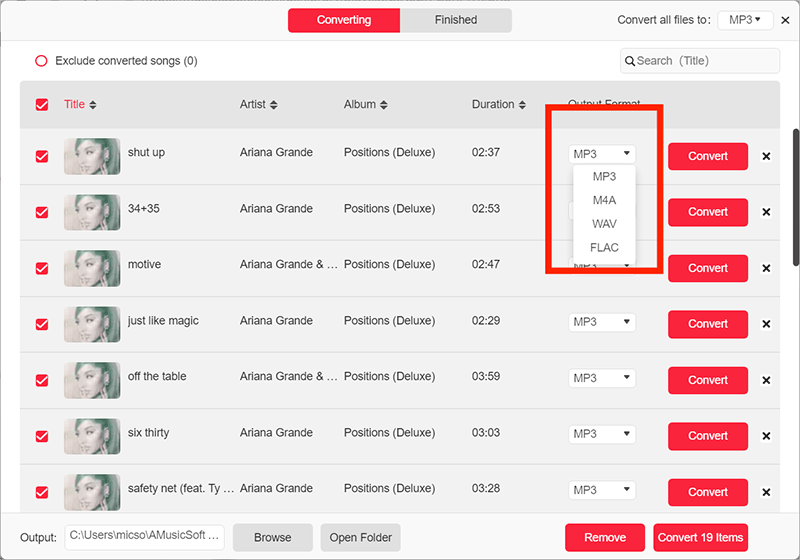 Designate the end destination of the converted files and then hit the Convert button to start the process.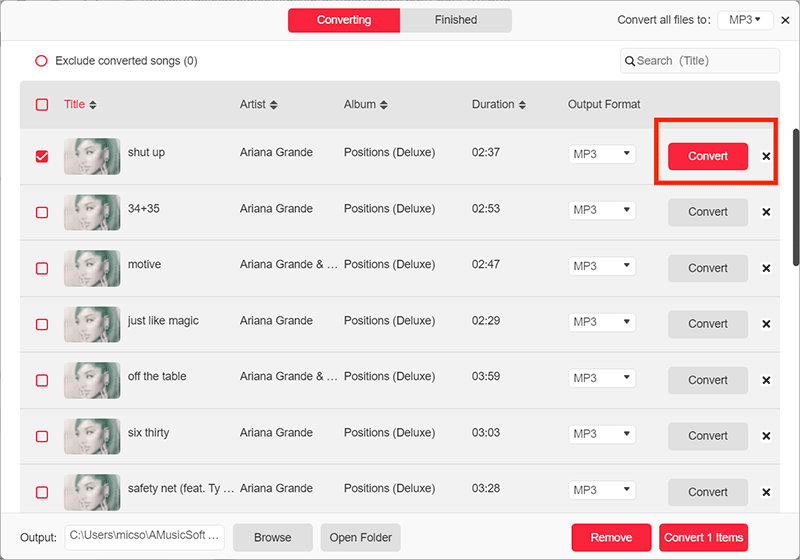 Lastly, after a few minutes, to check the converted songs, just click the Converted tab that is located above the song titles a while ago.
Part 4. Conclusion
The occurrence of problems and errors such as Apple Music keeps crashing, is just normal while using the Apple Music app. In order to solve it casually, you first have to know the root of the problem and then proceed with the corresponding troubleshooting method. On the other hand, if you really wish not to experience the same thing again, you may then use AMusicSoft Apple Music Converter which is the best tool that you can use to download your favorite songs.