Transferring files from iPod to a personal computer may sound difficult especially without iTunes because most of us know that Apple is very particular with protecting the copyrights of the songs or any audio files. But it doesn't mean that without iTunes, it is already impossible or there is no other way.
In this post, we will be going to tackle how to transfer music from iPod to computer without iTunes and even with iTunes, the step-by-step guide. Moreover, I also included here additional information that could help you maximize transferring your files from your iPod to your computer.
Contents Guide Part 1. How to Transfer Music from iPod to Computer without iTunes?Part 2. Best Free Software to Transfer Music from iPod to ComputerPart 3. How to Transfer Music from iPod to Computer with iTunes?Part 4. To Sum Everything Up!
Part 1. How to Transfer Music from iPod to Computer without iTunes?
iTunes is a media player that was developed by Apple which is also used to organize and also allows you to seamlessly share any digital multimedia on personal computers on macOS and even with Windows operating systems. But can you still transfer even without iTunes? The answer is absolutely yes! if you want to know how you can refer to the following steps I provided below on how to transfer music from iPod to computer without iTunes.
Connect your iPod to the USB port or FireWire port of your Windows PC (Note: Your PC should have Windows XP or any other Windows operating system).
If you haven't installed iTunes on your Windows PC then you may skip this step but if you have it installed then, there will be a prompt message asking if you like to associate your iPod on your computer and to delete its content, if so, just click No otherwise your copy of the library on iTunes will be deleted. Make sure that Enable Disk Use is selected.
Next, Go to Windows Explorer or My Computer to view your iPod. It will be detected instantly as a portable hard drive.
Hover your mouse and click on your iPod icon to access the contents of the drive.
If you can't find the iPod Control folder, then it might be set as a hidden folder. To make it visible, just go to Tools, then look for the Folder Option and then View. Once on View, tick or check the option enable on Show hidden files and folders. By doing this, you can now view your iPod Control folder.
Next, open your iPod Control folder, and then select the Music folder. You will see the contents of your iPod's video and music in separate folders on the Music folder.
Copy your desired library from the Music folder to your local computer's hard drive My Music folder.
Note that the name of the files copied has incomprehensible four-letter file names. For you to distinguish the names of the song or any data tags, you can either add the files on the Windows Media Player or iTunes libraries or change to the "Tiles" view on Windows Explorer.
Change the file name if needed.
So, is there any other way how to transfer music from iPod to computer without iTunes? Besides from manually copy or transfer your music library from your iPod to computer, there are also many third-party program or software which are commonly known as iPod Manager same like iTunes which has a copying function that can help you with transferring files to your computer. Moreover, there are also free iPod Manager that you can choose from and I listed some of the best software in the next section.
Part 2. Best Free Software to Transfer Music from iPod to Computer
As I mentioned earlier, the iPod Manager is a type of software that allows transferring any media files from an iPod and computer or and also the other way around. This also one way how to transfer music from iPod to computer without iTunes. iTunes is included among this software and is considered as an official iPod Manager.
But third parties also created software that can substitute iTunes and worked beyond iTunes restrictions, other than that it also shows that there is also additional advantage by using this software. So curious to know how to transfer music from iPod to computer without iTunes and what is the best software available? I listed some of it below so you can check and try for yourself. I also included the pros and cons of each software.
1. SyncBird Pro
SyncBird Pro is one of the most well-known iPod Managers which has a full feature and absolutely free. Because of its contemporary UI design, you will definitely experience how well organized this software can be. By using SyncBird Pro, you can easily transfer your iPod music from the Mac computer and vice versa. Moreover, it maintains your iPod library music, playlists, ratings, play counts, and other data complete.
Pros
Allow music from iPod to transfer to computer and vice versa without iTunes.
Can Sync iPod to several iTunes library on different kinds of computers.
Can put additional new songs on your iPod without worrying about losing other existing files.
Works effectively for all kinds or generations of iPods such as mini, touch, nano, etc.
Cons
Newly iPod Transfer manager software without an iPod Converter.
Can't fix the missing, lyrics, cover album art, etc.
Can't copy files from CDs to iTunes library.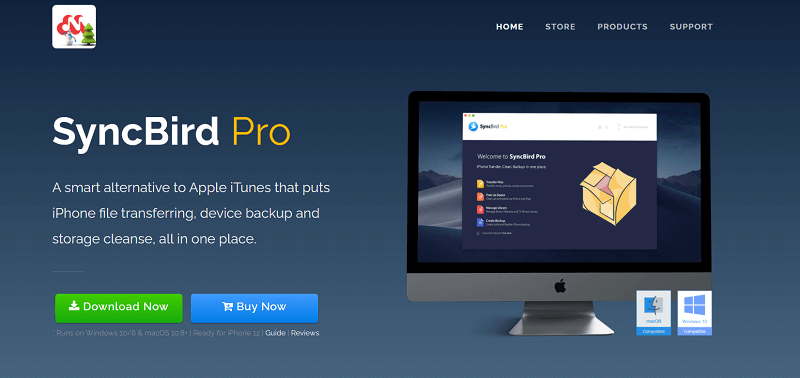 2. Senuti Mac
Senuti, which is derived by spelling iTunes backward, is another type of iPod Manger that works well on macOS. It allows you to manage and organize your media library by transferring any movies, music, and even podcasts from iPod to your computer. It can also be used in iPhones and iPads.
Even It was originally developed in 2007, we can still say that Senuti is still up to date with the recent macOS. However, the downside of this is its music syncing feature. It is limited as compared with other iPod manager transfer software.
Pros
Upfront design that's seamless for iPod users especially for new ones.
Can directly transfer playlist into the iPod by dragging and dropping.
Cons
Can't transfer music or track from computer to iPod.
Its syncing feature is limited.
May experience bugs and crashes.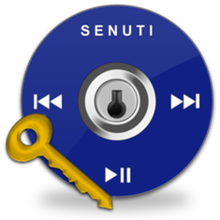 3. CopyTrans Manager (free version)
CopyTrans Manager which is a free version of CopyTrans is an iPod Music transfer that works with Windows which allows you to copy music from your PC to your iPod without the use of iTunes. It is considered convenient and user-friendly. It also has a version that is compatible with macOS though the latest version of it concentrates more on music library syncing for the latest iOS devices such as iPod touch, iPhone 11, etc. and photo management in iCloud.
Pros
Simple managing interface and iPod music syncing.
Has a Build-in iPod music player on Windows that allows you to play the music from your device.
Compact and continuous updates with the latest iPod software and hardware
Cons
Limited iPod transfer features and types of music files.
Can't move music from iPod to computer.
Can't export iPod music to iTunes library.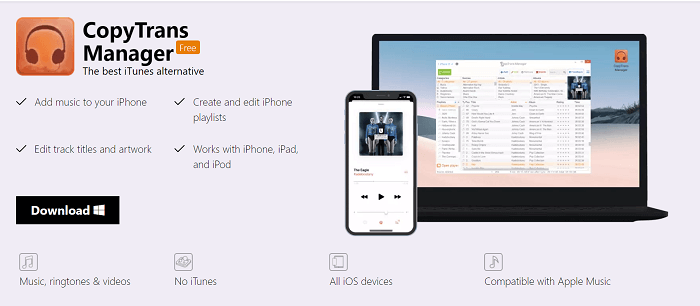 4. TouchCopy
TouchCopy is also one of the iPod Manager that provides you a music syncing feature that permits you to transfer video, music, and podcasts. You can also transfer other data such as text messages, ringtones, voicemails, and even address book entries. TouchCopy is absolutely helpful as it serves as a solution for syncing music for your iPod.
Pros
Full feature of iPod music transfer management.
Works for arranging iPod syncing malfunctions without iTunes.
Cons
May crash in specific scenarios according to our tests.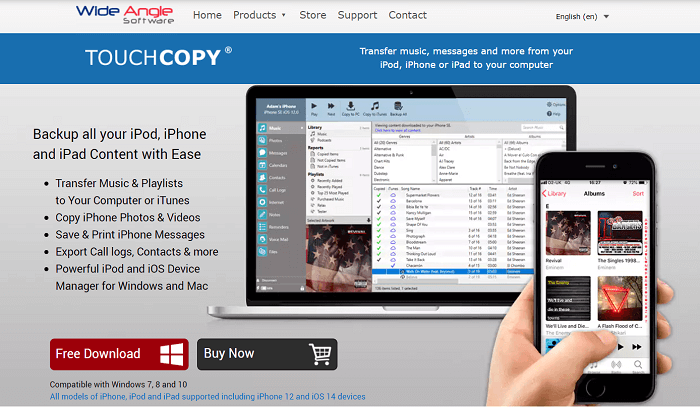 5. Pod To Mac
Another iPod transfer manager that works with Mac is the Pod to Mac. It can also be used to transfer photos, album art, ringtones, and even song ratings. It also has a user-friendly interface. But the thing with this software is it crashes while transferring, so we placed it last.


Pros
The transferability from iPod to Mac.
Cons
Insufficient support and update on modern iPods and macOS.
The above-mentioned software has a concrete syncing performance using an iPod and is proficient in handling your music from iPod. Since each software concentrates differently on the process of transferring iPod music. It will depend on you which iPod Music manager software works best for your needs.

Part 3. How to Transfer Music from iPod to Computer with iTunes?
Now that we finished discussing how to transfer music from iPod to computer without iTunes and also using third party iPod, transfer manager. Let's talk about how to transfer music with the use of iTunes. By using iTunes, keep in mind that we are not literally transferring files from iPod to computer but rather we are just syncing the files from your iPod to the computer so it can be accessible in your iTunes library. So, for you to transfer music from iPod to computer if you are using Mac or Windows 10, you can simply follow these two steps:
Step 1: Connect the iPod to your computer
Simply connect your iPod to your computer by using your cable same with how to transfer music from iPod to computer without iTunes but this time we will run your iTunes. If you are using an iPod Touch, a security prompt will appear on the screen. Just tap on the "Trust" button to allow your computer to continue and access the device connected.
Step 2: Time to Sync your iPod music with iTunes
When your iPod is finally connected, go to your iTunes devices icon then choose it. Next, go to the Music section which is on the sidebar. For you to sync your music, just simply turn on the option. After that, you may now choose which library or playlist you are going to sync. Click on the "Apply" button when you are done selecting. Finally, just wait until the music on your iPod be available to your computer.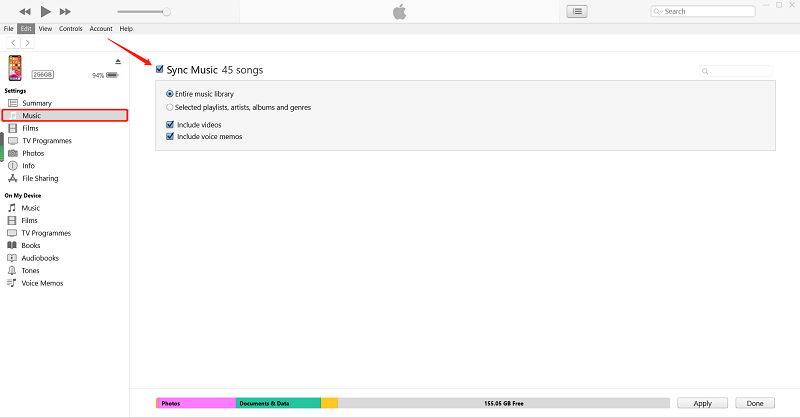 Bonus: How to Back up iPod to iTunes
If you wish, you may also have a backup of your iPod to iTunes. To do this, just connect your iPod to the system then run iTunes on it. After that, you will see in the Summary section of iTunes under the Backups section the "Back up Now" button, click it to complete the process. Just see to it that the backup is on your local computer not on your iCloud.
Take note again that by following the steps above, the music is not literally transferred but only synced with your iTunes library and you cannot move or transfer it elsewhere or to any devices freely. So, if you want to freely transfer any music or audio files to any device, you can also do so by downloading Apple Music even without a subscription.
Download Apple Music without Subscription
Apple Music is a music streaming service that allows you to access a wide range of catalogs of music once you subscribed. The reason why you can't access Apple Music if you don't have subscription is because of its FairPlay, a DRM technology developed by Apple which protects the copyright of music track or any audio files available in Apple Music.
So how is it possible to download apple music without subscription? You may do this by using a converting tool and I highly recommended AMusicSoft Apple Music Converter. The key feature of this converter is it removes the FairPlay present on Apple Music songs once it is converted.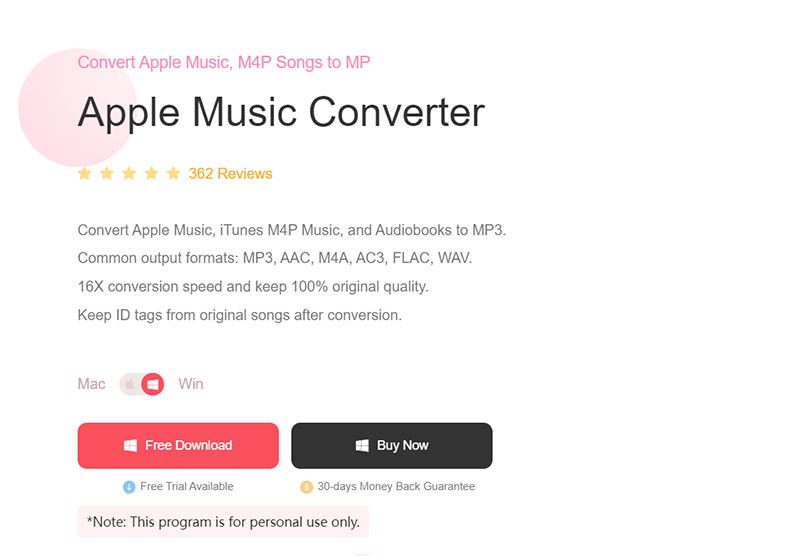 Moreover, you can easily transfer it to any device and this is another option for you how to transfer music from iPod to computer without iTunes. Aside from removing the DRM, this software is also known for maintaining 100% quality of the song and also it has a conversion speed of 16x which will not take so much time to convert. It is user-friendly and it easily detects the songs from Apple Music once you launch the software.
So, what are you waiting for? try AMusicSoft Apple Music Converter to experience how amazing this software is.
Part 4. To Sum Everything Up!
Transferring music from iPod to a computer might be difficult at first but we showed you in this post that there are many ways you can make it possible like how to transfer music from iPod to computer without iTunes and even with iTunes.
We also discussed different iPod Transfer Manager that could help you and also additional information about AMusicSoft Apple Music Converter which can also help you download Apple Music without a Subscription.