iTunes DRM removal is popular nowadays to make sure you can listen to your music on any device. These top tools in this guide will help you with the task.
Apple Music and the iTunes Store enable you to listen to music and audiobooks. These services are popular among song lovers as you can stream or play your favorite tracks on-the-go. However, purchases made from the iTunes Store and songs from Apple Music can't be transferred directly from one device to another.
Thus, a lot of people want to use the iTunes DRM removal tools. This allows them to get a soft copy of their favorite music and audiobooks. Once they get a copy of the file, they can transfer it to any device they like.
This guide will be listing out the top iTunes DRM removal tools. Each has its own set of features and capabilities. Thus, you can select one that fits your needs and preferences. Music lovers like you will have to bookmark our guide here so you can check it at a later point in time. Let's start below.
Contents Guide Part 1: What Is iTunes DRM?Part 2: The Best iTunes DRM Removal ToolPart 3: 3 Other Best iTunes DRM Removal ToolsPart 4: Conclusion
Part 1: What Is iTunes DRM?
iTunes DRM refers to the usage rights for purchased digital content on the iTunes Store. TV shows, movies, audiobooks, and other items bought from the iTunes Store are protected with a DRM (Digital Rights Management).
Usually, these protected purchases can be streamed or synced to your own Apple TV. They can also be synced to that of your iPod, iPhone, and iPad devices. And, Apple limits the use of these containers to be played on a maximum of five authorized computers only.
It is important to note that songs offered within the iTunes Store have no DRM protection within it. DRM-free tracks are called iTunes Plus. They contain no restrictions when it comes to usage. Plus, they are encoded in 256 kbps (high quality) with the format Advanced Audio Coding (AAC).
Since iTunes Store purchases have a DRM, you may want to use an iTunes DRM removal tool for more freedom. And because of this protection, you must authorize a computer to play iTunes Store purchases. You do this by placing in your Apple ID and the corresponding password.
Authorizing and deauthorizing a computer is possible at any point in time. Only a maximum of 5 computers can be authorized. These include both Windows PCs and macOS computers. If you want to play your purchased content on a sixth computer, it is necessary to deauthorize another device to make way for the new one.
The great thing about DRM protection is that it keeps you secure. If, for instance, you forgot to deauthorize a computer you no longer own, you can deauthorize all computers and simply reauthorize computers you have access to.
Part 2: The Best iTunes DRM Removal Tool
If you wish to get an iTunes DRM removal tool, the best one we recommend is AMusicSoft Apple Music Converter. This tool helps eliminate the DRM protection of Apple Music and content purchased from the iTunes Store.
iTunes M4P songs or iTunes M4B audiobooks can be converted to files that don't have DRM protection. (For instance, you can convert your audiobooks in iTunes to MP3 format.) In this way, they can easily be transferred to devices that you wish to use. After you cancel your subscription with Apple Music, you can still keep the tracks once you use AMusicSoft Apple Music Converter.
A lot of formats are supported including AC3, MP3, M4A, FLAC, MKA, AU, and a whole lot more. In addition, ID tags are kept after the iTunes DRM removal process. The original quality of the media is kept 100%. This ensures no quality loss after conversion.
Here's how to use AMusicSoft Apple Music Converter:
Step 1: Download, Install and Launch The Tool
You have to first download the software from its official website. Make sure you download the right operating system version. Then, install it on your Windows PC or macOS computer. Next, launch the tool on your computer.
Step 2: Preview And Choose
From the tool's main interface, you can preview the various Apple Music and iTunes content that you have. Then, select the ones you wish to convert.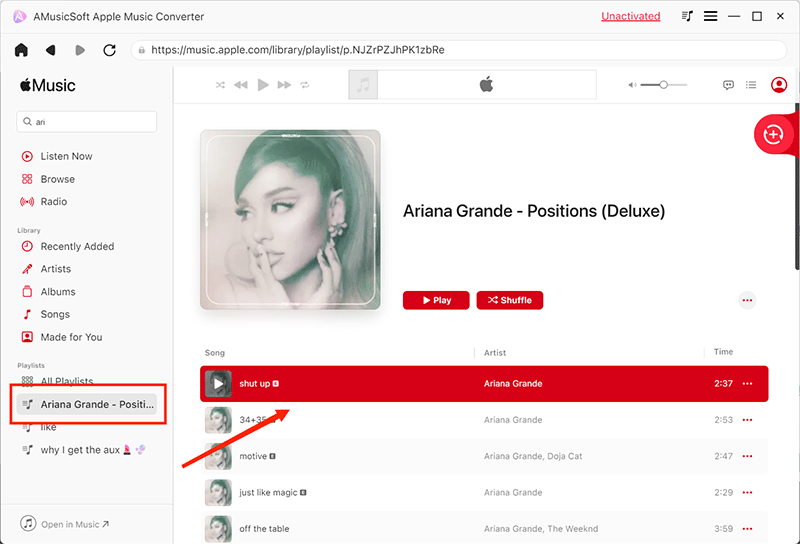 Step 3: Choose Output Settings
Now, select the output format that you want. You can adjust other settings if you wish. Then, select a destination folder. This is where the newly-converted files will be placed after the iTunes DRM removal process.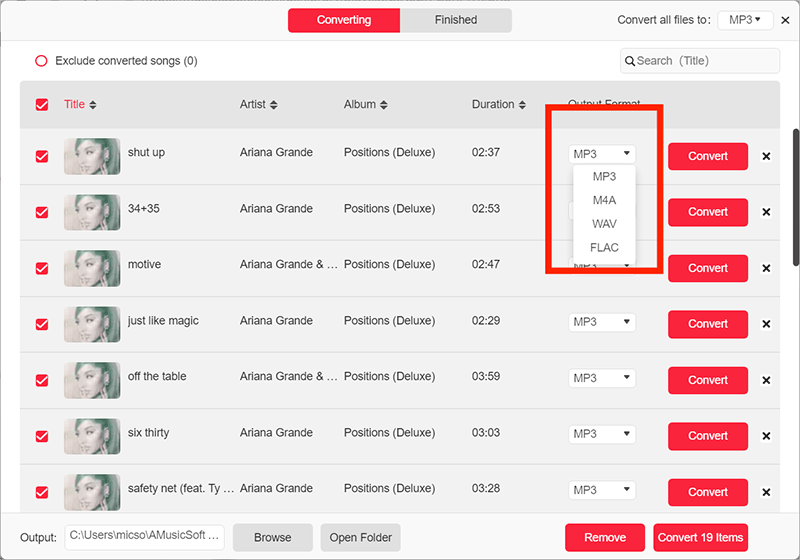 Step 4: Convert
Finally, you can convert the selected files by clicking the "Convert" button at the lower right corner of the interface. Once it is complete, you will see the files that don't have the DRM protection within the destination folder you set up previously.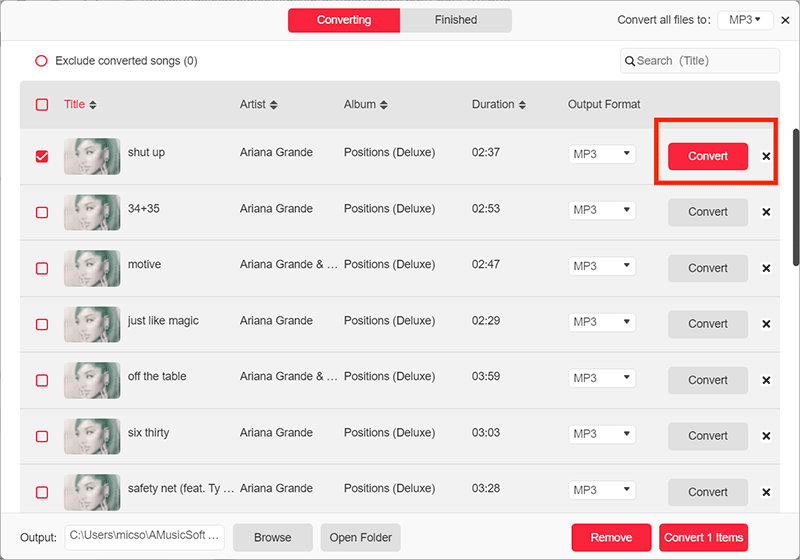 Part 3: 3 Other Best iTunes DRM Removal Tools
In this part, we will be placing the details of each of these iTunes DRM removal tools to help you gauge their capabilities and features.
Tool 01: Audials Music
Audials is a brand that creates a lot of tools for capturing audio and video content from various sources. Their Audials Music tool allows you to record streaming music and Internet radios and convert them to MP3. It allows you to save your favorite tracks from any source within the Internet including Apple Music and iTunes Store purchases. The process is made easy by this tool and the process speeds are lightning fast.
Audiobooks can be recorded with the tool as well. This means you can enjoy your music and audiobook collection using any device, at any place, and at any point in time. Aside from iTunes and Apple Music tracks, you can grab songs from Spotify, Tidal, SoundCloud, and Amazon Music, among others.
Top-quality is promised by this tool when saving your favorite tracks. In a way, it's not a straightforward iTunes DRM removal tool. But it helps you capture the tracks by recording them through the tool. It's a way around removing the DRM protection of iTunes and Apple Music.
The tool also allows you to import a playlist from YouTube and Spotify. These playlists can be downloaded if you wish in one single batch. And because they support a lot of platforms, you can enjoy a huge variety of songs at your disposal. The downside? It only works on Windows PCs.
Tool 02: TunesKit

TunesKit is another iTunes DRM removal tool you can use to get rid of the protection from purchases and rentals. This allows you to use the movies and TV shows on other devices besides the iPhone, Apple TV, iPad, and iPod.
The conversion is done at lossless quality enabling users to have the same experience with that of the original content. TunesKit is an M4V converter that supports a lot of devices and keeps the 5.1 Dolby audio within your content.
Conversion is speedy at 30x faster than the normal rate. These M4V content from iTunes can be converted to multiple formats including MP4. Once you purchase the tool, you can get free lifetime updates.
Technical support is available 24 hours in case you need help with the tool. The design is very easy to understand and looks amazing. The good thing about it is it works on both Mac and Windows computers. Plus, you only have to go through a three-step process for iTunes DRM removal.
Tool 03: Aimersoft DRM Media Converter

This provides a free trial and a premium, paid version for users. The excellent feature of Aimersoft as an iTunes DRM removal tool is its large array of supported input and output formats. It supports a lot of devices including iOS gadgets and Android-based phones and tablets.
Batch conversion is possible with the tool allowing you to convert multiple files simultaneously. Plus advanced settings enable you to adjust output profiles such as frame rate and resolution. The conversion speed is 6x faster than the standard rate because of its NVIDIA CUDA technology.
Videos can be transformed to fit iOS products, smartphones, and gaming consoles. Aside from audio and video files, audiobooks and their conversion are supported by Aimersoft. You are free to share your files with any person once you convert it with the tool.
Aimersoft DRM Media Converter only works in Windows PCs. It doesn't have a version for macOS computers. Another downside is it cannot convert movie rentals from iTunes. In addition, a lot of users complain about the poor output quality of the software. This is due to its subpar recording techniques.
Part 4: Conclusion
AMusicSoft Apple Music Converter should be your go-to iTunes DRM removal tool. This is because of its features and capabilities. A lot of tools out there can't provide a high-quality output file. With AMusicSoft, you are sure of 100% original quality.
Other iTunes DRM removal options we have given here include TunesKit, Aimersoft, and Audials Music. These three can help you remove the DRM protection of iTunes too. However, we still recommend using AMusicSoft because of its blazing, fast speeds in removing the said protection, and converting the files.
If you wish to get an AMusicSoft converter, do so now. They can provide you with a free trial to get to experience the benefits of the tool before you actually purchase it. Plus, you can enjoy music and movies on any device with this incredible utility.