Perhaps many users think that it is not easy to play Apple Music on Soundtouch and might be impossible because SoundTouch itself doesn't support Apple Music. Yes, you read it right. Although Soundtouch supports a different variety of music services such as Deezer, Spotify, Amazon, etc. unfortunately Apple Music is not included on the list. But the thing is, it does not necessarily mean that we cannot do anything about it. There are still ways you can do for you to be able to enjoy listening or playing your Apple Music soundtracks using your SoundTouch. Want to know how? Just continue reading this post, so you can gain more insights on How to Play Apple Music on SoundTouch.
Contents Guide Part 1. Can I Play Apple Music on Bose SoundTouch? Part 2. How Can I Play Apple Music on SoundTouch via AirPlay?Part 3. How Can I Play Apple Music on SoundTouch via Bluetooth?Part 4. How Can I Stream Apple Music to SoundTouch without Bluetooth?Part 5. We Sum it all Up!
Part 1. Can I Play Apple Music on Bose SoundTouch?
If you are curious whether you can play Apple Music on Bose Soundtouch, I can absolutely say yes! But first, let me give you an insight into Bose SoundTouch.
Tips: For those who have installed Kodi as your Home Theater, you can follow this guide on Playing Apple Music With Kodi to enjoy your iTunes library
Bose SoundTouch is designed to be the easiest unified wireless music system that is created for home digital entertainment. It is a combination of both hardware and software that works over Wi-Fi integrated directly into Bose hardware. It is like a growing family of speakers wherein you can start with one speaker until you add more over time. Moreover, you can navigate all the Bose Soundtouch speakers with the use of a SoundTouch app.
One of the reasons that I liked with Soundtouch app is you can set anything you want your speaker to play either individually or as a group, for example, you can play an acoustic song on your living room while pop music on your kitchen or suddenly you wanted both of your speakers to play countryside songs. Aside from these, by using this app you can easily access your famous music services such as Spotify, Deezer, Amazon, Internet radio, or your stored music library on your computer or phones and enjoy or stream music in different areas of your house. Though I mentioned earlier that iTunes is no longer accessible to SoundTouch, you can still use or play Apple Music on SoundTouch by using these three methods: First through Airplay, Second via Bluetooth, and lastly by conversion. I will further each method in the next section.
Part 2. How Can I Play Apple Music on SoundTouch via AirPlay?
AirPlay is a method created by Apple Inc. which permits the wireless streaming of music, video, and photos between every device. If you own an iPhone or any other iDevice with you, surely AirPlay is a great choice so you can easily play the music you ever wanted. But the thing is that not all Bose SoundTouch speakers now support AirPlay because of some reason, like in Series III they already removed the AirPlay connection, we are not even sure too if the newer version of the speaker will ever support AirPlay. But so, if you own a Series II, AirPlay is still to consider for you to play Apple Music on SoundTouch.
If you want to know how to use Airplay on SoundTouch you can follow the steps that I provided below:
Go to your iPhone or any iDevice Settings
Next, Click AirPlay. You can view here all the devices or speakers connected to your home network.
Lastly, Tap on the SoundTouch home speaker.
Once you finished setting up your SoundTouch to your device via AirPlay, you can now stream directly from the Apple Music app of iOS devices you own, and also, you can navigate the SoundTouch speakers using AirPlay. However, the downside of this method, is that it is only works using Apple's devices such as the iPhone, iPad, iPod touch, etc.
Part 3. How Can I Play Apple Music on SoundTouch via Bluetooth?
If you have the latest version of Bose SoundTouch and you want to use Apple Music, Bluetooth is also one to consider just like any other wireless device. It is another useful way to help you play Apple Music on SoundTouch. If you want to try this method, you can check the steps given below:
Open your SoundTouch app.
Then, Tap the Menu in the upper left corner
Next Select Settings, In there you will see Speaker Settings in which you can choose your SoundTouch system and to view the system details screen. Select Bluetooth and tap on PAIR.
Open your device for you to pair your Bluetooth device to the SoundTouch, go to your device's settings, and turn on Bluetooth. Once turn on, select your SoundTouch system from the list of available Bluetooth devices.
Finally, Once your Soundtouch and device are paired, you can now start to stream and play Apple Music on SoundTouch using your Bluetooth.
But the drawback of this method is that some users complain about the playback quality, they say that the quality is not that good and it doesn't allow users to stream Apple Music using various devices.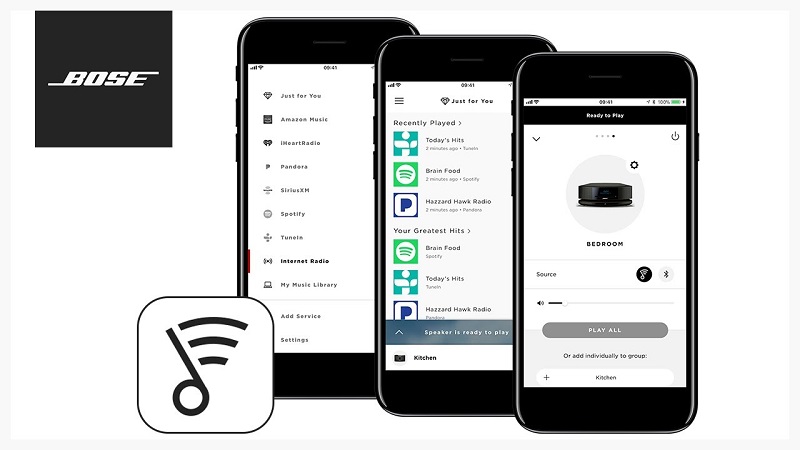 Part 4. How Can I Stream Apple Music to SoundTouch without Bluetooth?
Lastly, we have another option for you which is to play Apple Music on Soundtouch without Bluetooth. But for you to be able to do that, you will be needing a professional converter that can remove the encrypted protection of audios from Apple Music. Let me introduce to you the AMusicSoft Apple Music Converter.
AMusicSoft Apple Music Converter is a converting tool that fits everything that you need because it can convert almost everything such as songs, podcasts, and even audiobooks to any formats you like. It also has a user-friendly interface which is really helpful for first-time users. Moreover, it is well known for its conversion speed of 16x because even with such speed it doesn't affect the quality from its source and it would not take so much time for you to wait. Another thing is, once you converted the audio from your Apple Music using AMusicSoft Apple Music converter you don't have to worry about its encrypted protection because one of its features is it automatically removes the DRM (digital rights management) of the song, it means that even you are out of subscription you can still play all your converted songs and keep it forever! It also keeps an ID tag from the original song and allows you to freely customize the details like Title, Album, Artist, etc.
So, if you want to have or want to have this converter with you which is the AMusicSoft Apple Music converter. Just follow these simple steps I provided below:
Visits its official website then select on the download button.
Choose the location folder you want to install the software.
Lastly, Launch the AMusicSoft Converter shortcut on your
So now that you have the AMusicSoft with you, we can begin to convert the songs you like. You can refer to the following steps below:
Tips: if you are an avid fan of Audiobooks, just skip to this article on How to Convert Audiobooks, and then follow the steps below to play Audiobooks on SoundTouch.
Step 1. Select songs from Apple Music.
Launch the AMusicSoft Apple Music Converter shortcut on your desktop. The program will instantly scan your Apple Music, and expect that it will take some time to scan because the scanning process will depend on the available music files you have. Once the scanning is complete, you may now freely select the songs you wish to convert.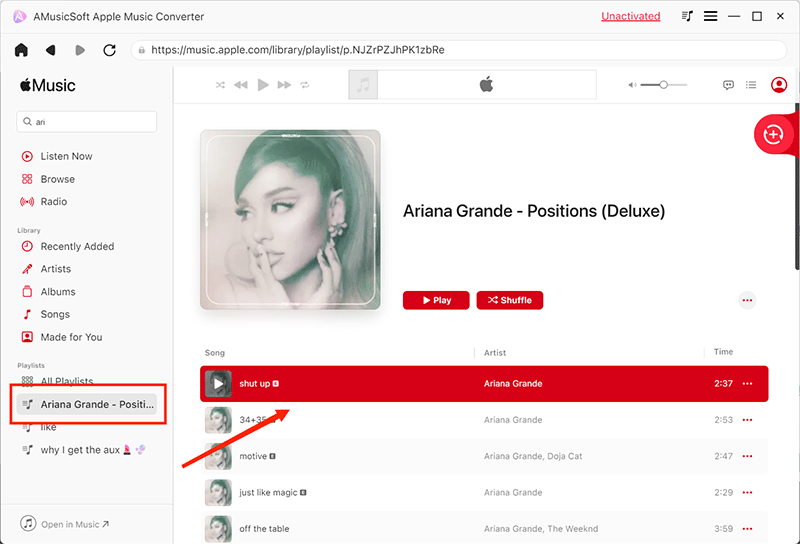 Step 2. Choosing the output format and path for the converted songs.
After selecting the songs you want to convert, you can also choose which output format you like, and also, you can change the folder where your audio files will be saved.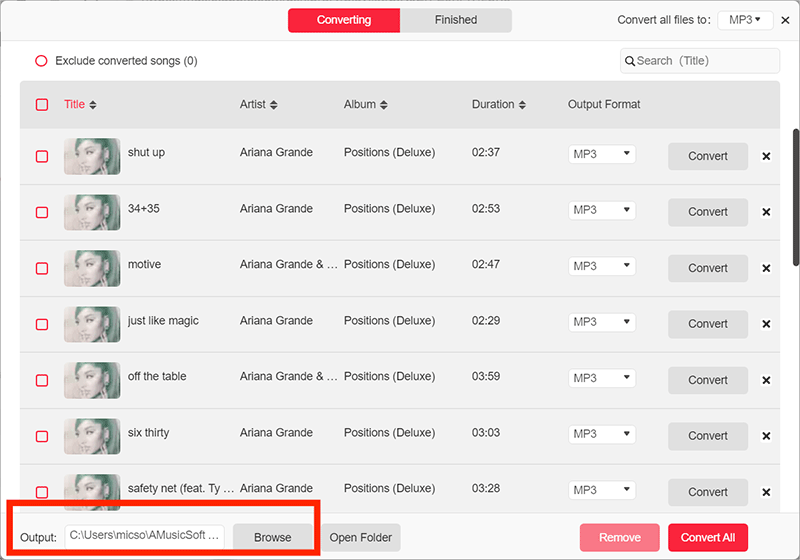 Step 3. Click on the "Convert" button to proceed with converting the Apple Music songs.
Once you set the output format and path, tap on the "Convert" button so you can begin converting your Apple Music songs. The converted songs will now appear on the "Converted" section panel.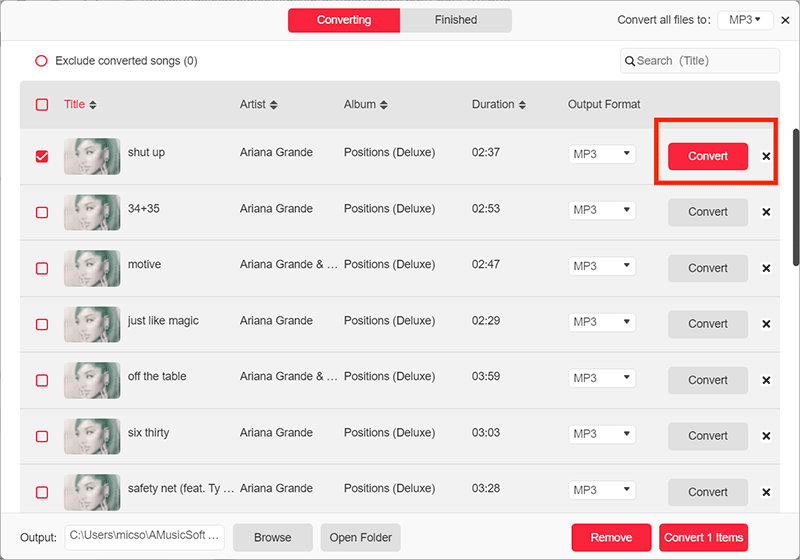 After finishing all the steps above, we will now proceed with the final step so you can play your converted Apple Music on SoundTouch. But take note that you have to make a playlist in iTunes first then upload these Apple Music songs to that playlist so that you can access it to Soundtouch for streaming.
How to Play Apple Music on SoundTouch with AMusicSoft Apple Music Converter?
Launch the SoundTouch app
Tap on the Menu icon in the upper left corner and select "Add Service", after that choose "Music Library on Computer".
Next, select the type of library you wish to add by clicking the blue circle right next to Windows Media Player, iTunes, or NAS.
After that, you can input or type a name for the library and then tap on "Add Music Library".
Once the library has been finally added to the application, you will see the music library available in the source list for the explore panel after a few minutes. It will be going to take you a while for the application to sync with your library before you can fully access the content with the use of your SoundTouch application. After syncing is complete, you may now enjoy your favorite and play Apple Music on SoundTouch without worrying about its limitation.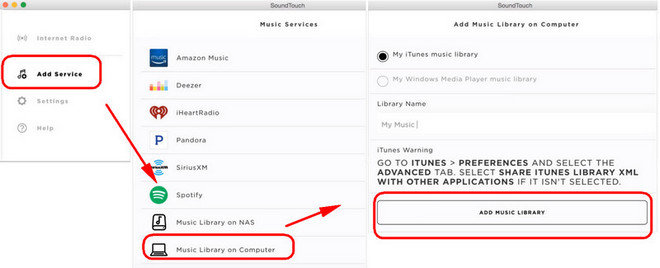 Part 5. We Sum it all Up!
There are different ways how to play Apple Music on SoundTouch. First, by using AirPlay, second is through Bluetooth, and Lastly with using a tool which is the AMusic Apple Music converter. We do hope the guides or the method that we presented could help you maximize the use of your Apple Music, Soundtouch app, and most of all your Bose Soundtouch speakers while you are inside your home.