In order to stream Audible books, users may choose from streaming online and offline. For online streaming, using the Audible Cloud Player will do especially if your device is either Mac or Windows. You may also try downloading them from Audible.com. On the other hand, for offline streaming, every Audible title should be downloaded. However, there are times when Audible book not fully downloaded issue comes into the situation.
Knowing that you correctly followed the detailed guide on downloading the books, only to find out that they are not showing on your library because of the Audible audiobook not fully downloaded issue, will surely make you upset. So, here are some of the tips that you may consider doing to solve the mentioned problem.
Contents Guide Part 1. Top Solutions if Your Audible is Not Fully DownloadedPart 2. Alternative Way of Downloading the Audible Books for Offline StreamingPart 3. Conclusion
Part 1. Top Solutions if Your Audible is Not Fully Downloaded
Audible offers millions of curated content for you to pick up. After you sign in, you can purchase and download whatever titles you like. If you get a premium membership, you can also get benefits like the Audible Plus Catalog. However, some Audible users have reported that the Audible book won't download fully on the platforms.
Audible book not fully downloaded issue is possibly caused by the Audible application itself, especially if you are very sure that all given steps are followed correctly. This could be on the settings you've set on your app, so, let us focus on checking the settings made to make sure that Audible won't cause any download problems anymore.
Solution No. 1: Download the Audible Books Once Again
If there is a conflict between the new Audible to download and the chapters or downloaded titles that are already on your collection, before redownloading the audiobooks once again, make sure that the previous downloads are removed from your collection in advance. To remove these downloads, follow the steps below.
Launch the Audible app on your iOS or Android device and then go to your library immediately.
From your list, look for the downloads causing an issue and then select the More button right next to each title. This More button is represented by three dots.
Select the "Delete from device" on iOS devices and "Remove from device" on Android.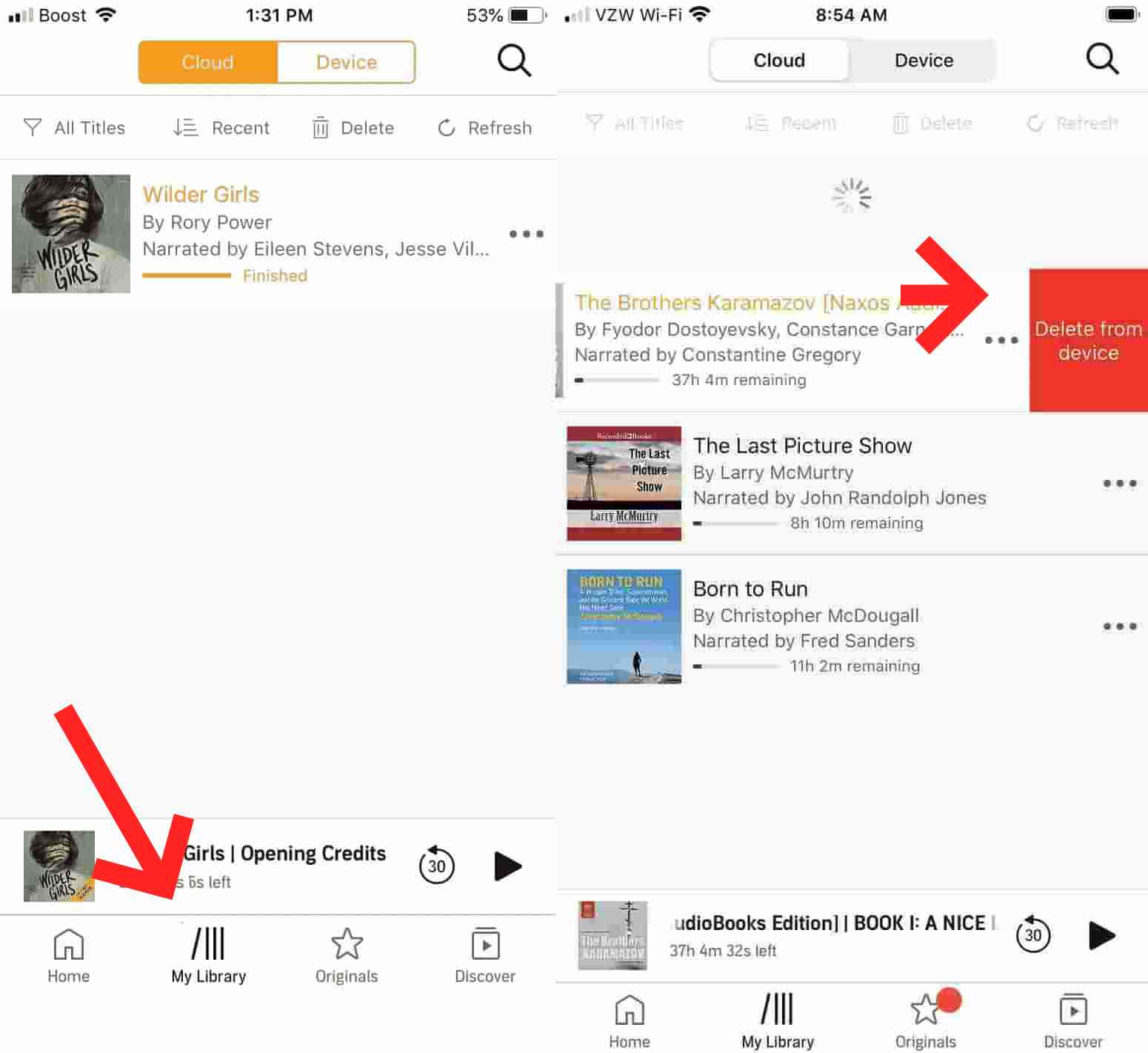 To redownload the Audible books, just search again for the audiobook that you wish to download and then select its art cover to see the Download button. Wait until it is completely downloaded before playing it.
Solution No. 2: Change the Download Quality of Audible Books
As an avid listener of Audible, no one would want to stream a low quality of audio, right? That is why most users have set the download quality setting to High Quality, which in return can cause Audible book not fully downloaded issue. Let us change this Audible setting with hopes that it can fix the problem. This is for Android and iOS devices.
Open your Audible app and tap the gear-like icon representing the Settings section.
Select the Download option and then Download Quality button. On iOS, click Data and Storage and then Download by Quality.
You will then see the options to choose from including Standard and High.
If it is initially set as High, change it to Standard only. Just simply mark the button located next to it in order to enable the setting chosen.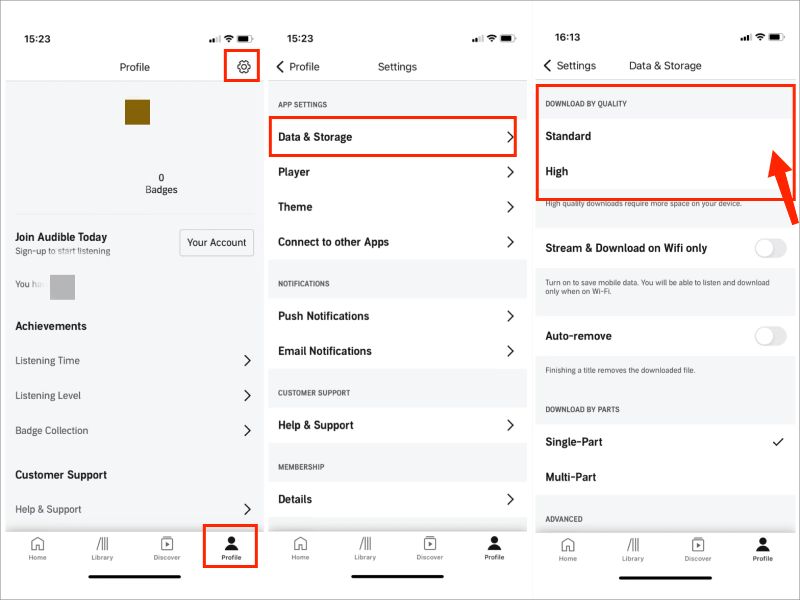 Solution No. 3: Activate Download by Parts Setting
If Audible book not fully downloaded issue is still being experienced, then consider downloading the audiobook by parts. You are not proceeding most possibly because your storage cannot handle the whole file size and so as your used device. Every part or chapter of the audiobook will take a smaller space compared to the entire file. Check out the steps below on how to do it.
On Android Devices
Open your Audible app and then head to the Settings section right away.
From the options displayed, choose "Data & Storage" and you will see "Download by parts". Then enable Multi-Part Downloads.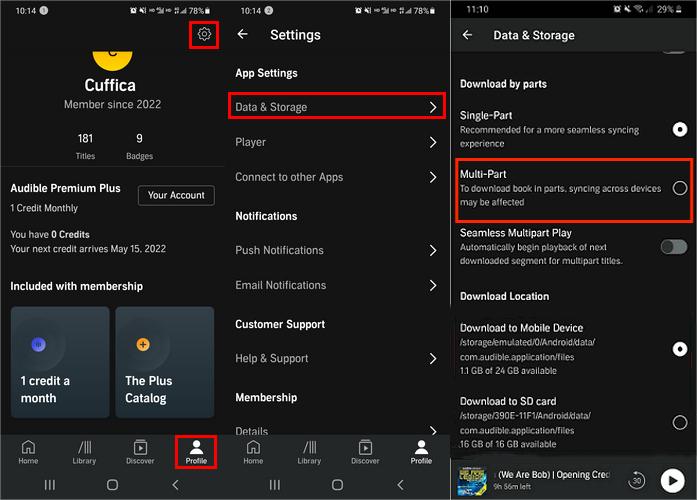 On iOS Devices
Launch the Audible app as well and then go to My Library section that is located at the bottom part.
Navigate to the Settings section and then choose Content Settings.
Click Download by Parts option and then select Multi Part icon.
After changing the setting, try on downloading the Audible books once again and see if there are any changes made.
Part 2. Alternative Way of Downloading the Audible Books for Offline Streaming
If the problem about Audible book not fully downloaded still persists even after doing the recommended fixes, then you should now try another way of downloading them. For better download results, you must use AMusicSoft Audible Converter. This application is very useful especially when it comes to downloading Audible books and converting them into an accessible format. In this way, you can keep the audiobooks on your device as local copies forever right after the successful download. You can also share Audible audiobooks with friends or family without limitation by this professional tool. Let us know more about AMusicSoft Audible Converter. See its features below.
Key Features of AMusicSoft Audible Converter
Capability to remove the DRM from the audiobooks to make them free.
Can download and convert Audible into accessible formats including MP3, FLAC, WAV and M4A.
Designed with a fast working speed that can shorten the waiting time for every procedure to occur.
Easy to manage user interface.
Provides the best audio quality of the converted audiobooks.
Keeps important details related to Audible such as ID tags and Metadata info.
How to Use AMusicSoft Audible Converter?
Start with downloading and installing AMusicSoft Audible Converter on your used device.
Add the Audible books through drag and drop method or through selecting them from your local library.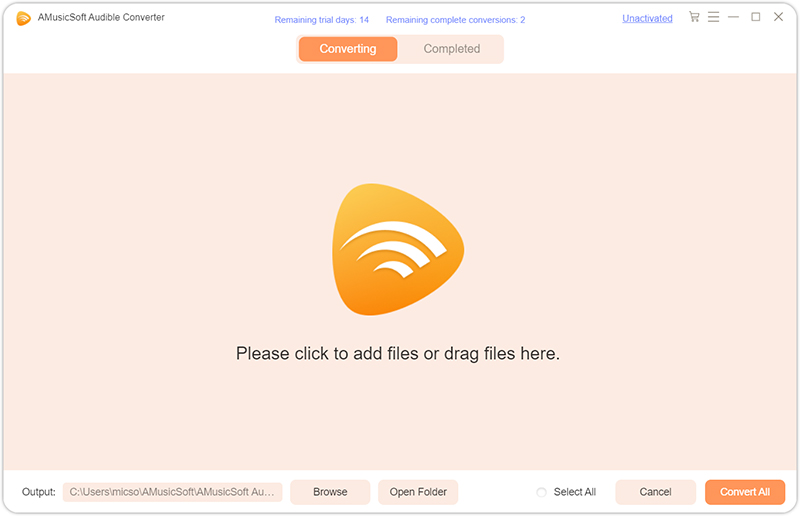 Choose the format that you wish to have and make sure that an output folder is selected as well.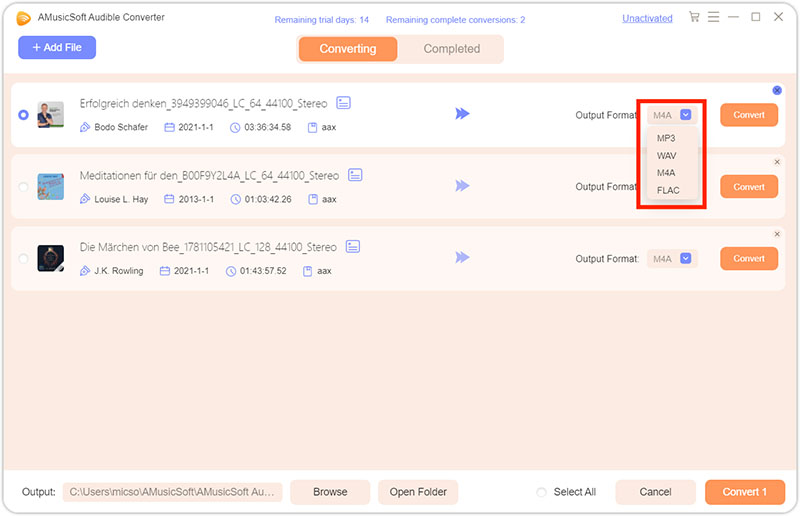 Click the Convert button to let conversion start.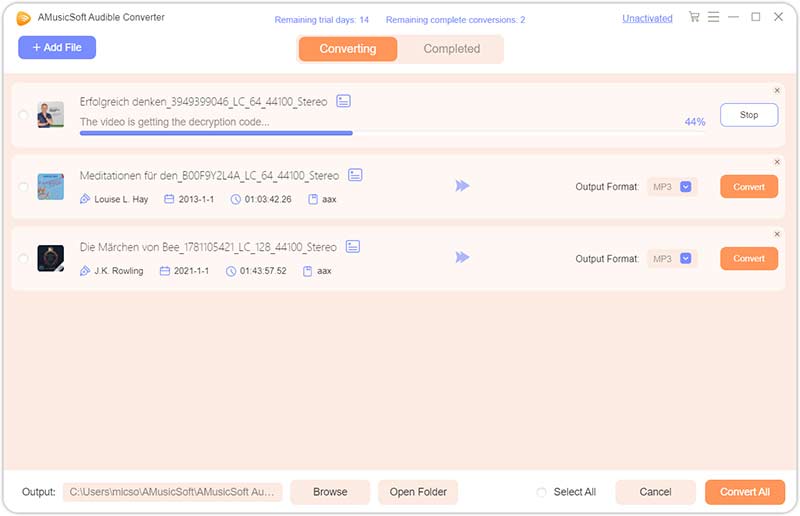 Save the converted audiobooks right after conversion is finished.
Part 3. Conclusion
For whatever factor that is causing Audible book not fully downloaded issue to occur on your application, you should always try multiple solutions until the problem is finally fixed. As discussed above, you may either download the audiobooks again to assure that all steps are done correctly, enable the download by parts settings and change the currently set download quality to standard. These are application settings based, so, you are free to try other fixes that you know. On the other hand, you can alternatively download the audiobooks through AMusicSoft Audible Converter. This is the surest way to utilize if you want a successful Audible download.
Robert Fabry
Apple Music, Spotify, Amazon Music senior users. Share various tips and solutions.
Last updated: July 27, 2023