Google is well-known for a lot of good products. One of those is the Google Home speaker. This smart device can be used by users to play some music and any other audio-related activities. Since audiobooks are being acknowledged nowadays as more users are getting attracted to them, it would be perfect if you can play Audible on Google Home speaker.
In this post, let us know about the best methods to try in order to play Audible on your Google Home and be able to enjoy them with others as well.
Contents Guide Part 1. Can I Play Audible Books on Google Home?Part 2. How Do I Play Audible Books on Google Home?Part 3. The Best Way to Play Audible Books on Google Home or Any DevicePart 4. Conclusion
Part 1. Can I Play Audible Books on Google Home?
Audiobooks are getting famous now that most users would love playing them on loud speakers. One of the most notable smart speakers now in the market is the Google Home speaker. If you happen to have the same device, happy to tell you that playing Audible on Google Home is possible on this kind of device, too. However, you have to remember that you will have to take some procedures first before you can proceed. Also, you might need to convert the files first into supported formats before playing them on Google Home speaker.
Part 2. How Do I Play Audible Books on Google Home?
Audible on Google Home could be enjoyed through the help of Bluetooth and Google Home app. By continuing to read, you'll learn about the procedures that you have to follow properly on how to play Audible Books on Google Home via the two methods mentioned just now.
Play Audible Books on Google Home Via Bluetooth
Bluetooth pairing is very popular as it is one of the most common methods used by people in connecting two different devices and having the items accessed across them. In addition to that, it is the fastest way to use direct streaming of audiobooks on other devices. As mentioned, you can also use this method to try playing Audible on Google Home. To be more specific, you can choose between pairing via voice commands and pairing by the Google Home app.
Pair by Voice Commands
Make sure that the Bluetooth feature is enabled on your mobile phone. Once checked and activated, open your Google Home speaker.
Since we are to utilize voice commands, start by saying "Hey Google, connect to Bluetooth".
After doing so, a new window will be displayed on your screen showing all the devices that are available for connection. From there, select your Google Home device.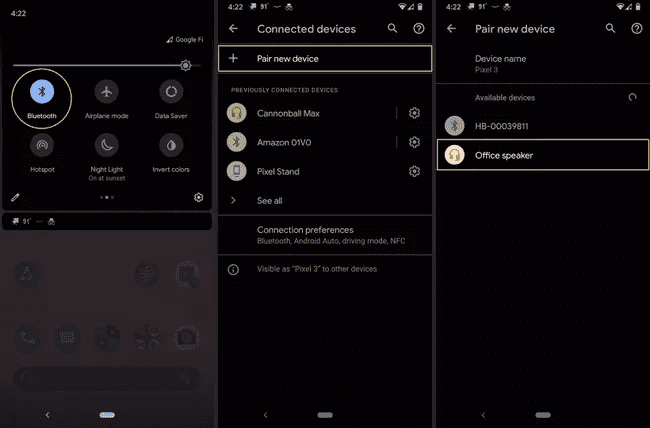 A few seconds after, pairing will be secured.
Once it is confirmed, you may then start launching your Audible app to select an Audible title to play. The audio will be heard over your speaker.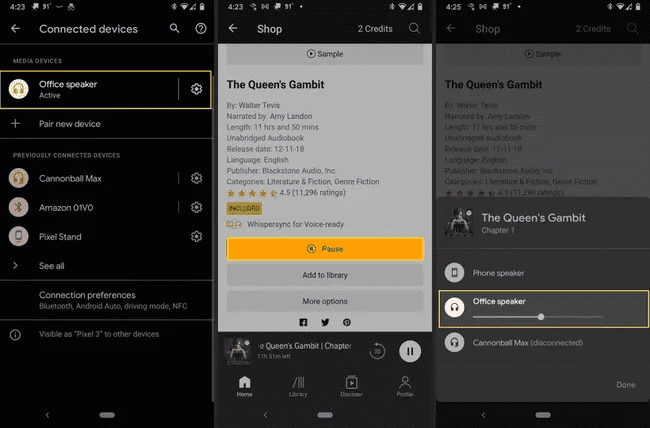 Pair by Google Home App
Another way to enjoy Audible on Google Home via Bluetooth function is by pairing with Google Home app. See the procedure below.
To get started with the process, you should have a Google Home app on your device. With that being mentioned, you should download and install the application first.
After the successful download and installation, launch the application and then navigate to the settings of the application by clicking on the three-dot button that is located at the upper right corner of the app's interface.
In the opening window, select the option of Paired Bluetooth devices.
After selecting this option, follow it with the selection of Enable Pairing Mode button.
Now, proceed to activating your used device's Bluetooth function. This is vital in order to pair your Google Home speaker.
To finally enjoy Audible on Google Home, fire up your application and then start streaming your favorites.
Cast Audible Books to Google Home on Google Home App
If you have installed Google Home app on your mobile device, then you can use that to cast Audible to your Google Home speaker. Confirm if your mobile device and the speaker are sharing the same network connection. If your family or friend has set up the Google Home speaker with their account on their device, you will fail to use the way.

Before proceeding with casting Audible on Google Home, you must have the application on your device first. You can always get this application from the App Store and Google Play Store for iOS and Android devices, respectively.
To begin with the process, check out the steps below.
Launch the Google Home app.
Tap the Google Home speaker you want to cast Audible to.
Tap "Cast My Audio" > "Cast Audio" > "Start Now".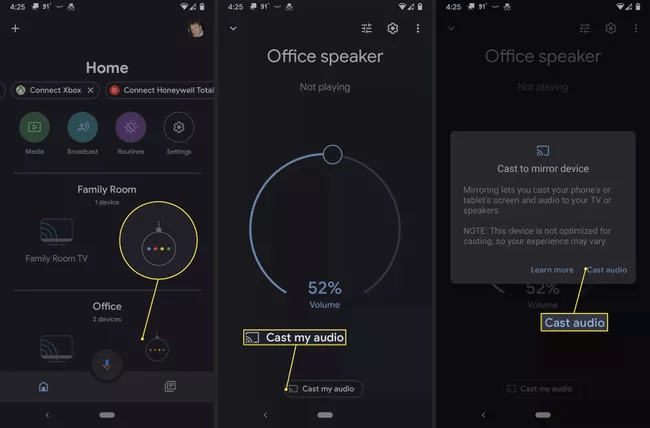 Run your Audible application to select the audiobook to play. The audiobook will be cast to your speaker.
If the audiobook doesn't play over your speaker, open your notification bar and verify it says Casting Screen and Connected to "your Google Home speaker".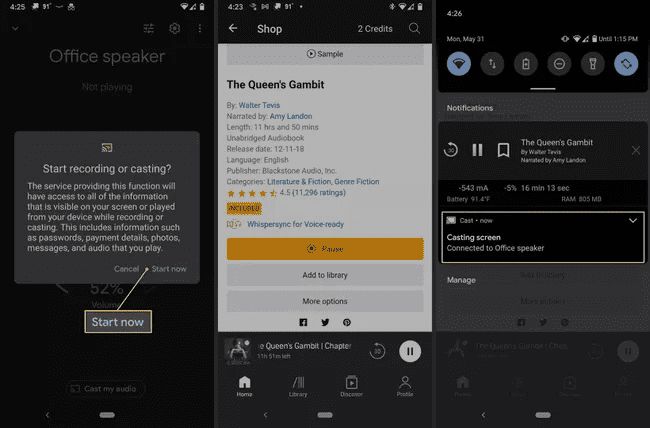 Part 3. The Best Way to Play Audible Books on Google Home or Any Device
Other than the ways discussed previously, Audible on Google Home can be experienced through an alternative method. You can even listen to audiobooks offline on other devices by using this method.
To make these things possible, you must use AMusicSoft Audible Converter. This amazing converter can be used for conversion and download procedures. However, for this to proceed, DRM must be removed from the files first. The good thing is that AMusicSoft can also do such a process effortlessly. You can share these DRM-free Audible book files with family or friends!
For the conversion process, you may choose from MP3, WAV, FLAC and M4A. Once all the audiobooks are converted and downloaded on your computer, you'll see that these files are of the best audio quality. Rest assured as well that all the processes that are to take place will only consume a few minutes of your time because it has a very quick working speed. Even the functions and the interface of this application can all be understood and done easily.
The following steps must be taken in order to convert and save Audible books using AMusicSoft Audible Converter.
On your computer, tap the browser icon to head into the main website of AMusicSoft. From here, you will be able to download AMusicSoft Audible Converter application.
Right after downloading the app, install and run it on your local computer. Then once it is done, start adding your chosen Audible books to convert. By clicking on the area specified by AMusicSoft, you will be navigated to your library to select the titles.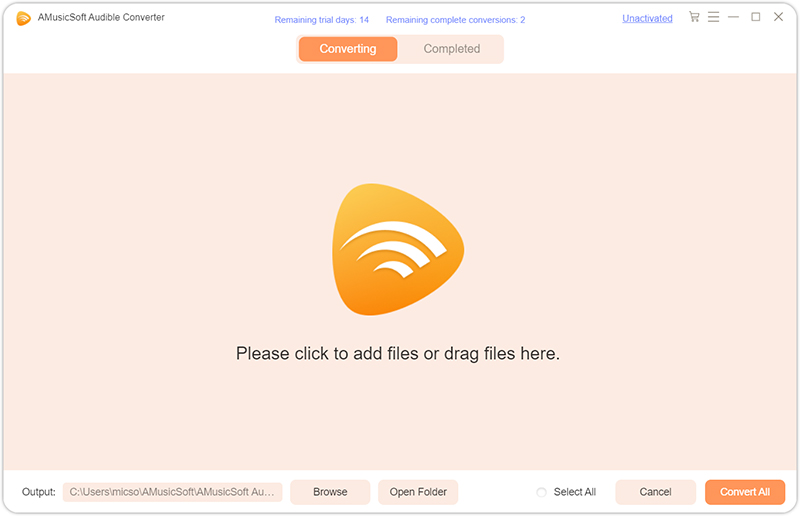 Now, select one format from the menu shown. You must set the output folder as well.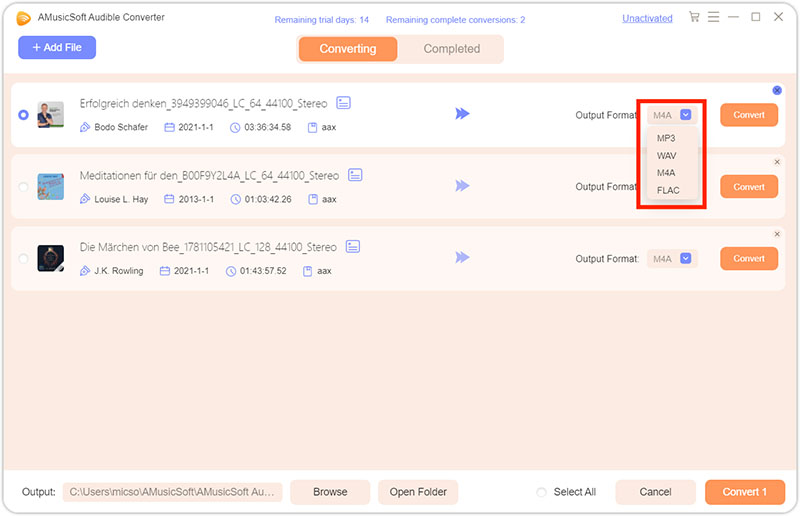 At the bottom part of the current page, there is a Convert button that must be clicked to get started with the process.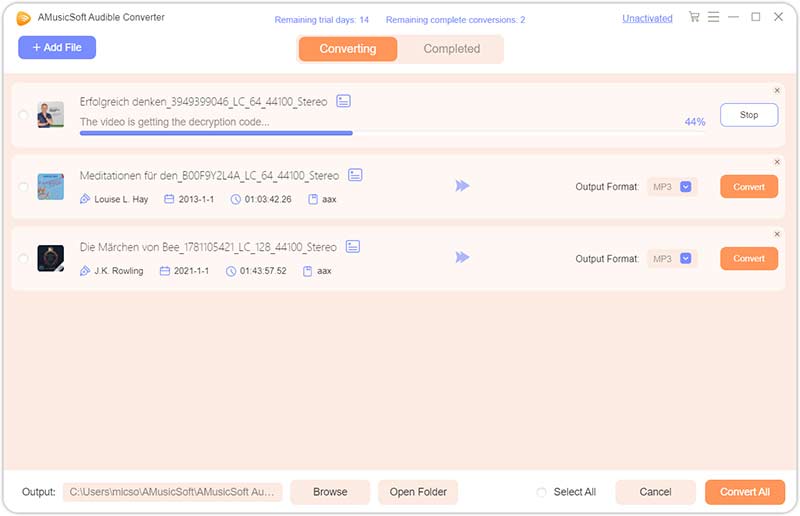 After a few minutes, the results will be available for download. Just proceed to the Converted section and download the converted files
Part 4. Conclusion
Through the help of Bluetooth and Google Home app, you are able to enjoy Audible on Google Home. Aside from that, you can always use AMusicSoft Audible Converter for the local copies of the Audible books. This will even help you use multiple devices in enjoying them. Take note, all of the recommended procedures mentioned have simple steps to follow that are very convenient to do as well.
Robert Fabry
Apple Music, Spotify, Amazon Music senior users. Share various tips and solutions.
Last updated: October 14, 2022