The technology has indeed opened a lot of channels for users to communicate and share all those happenings in life. Now, you can have access to social media platforms like Facebook, Twitter, Instagram, Snapchat, and more. All these channels are good topics to discuss but, in this post, we would be dealing more with Snapchat, particularly how to add Spotify Music to Snapchat with ease.
If you want to use the Snapchat application with your Spotify favorites, the question as to how that can be done will surely be raised. And, we prepared an answer to that. Indeed, it would be more awesome if you can incorporate those favorite Spotify tracks with any Snapchat video you have. So, if you wish to learn more about it, then keep on reading.
Contents Guide Part 1. How to Show What Song You're Listening to on Snapchat?Part 2. How to Get Spotify Music without Premium?Part 3. How to Add Spotify Music to Snapchat?Part 4. In Conclusion
Part 1. How to Show What Song You're Listening to on Snapchat?
The same with other applications, you can use Snapchat anytime and anywhere you are. Now, if you are in a certain place and suddenly, you have used the location's music as a background to your snap and you keep on wondering what that song is, you can identify it using the Snapchat application as well! Well, there are other methods of checking such as the use of another application or any assistant. But if you can just do it while using Snapchat, why not, right? The application actually has a built-in scanner that lets you identify the track instantly without even leaving the Snapchat application!
What is good with the mentioned built-in scanner is that apart from knowing the song that is currently playing, you can also hear a preview of that song, share it with friends, and be able to see other video content. How can you do it?
How to Identify the Song On Snapchat?
One great feature of Snapchat is being able to scan. To do it, you just need to simply tap and hold anywhere on the screen and the scanner should work right away. If there are music notes on the screen, this only signifies that the application is listening to the song that is being captured and Shazam is doing the job to search the title for you. Once Shazam identified it, a pop-up will be on the screen. If the searching process hangs, then that is the time that you need to use Siri or Google Assistant.
Now, if you wish to listen to the matched song, simply tick the "Listen" button. You will be given the option to access the tracks on either Spotify or Apple Music. If you do not want to listen to the song, then simply click the "Cancel" button.
Once you have identified the song and you wish to keep and get it, well, your only resort is to download it. If you are using the Spotify application, downloading would not be possible if you are not a premium account owner (and if you are, you can only have the songs kept if you are paying the monthly subscription fee). What must you do? How to add Spotify Music to Snapchat?
Part 2. How to Get Spotify Music without Premium?
Before talking about how to add Spotify Music to Snapchat, let's talk about how to get Spotify Music first. It has been a challenge for most Spotify application users to download Spotify songs and keep those forever on any device that they have. Paying the monthly premium fee is still not the answer to this since the songs will just vanish after the subscription ended. (If you are curious about how to download Spotify songs, we can give you detailed instructions too.)
One great way to solve the case especially if you do not have a Spotify premium account is to rely on a trusted third-party application like this AMusicSoft Spotify Music Converter. This app lets you convert and download your Spotify favorites (songs, albums, and even playlists) into supported output formats with fast speed while maintaining the good quality of tracks as well as the ID3 tags and metadata information. With this converter, you can even solve the issue when it comes to the Spotify songs' DRM encryption. As the conversion process is ongoing, that protection will also be removed making it possible for the users to keep the Spotify song forever on their devices. (Some of you may want to stream your Spotify tracks to iPad, we can tell you how to do it.)
If you are curious about how this AMusicSoft Spotify Music Converter can be used, you can refer to the below overview of the procedure.
Choose and add the Spotify songs to process.
Select one output format and specify the output folder.
Let the app start the conversion and DRM protection removal.
For further details, we prepared the succeeding descriptions for you.
Step #1. Choose and Add the Spotify Songs to Process
Once you have the AMusicSoft Spotify Music Converter already installed on your personal computer, simply open the app to begin the whole process. Once you are at the main screen, add those Spotify songs that you wish to process. Do the dragging and dropping method to be more efficient.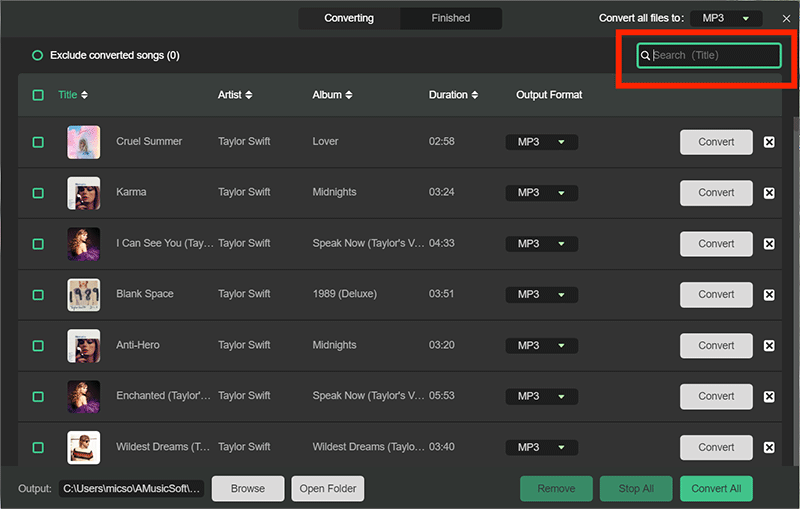 Step #2. Select One Output Format and Specify the Output Folder
After adding all those to convert, just choose one output format that you want to use. Also, it is recommended to input an output folder to make it easier to access the files once the conversion has been completed.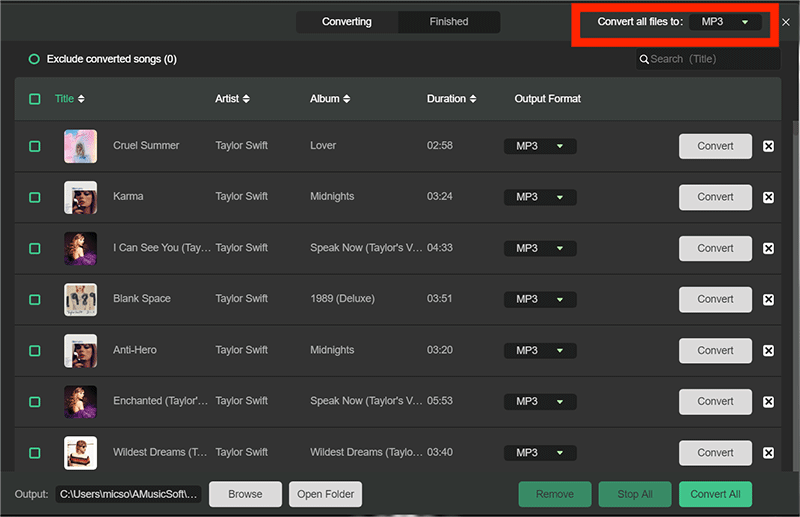 Step #3. Let The App Start the Conversion and DRM Protection Removal
Once done with the first two steps, just simply tap the "Convert" button and that will send the signal that you would want the files to be transformed to the chosen format (and the DRM protection removal to take place).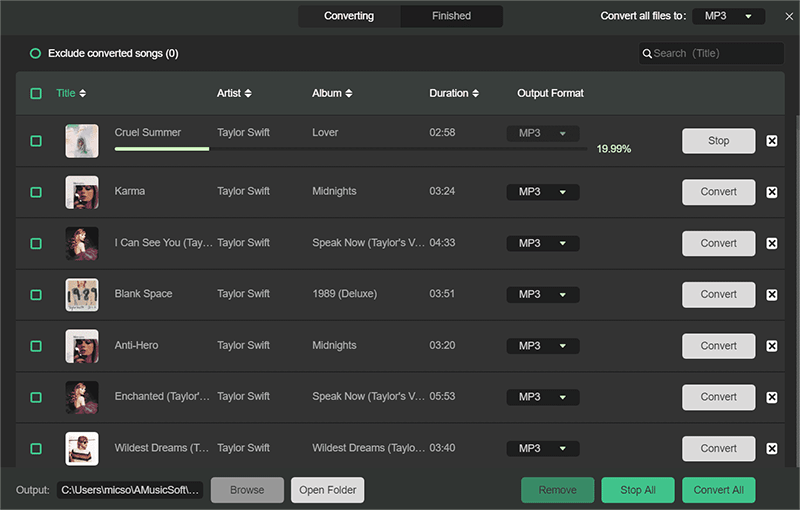 In no time, the converted Spotify files will be ready on your PC. Then what is next? How can you finally add Spotify music to Snapchat? Learn how to add Spotify songs to Snapchat as you get to the next part of this article.
Part 3. How to Add Spotify Music to Snapchat?
Before, every time the user wants to use background music for any videos to create on Snapchat, they would need to manually play one. Luckily, you can add Spotify music to Snapchat directly. And, using those Spotify tracks you converted and downloaded, you can make any snap worthwhile to watch and better to share.
How can you do it? You only need to follow the below simple steps.
Step #1. Open the Snapchat App
You need to firstly open the Snapchat app and the camera.
Step #2. Hit the "Sounds" Button
Hit the "Sounds" button. If you are unsure, this is the "Note" icon that you will see on the top area of your screen. You will see a chevron that you would need to click in order to see more options available. From those shown, you will see the option to add a sound you like (you can add this before you create a snap or even after you do the video – depending on your preference).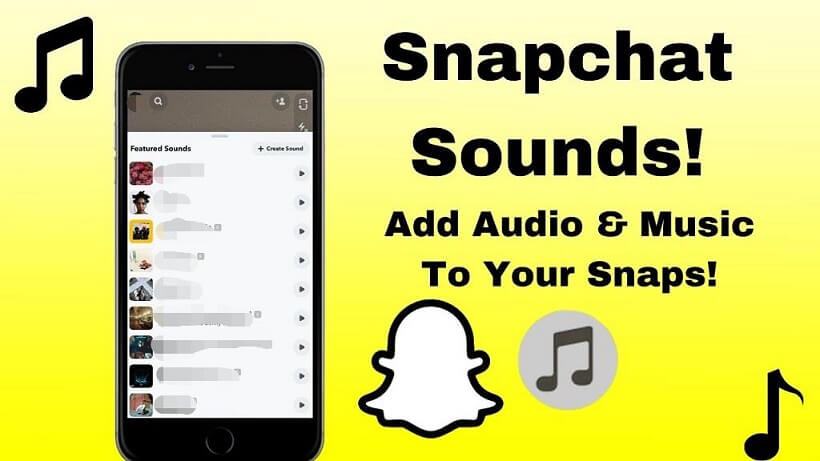 Step #3. Choose the Song
Take note that you will see a list of those tracks that are featured. You can choose from those and even see a preview if you like. After selecting one, click the "Next" button to finally use the sound.
Step #4. Adjust the Length of the Song
If you wish to adjust the length of the song to be used, you can do it by dragging the waveforms either on the left or right.
Step #5. Edit the Song
You will notice that the song will be a sticker. And, the same with others, you can have it moved, flipped, pinned, and more.
Step #6. Delete the Song
If in some cases, you have chosen the wrong song, the deletion is also easy. You just need to hold and drag the music sticker going to the bottom area of the screen and wait until a "trash bin" icon shows up. Drop the sticker and it will then be erased or deleted.
As simple as the above, you can now add Spotify Music to Snapchat!
Part 4. In Conclusion
It might be confusing at first to add Spotify music to Snapchat. Also, this could be hard for Spotify fanatics who are not knowledgeable enough especially when it comes to downloading Spotify tracks and keeping them even without the subscription. Finally, through the use of applications like AMusicSoft Spotify Music Converter, the incorporation of those Spotify favorites with any Snapchat video can be done easily and fast!