Spotify introduced the premium account to enable people to download Spotify music and listen offline. But a few issues came up that limited the offline listening. For example, you cannot listen to downloaded music when you do not have an active subscription. Bright brains went back to the drawing board and came up with a way to download Spotify online.
Take a few minutes and read the first part of the article to get inside information on how to download from Spotify online. You will also get the two best Spotify online downloaders. Use the alternative in part two if the online converters are complex or do not give you the desired output files. Internalize the features of this third-party tool and weigh your options.
Contents Guide Part 1. How Do I Download Songs From Spotify Online?Part 2. The Best Spotify Downloader Online AlternativePart 3. Summary
Part 1. How Do I Download Songs From Spotify Online?
Yes, it is possible to download from Spotify online. It looks challenging on paper but is very easy when you try it. These can be online applications that require an extension on a web browser or websites with direct links to Spotify music. Most of the online downloaders are free and readily available on Google Web Store. Below are some of the excellent online downloaders you can use.
#1. Audkit Spotify Downloader
This is a perfect product from a big company associated with creating audio conversion software. It is a free and online tool that can handle files from various music services like Spotify, Tidal, and SoundCloud. It can convert Spotify playlists, albums, songs, and podcasts. This online downloader has a 5x speed as long as you have a strong and steady internet connection.
It is among the few online downloaders that can produce more than one output format such as MAV, MP3, FLAC, WAV, and M4A. This application eliminates the DRM protection and downloads unprotected files for offline listening. It is also an editing tool for example it can reset the bitrate and sample rate.
In general, the application is user-friendly and the conversion steps are easy to understand. It maintains the high lossless quality of the output files. In addition, it keeps all ID3 tags and other information like track number, artist, album art, and titles. It can run on all computer operating systems including mac and windows. Follow the steps below to download Spotify online using this application.
Step #1. Download and register the Audkit application. Activate it so that you can access the full version. The Spotify application will open automatically once you launch this program.
Step #2. Import Spotify music files to the program. You can use the drag & drop technique or copy and paste the URL link.
Step #3. Click on "menu" and select "Preference" where you will select the output format and other audio parameters like sample rate and bitrate.
Step #4. Navigate to the bottom right corner and click on "Convert" then allow it to work.
#2. Spotdl.com
This is a website that will make it possible for you to play Spotify music offline on other media players. It is a wonderful website that will download Spotify music in MP3 format and save it in the selected folder. It can work with any web browser as long as you have a connection to the internet.
You do not need any training to use this website because all the necessary steps are self-explanatory. Just paste the Spotify URL link in the search bar and click on the download button. There are two versions of this website, that is, the free and purchasable membership.
Purchase the membership if you want better features. For example, you can only download 500 songs in a month with the free membership while the other version has no limit. Both versions will give you high-quality files and great speeds that range between 128kbps and 320kbps.
Part 2. The Best Spotify Downloader Online Alternative
Sometimes the online applications, web browser extensions, and websites can be very disappointing with the continuous crashing. Low-quality output files and maximum limit on downloads reduce the entertainment. This is why you need a sure alternative to download from Spotify online. And the perfect tool is AMusicSoft Spotify Music Converter.
This application gets the top rank for the extraordinary features it possesses. Starting with the way it downloads Spotify songs by removing DRM encryption. It will remove DRM on both free and premium Spotify accounts. The program also converts Spotify songs to popular formats like MP3, AAC, AC3, FLAC, and WAV.
This software will enable you to achieve the dream of listening to Spotify music on any device using common media players. You can easily share DRM-free music files using E-mails and other sharing platforms. Do you know what 5x conversion speed means? In short, it will convert and download a 5 min song in one minute.
With this application, you will still get the perfect high-quality audio files after conversion. The output files will have a similar quality to the files on the Spotify platform. You will get 100% lossless files because the program keeps ID tags and essential information like titles, artists,s and albums.
It can handle batch conversions including big albums and playlists. You can load up to 100 songs at once and it will download with the same 5x speed. There is no upper limit to the number of songs you can download in a specific period. Ignore other online converters that limit you to 500 songs in a month and use this application.
Compatibility is a strong consideration when it comes to choosing applications and this program is compatible with most desktop computers. And it is also easy to operate with a clear and attractive interface designed to get work done in seconds. You can understand how to use the whole program in less than two minutes. Use the following three steps to download Spotify music.
Step #1. Once the program is installed, open it. On the other hand, launch the Spotify application.
Step #2. Drag and drop Spotify music files onto the main interface. Then click on "Output Format" where you will select the favorite format. Also, click on "Output Folder" to choose the best folder for your downloads.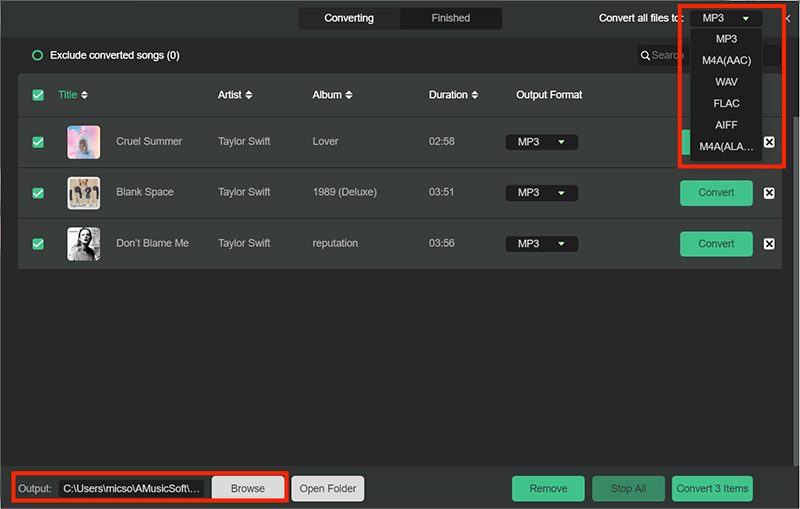 Step #3. Ensure all of your wants are in place and click on the "Convert" button.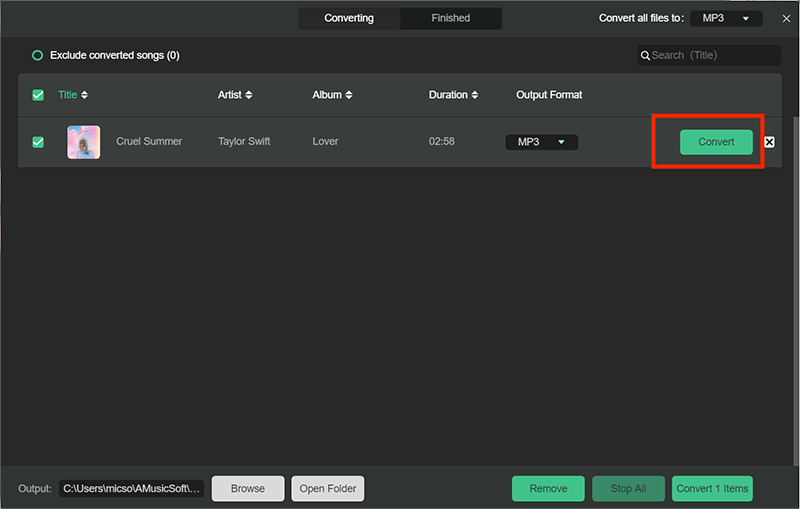 Part 3. Summary
It is very easy to download from Spotify online using web applications and websites. Audkit is the best online application with high conversion speeds of up to 320kbps. It will also ensure you get high-quality files that can play offline. Imagine the fun of listening to Spotify music without the ads and frequent hiccups. It is a free application with the best features like many output formats.
Spotdl.com is a simple website that can download music from Spotify and other platforms. Choose to purchase the membership and enjoy extra features like you can download more songs in a month. However, spotdl.com and Audkit experience frequent crashes hence inconveniencing many users.
Choose to use AMusicSoft Spotify Music Converter and avoid all issues with online downloaders. You will receive lossless audio quality in the end files with five times the conversion rate. This software is not free but the updates are free. The application can organize your outputs in a single folder and you can get the fastest support from customer care.
Mac and Windows desktops are the most common in the world and this application is compatible with both of them. It has simple graphics and an interface that a beginner can understand within a short time. Please note it is illegal to remove DRM from any copyrighted material but you can do it for personal use only.