Spotify is still one of the leading music providers that people used to utilize in enjoying their favorite music. However, the tracks could only be played within the Spotify app since they are DRM-protected. So, to enjoy them outside Spotify, removing DRM from Spotify audio files first would be useful. Also, songs on Spotify are encoded in OGG Vorbis format which is impossible to play on CD players, or other music players, unlike WAV. You should also convert them into accessible formats such as WAV, MP3, and MP4.
Can I get a WAV file from Spotify? In this article, we will share with you 3 useful free Spotify music to WAV converters to convert Spotify to WAV, MP3, MP4, or others without quality loss.

Contents Guide Part 1. What Is WAV File?Part 2. Convert Spotify Music to WAV via Online ConverterPart 3. Convert Spotify Music to WAV via Audio RecorderPart 4. Convert Spotify Music to WAV via Spotify Music ConverterSummary
Part 1. What Is WAV File?
WAV format, which stands for Waveform Audio File Format is a sound file format standard. It is the main format used on Microsoft Windows systems for uncompressed audio. One of the advantages of using WAV file that needs to be mentioned is about getting a perfect precision of the audio file. WAV files normally use the LPCM codec. It doesn't compress the audio data. The storage is lossless, meaning it's a good way to store the original, raw audio without degradation, but they're inconveniently large.
In spite of their large size, uncompressed WAV files are used by most radio broadcasters, especially those that have adopted a tapeless system. Music players on desktop computers generally support WAV. It's one of the easiest audio file formats to implement in software. Several free cross-platform players, such as VLC, support it as well.

If you are currently using the Spotify app and wish to stream Spotify tracks on your own music player with lossless quality, you can use WAV for downloaded tracks. Lossy files degrade slightly each time they're saved, downloading a lossless audio file prevents loss of quality. How to convert Spotify to WAV files? While Spotify won't offer format conversion between OGG Vorbis format and WAV, you can consider using professional Spotify converters to convert Spotify songs, playlists, or podcasts to WAV with one click. These tools will be described below for you to choose one that suits you the most.

Part 2. Convert Spotify Music to WAV via Online Converter
How do I convert Spotify songs to WAV? The first Spotify to WAV converter online we shared is Online Convert, a free tool that is very useful when it comes to converting Spotify songs to WAV format for newbies. From this website, you can convert over 20 input formats to WAV. For example: MP3 to WAV, OGG to WAV, and more. This online Spotify music to WAV converter supports adding audio files from Google Drive, local device, Dropbox, or via URL. Let us see the detailed steps on how to use this online tool in having Spotify songs to WAV.
Convert Spotify Audio to WAV Online
Visit the official website of Online-Convert.com on the web.
At the main interface of the tool, choose "Audio converter."
Then, click "Convert to WAV" from all the available services offered.
On the main page of the converter, choose the input format.
Then copy and paste the URL from a Spotify playlist
Now, you can have the audio quality settings modified by proceeding to the section of "Optional settings", such as bit resolution, audio frequency, etc.
And lastly, to finally convert Spotify to WAV, click on "Start Conversion".
Now you can download your WAV file.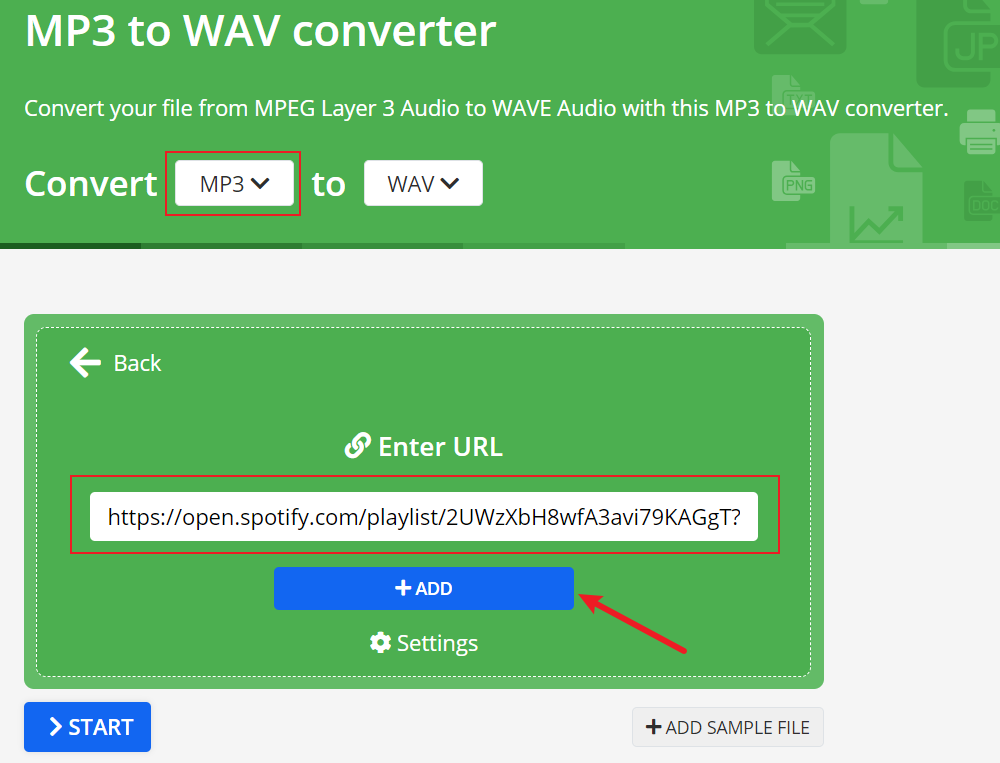 Take note that the duration of the download procedure depends strictly on both your internet speed and the length of the tracks. You have to consider these factors all the time.
Tips: If you are unfamiliar with the Spotify playlist's URL or link, see Download Spotify Songs By Link to find out.
Part 3. Convert Spotify Music to WAV via Audio Recorder
Another free Spotify to WAV converter tool is the Apowersoft Online Audio Recorder. From the name itself, it is an audio recorder tool that is capable of capturing and recording any sound that you are to play online. Apowersoft Recorder allows you to output your selected audio to different formats after you have recorded them, including WAV, MP3, FLAC, AAC, WMA, M4A, OGG, and WAV.
Record Spotify Music to WAV Online
Play a playlist or album on the Spotify desktop app.
Head to the official website of Apowersoft.
Click the "Start Recording" button.
Select the System Sound option and then click "Start Recording."
To stop the recording process, just simply click on the Stop button.
After stopping the recording, you can play the soundtrack online directly.
If you are satisfied with it, simply click "Save" to download the audio file in MP3 format.
You can upload the MP3 audio file on Apowersoft to convert to WAV.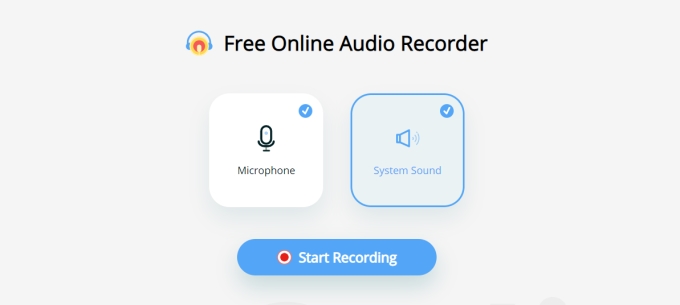 However, this approach is relatively complex. Sometimes environmental noise will also be recorded. Also, though it will record and convert Spotify songs to WAV, media quality is lost.
Tips: If you don't want to spend time waiting for songs to be recorded one by one, you can consider batch conversion with AMusicSoft Spotify Music Converter we share below to achieve higher efficiency in less time.
Part 4. Convert Spotify Music to WAV via Spotify Music Converter
AMusicSoft Spotify Music Converter is also a top-grade Spotify music to WAV tool that uses the latest audio conversion techniques to provide you with instant results. If you want to get higher-quality Spotify music files with an easy method, try AMusicSoft software as an alternate.
AMusicSoft Spotify Music Converter is not only capable of converting Spotify to WAV but can also convert them into MP3, MP4, AAC, M4A, and FLAC output formats. AMusicSoft is also a powerful Spotify DRM Music Converter. The format conversion procedure can be able to proceed if the DRM is removed from the Spotify tracks.
The Spotify web player is integrated into AMusicSoft software which allows you to download Spotify songs from the inbuilt Spotify web player. Discover, stream, and download music all in one place. Once the tracks are finished with the conversion process, AMusicSoft will then assist you in downloading the converted tracks on your used device. By adopting the leading acceleration technology, the ripping speed of AMusicSoft is boosted, which can reach at least 5X faster without affecting the sound quality in the output files. In addition, AMusicSoft enables you to convert multiple Spotify songs into WAV at one time. It means that you can load complete Spotify playlists into this tool for instant, safe, and precise conversion.

Convert Spotify Music to WAV Losslessly
Step 1: AMusicSoft Spotify Music Converter is supported on Windows and Mac. Visit the official website of AMusicSoft and get the software downloaded to your computer. AMusicSoft offers a free trial to anyone, Try it free by clicking the download button below!
Step 2: Run the AMusicSoft application and log into your account in its built-in Spotify web player. Then drag and drop the Spotify tracks you want to convert to WAV files into the converter.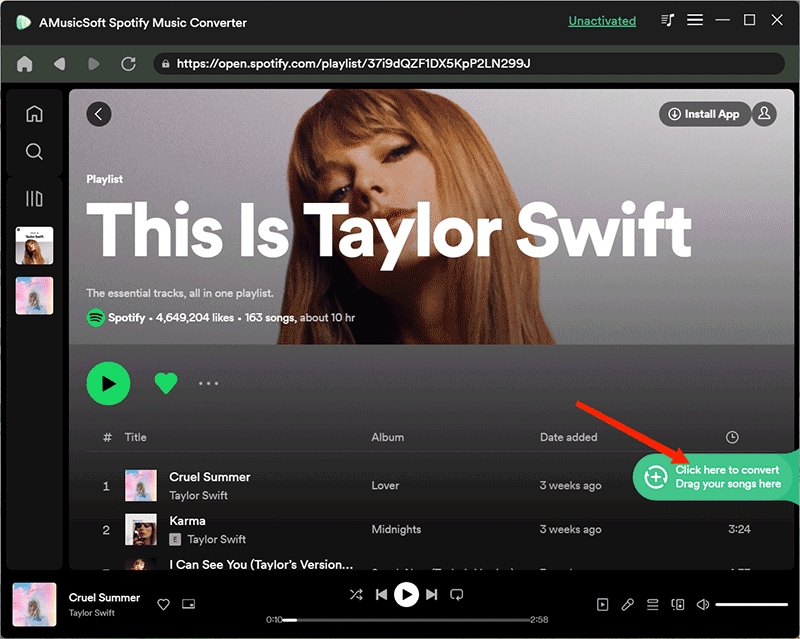 Step 3: The next step would be the output format selection. At the upper right corner of the page, there is a section for the selection of formats. To convert Spotify Songs to WAV, choose the WAV format among the formats listed. You may also select the output location by editing it from the Output Path section found in the lower left corner of the screen.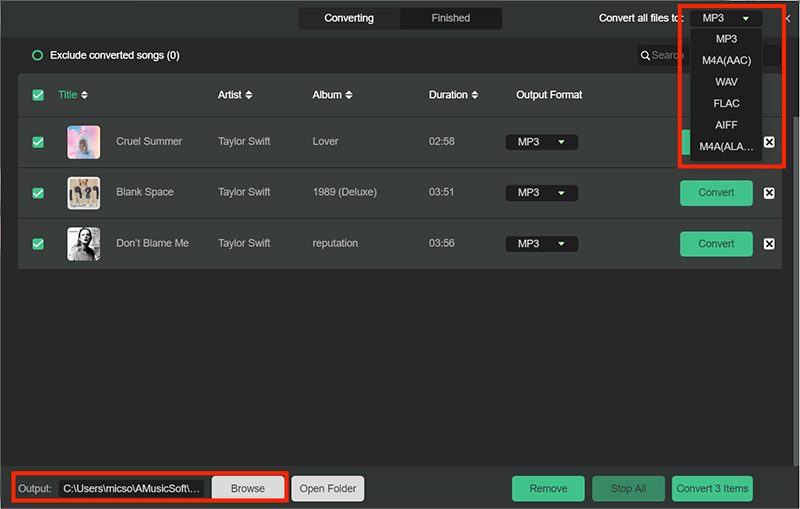 Step 4: For the last step, just click on the Convert button and have the conversion of Spotify to WAV After a few minutes, you can see all the converted files at the Converted/Finished tab that is right beside the Converting tab above.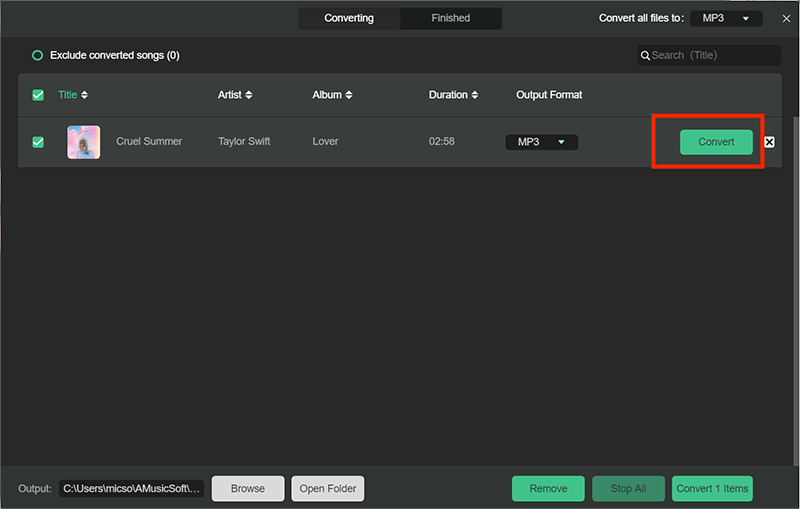 Related Topics: >> Convert Spotify To MP3
Summary
Now you've learned how to convert Spotify to WAV format via 3 tools. Compared to others, AMusicSoft Spotify Music Converter can help you convert Spotify tracks to WAV, MP3, MP4, AAC, or other common audio format directly with simple clicks, and you don't need to switch between different websites. It is applicable for both Spotify Premium and Free users. Don't hesitate to give it a try. Download it and enjoy the convenience right now!