As everyone gets busier each waking day, so is the trend for easy listening. Even with the pandemic, people are still on the go. Some of us may be working remotely, still reporting for duty at the office, staying at home with our family or just you and our fur babies, or doing physical training. Listening to something is putting a more incredible deal in giving us ease in everyday life. The podcast has become even more popular these days.
Is listening to a podcast equal to being connected to a network every time? Well, that would be a bummer, but no. You can always download podcast to MP3 , so you get to really submerge yourself in a space where words have an impact, and you get to relate to them, one way or another.
These days, people like yourself want easy access for easy listening. The idea of having to download podcast to MP3 is to give you better chances to manage your time between following your favorite podcast in every episode but still being on the move. What better way to do it than be introduced to the best podcast downloader on the digital platform.
Contents Guide Part 1. What are Podcasts from Spotify? Can You Download Podcasts to MP3 players?Part 2. The Best Way to Download Podcast to MP3Part 3. How to Download Podcast to MP3 OnlinePart 4. Summary
Part 1. What are Podcasts from Spotify? Can You Download Podcasts to MP3 players?
As we all know, Spotify is an exceptional digital audio streaming provider that introduces you to a vast library of millions of songs, thousands of artists, millions of albums, and a variety of podcasts. If you have been using Spotify, then I bet you already know about its podcasts.
The app isn't only about catering to its users listening activity for songs they love. But in so many ways, Spotify is a platform where thousands of artists are presenting their podcasts. Moreover, subscribers can stream, listen, and download these contents onto their devices.
One of the many things that make Spotify ever popular is its podcast content. The podcast that you listen to on Spotify is synced to your Library. Your Library then automatically updates with each new episode for easy access. Essentially, you can listen to a podcast if you use the Spotify app on iOS, Android, or Windows 10 OS. Any podcast is ready for download at any time.
But you have to keep in mind that only Android and iOS Spotify Premium users can have access to download a podcast for offline listening. Although I'm going to have to give you a hint: you have one best way to download podcast to MP3 on any device and OS, without the premium subscription. Just keep tuned in to this article.
Part 2. The Best Way to Download Podcast to MP3
Got you! I wouldn't want you scrolling through a lot of words just to keep on this. I assume you've been on the search for ideas and methods on how to download podcast to MP3. And with the internet as vast as the ocean that contains a lot of information, I bet you have been suggested with a number of podcast downloaders. These programs may claim to be foolproof but are they really? Are they really up for the job to help you with your woes? I doubt. So, with no further say, here's the best podcast downloader you can have for a hassle-free podcast listening you deserve.
AMusicSoft Spotify Music Converter is free software that will help you download podcast to MP3 so you can continue being tuned in to your favorite podcast even when you're offline. AMusicSoft Spotify Music Converter has been praised by many users around the globe who have been challenged by trying to play their podcast on whatever they have, at any time.
AMusicSoft Spotify Music Converter Power Features:
Download any podcast or songs from Spotify
Convert podcast or any Spotify song to MP3, FLAC, WAV, AAC, etc.
5x even faster speed compared to other downloader and converter
Lossless audio media quality at 100%
Skip ripping off crucial information that comes from ID3 and metadata of Spotify files
Remove DRM protection that makes every podcast or Spotify file inaccessible
Unlimited offline listening no matter what
Download Podcast to MP3 by following the steps below:
Step 1. Download AMusicSoft Spotify Music Converter from this link
Step 2. Launch the software, and import your podcast files by dragging or adding them into the AMusicSoft Spotify Music Converter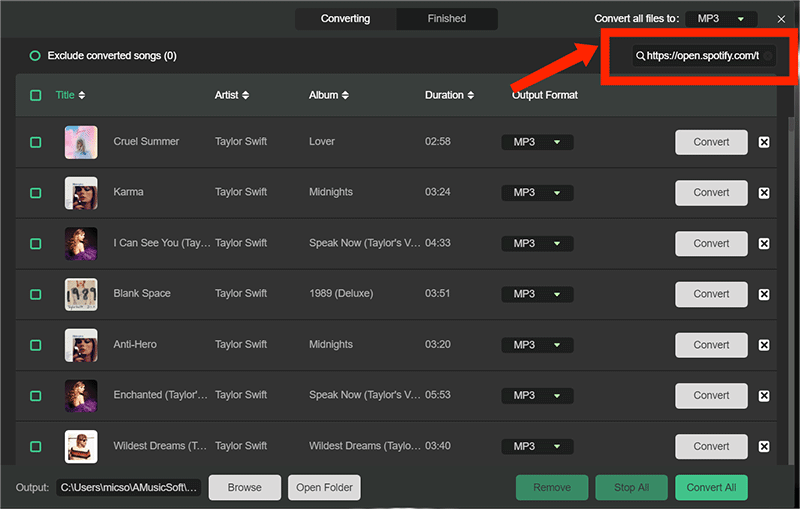 Step 3. Choose a format from the "Output Format" and a destination file in "Output Folder"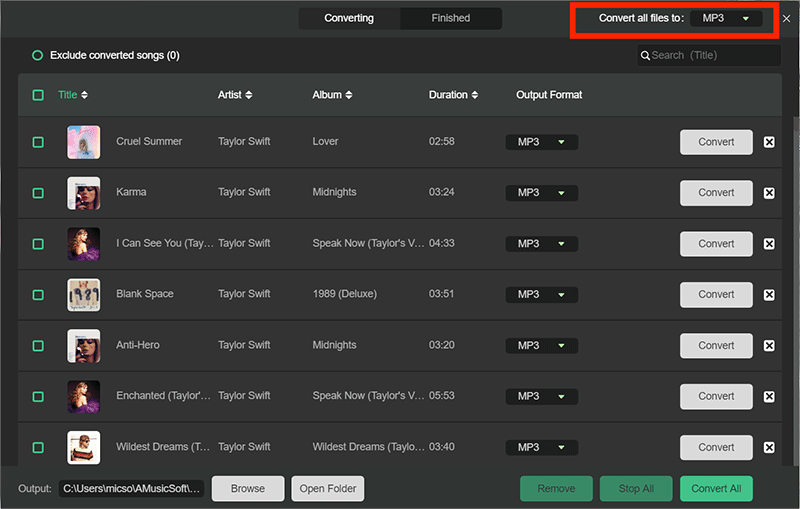 Step 4. Click on "Convert" to start to download podcast to MP3. Wait for it to finish, and check for the files on the output folder you chose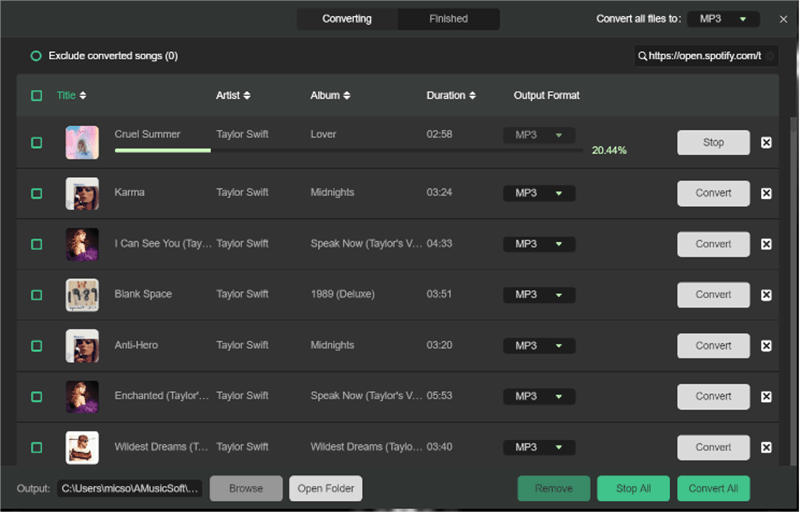 Part 3. How to Download Podcast to MP3 Online
If you're connected to the internet, you can also try this podcast downloader online.
DZR Music Downloader

Download the extension for DZR Music Downloader on your chrome browser
Launch the extension to get to the Spotify Web Player
Log in to your Spotify account, then proceed to find the podcast you want to download
Open the Spotify podcast you want and click the "Download" button
Part 4. Summary
After reading this article, I hope you are now feeling good knowing that you don't need to think about not consistently listening to your favorite podcast because of your hectic work schedule or just a lot of house chores you get to handle from time to time. With AMusicSoft Spotify Music Converter, life is more manageable, convenient, and free of any trouble to download podcast to MP3. Now, you won't have to miss a single episode of your favorite podcast or even miss hearing the soothing voice of your podcast artist.
Robert Fabry
Apple Music, Spotify, Amazon Music senior users. Share various tips and solutions.
Last updated: March 9, 2022