Spotify is one of the music streaming services that are popular among people who are musically inclined. Perhaps, one reason for this is because of its vast collection of music that they can choose from its catalog.
Also, as the years go by, Spotify is getting readily available to install on any devices like Android supported devices and even Apple for this matter. So, what about if you have an iPod Touch, would you be able to play Spotify on iPod Touch? It's an absolutely yes!
However, the method of how to install it will depend on the generation of your iPod Touch. Don't worry because you will find out more about it as we go along in this post.
Definitely, we can play Spotify on diverse devices.
Contents Guide Part 1. Can I Get Spotify on My Old iPod Touch?Part 2. Can You Listen to Spotify Offline on iPod Touch?Part 3. How to Play Spotify on iPod Touch Offline without Premium?Part 4. Conclusion
And here, you will learn about installing Spotify on iPod Touch, troubleshooting if you encountered a Spotify compatibility issue, and listening to your favorite music even if you're are offline. So, without further ado, let's get started.
Part 1. Can I Get Spotify on My Old iPod Touch?
Generally speaking, Spotify is readily available to download on iPod Touch with generations 6 or above and from iOS 10 up to the latest one. However, what if you have an older version of it, can you still play Spotify on iPod Touch on the older version?
The answer is still yes though there is another method for that which I will further explain in the latter part of this post including the steps on how to do so. But first, you can try to use the older version of Spotify if it will work on your iPod by following the steps below, this also works if you encountered a compatibility issue.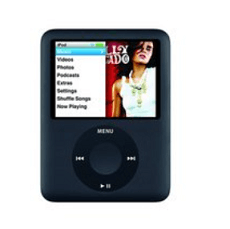 Here is the step-by-step guide if Spotify Not Compatible with iPod Touch.
1. Using your iPod, go to settings, then, log out of your iTunes account.
2. Next, open your app store then lookup for Spotify then download it.
3. Once you have downloaded it, run it on your iPod touch then a prompt will notify you saying that your device is not compatible with the latest version and if you want to download the previous version instead.
4. Download the previous version and try it if it will work on your iPod.
Part 2. Can You Listen to Spotify Offline on iPod Touch?
Well, it depends on the generation of your iPod, if it is 3rd generation or later, you can easily save and play your Spotify songs offline. What you need to do is just click on the "Available offline" that is visible on the upper portion of your playlist, then just simply sync them so you can listen to the tracks offline.
If you have an older version of the iPod, don't worry because in the next section I'll guide you on how you can play Spotify on iPod Touch offline and this works in other generations as well. Most importantly, you can apply that method even if you don't have a premium account on Spotify.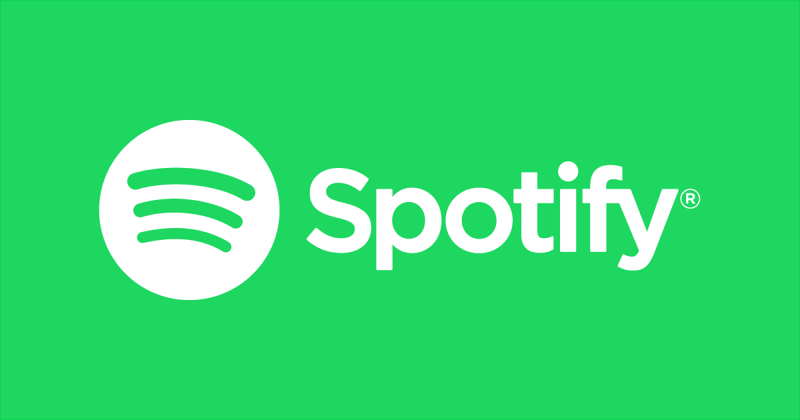 Part 3. How to Play Spotify on iPod Touch Offline without Premium?
If you want to play Spotify on iPod touch even without premium offline, then I'll tell you an effective method that can be useful for you. Since all of the songs in Spotify are DRM protected, you have to use a special tool that can remove it and at the same time can download it. So, what is this tool that I mentioned? Well, this is none other than AMusicSoft Spotify Music Converter.
AMusicSoft Spotify Music Converter is a professional tool that can download any songs in Spotify even you don't have an upgraded account, and as I said earlier, it can also remove the DRM protection that is encrypted on each track making them available for offline use. Aside from that, as the name implies, you can also use this software to convert Spotify songs to any audio formats like WAV, FLACC, MP3, etc.
If you are curious and you want to download this program, then you can do so by visiting their official website or click the link above. It is an available installer link for both Mac and Windows. Once you have downloaded it, you can refer to the steps that I provided below:
Step 1: Select Songs from Spotify and Transfer Them to The Software.
Open your AMusicSoft Spotify Music Converter on your desktop after you installed it, then enter your Spotify account details when asked. Once open, it will automatically scan the songs on your Spotify list. After that, choose the songs from your library that you wish to download. You can transfer them either by dragging or dropping the music tracks to the software's main interface.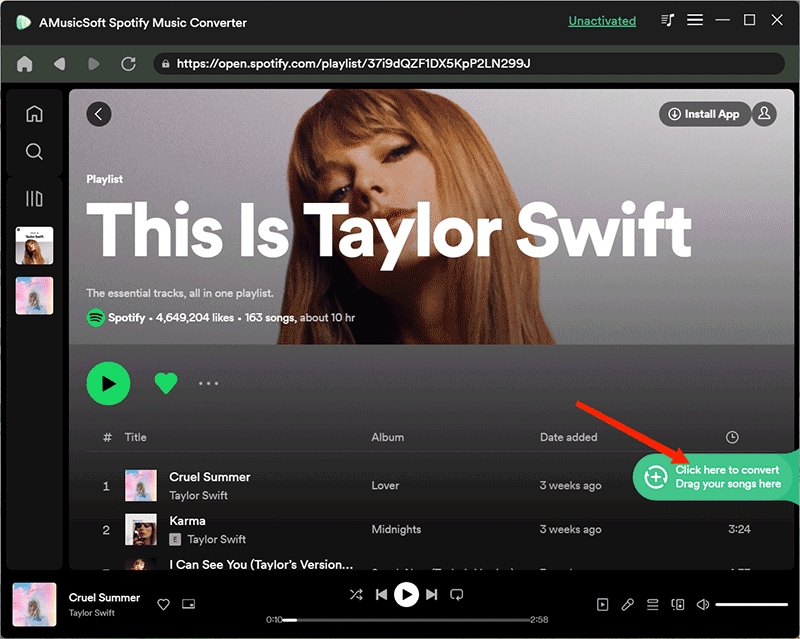 Step 2: Modify The Output Parameters and Output Path
After you've selected your preferred songs, at this step, you can change the output format as well as the destination folder where you can save the soft copy of converted songs.
Step 3: Click The "Convert" Button to Begin The Conversion Process
Once you've set everything, you can now click the "Convert" button to begin the process. The status of conversion is displayed on the program's interface so you will be aware of it. After the conversion is complete, you may see your downloaded Spotify songs on the folder that you've set earlier.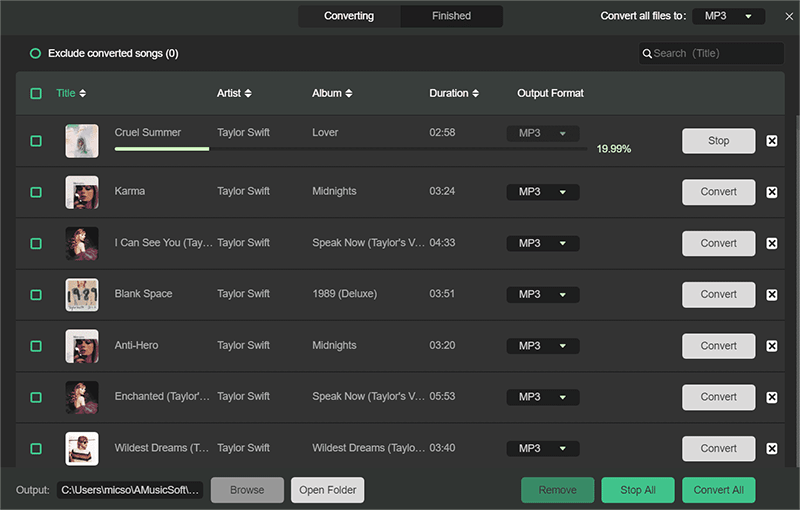 Step 4: Transfer The Converted Songs to iPod Touch
Now that you have the DRM free songs saved on your computer, you can transfer those tracks by uploading them to your iTunes. Then using your USB cable, connect your iPod to your computer so that you can sync your converted songs to your iPod Touch. There are many products under Apple, besides iPod Touch, Spotify music can even be played on Apple Watch.
Viola! You can finally play your Spotify on your iPod touch by simply following the steps above, and you can listen to those songs even if you are offline.
Part 4. Conclusion
It might sound impossible to play Spotify on iPod Touch, especially if you have an older version of it, but the steps that I provided made sure that nothing is impossible. I really hope that what you have read here helped you a lot to start with your Spotify journey on your iPod Touch and If you find this post useful, kindly share it with your friends, so they will have an idea of how to play Spotify on their iPod Touch. That's all, see you in my next post. Have fun playing and listening to your favorite Spotify songs!