Siri, Apple's smart assistant has launched nearly a decade and has evolved tremendously during that time. Siri works with thousands of third-party apps as long as you have it installed on your iPhone. These include music streaming services like Apple Music, and Spotify among others.
However, it's important to know how to get Siri to Play Spotify which is the basis of this article. This article will look at what is Siri in detail. Also, we will consider how to ask Siri to play Spotify playlists instead of the usual Apple Music. We will also talk about how to listen to Spotify without Spotify Premium in part 4. Read on and get to know more details.
Contents Guide Part 1. What is Siri?Part 2. How to Ensure Siri Plays on SpotifyPart 3. How to Ask Siri to Play Songs on SpotifyPart 4. How to Download and Convert Spotify SongsPart 5. Conclusion
Part 1. What is Siri?
To give their users an easy time to run some features on iOS devices, Apple developers introduced the "Hey Siri" feature in September 2014, which allows users to activate the personal assistant by saying the command without needing to press a button on the device.
Siri is the voice assistant on Apple devices, equivalent to Amazon's Alexa, Microsoft's Cortana, and Google's Google Assistant. Siri is available across most of Apple's devices, including iPhone, iPod, iPad, Apple TV, HomePod, Apple Watch, and Mac. With Siri, you will ask any question and you will get any answers whether it is simple or complex.
iOS 13 expands third-party support for Siri. And one of the apps that are taking advantage of the new feature is Spotify. This means you can get Spotify playback controls with Siri on your iPhone. As an iOS user, do you want to use Spotify with Siri on iPhone and iPad for an enhanced music streaming experience? Keep reading the next part to get the process of how to get Siri to play Spotify!
Part 2. How to Ensure Siri Plays on Spotify
Apple Music is the most common streaming program for iOS devices. However, when it comes to choosing a music streaming service, it's a close race between Spotify and Apple Music, but Spotify still wins as the best music streaming service overall. This is thanks to a fun, easy-to-use interface, an extensive catalog and the best device compatibility. Spotify also offers the free tier. Many iOS users are enjoying the unlimited service that even comes with the Spotify Premium version. Therefore, we want to look at how to use Spotify with Siri on iPhone to give you unlimited music listening.

How to get Siri to Play Spotify? Please make sure that your device are running iOS 13 or or higher version, because you can not make Siri or Hey Siri on your iPhone play and control music in your Spotify using an older version of iOS like iOS 12. The first time you try and use a Spotify Siri command, Siri will ask you to give it access to your Spotify data, so make sure to hit or say "Yes."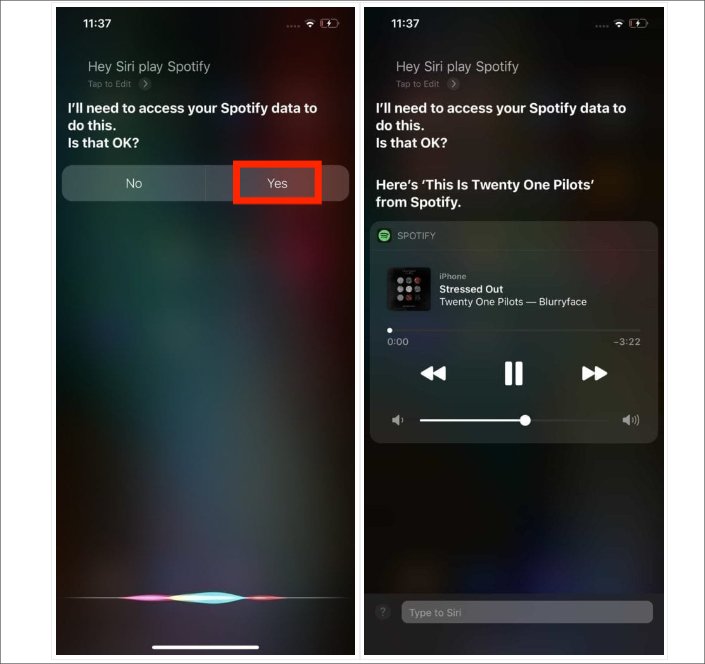 You can also manually enable Spotify access for Siri on your iPhone. Follow the steps to enable Spotify access for Siri.

On the iPhone click the Settings option and on the search button click the Siri and Search
Scroll down, and then select the "Spotify" option.
On the next screen, select Siri and Search.
Click the Use with Ask Siri to get it switched on.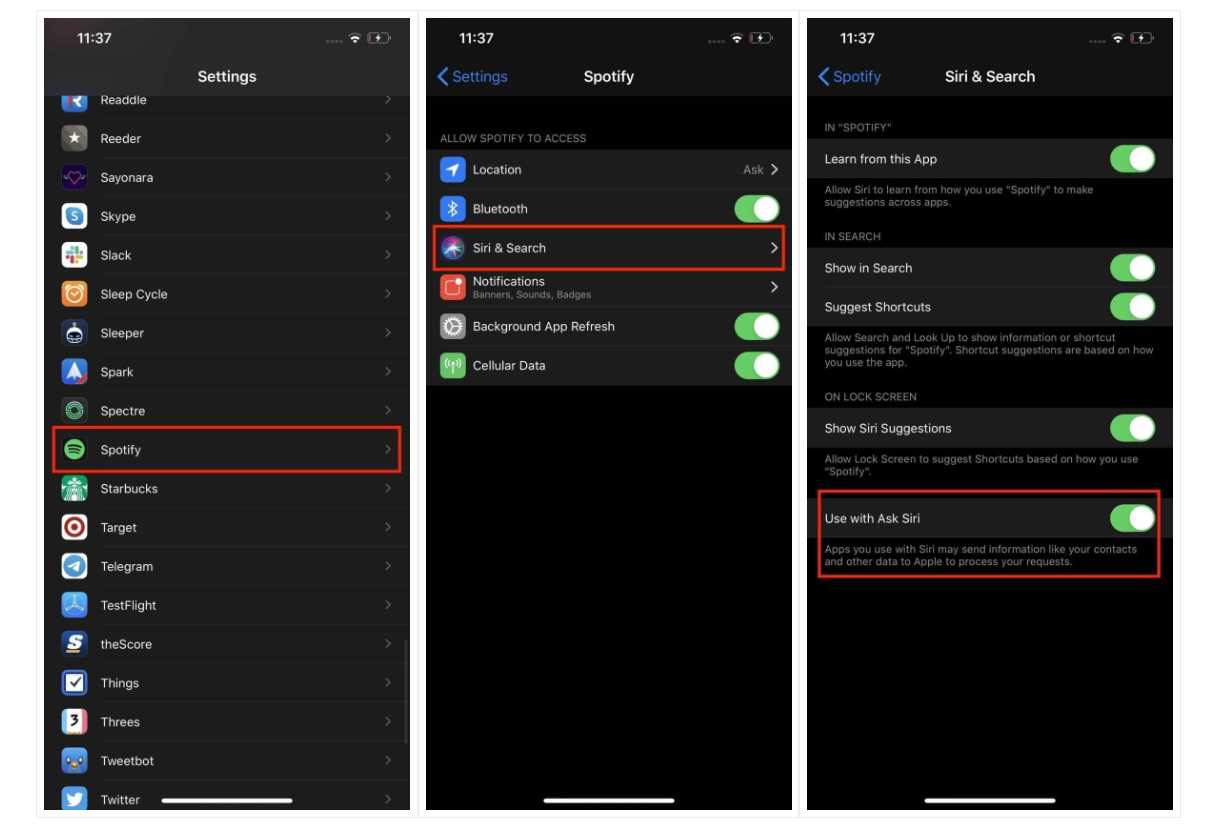 Part 3. How to Ask Siri to Play Songs on Spotify
How to get Siri to play Spotify after Siri ask you to give it access to your Spotify data? What commands can you use? We've built a list of everything you can tell Siri to do on Spotify right now.
Play my music on Spotify
Play my liked songs on Spotify
Play [Song/Artist/Playlist/Album Name] on Spotify
Play [Album Name] by [Artist Name] on Spotify
Play [Podcast Name] on Spotify
Shuffle on Spotify
Skip this song
Previous track
Turn on/off repeat
Raise/Lower the volume
What song is this
ho sings this
Tell me more about this artist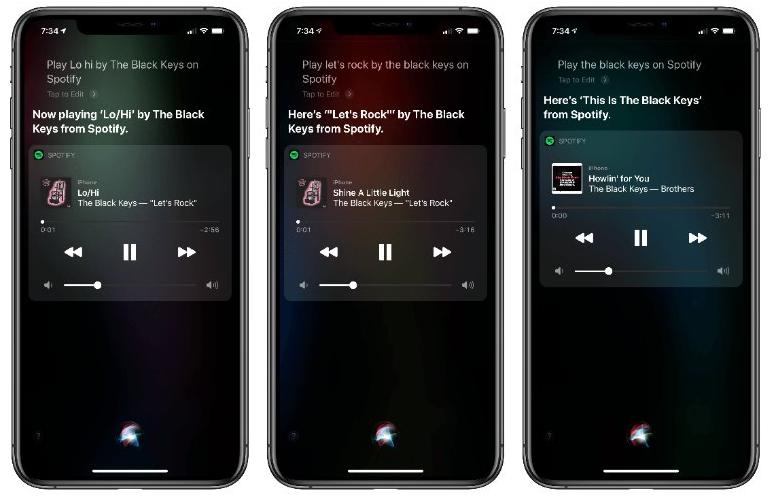 Siri plays playlists, songs, albums, and podcasts among other music versions as long as o give the right command. It also has the like button that allows you to like the music while it playing on the media. It also comes in handy to give you the control settings like the basic media player keys just like it's possible with Apple Music. As long as the Spotify appears it will switch from the default Apple Music and play them on Spotify. Unfortunately, most of the commands above work in Spotify Premium, so if you have a Spotify Free account, performing many of the Siri requests below will just start a recommended song by Spotify.
Part 4. How to Download and Convert Spotify Songs
All the above options on how to get Siri to Play Spotify are for online usage. However, users generally experience some problems when using Siri. If you don't have an internet connection, then you won't be able to carry out certain Siri functions. What if you are in a poorly connected area? Although Siri's offline support was available in iOS 15, the feature will only be available on iPhones and iPads with its A12 Bionic chip or later. And zero Apple Watch availability.
What if you want to listen to Spotify songs offline? In that case, then you need a third-party solution to manage the offline playing of the songs. We introduce AMusicSoft Spotify Music Converter. This is a simple application that needs no external knowledge e or experience. It comes with DRM protection removal which supports unlimited music downloading for free. This means that you don't need the subscription anymore.
Also, it converts Spotify songs to other music file formats to minimize incompatibility, This includes MP3, AAC, WAV, LAC, and M4A, among others. After the successful conversion, you can add your own music to GoPro Quik, Kinemaster, or other video editing softwares. You can even play these DRM-free songs on any device offline.
Moreover, it can work 5x faster and can give you results in just a short period. The results that you can get from this tool are sure of the highest audio quality that are very pleasant to hear. It is also worth mentioning that the interface of this tool is very simple and quite easy to manage. Here is how it works.
Download, install and run AmusicSoft Spotify Music Converter on your device.
Next is to upload the songs by tapping the Add button and then start copying and pasting the link of the songs into the search bar. You can also just drag and drop the files into the converter.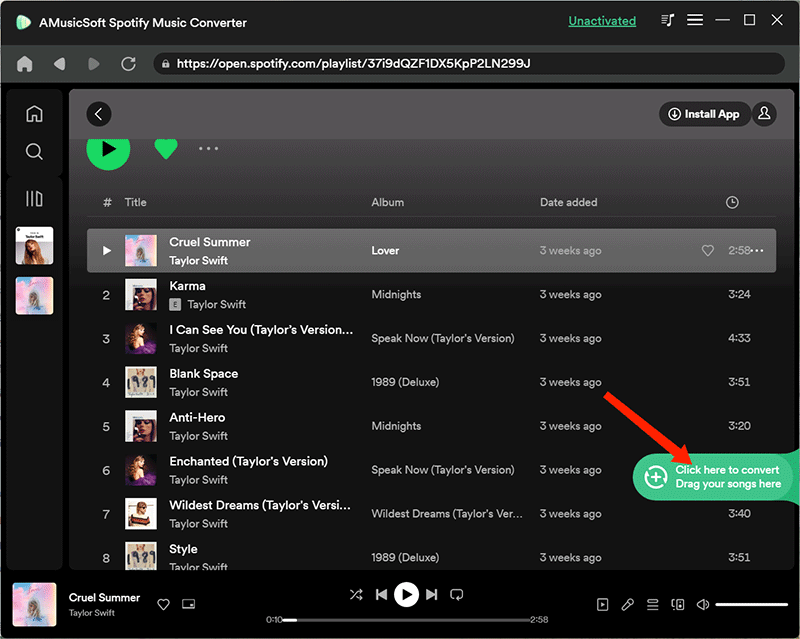 Now, choose your desired output format. You can choose MP3 since it is supported almost anywhere. Choose as well the output folder.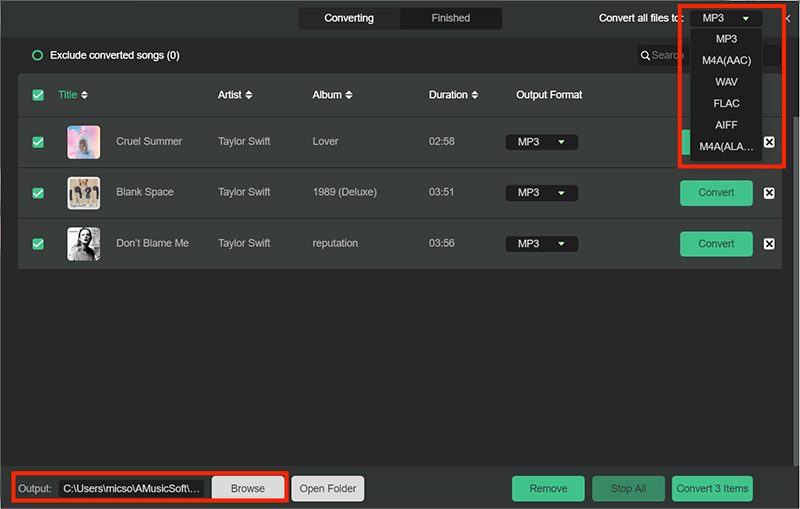 Click "Convert" to start the conversion process and wait until you get to see the status of the music files.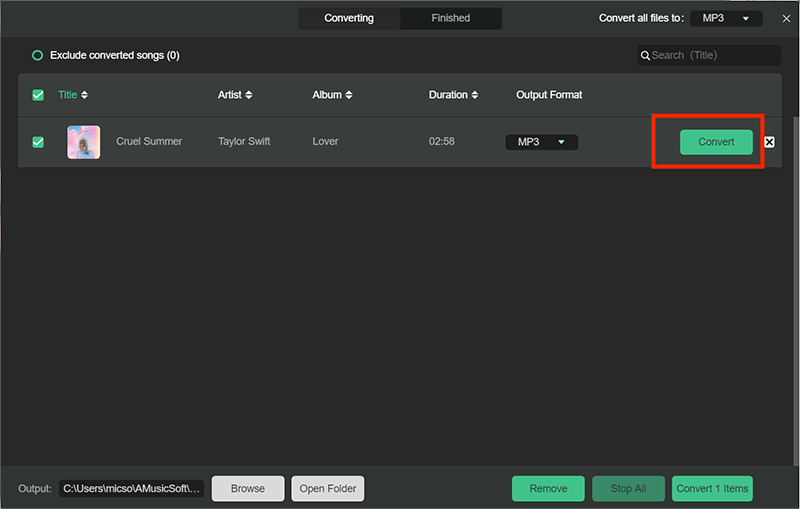 Part 5. Conclusion
It's evident that with Siri you can run easily know how to get Siri to Play Spotify. However, the choice of the option to use is all at your discretion but as long as you include the voice command and at the end of it you specify that you want to play it on Siri then you are good to go. However, compatibility issues may arise such that you have to listen to the songs offline. In that case you need a third-party toolkit like AMusicSoft Spotify Music Converter that can support the download operation with minimal effort.
Robert Fabry
Apple Music, Spotify, Amazon Music senior users. Share various tips and solutions.
Last updated: January 13, 2023