Spotify comes with several plans to meet the various needs of different users. Although it is a paid version, there is also a free option that comes with good and its limitations. If you are a student, which plan will you choose? Free or Premium plan?
In this article, we will look at what is Spotify music service. Do you know that Spotify offers its premium service at a decreased price for college and university students now? It's important for college or university students to know how to sign up for Student Spotify plan which comes with additional functions.
We will also explore some of the membership plans available on Spotify to give you all the details you may need to choose on what works for you based on what you need from the music streaming platform. We also go a step further and introduce a music converter in case you may have incompatibility challenges when playing the music in an offline mode. Read on and get to know more details.
Contents Guide Part 1. What is Spotify?Part 2. How to Sign Up for Spotify Student PlanPart 3. Other Spotify Bundles Available in the MarketPart 4. Can You Download Songs from Spotify Without a Premium Plan?Part 5. Conclusion
Part 1. What is Spotify?
Spotify is hands-down the best streaming service for the vast majority of people. Its deep catalog, robust playlist curation, expansive device compatibility, and paid plan options will work well for most folks. Spotify offers a premium version that comes with value-added services. Unlike Apple Music, Spotify also comes with a free version. However, you need to tolerate ads between songs, which will interrupt your music streaming experience if you choose Spotify's free plan. Frankly, you get a miserly 96kbps or 160kbps audio quality at best. If you want to get more musical enjoyment, you should better upgrading to the Spotify premium plan. Its Student plan is easily among the most value-packed subscriptions out there.
Spotify Premium Student plan allows you to download your music directly to your device. This way, you can turn on offline mode, and because you have music available on your device that you downloaded, you can save cellular data. It also includes ad-supported Hulu ($7.99 per month) and Showtime ($10.99 per month). Together, all three services would normally cost $28 a month, but with this bundle, you save $23 every month.
All you need to do is to sign up using either Email or Facebook. You can choose to test it with the 30-day trial plan before you choose the monthly plan. How to sign up for Student Spotify plan? Let's focus on the next part!
Part 2. How to Sign Up for Spotify Student Plan
How to sign up for Student Spotify plan? Signing up for the Spotify student discount is almost as easy as signing up for a full-priced Spotify Premium account. The only difference is that you have to provide some information that Spotify will use to verify your enrollment at a qualifying institution. Spotify uses a third-party digital credential verification platform called SheerID to verify your status. The site is integrated into Spotify's sign-up process, so you won't need to worry about leaving the page to do this. Here is a simple procedure.
Head to the "Spotify student page" first. Select the "GET STARTED" button and then move to the verification section for students.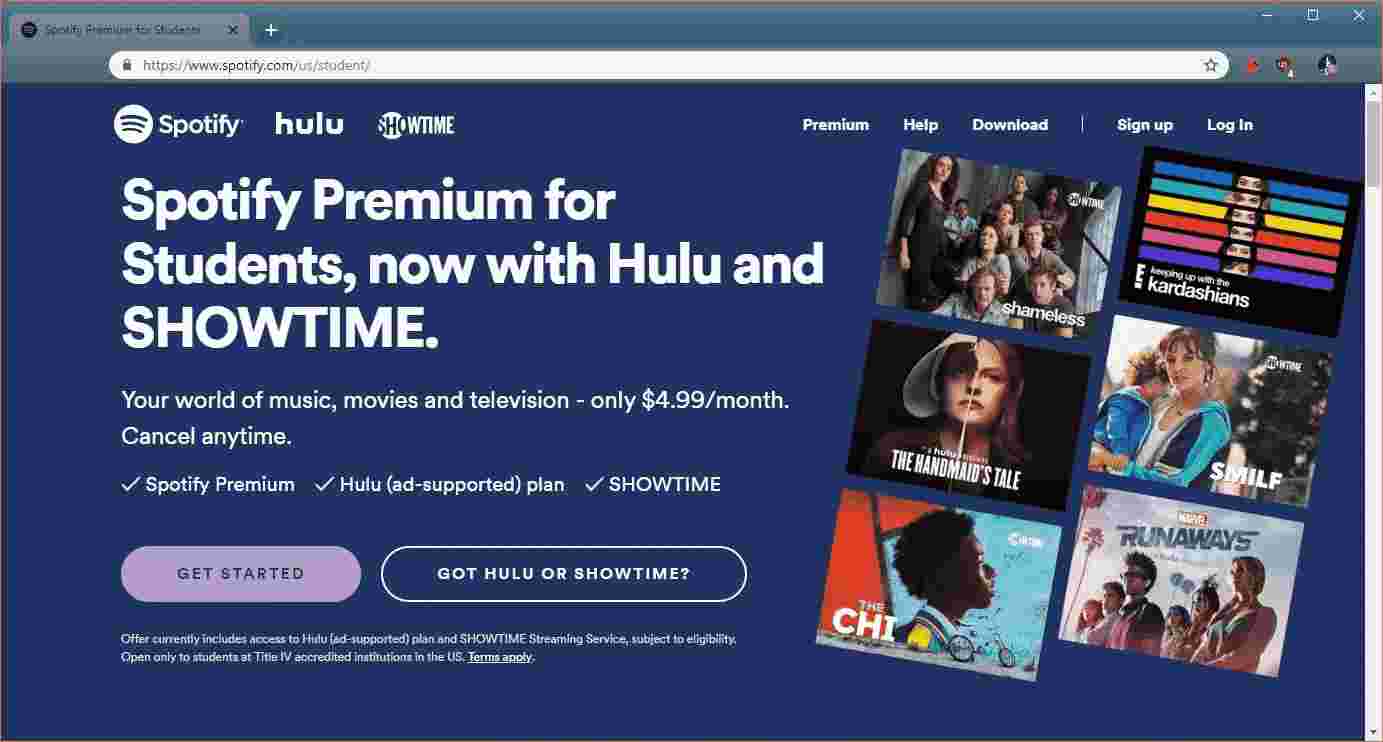 Log into your Spotify account, or click SIGN UP FOR SPOTIFY to create a new account.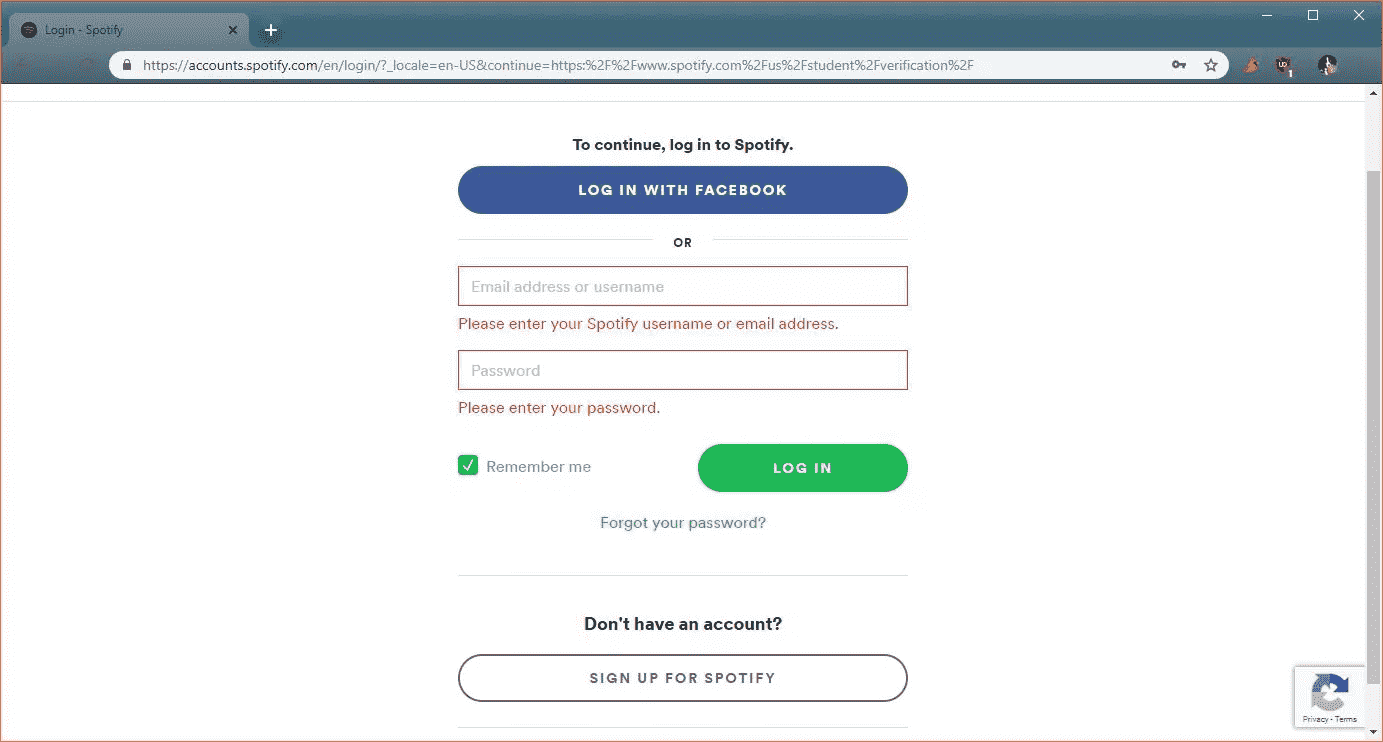 You will be asked for some information that you needed to provide. To move on, tick the "Verify" option.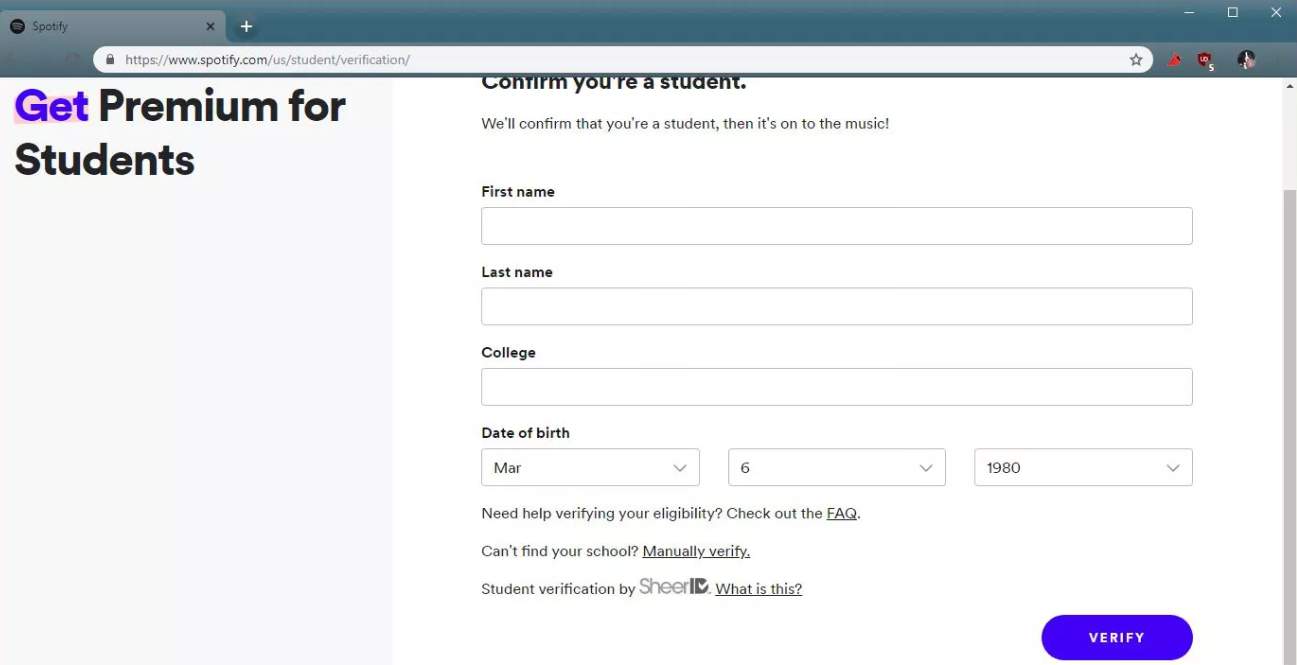 If SheerID (Spotify's verification system) is able to confirm that you are a student, you will automatically be verified. Enter your billing info to complete the signup process, and you'll be ready to start listening to your new Spotify account.
Once you are approved, the discounted rate for your new plan will be displayed on the next billing statement or due date. You must manually re-verify your account to keep getting the discount during those four years. If you do not re-verify your student status, you will be automatically switched back to the normal Spotify Premium rate.
Part 3. Other Spotify Bundles Available in the Market
Now you have learned how to sign up for student Spotify plan. Are there other Spotify premium plans for you? Apart from the Student Spotify plan, Spotify also comes with other plan options. Here is the list.
Individual Plan: If you aren't a student and aren't planning on sharing with anybody else, you will most likely be looking at the $9.99 Spotify Individual plan. This basic plan nets you an ad-free listening experience and unlimited skips, it also supports offline mode, an on-demand playback feature, and 320 kbps audio quality.
Duo Plan: With the Spotify Duo plan, you can share your Spotify subscription with a friend, family member, or partner "under one roof." For $12.99 a month (or about $6.45 per person), two people can access two separate Premium accounts under one billing. It's a great way to avail yourself of Premium features while saving a few bucks. Along with all Premium Individual features, subscribers also get Blend - a playlist that's a combination of collaborative playlists and Spotify's personalization that automatically "blends" together each user's musical tastes in a shareable playlist.
Family Plan: For $15.99 a month, six family members within the same roof can get their own Spotify Premium accounts. It comes with all the perks of a Premium Individual plan, plus extra bonuses like Family Mix and Spotify Kids. Spotify Kids has child-friendly songs, so you don't have to worry about any of your kids accidentally streaming explicit music. You can also make playlists for the kids so they only listen to what you allow.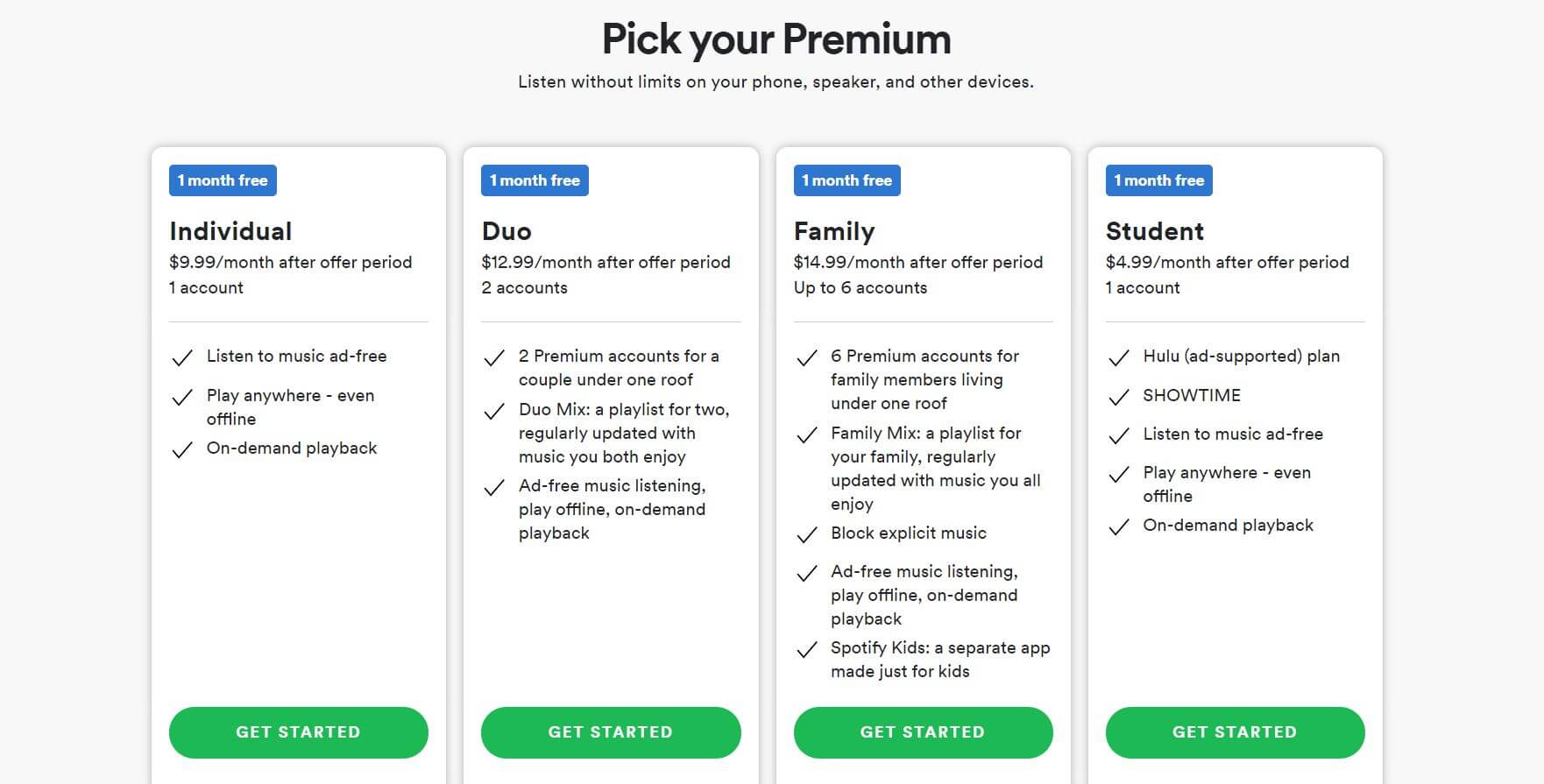 Part 4. Can You Download Songs from Spotify Without a Premium Plan?
As mentioned earlier, all the premium plan versions including the Student Spotify plan have premium features like offline mode. How to download Spotify songs without premium or WiFi? You have to export Spotify songs as local music files on your phone or computer with the professional tool. But how can you do it? Just download AMusicSoft Spotify Music Converter and you are ready to listen offline, so you don't have to sign up for student Spotify plan.
With AmusicSoft, you can break the download limit. it removes the DRM protection such that it minimizes compatibility issues. Thus, you can download your favorite tracks or playlists from Spotify without Premium. Can you play Spotify songs on Alexa? Of course! AmusicSoft Spotify Music converter can handle the format conversion of Spotify so you can save Spotify music to several popular formats like MP3, WAV, and FLAC. Then you can stream Spotify music to any device or media player anytime.

With the help of this smart Spotify playlist downloader, you can truly possess Spotify music files. In this case, you can use them in your wanted way without limits. Now, let's see how to download music from Spotify to PC locally with 4 steps.

The first step is to look for a professional converter online, and then start to download it. Once downloaded, you can now proceed to the installation of the tool.
Once the tool is installed, launch it, and then tap the "Add Files" option. You will see a new window where you can start dragging the songs, podcasts, playlists, or albums that you want to convert.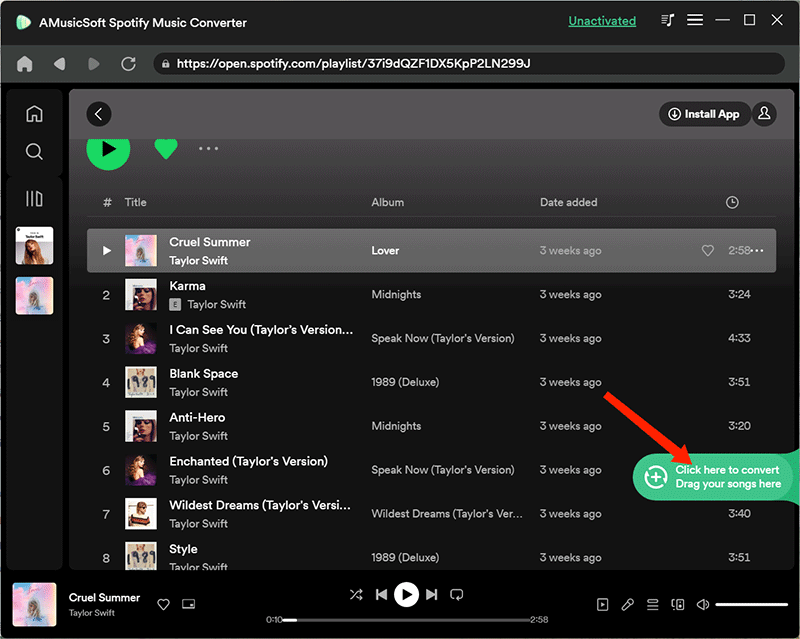 Now, choose the format of conversion. You may choose among MP3, WAV, FLAC, AC3, M4A, and AAC. The output folder must be chosen as well.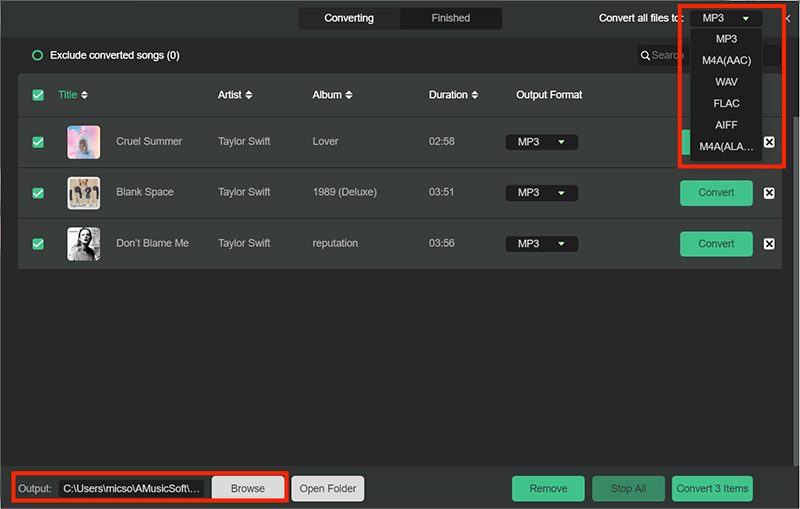 Then hit the Convert button to begin converting the songs. Lastly, download the converted files from the Converted section.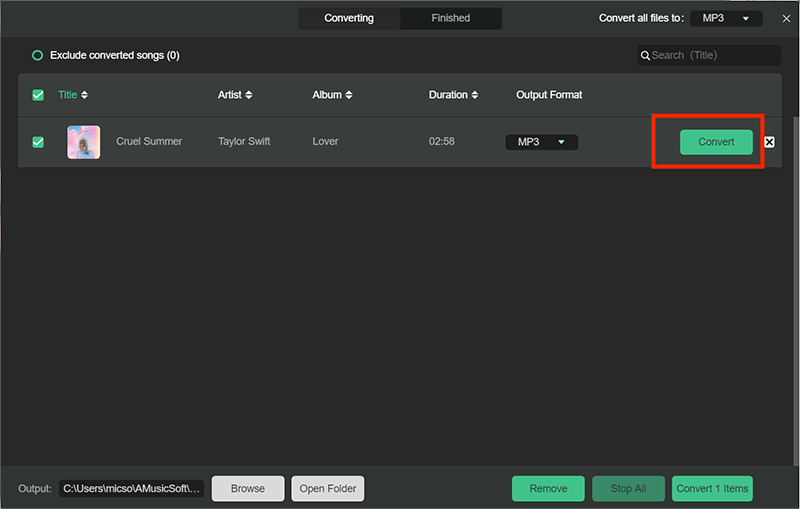 Part 5. Conclusion
Your budget and Spotify's value-added service determine the premium plans to go for. If you have proof that you are a student then you can save money and get the Student Spotify plan with Hulu and Showtime bundle. If you want to stream songs offline without a premium plan, then AMusicSoft Spotify Music Converter is your plug. You don't need to sign up for student Spotify plan or other plans anymore.
Robert Fabry
Apple Music, Spotify, Amazon Music senior users. Share various tips and solutions.
Last updated: February 7, 2023