Sometimes subscribing to several media services will cost you a lot of subscription fees. Do you know what kinds of promotions they have running? When you want to incorporate video and music subscription services, the Spotify Premium with Hulu and Showtime bundle then comes in handy. Did you know you can bundle your Spotify, Hulu, and Showtime subscriptions?
Spotify comes with several plans and each comes with additional features apart from the basic video streaming service. Spotify Premium offers access to a library of music for all your streaming functions with minimal effort. It comes with millions of music tracks with no ad interruptions and also unlimited skills and replays. You can also choose to use the offline version by downloading and listening to them offline.

If you want to incorporate video service and looking for a way to cut back on your budget for paying for media service, then the Spotify Student plan should be your option. For a shockingly low $5/mo., you get access to Spotify Premium, Hulu (ad-supported), and Showtime. The bundle is only available to students as of right now. Read on and get to know more details.

Contents Guide Part 1. Who is Eligible for the Hulu and Spotify Premium Bundle?Part 2. How Much is the Spotify with Hulu Bundle?Part 3. Connect Spotify Premium Student with Hulu and ShowtimePart 4. Can You Cancel the Bundle?Part 5. How Can Use Spotify Premium for Free?Part 6. Conclusion
Part 1. Who is Eligible for the Hulu and Spotify Premium Bundle?
The Spotify Premium with Hulu and Showtime bundle is available not to all subscribers but to students who are enrolled in an accredited college. To be eligible you must be a student who is enrolled at a US Title IV accredited college or university. You must also be at least 18 years old. Spotify uses a third-party company to digitally verify that you are enrolled as a student in an eligible school. You are at liberty to renew your subscription at any one point. It is accessible for up to four years. But you must re-verify your student status every 12 months.
Part 2. How Much is the Spotify with Hulu Bundle?
Now the streaming services' continued success with bundles, like the Disney Bundle which includes Disney Plus, ESPN Plus, and Hulu. It was no surprise to us that an amazing Spotify and Hulu deal! How much does the Spotify and Hulu bundle cost? There are four Premium plans that you can choose from Spotify now. But only the Student plan comes with the Hulu bundle.
Spotify Premium: $9.99/per month. (about $120/yr)
Hulu (Ad-Supported):$5.99 per month (about $60/yr). Hulu's ad-free plan comes at $12.99/month and their pricier Hulu + Live TV option comes in at $69.99/month.
Showtime: $10.99 a month. (about $130/yr)
Spotify Premium Student with Hulu and Showtime: $4.99 a month
Now the bundle costs just $5/mo., but the combined annual premiums for the three partners are almost $300! So it is a huge discount from what you'd normally pay for each service individually. The price isn't quite as reasonable as Spotify Premium with Hulu for the same streaming service. This is currently the only promotion available. This is not available for Spotify Individual, Spotify Duo, or Spotify Family.
Part 3. Connect Spotify Premium Student with Hulu and Showtime
How to enjoy this Spotify Premium with Hulu and Showtime bundle? As long as you have a Spotify Premium Student account you are eligible to be connected to Hulu and Showtime. If you are an eligible student, then sign up for the Spotify Premium Student Plan first. Here is how you can do it.
Head to the "Spotify student page" first. Select the "GET STARTED" button and then move to the verification section for students.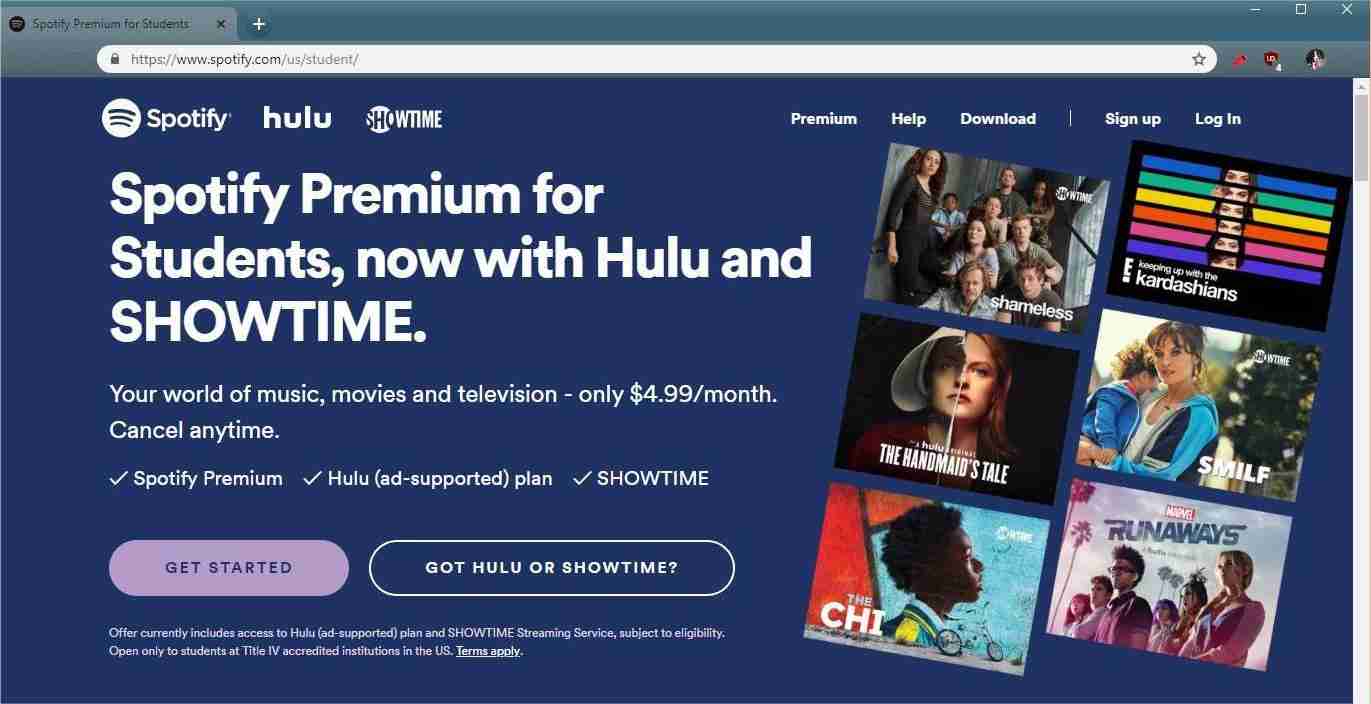 Log into your Spotify account, or click SIGN UP FOR SPOTIFY to create a new account.
You will be asked for some information that you needed to provide. To move on, tick the "Verify" option.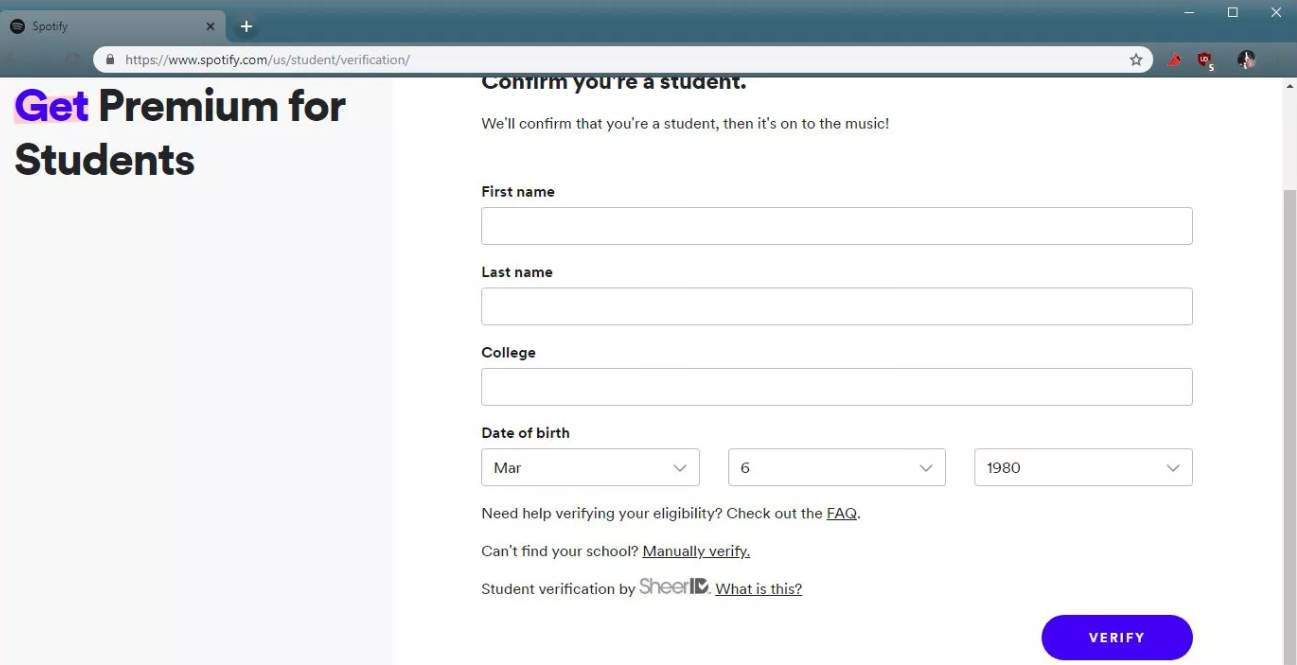 If SheerID (Spotify's verification system) is able to confirm that you are a student, you will automatically be verified. Enter your billing info to complete the signup process, and you'll be ready to start listening to your new Spotify account.
Once signed up, you will need to activate your new Hulu and Showtime plan through the "Your Services" page in your Spotify account settings. Follow the steps below to activate Hulu and Showtime with my Spotify Premium Student account.
If you are signing up for a new Hulu/Showtime account:
Activate the Hulu account by first opening the Spotify application and choose the Spotify Account Page on the top right cornet- that is the profile menu.
Click the Account Overview and choose Activate Hulu/Showtime and follow the procedure and fill out any required information to activate the Hulu/Showtime Account.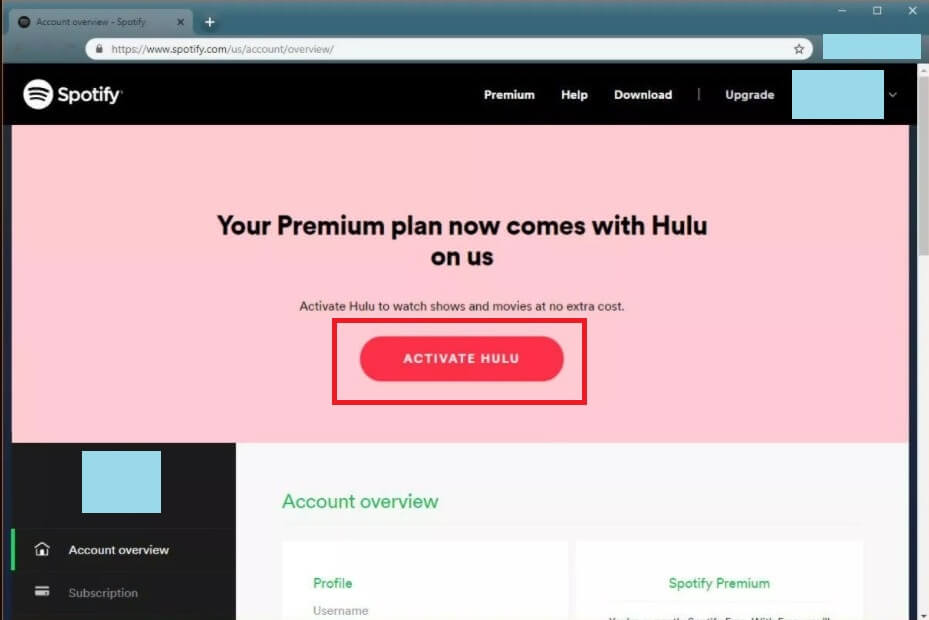 Log in the Hulu/Showtime with your Spotify account.
If you already have a Hulu/Showtime account:

Make sure it's not billed through a third-party such as Disney+. If it is, you'll need to cancel and connect a new Hulu account. If you already have a Showtime account, you must first cancel your current plan and wait for it to expire.
Make sure you're using the same email for both your Spotify and Hulu/Showtime accounts. If not, change your Hulu/Showtime email to match the one you used for Spotify.
Follow the same steps outlined above to connect your accounts.
Part 4. Can You Cancel the Bundle?
Yes, you aren't tied to have the bundle forever when it no longer serves its purpose. All you need is to log in to your Spotify account and get to the Account Overview to locate the current plan and close Change Plan and scroll down and click the "Cancel Premium" and confirm the subscription whether you want to completely end or temporarily end it. If it's in the middle of the month then you have the rest of the month to enjoy the subscription.
Part 5. How Can Use Spotify Premium for Free?
Can you use Spotify Premium for free? Yes, the Spotify premium with Hulu and Showtime bundle comes with offline features but you have to download music first. If you cancel the Student plan, can you listen to Spotify offline? No, in this case, you have to use a third-party solution to download Spotify music offline.
AMusicSoft Spotify Music Converter is one such toolkit that supports the download and conversion of music files for offline usage. The excellent feature of this program is the number of the output format. It is a converter and downloader of Spotify music, but the most significant part is how it can dismantle DRM encryption. After destroying the copyright encryption, it will convert the Spotify music files to MP3 audio format and download them to your machine. You will get both compressed and uncompressed formats. The main output formats are WAV, FLAC, and AAC. All these formats are simple and compatible with most devices and media players
The software has high conversion rates of 5x and ensures 100% delivery. The high speed will not affect the quality of your output files. You will still get the 256kbps quality like the music on the Spotify platform. This program was tested before it was released making it a professional software. It works well with other programs on your computer and will run in the background. Moreover, it can work on 50 Spotify files without crashing the whole system.

How to Use AMusicSoft Spotify Music Converter?
If you haven't downloaded the AMusicSoft software to your PC/Mac yet, you can go ahead to click the "Download" button.
Launch AMusicSoft software, drag and drop any song from the Spotify app to the AMusicSoft program. Or you can copy and paste the Spotify song's link into the search box of AMusicSoft Spotify Music Converter.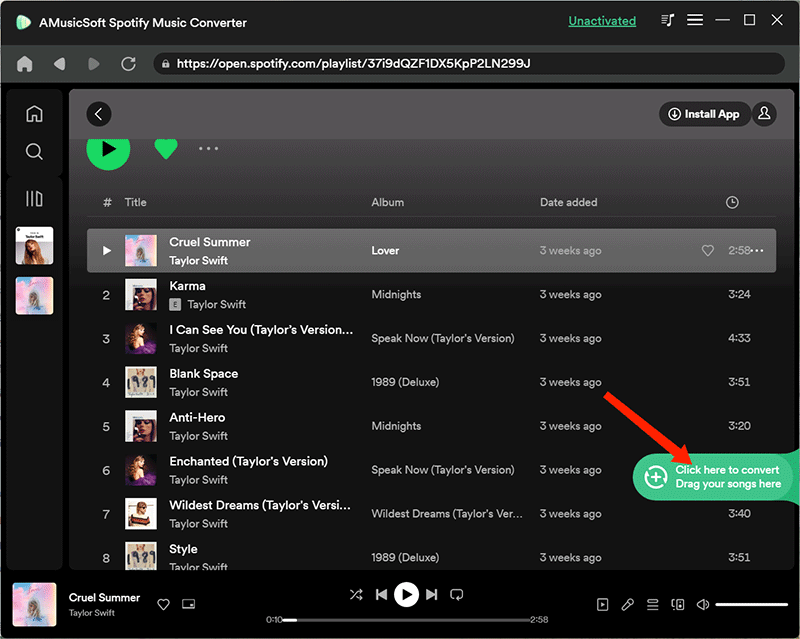 Click the Output Format to choose the music format that you need. To get Spotify songs for free and play anywhere, the MP3 format is recommended. It not only keeps high quality but also has the best compatibility. Besides, you can change the channel, sample rate, and bit rate.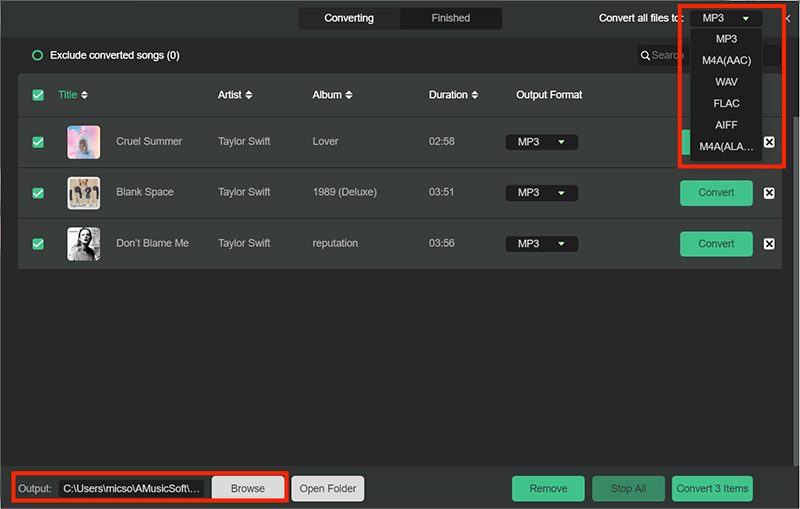 Click the Convert button to start the conversion process and wait until you get to see the status of the application.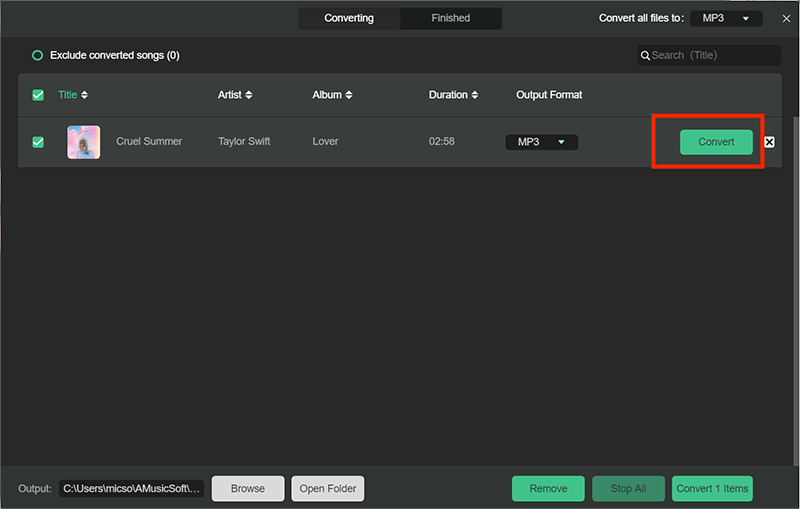 What a simple application ideal for all users irrespective of the level of experience to enjoy the Spotify Premium with Hulu Bundle.
Part 6. Conclusion
When you want to incorporate the video versions to the music streaming services then the Spotify Premium with Hulu Bundle is your go-to Spotify plan. It is simple to upgrade and also you get to enjoy discounts that are available from time to time. The choice of the options all depends on what you want to get from the Spotify account and available payment plans.
You can also get Spotify Premium for free through some third-party tool to download songs without limit. The best way to download Spotify songs is using a professional software called AMusicSoft Spotify Music Converter. This is the most affordable software on the market and it will never disappoint you.

Robert Fabry
Apple Music, Spotify, Amazon Music senior users. Share various tips and solutions.
Last updated: January 12, 2023