Apple watch is in line with other smartwatches which was produced by Apple Inc. It has many features like fitness tracking, health-oriented capabilities, and other Apple services such as calling and texting, syncing data with iPhone apps. It also works independently by connecting it to a Wi-Fi network to perform other tasks but aside from these features, it is now also used by many to easily play the soundtracks of their favorite artist from their watch while they're doing their daily routine. Now the question is, how can You Play Apple Music on Apple Watch?
You are lucky that you come across in this article. In here, we will give you a simple guide on how to play Apple Music on Apple watch and also, we will give additional information on software that can be helpful to make it easier for you to play your desired list of songs even if you are offline and out of the subscription. Want to know how? Let's get started.
Contents Guide Part 1. Can You Play Apple Music on Apple Watch?Part 2. Can You Play Apple Music on Apple Watch Offline?Part 3. How to Enjoy The Converted Apple Music on Other Devices?Part 4. To Conclude Everything
Part 1. Can You Play Apple Music on Apple Watch?
Apple Music is an application developed by Apple Inc that served as a platform for music and video streaming using compatible devices such as Apple Watch, iPhones, and iPads. It is well known for Apple users for its accessibility to millions of songs, videos, and not only that but also allows people to listen variety of podcasts and audiobooks for those who are busy reading books. It has a free trial period of three months for new subscribers and requires a monthly subscription henceforth to avail of the services.
You can play Apple Music on Apple watch. Apple watch is like a player on the go, with just a few taps or clicks on your watch, you can already listen to your favorite playlists, variety of podcasts, and audiobooks using your wireless headphones or speakers without even touching your phone. Moreover, you have an option whether you want to use your Wi-Fi connection for streaming or directly sync it your iPhone and play your stored playlist.

For many audiobooks lovers, you guys maybe are thinking that can I listen to Audiobooks on Apple Watch, we got you, the answer is a big Yes! here is a guide to teach you how to Enjoy Audiobooks with Apple Watch.
Part 2. Can You Play Apple Music on Apple Watch Offline?
What if my subscription is over, Can You Play Apple Music on Apple Watch Offline? Believe it or not, you still can! Thanks to this software which is called AMusicSoftsoft Apple Music Converter. It is a kind of software which will allow you to convert Apple Music, iTunes M4P Music, and even audiobooks to MP3 and other formats such as AAC, M4A, AC3, FLAC, and WAV that even you don't any subscription you can still play what you converted all over again. It is like an all in one converter that converts almost everything!
What is also good about this software, is that, aside from its user-friendly interface. It has a 16X conversion speed which can maintain the 100% quality of a song without affecting its original tune, and also, it keeps an ID tag from the original song which can be beneficial for you to easily identify the track after you converted it. You can even freely customize output audio and file name format including Title, Artist, Album, etc.
Aside from converting your favorite songs in your preferred format, AMusicSoftsoft Apple Music converter also allows you to play Apple Music on apple watch forever. Yes, you read it right unrestricted music in a lifetime. How it becomes possible? It became possible because it has a feature that removes the DRM (digital rights management) protection from your Apple Music tracks right after you converted it. In this way, you can play Apple Music on apple watch forever. Also, this software is not only limited to Mac users, you can also recommend this to your friends who are Windows users. So cool right? Want to download the software? You can install it by following the steps provided below:
You can download the software on its official website.
Select the destination where to install the software.
Run the program using desktop shortcut after installation!
How To Use AMusicSoftSoft Apple Music Converter to Play Apple Music on Apple Watch?
There are only 3 easy steps to convert your favorite playlist in AMusicSoft Apple Music Converter, please see the details below:
Step 1. Select Songs on Apple Music that you Want to Convert.
Launch the AMusicSoft Apple Music Converter software then on the main interface select apple music songs that you want to convert from your computer's library. You can either drag or drop the files from source to platform or add files manually. What is neat with this software is that you can process more than one music file simultaneously. This is more efficient and to avoid doing the same process again.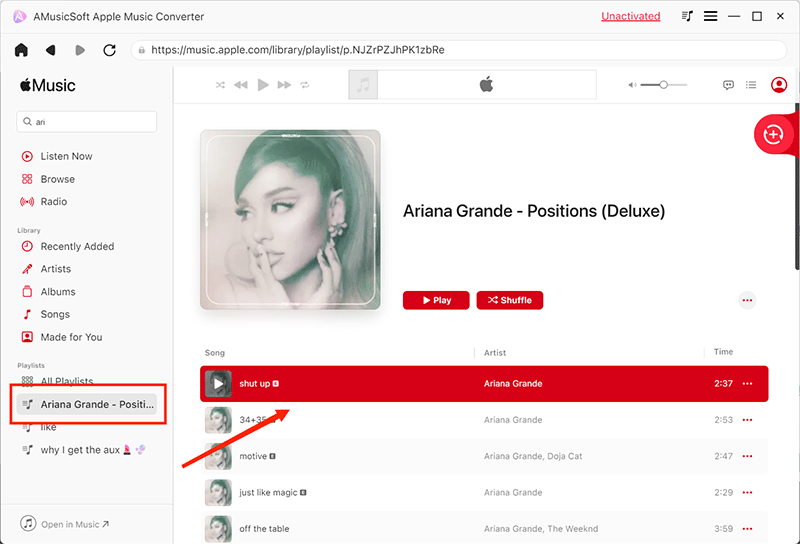 Step 2. Choose the Output Format & Output Folder for the Saving of the Converted Songs.
You can do also some changes in the output settings by changing the bit and sample rates depending on your preference. Make sure to specify the output path wherein the new files will be saved after the conversion is done.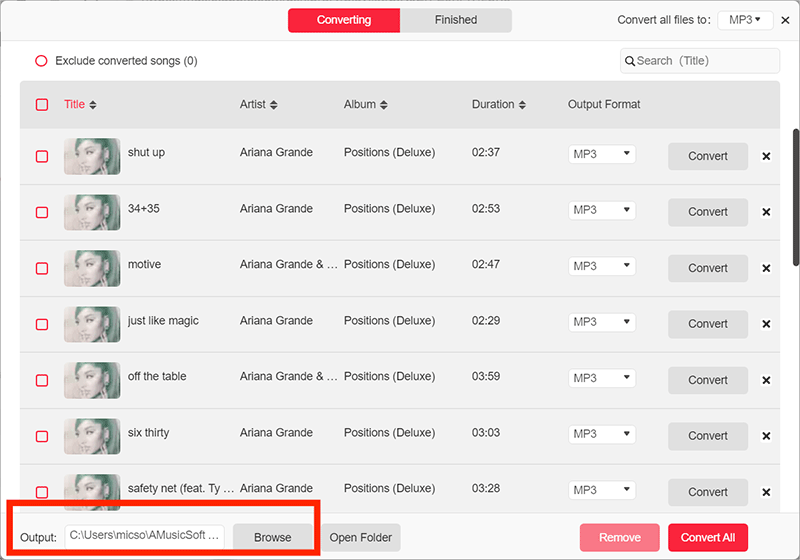 Step 3. Select the "Convert" Button to Start Converting Apple Music Songs to An MP3.
After setting up everything based on what you need, you can just simply hit the "Convert" button to begin to convert Apple Music, iTunes M4P formats, apple podcasts, or audiobooks. The converted files will be on the destination folder you've set initially after a few minutes.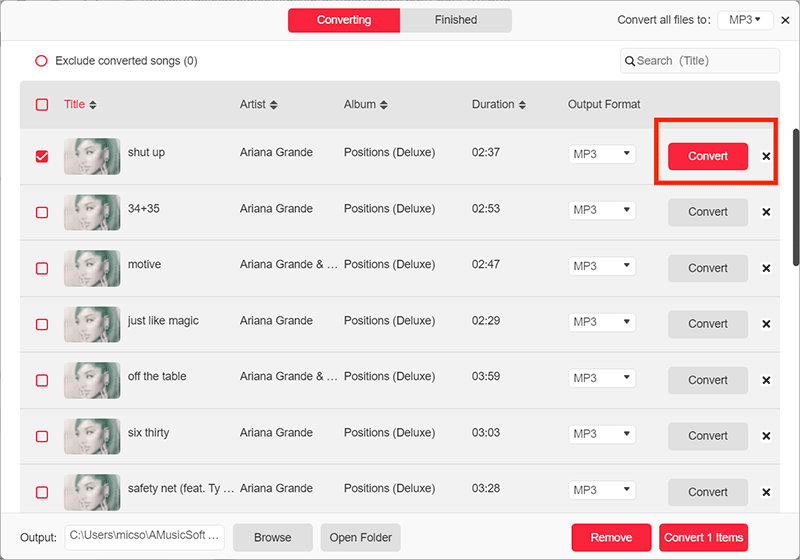 Step 4. Enjoy Converted Apple Music on Apple Watch
Note: You need to connect a Bluetooth earphone or speaker on your Apple Watch to start listening on your playlist and update your watch OS.
Open the Watch app to the "My Watch" section on your iPhone.
Select by tapping on Music. You have an option to enable or disable the Heavy Rotation at this screen, enabling Heavy Rotation can automatically add playlists and albums you're frequently listening to."
Select Add Music.
Select the albums and playlists you want to play on your Apple Watch.
Wait for the music to sync then done.
Part 3. How to Enjoy The Converted Apple Music on Other Devices?
Once you have finished converting your desired playlist, podcasts, or audiobook. You can enjoy your converted files even if you are offline and without a premium subscription on your Apple watch or even on your preferred devices such as iPhone, iPad, and even on Android supported devices. You can also even share those with others if you want to!
I also listed the following steps for you to use the converted files to your other devices as well.
Through The Use Of Your iPhone And iPad
Make sure your iTunes installed in your PC is updated before you make transfer your MP3. Please be reminded to click the "Check for Updates" menu to have the latest version of iTunes because iTunes will check its version automatically when running.
Connect your iPhone or iPad to the computer with a USB cable and run iTunes.
Locate and click on your device. Your iPhone's or iPad's icon will be shown in the upper-left corner of the iTunes window.
You've got to import MP3 files to the iTunes library by selecting "File" then "Add File to Library" to move an MP3 from PC to iPhone.
Click "Music" from the "Settings" tab. Select "Sync Music" to sync all of the music in the library or a defined playlist and complete the music transfer by clicking on the "Apply" button.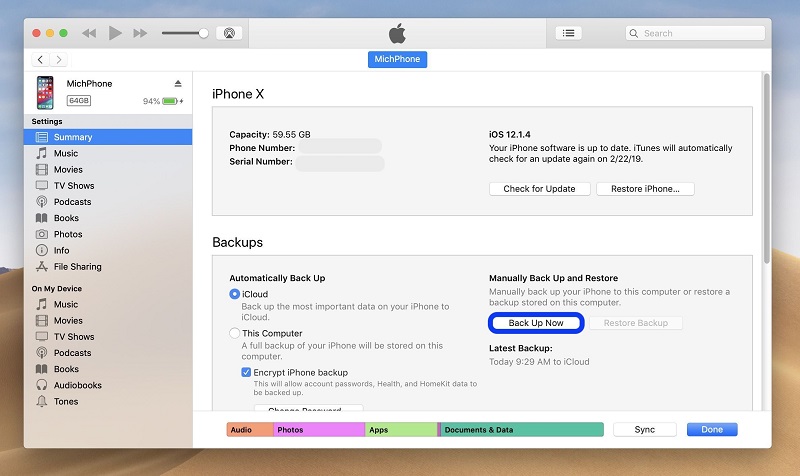 Tips: For many iPod users who have a problem with copying Apple Music, you can read this article to learn how to Copy iTunes Music to your iPod.
Through Your Android Devices
Connect your Android device to your Windows PC by using a USB cable.
Select Transfer Files "MTP" if you're given a selection of connection option
Select the music files from your computer.
Drag the files into the Music folder on your Android device.
Part 4. To Conclude Everything
There are many ways you can play Apple Music on Apple Watch, you can either subscribe for a stream but with payment or upload music on your iTunes and sync on your apple devices so you can play Apple Music on Apple Watch with the use of AMusicSoft Apple Music Converter without comprising the quality and converting it quickly. We do hope that the guides we have presented helped you understand and know more about the whole process.
It is a must to always remember to be keen and observant every time you choose a tool to use. You must take into consideration the possible risks and perks that you may encounter, or obtain before downloading and installing any software on your personal computer.
Robert Fabry
Apple Music, Spotify, Amazon Music senior users. Share various tips and solutions.
Last updated: August 19, 2020