People who love working out will surely be amazed of how Fitbit works. This device is very handy as you can have it worn on your wrist which makes it more convenient to track your day. It can also be synced with your device for the easy control and management of functions. It will also result to having more features to access such as the ability to see videos about workout, monitor your sleeping habits, several health metrics, goal tracking functions and the like. Music streaming is also possible in Fitbit as long as you know the proper guide to make it happen.
iPhone is one of the devices that can be connected to Fitbit device. In order to utilize Fitbit iPhone to the fullest, you will have to download the Fitbit app and know how to set it up. If this is your first time to use such device or if you are planning to use another model, reconnecting it to your iPhone is a must. Allot your time to browse the guide below and experience the best with your Fitbit on iPhone.
Contents Guide Part 1. How to Connect Your Fitbit to Your iPhone?Part 2. More Facts About FitbitPart 3. Bonus: How to Enjoy Apple Music on Fitbit Smartwatch?Part 4. Summary
Part 1. How to Connect Your Fitbit to Your iPhone?
Fitbit smartwatches and fitness trackers rank at the top in the wearable niche. It can track multiple metrics and help you evaluate the quality of your well-being. But does Fitbit work with iPhone?
You can use a Fitbit with your iPhone running at least iOS 15, otherwise, you won't be able to use your Fitbit with it. The successful pairing of your Fitbit and iPhone will give you so many benefits. Using your Fitbit iPhone, you can start monitoring your health and fitness stats to take full advantage of your new Fitbit. To add one more, all the notifications that you will receive on your mobile phone will also be seen on your Fitbit. This means that you'll be able to see the messages even without your phone.
Before proceeding with Fitbit iPhone, the Fitbit application must be downloaded in advance. An account must be created, too. Here is how to pair and set up your Fitbit on iPhone.

Step 1. Sign Up Fitbit for iPhone
First, make sure that your Fitbit is connected to its charger and the Bluetooth feature is enabled in both devices. Do not lose the close distance between the devices involved as the connection might be interrupted if they are too far from each other.
Right after that, head to the Apple App Store on your iPhone and search the Fitbit app to download.
Launch the app and scroll through the list and tap on the Fitbit device you have. Click the Join Fitbit button.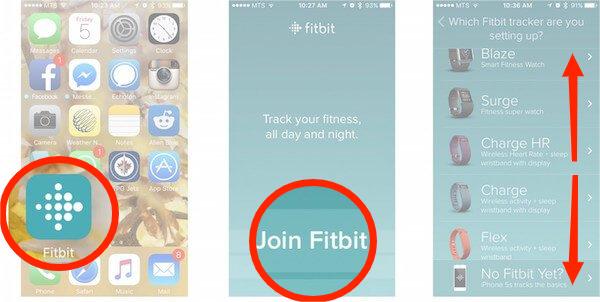 You will then be asked to create your account by tapping on the Sign-Up button. Take note that here, you will have to provide a lot of your personal details including your birthdate, sex, height, weight, and more.
Last, tap on the Next button to agree to the Term of Service and Privacy Policy.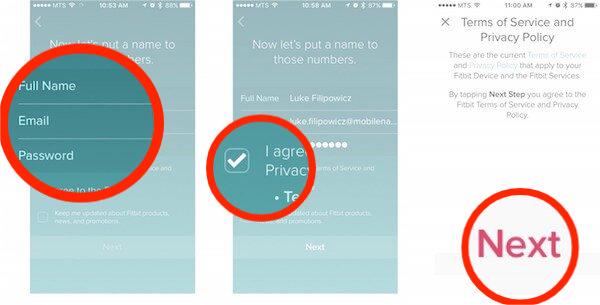 Fitbit will send a verification email to your registered email address. Verify your email address.
Step 2. Pair Fitbit to Your iPhone

Once logged in, tap on your profile icon in the top left corner, then tap + Set up a Device.
Next, choose your Fitbit device.
After reading the privacy policy page, tap I Accept to advance.
When syncing a Fitbit for the first time, your device will display a four-digit code that helps you pair the device with Bluetooth. Input this number and you'll be prompted to connect via Bluetooth (make sure Bluetooth is enabled on your iPhone!).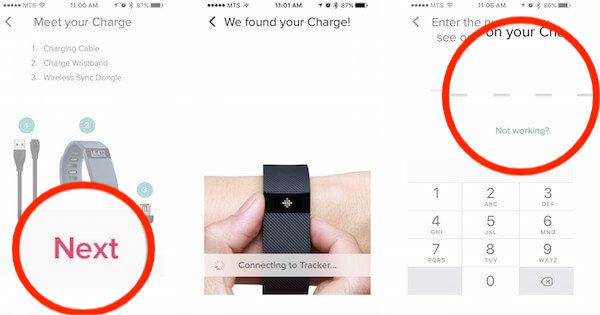 Next, Fitbit will ask you to allow notifications.
Your Fitbit and iPhone are now paired.
The syncing process will take you some time to finish especially if this is a new device to connect. After the syncing process is complete, go to your Profile to check the new device.
Part 2. More Facts About Fitbit
In addition to the details that are shared above, there are more facts that you should know about Fitbit iPhone. Take a closer look at the related information to guarantee your best experience on Fitbit.
As mentioned earlier, you will have to provide a lot of your personal details for Fitbit to monitor you well. It can also be used to know about the total calories that you've burned so far and even those that are you are about to consume. This is possible because Fitbit will allow you, too, to input your meals to take in. A sudden reminder will also be supported if Fitbit has concluded that you are not burning enough so far.
There is also an offered Premium plan on Fitbit which lets you enjoy more features than the usual and standard. This is very recommended especially if you have your own fitness target. The plan includes personalized advices from experts which will help you to achieve your goals in the fastest and proper way. Some of the best features that you can enjoy in the Fitbit Premium is learning about the quality of your sleep more in a better way compared to the free account. It will also give you access on unlimited workout videos that are more knowledgeable than those available in the standard account.
Part 3. Bonus: How to Enjoy Apple Music on Fitbit Smartwatch?
If you're a fan of streaming music, you might be disappointed to find out that you can't stream Apple Music on your Fitbit iPhone. Currently, Fitbit does not support the installation of the Apple Music app on its system. Fitbit is now set to remove Pandora and Deezer from the Fitbit Sense, Versa 3, and other older devices in March. However, you can transfer music to your Fitbit! Fitbit's two smartwatches, the Versa and Ionic plenty of onboard memory which is used to store offline music tracks. The Fitbit Versa supports MP3, MP4, AAC, and WMA audio files.
But getting music onto those devices can be a little complicated. You can download the files from Apple Music but make sure that they are DRM-free to access them on your smartwatch. To do this, you will need help from AMusicSoft Apple Music Converter. This tool happens to have a lot of design features that can make your streaming experience better. It can remove the DRM protection from the files, can convert the tracks into accessible formats, and can assist you in saving them on your device. With the help of AMusicSoft, it would be possible to have the formats of MP3, WAV, AAC, FLAC, AC3, and M4A. Not only Fitbit watch, you can also play Apple Music on Garmin Watch! The results can be downloaded in just a short period of time because of its 16x working speed.
See the detailed guide below on how to use AMusicSoft Apple Music Converter.

Begin with the download and installation of AMusicSoft Apple Music Converter. You can get this tool from the official page of AMusicSoft which can easily be searched on your browser.
Next is to upload the music files into the converter by selecting them from your collection or library. To do that, just mark the mini selection box before each song title.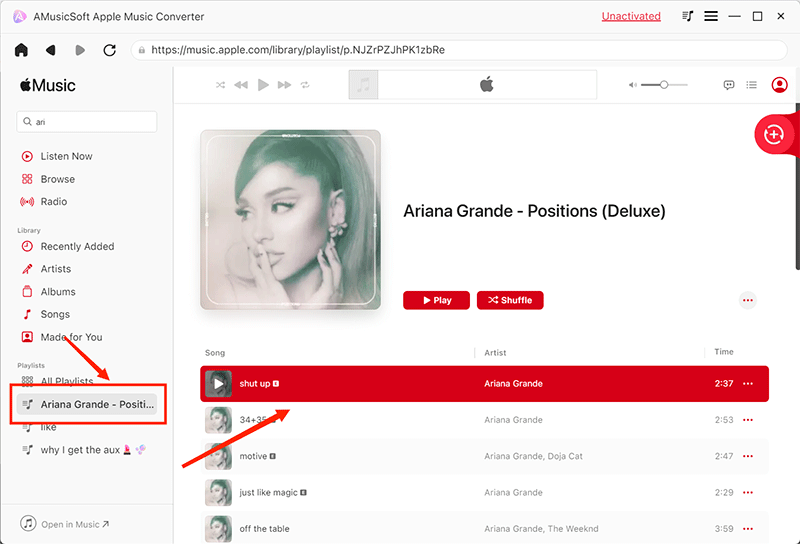 Then select the output format to use along with the output folder.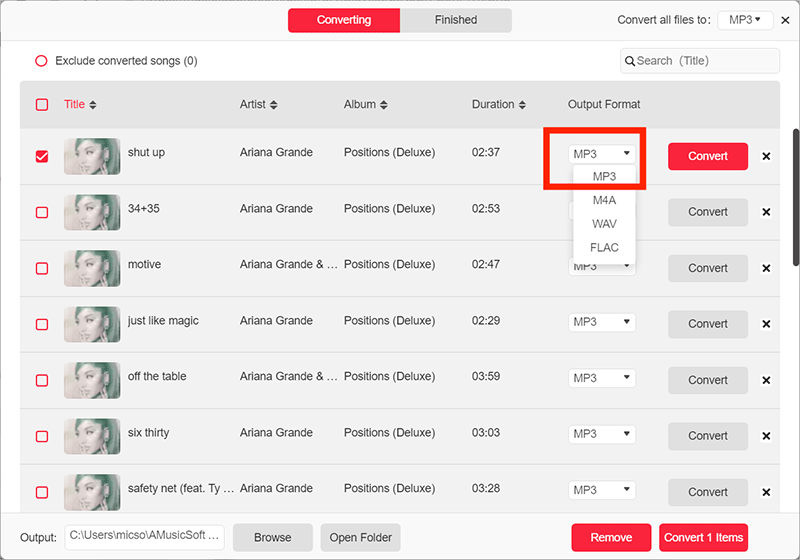 Click the Convert button and let the process start.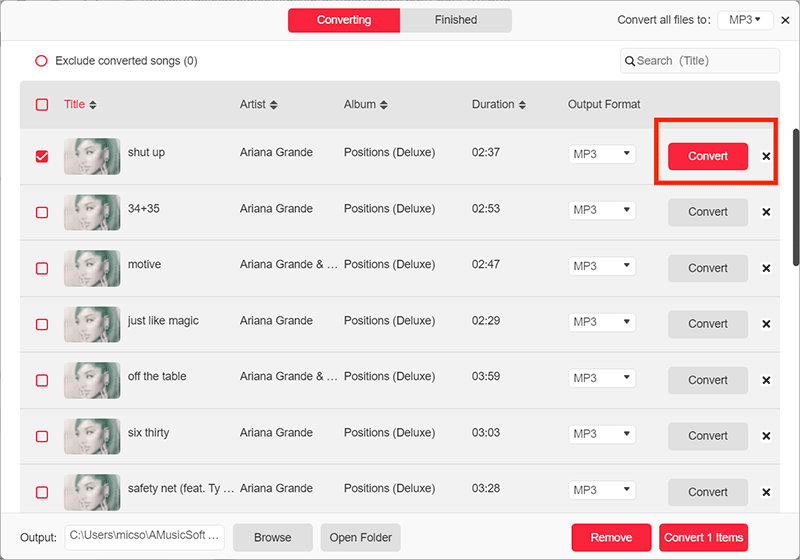 Finally, download the converted Apple Music files.
After converting, you can find the DRM-free music in the output folder. Then simply open the Fitbit Connect app on your computer to transfer the converted Apple Music songs to your Fitbit iPhone to enjoy.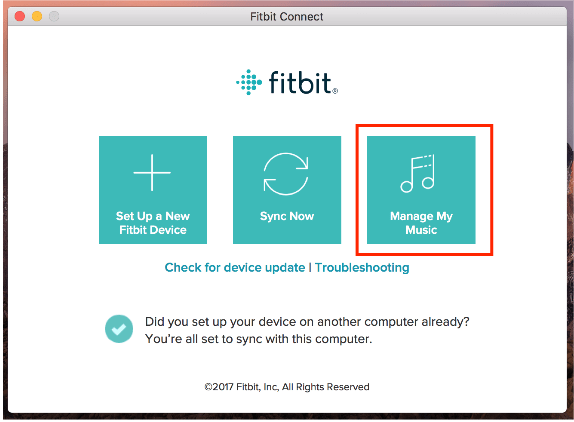 Part 4. Summary
By doing the procedure above regarding Fitbit iPhone, you will be able to monitor your health and workout info. Aside from that, you can also benefit on it by playing your favorite music playlists through the help of AMusicSoft Apple Music Converter. Through the conversion and download feature of this tool, you can enjoy the tracks not only on your Fitbit but also on other music players.
Robert Fabry
Apple Music, Spotify, Amazon Music senior users. Share various tips and solutions.
Last updated: September 1, 2023