Perhaps you are interested and attracted to Apple watch or someone gave you an Apple watch as a gift for a special occasion. However, there is one thing that bothers you, you are worried if you can play Spotify Music on Apple watch because you are a subscriber of this music streaming service ever since. It is not new to us that not all music streaming service is compatible with Apple watch. Therefore, you start typing on the search engine of your browser, trying to look for an answer to your question then it so happened that you come across this post. Well, you are lucky because you will discover here the things you want to know about Spotify on Apple watch.
Here, we are going to talk about if it is really possible to play Spotify music on Apple Watch and how you can install it on your watch. Furthermore, you will also learn here how to play music using your Apple watch without a phone which can be pretty much convenient especially if you are doing something or lazy enough to pull out your phone just to play your favorite Spotify playlist. So, without further ado, let's get started!
Contents Guide Part 1. Can You Use Spotify on Apple Watch?Part 2. How to Listen to Music on Apple Watch without Phone?Part 3. Conclusion
Part 1. Can You Use Spotify on Apple Watch?
Well, if you are a Spotify user and have an Apple watch, then here is good news for you because you can play Spotify Music on Apple Watch right from your wrist. This means that you can already control your Spotify whether selecting a new playlist or skipping tracks without the use of your phone which is very convenient if you are jogging outside or just simply doing something.
How to install Spotify on Apple Watch
So, how to download the Spotify app on your Apple Watch? Before you install the Spotify app on your Apple Watch, make sure that you have the Spotify app installed on your phone and the account is already signed in. Another thing to consider is that your iPhone should be running iOS 10 and above and also our Apple Watch should be watchOS 4 and above. After that, just follow the steps that I provided below. This guide is applicable for both Spotify free and premium users.
First, launch your Apple Watch app using your phone.
Next, check if Spotify is already installed in the "Installed on Apple Watch" in your "My Watch" tab. If not yet available or installed, you may go to the "Available Apps" section and just keep scrolling down until you see Spotify. Tap install to complete the process.
Once you already installed Spotify, launch the app grid on your Apple Watch then look for the Spotify app. It will also instantly play if you start playing a track using your iPhone. Great! You can finally play Spotify Music on Apple Watch.
Moreover, to give you an insight, I included here some of the things you can do on Spotify using your Apple Watch, kindly see the list that I provided below.
Controlling music
Similar to the function of the older version of Spotify, you have the controls of pausing, skipping forward, and going backward the songs being played in Apple Watch which can be convenient to use.
Browsing different tracks and playlists
There is no doubt that Spotify's Apple Watch may surprise its users because of the control that they can do using it like playing back and selecting music just from the wrist. For example, if you swiped to the left it will show the music that you recently played and if you swiped right, you'll see the tracks on your current playlist that you can choose from.
Able to play devices linked to Spotify Connect
Another feature is that you can ping your music on your smart speakers like Sonos or Amazon Echo using your Apple watch because Spotify connect which means that you can listen to the songs that you are playing on your watch to your smart speaker.
Adding songs to your Spotify library
Who would have thought that it is also possible to add music directly to your library using your Apple watch? Yes, this is another feature that you can do, just simply tap the heart that is prominently visible on your watch's screen and the music will be included in your music library. You can retrieve it by going to the music library of your Spotify.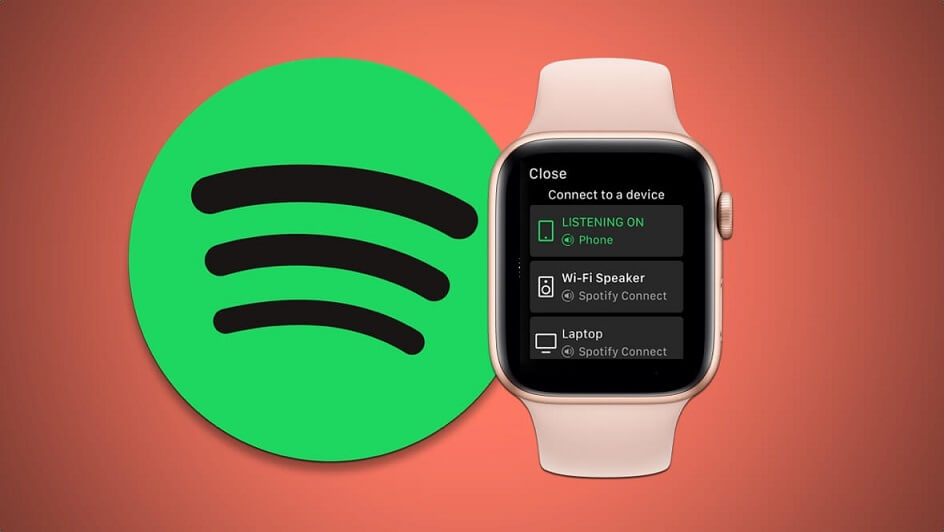 Part 2. How to Listen to Music on Apple Watch without Phone?
If you want to listen to music on Apple Watch without the phone, then here is a great tip for you. First, you have to download the music or playlist that you want to play because Apple watch can't directly stream music using the internet, and then once downloaded, you have to sync them to your watch. But how to download songs from Spotify especially if you don't have a premium? Well, you will be needing a professional tool for that and the one that I recommend is the AMusicSoft Spotify Converter.
AMusicSoft Spotify Converter is software that can download songs or playlist from Spotify as well as convert it to different formats such as MP3, WAV, FLAC, etc. What's good about this tool is that it can remove the DRM protection encrypted on the tracks, which means that after you converted the songs, you can keep it forever at the same time you can transfer it to any devices that you want.
Therefore, if you like to try this amazing software, its installer is available for download on their official website for both Mac and Windows. Once you downloaded and installed it, just see the steps that I provided below on how to use AMusicSoft Spotify Converter to play Spotify Music on Apple Watch and how to sync the songs on your Apple watch.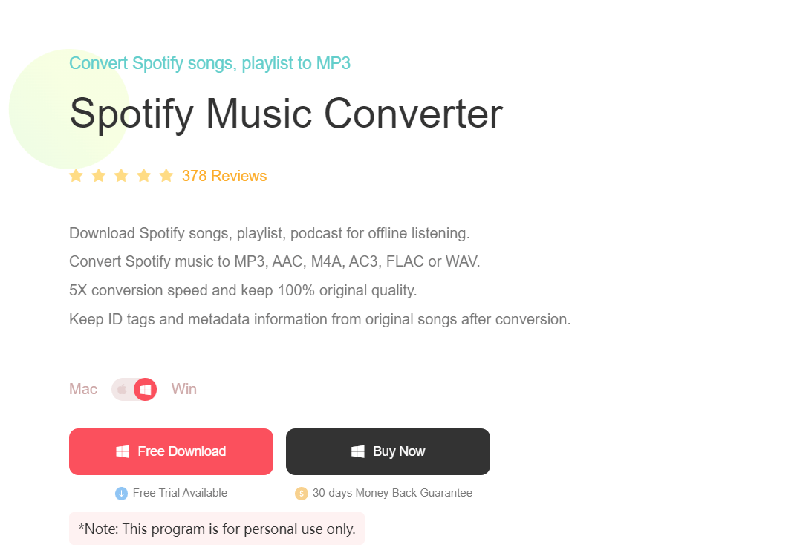 Step 1. Launch AMusicSoft Spotify Converter and Select songs
Run the software on your computer then wait until Spotify loaded. Enter your Spotify account details when asked. Next, AMusicSoft Apple Music Converter will automatically scan your Spotify playlist. Once it is finished scanning, you may now select your preferred songs by dragging or dropping them on the main interface.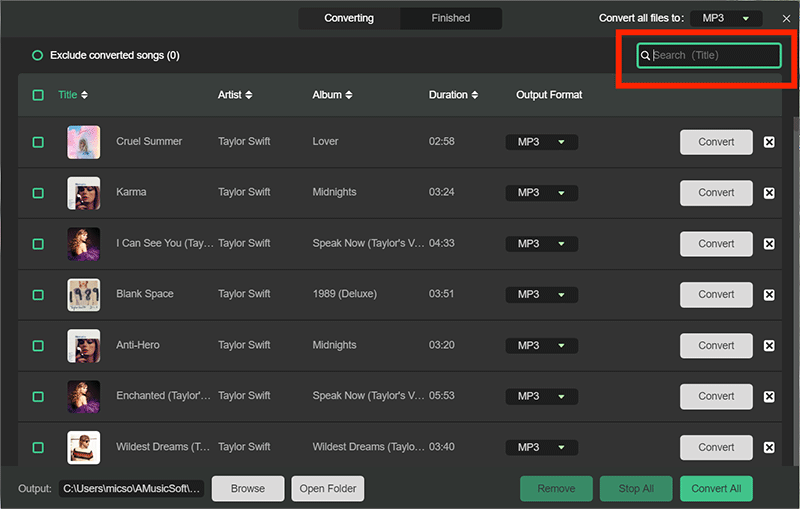 Step 2. Set the output parameters and output destination folder
Once you are done selecting the songs, set the output parameters or format and the output destination folder where you want the converted songs to be saved.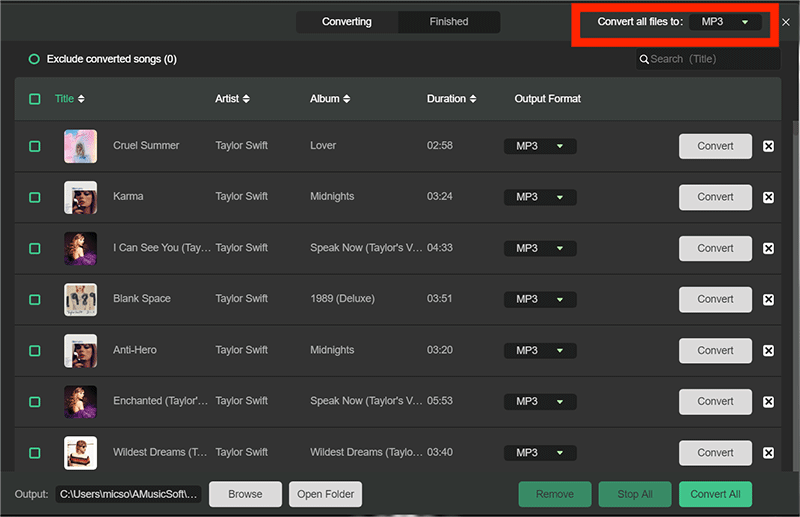 Step 3. Begin the conversion by clicking the "Convert" button in the main interface
If everything is all set and if you are already satisfied with the songs that you selected, you can now click the "Convert" button to begin the conversion. The length of conversion will vary depending on the number of tracks you selected and the progress will be displayed in the main interface. Once completed, you may now view the converted songs on the "Converted" tab or on your set destination folder.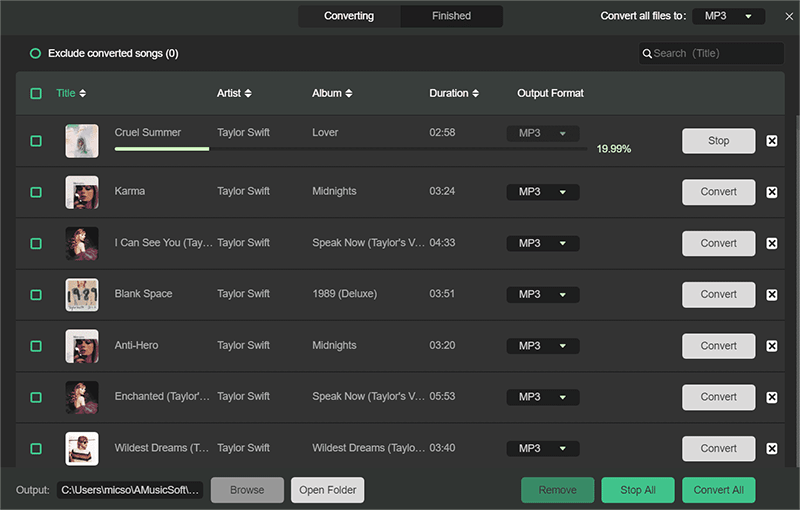 Step 4: Sync your converted songs
For you to sync your converted songs to your Apple Watch, make sure that your Bluetooth on your phone is turned on and your Apple watch should be on its charger. Open your Watch app on your phone then tap on "Music", next select Synced Music. From here, you can select the converted songs you want to sync into your Apple Watch.
Congratulations! you can finally play Spotify Music on Apple Watch without using your phone. This will benefit you because you don't have to pull out your phone just to control your Spotify tracks and also this can prevent your phone from being stolen especially if you are in a crowded area.
Part 3. Conclusion
It is really fun and convenient to play Spotify Music on Apple watch especially if you have no time to get your phone just to play and listen to the tracks that you like. For instance, if you are outside running around and doing exercises or doing some chores at home at the same time you want to play some music, it will be easier to move around because you don't have to reach out for your phone. This also makes your music experience to the next level because who could have imagined that you can already playback, select and pause just by using your watch on your wrist.
Moreover, you also found out about a professional tool like AMusicSoft Spotify converter that can help you download your playlist on your Spotify and to make it available on your Apple watch. I really do hope that you learned a lot by reading this post and it helped you to maximize the use of your Spotify as well as your Apple watch. So, this is the end of it! Have fun listening to your favorite Spotify tracks or playlist using Apple watch and see you next time on my other post.
Robert Fabry
Apple Music, Spotify, Amazon Music senior users. Share various tips and solutions.
Last updated: April 6, 2021