Nowadays, people are getting inclined with different kinds of music streaming services because for the following reasons: Firstly, they have a huge catalog or collection of music that a person can choose from, secondly, most people have access now to the internet and lastly, it won't consume much space on the phone, giving way to more important files that they want to save on their device.
One of these is Spotify and over the years it has really gained popularity since the time it was released and recently, who would have imagined that you can now finally play Spotify on Apple TV? Yes, you read it right.
Now even Apple TV can stream Spotify which can also provide you a great music experience especially if your Apple TV is connected to a good home studio setup or sound system. If you have both Spotify and Apple TV, then this post will serve as your guide on how to make them work together.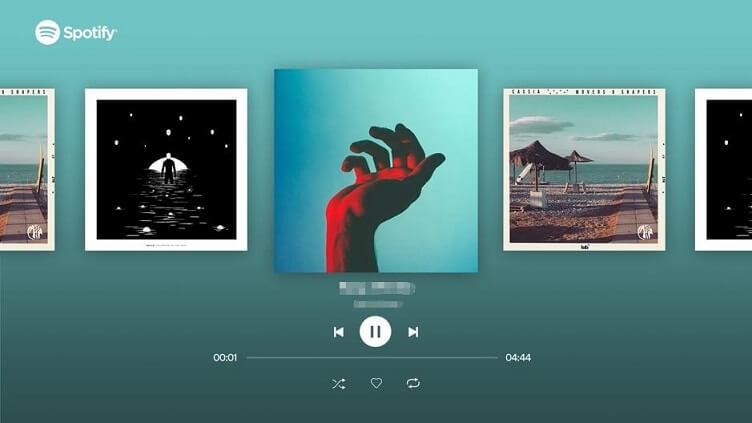 If you want to know how to play Spotify on other devices, please click here. Here, we will further talk about how you can install and listen to Spotify on Apple TV. However, keep in mind that not all generations of Apple TV can download the Spotify app especially those that are older models but don't worry because we got you covered. You will also discover here an alternative that you can use if you encounter this kind of concern. Excited to learn all of this? Then, let's start!
Contents Guide Part 1. Can You Listen to Spotify on Apple TV?Part 2. How to Get Spotify on Apple TV?Part 3. How to Play Spotify Music on Any Apple TV Generation?Part 4. Conclusion
Part 1. Can You Listen to Spotify on Apple TV?
Like I mentioned earlier, because of the advancement of technology, you can finally play Spotify on Apple TV making your music listening experience to the highest level especially if you have home entertainment other than just simply playing it on your smartphones or smart speakers.
For you to play Spotify on Apple TV, I include here are some options how you can make Spotify work on Apple TV.
Option 1. Directly Access Your Spotify App on Apple TV
Check your Apple TV if it can directly Spotify app on your App Store. Search for it and log in to your Spotify account (Note: If not available on Apple TV, we will discuss this on the other part of this article).
Option 2. Connecting Spotify on Apple TV Using Devices
Another option is using other devices which have Google chrome, Spotify connects, and Apple AirPlay.
If you experienced your TV app not working, you can follow some fix below:
1. See to it that you have a good internet connection that is available on your TV.
2. Makes sure that your Spotify app that you have on your TV is updated, keep checking your TV app store from time to time. Similar to your TV's software, it should be updated.
3. Try restarting your Spotify app and your TV
4. Consider restarting your Wi-Fi.
5. Try to reinstall the Spotify app on your TV.
6. Perhaps, you have an unstable internet connection, so try another WiFi connection if possible.
7. Lastly if the above fix didn't work, maybe it is better to contact your TV manufacturer for another solution.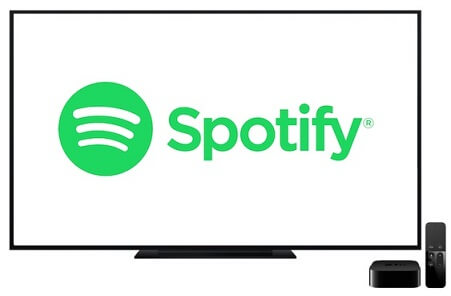 Part 2. How to Get Spotify on Apple TV?
In the previous section, we talked about the options that you can use to make your Spotify work on Apple TV. Here, I will explain to you in detail how to play Spotify on Apple TV to make it easier for you. Just see the following steps below:
1. Launch the App Store on your Apple TV's homepage.
2. Look for Spotify on the Search option that is visible at the upper-right corner of your screen. Click Spotify on the result if it appears.
3. Click the "Get" or "Install" button that is beside the app's description to download it. If you already have it installed before, a cloud with an arrow will be visible.
4. After you downloaded the app, open it and log in to your Spotify account details.
5. Once you click "Log in", a code will appear on your screen, so that you can pair it with your Spotify account.
6. Using your device, either your smartphones or computer, go and visit spotify.com/pair to set up your Spotify account.
7. Once you access your Spotify account, you will be then asked for the code that you saw earlier, enter it on the box provided just above the "PAIR" button, and then click the "PAIR" button.
8. Your request will be processed and once completed, a prompt will appear saying "Your device has been successfully paired."
9. Lastly, refresh the app on your Apple TV so that you can access your Spotify account.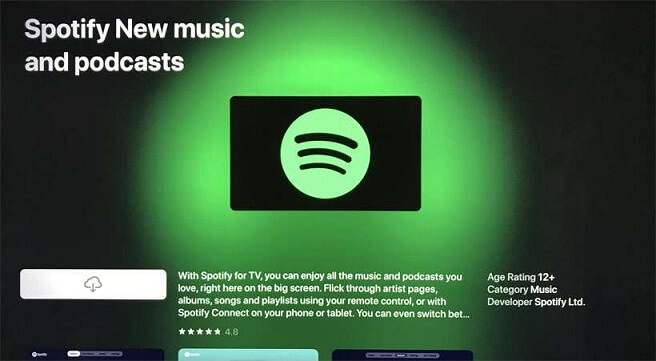 After all these steps, you can finally listen to your favorite songs on your Spotify library, at the same time look for new music.
Part 3. How to Play Spotify Music on Any Apple TV Generation?
Sometimes people might encounter difficulties playing Spotify Music on Apple TV that has a different version or generation. To help you with this problem, I will give you an ultimate solution or a tip that can help you play Spotify on Apple TV without considering any generation.
To start with, you have to install this amazing professional tool which is the AMusicSoft Spotify Converter. This tool can help you download your favorite music track on your Spotify with ease because one of its features is it can remove the DRM protection that is encrypted on each Spotify track, allowing you to download them even you don't have an upgraded subscription or a premium account.
Aside from that, based on the name itself, it is also a converter that can convert to almost any kind of audio format such as MP3, WAV, FLAC, etc. depending on what format your device supports. Furthermore, another feature that is worth mentioning is its conversion speed. It is also known for its conversion speed of x5 which will not take you so much time to wait for the conversion to finish but of course, it will also vary according to the size and number of the tracks that you will convert.
So, if you are interested to use this tool, you can download its installer on its official website. Once installed, you may see the following steps below on how to use AMusicSoft Spotify Converter to play Spotify on Apple TV.
Step 1. Select Music from Spotify and Transfer Them to AMusicSoft Spotify Music Converter
Launch your AMusicSoft Spotify Converter on your computer and log in your Spotify account details if asked. Wait until it completely loaded your Spotify playlist. After that select the songs that you want to download, then simply drag or drop them on the software's main interface.
Step 2. Change The Output Parameters and Destination Folder
Once you already selected the songs, it is now time to set your preferred output format and the destination folder where you want to see the converted files. There are many formats can be converted by AMusicSoft Spotify Music Converter, so we can easily convert to FLAC and others.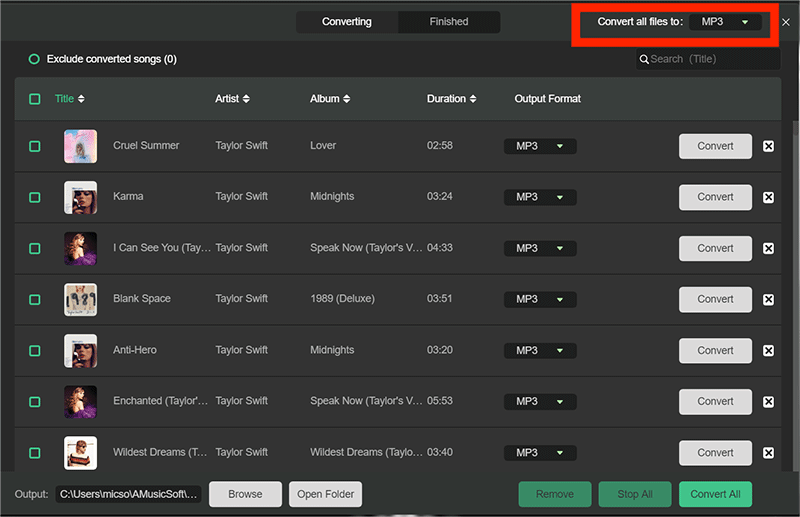 Step 3. Start The Conversion Process by Clicking The "Convert" Button
After everything is all set, just simply click the "Convert" button to start the conversion. The progress will be visible on the main interface. Once done, you can see your downloaded tracks on the folder that you set.
Step 4. Play Spotify Track on Apply TV
Finally, to play it on your Apple TV, add your converted music on your iTunes using your computer and make a playlist, then make sure that your computer and Apple TV are connected to a similar internet connection so that you can start Home Sharing.
Once all is done, you may now choose "Computers" on the home screen of your Apple TV and look for the shared library. That's it! You can now play Spotify on Apple TV to any generation.
Part 4. Conclusion
It is a great experience if you can play Spotify on Apple TV especially if you have a home entertainment sound system. With the above-mentioned steps that you have learned in this post, I hope it gives you an idea that it is not that hard to make Spotify work on Apple TV and there are other options that you can use as well as, it helps you to maximize the use of music streaming service and smart TV.
Moreover, you also discovered that it is possible to play any Spotify tracks to any generation of Apple TV by using AMusicSoft Spotify Music Converter which you can also use as a converter if you also want to listen to your favorite songs on other devices and what's good about this software is it doesn't require you to have your Spotify account upgraded to premium account just to download songs from your playlist.
Well, that's all! You may now enjoy listening to and playing your desired Spotify songs on Apple TV. I'm looking forward to seeing you again on my other post related to Spotify.