The main topic in this article would be "Spotify to MP3 converter without recording". If you have been asking about good recommendations when it comes to transforming the Spotify songs you love from its original format (OGG Vorbis) to another format like MP3, then finding a good, trusted, and reliable Spotify to MP3 converter would be a must.
Spotify is truly known as one of the best platforms wherein you can access popular and great songs. And, the good thing about this app is that this has been made ready on several devices. Thus, when it comes to accessibility, most users won't find it difficult especially if they are premium account owners.
The issue will now be the downloading. As mentioned, Spotify songs are in a format that is not popularly used – the OGG Vorbis format. And, some might find it inconvenient to look for devices that support the format as well as burning those on CDs for playing in your car stereo.
Actually, if you will be looking on the web for Spotify to MP3 converter without recording, you will be seeing a bunch of them – both free and paid versions of applications. However, it is sometimes confusing to choose from any of those listed on your computer's screen. I bet you'll agree with this especially if you are not familiar with technology-related stuff and if you haven't tried using such before. So, to know which method is the best, we'll explain more here.
Contents Guide Part 1. What Is the Best Spotify to MP3 Converter without Recording?Part 2. Best Spotify to MP3 Converters OnlinePart 3. Conclusion
Part 1. What Is the Best Spotify to MP3 Converter without Recording?
Deciding which software application to install on your PC to finally proceed with Spotify to MP3 conversion is definitely a confusing task to do. You might need to check one by one and compare each from one another before selecting the best converter, which is a tedious task, right? If you want to avoid the hassle of doing that "compare and contrast thing" between each tool, you just need to read this whole article to find out more about a reliable converter that you can use – the AMusicSoft Spotify Music Converter.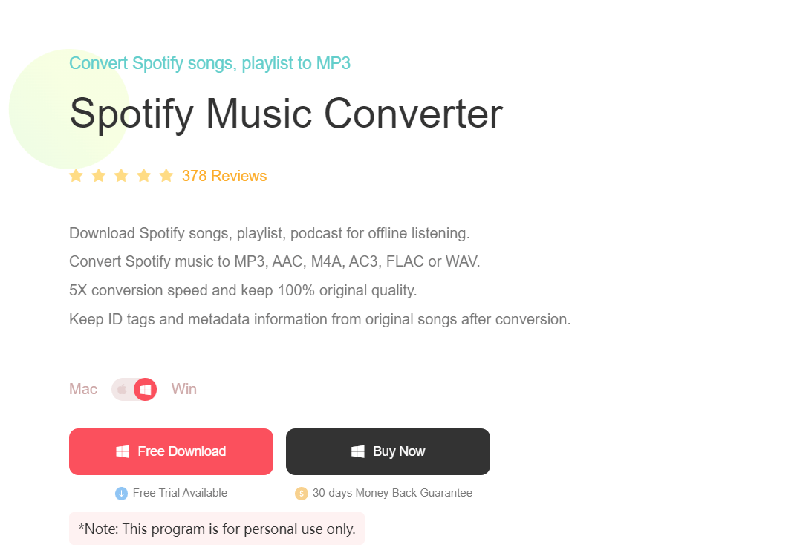 With the AMusicSoft Spotify Music Converter, a user can enjoy numerous perks and benefits. With a speed of five times faster than the usual converters, the people can enjoy the advantage of efficiency and convenience while giving the assurance that the output files will be of 100% great quality.
By using this software application, the users can also remove the DRM protection of the Spotify tracks – the protection that is hindering the users from keeping and downloading the Spotify songs (due to copyright issues). Some also worry that the ID3 tags and even metadata information would be removed after the conversion process. But that is not an issue if you'll use the AMusicSoft Spotify Music Converter since you can still keep these even after the transformation of files.
If you think that this tool, the AMusicSoft Spotify Music Converter, is a great software to use, you can consider the below conversion procedure. We got an overview presented first before the details (just in case you want to see the whole picture at a glance).
Complete all the installation requirements, install, and launch the AMusicSoft Spotify Music Converter.
Add all the Spotify songs to convert and choose MP3 as the output format.
Tick the "Convert" button as this will allow the conversion to take place.
Now, here are the details as initially promised.
Step #1. Complete All The Installation Requirements, Install, And Launch The AMusicSoft Spotify Music Converter
You would first need to take a look at the things that you need to complete to finally proceed with the process of installing the AMusicSoft Spotify Music Converter on your PC. Anything that you need to know regarding this matter can all be seen on the main website of the app. Once completed, simply install (this would only take a few minutes of your time) and finally launch the converter to head to the second step.
Step #2. Add All The Spotify Songs To Convert And Choose MP3 As The Output Format
In this step, you are free to add all the Spotify songs, albums, and even playlists that you wish to convert from their original format to MP3. Do this by just dragging and dropping the files on the main screen. After this has been done, you need to choose MP3 as the output format. You have four selections (MP3, AAC, FLAC, and WAV), you can also choose a format other than MP3 if you want. Next is to select an output folder. This is where you will see the converted files once the process is done.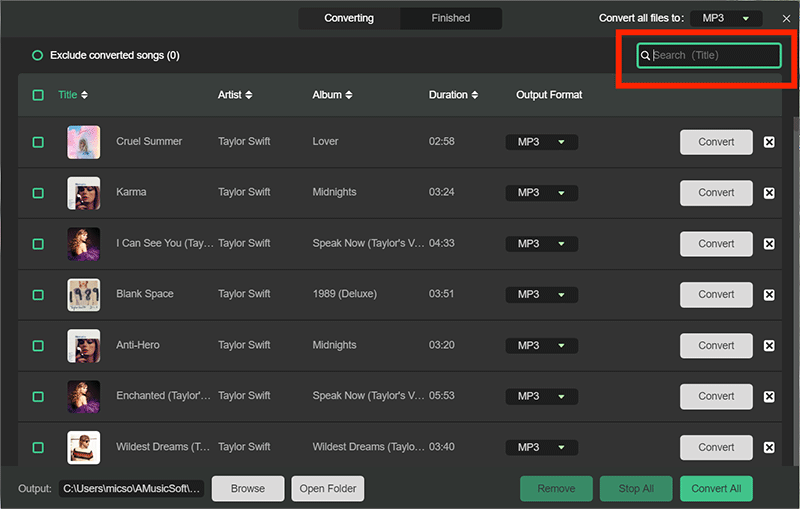 Step #3. Tick The "Convert" Button As This Will Allow The Conversion To Take Place
Lastly, clicking the "Convert" button will let the app do the conversion of Spotify songs upload. While this is ongoing, the removal of the DRM protection (that was mentioned in the earlier part of this article) will also be done.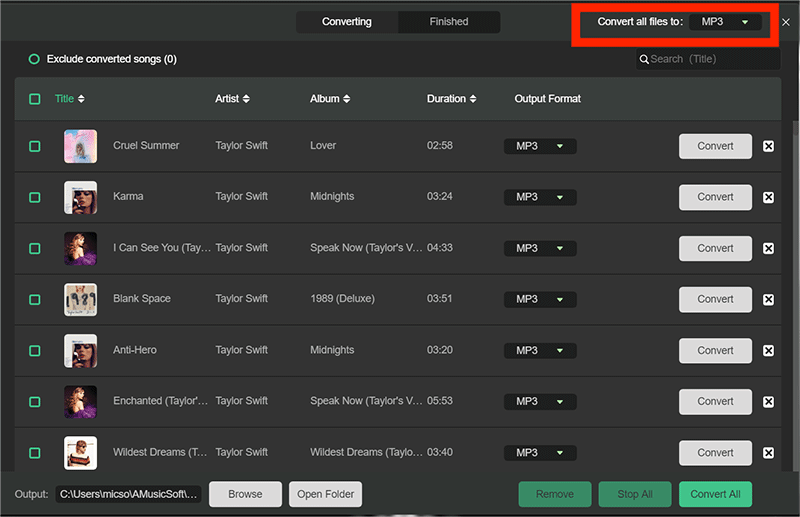 After a few minutes, you should be able to see all the output files and finally enjoy those! Stream the MP3 tracks on any device you have, transfer and share with anyone you like, or keep copies on any external drives if you prefer to! Well, this is a professional converter, if you would like to try some other tools like the online ones, we also have some details that will be presented in the second part.
Part 2. Best Spotify to MP3 Converters Online
The same with choosing any professional converter, it could also be a dilemma to choose a free online tool that would let you convert the Spotify songs you love to another format such as MP3. Viruses, bugs, spams, and more issues could be encountered if you are not careful enough. So, to give you some help, we have here some of the best Spotify to MP3 converters without Recording that you can utilize online. And, we will discuss each one by one here.
mp3fy.com
One platform is this mp3fy.com. It is an online Spotify to MP3 converter that you can easily access for free. Apart from being able to support the Spotify application, it can also process those from other apps like YouTube and more. By using this online platform, you can avoid the hassle of doing software installations which might be difficult for some. Though this is a good one, of course, free tools have limitations. By using this, it might take you a while to download the converted Spotify songs and playlists, and apart from that, the quality is a bit poor.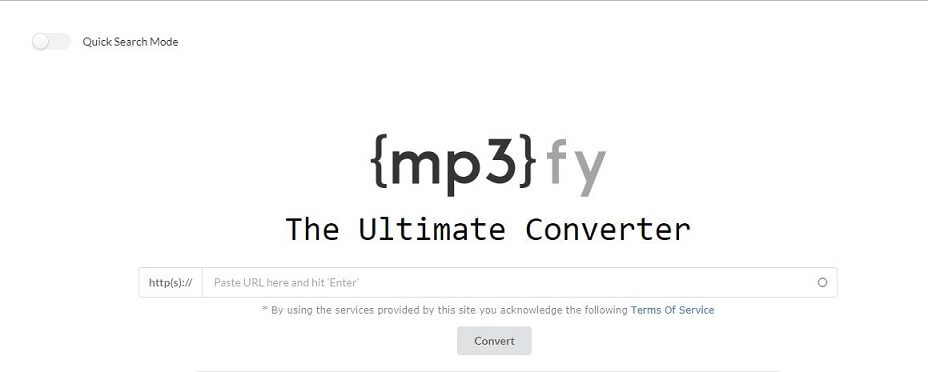 This is how you can do the conversion using this site.
Step #1. Choose the Spotify song to convert, copy its URL, and head to mp3fy.com's site.
Step #2. On the screen, you will see a search box. Paste the URL of the Spotify song previously copied and click the "Convert" button to begin the conversion process online.
Step #3. After the whole conversion process, you will see a new window that will show you the converted files. Now, just tick the "Clear Download" button and you will be able to download the converted Spotify tracks.
Deezify Chrome Extension for Mac and Windows PC
Another tool that you can use to convert Spotify songs to MP3 without recording the tracks is via a chrome extension – this Deezify that is compatible on both Windows and Mac computers. By using this, you can download songs from Spotify and even from other channels like Xbox Music without limitations and advertisements. The only thing needed is an installed chrome on your PC. This is easy to use and of course free. However, this does not always work when downloading songs from Spotify.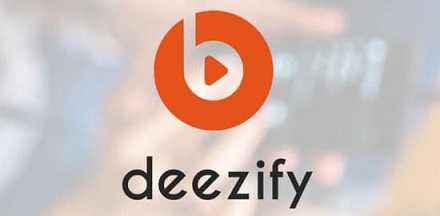 To use this chrome extension, you need to follow the below procedure.
Step #1. Of course, you need to have the Deezify extension available on your chrome.
Step #2. Head to your PC's browser and open your Spotify account. You need to play the specific Spotify song you want to convert to MP3 format so that the extension will be able to get it.
Since this is free of use, you should expect that there are instances that this won't work as expected.
Part 3. Conclusion
To summarize, there are actually a lot of ways and tools that can help you with Spotify to MP3 (or any other output format) conversion. You just need to be well versed and careful in choosing the app to install on your PC. It is recommended to always read reviews and user guides to achieve the output you want. When it comes to choosing the best Spotify to MP3 converter without recording, AMusicSoft Spotify Music Converter is still the best recommendation. If you want to add some details or if you have comments relating to the topic of this article, feel free to put all those in the section below.