A charge of $9.99 per month gives Spotify's premium subscription access and enjoys Spotify music offline on the Spotify app. But did you know you can play Spotify music without the Spotify app? Yes, you can with the power of Spotify music converters.

Why is Spotify to MP3 converter becoming necessary for most Spotify users? People want to get information and entertainment quicker and cheaper. Soon and very soon, the Spotify music converter came into existence to help Spotify users access Spotify music quickly for free.

Understand why it is essential to have an MP3 music converter and how it works to satisfy your needs. We will share the best and most professional Spotify songs to MP3 converter here.

Contents Guide Part 1. Why Do You Need Spotify Music Converter?Part 2. 5 Best Spotify Music to MP3 ConvertersPart 3. Conclusion
Part 1. Why Do You Need Spotify Music Converter?
You can download Spotify songs to your device as long as you have a Premium account. But the music files are not really on your device. This is because of the DRM encryption on Spotify music. DRM protection helps music artist protect their digital property from illegal distribution. The songs are in OGG Vorbis format which can not be played on other music players.

Then someone will ask, how can you download and play Spotify music offline? Now, you need Spotify to MP3 converter to be able to play Spotify music offline and on other platforms, systems, and media players. You can use it to convert Spotify music to other compatible audio formats like MP3 and keep them as local files. After conversion, you can stream Spotify on any other device forever as you like. Now follow the part below to choose your favorite Spotify music converter.

Part 2. 5 Best Spotify Music to MP3 Converters
No.1 AMusicSoft Spotify Music Converter
Speaking of the best Spotify to MP3 converter, choose AMusicSoft Spotify Music Converter. It is a converter and downloader of Spotify music, but the most significant part is how it can dismantle the DRM encryption. After destroying the copyright encryption, it will convert the music files to MP3 audio format and download them to your machine like smartphones and tablets. The converter will ensure you get the expected results and listen to Spotify music offline without the Spotify app.
Sound quality is a vital part of music in the entertainment industry, and this program assures you of high-quality music files. The sound frequency, tone, and speed will not change and will remain similar to the music on Spotify. Audio file formats are categorized as compressed and uncompressed formats, and MP3 is a compressed format. But did you know this software can also convert Spotify music to uncompressed FLAC, WAV, and AAC? Yes, it can do so in the best version possible. So it is up to you to decide which format you want.
Most Spotify music MP3 downloaders saves output files as codes or random digits making it hard for the user to identify and rename the files. Use AMusicSoft, and you will have an easy time because the app keeps all ID3 tags and other related information. Windows and Mac computers are used globally.
AMusicSoft is user-friendly. It has simple graphics that do not take up a big part of your processor and is easy to navigate. You can quickly add Spotify music files and use three steps to convert the files. Spotify playlists and albums are always huge files, but the converter will convert them within no time.
Use the following procedure to convert Spotify music to MP3 files with the help of AMusicSoft.
Step #1. First, launch the Spotify app on your computer and launch the AMusicSoft. Click and hold on to the music file you want to convert on Spotify, then move and release it in the main interface of the converter.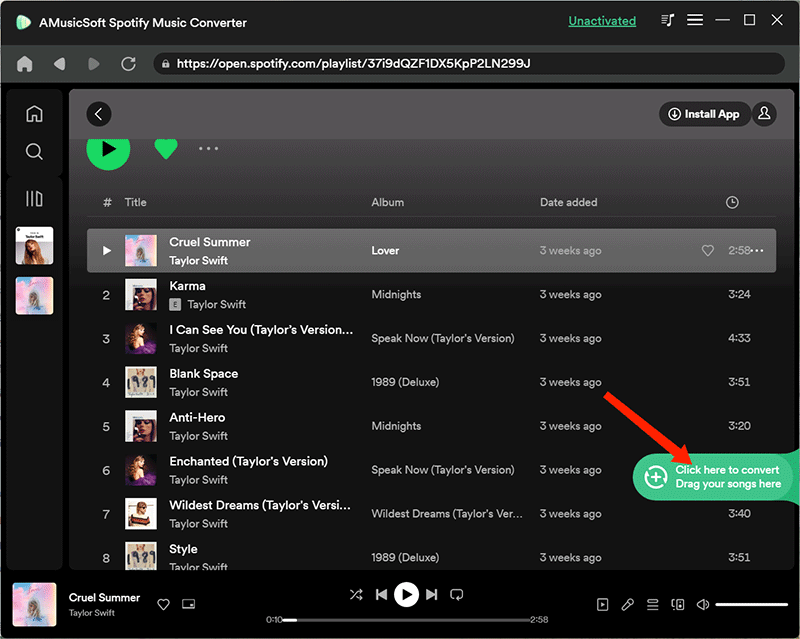 Step #2. Next, navigate to the top of your screen to an icon labeled "Output Format" and click on it to select MP3 format. Immediately below the formats, click on "Output Folder" and choose an appropriate folder on your hard drive.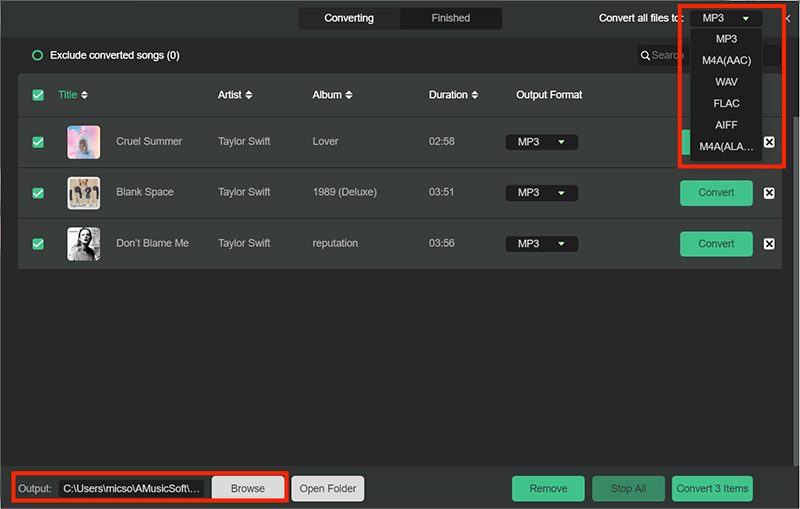 Step #3. Left-click the last button in your window labeled "Convert," and your converter will obey the command.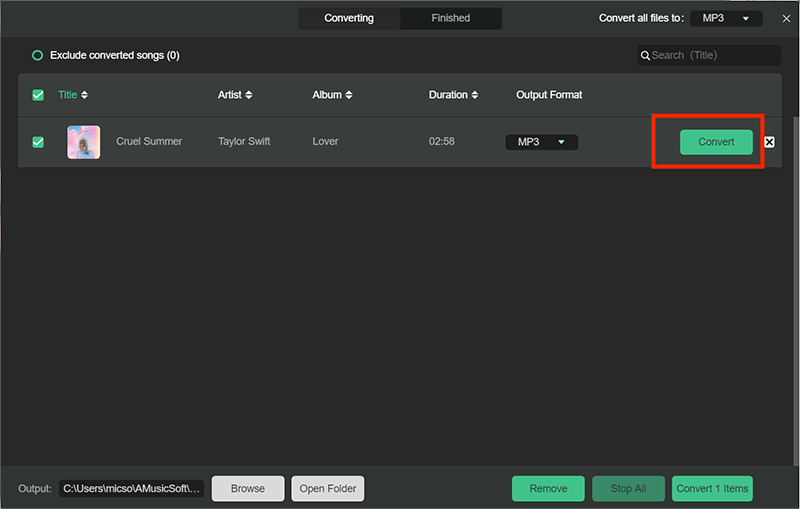 No. 2 AudFree Spotify Music Converter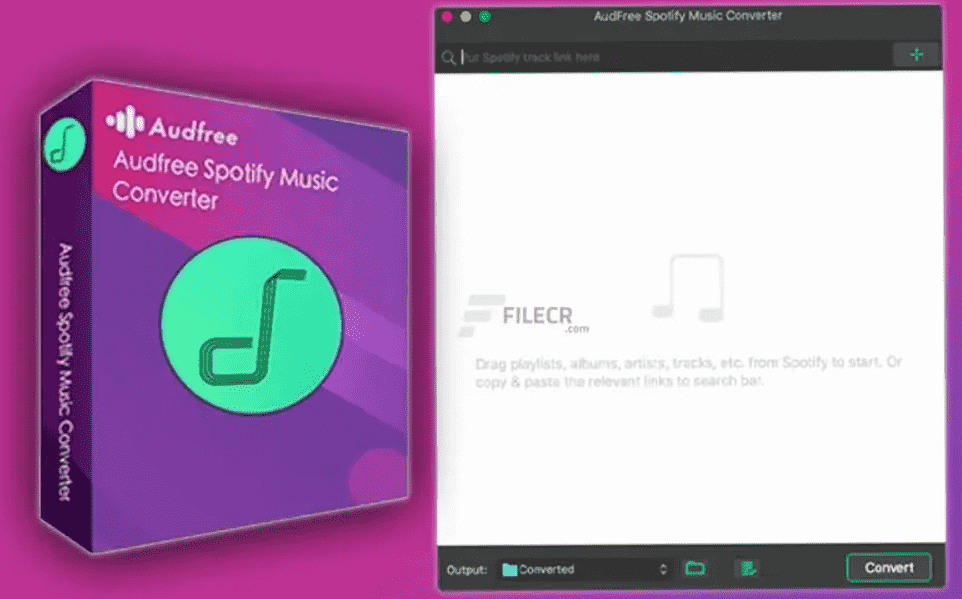 This is a professional Spotify to MP3 converter for windows and mac computers which is also free. It is special software that extracts and converts Spotify music from the DRM protection within seconds. It can convert big files like Spotify playlists and albums and still produce high-quality files.
It is not only a converter but also an editing tool, and you can use it to edit the ID3 tags, the file volume, and frequency. Get a chance to change the bit rate and codecs of the audio files to the best version possible. The downside is that it can only accept a maximum of 100 songs in a playlist. And the free trial cannot convert more than one minute of a song.
No. 3 Aimersoft iMusic Music Manager
This is the modern-day Spotify to MP3 converter because it consolidates all primary functions on one system. It is a converter, downloader, manager, and music sharing ability. Moreover, you can search for the music file using the application and record music or podcast from online radio stations. The software can run on windows and mac computers.
With all these wonderful features, you will expect the program to be complex, but it is user-friendly. It is easy to navigate the interface and select different parameters. It allows you to edit and personalize the end product, such as changing the file name and artists. Personalize your output by adding your voice and other recordings.
No. 4 Spotify Converter Extension
If you don't want to download the app on your computer, you can also use Google Chrome extensions like Spotify Music Downloader and Spotify Deezer Music Downloader to convert music to MP3 on the Spotify web player. Once installed, the extension adds a download button near each song on the Spotify web player. Click it to convert any Spotify songs to mp3. The extension searches Spotify songs from its own online MP3 libraries and then downloads them. However, if the mp3 libraries don't contain the song you want, you will get a failure notification or the wrong songs.

No. 5 Apowersoft Online Audio Recorder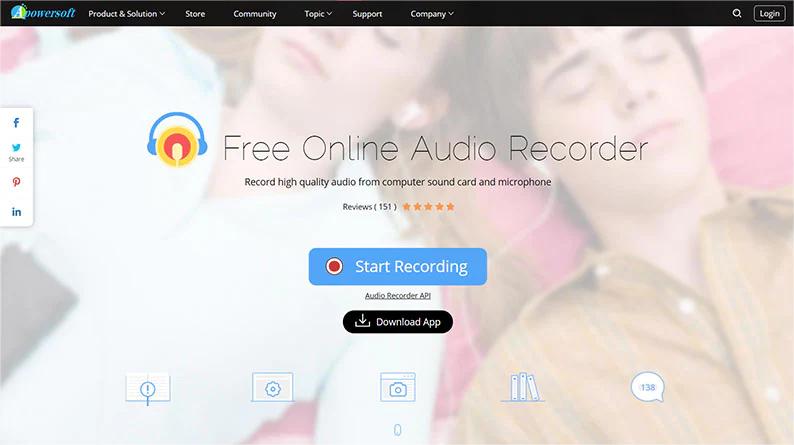 It is a unique online Spotify to MP3 converter that can record audio from your computer's sound systems and convert it to MP3 files. Hence you can play your music on Spotify, and the software will record and convert it to MP3 format for free. The recorder has excellent speeds and records the music in real-time. You can customize some parts of the output file to your liking.

For example, you can add cover art or change the artist, album, or file name. It is an online converter, so it cannot occupy your internal storage. MP3 is not the only output format you can get from this converter; it can also produce WAV, FLAC, OGG, and others. Apart from recording, this application has an in-built radio feature for more entertainment.

The limitation is that it loses some audio quality while recording, and it cannot automatically identify some Spotify songs.

Part 3. Conclusion
In conclusion, you need Spotify music MP3 converters to be able to play Spotify music offline without the Spotify application. As you can see from above all Spotify to MP3 converters try to eliminate the DRM protection from Spotify music files. Professional music converter like AMusicSoft is better than online and free music recorders.
You are assured of extraordinary output files and 5X or more conversion rates with AMusicSoft Spotify Music Converter. It can convert bulky files without limiting the maximum number of songs in a playlist or album. The professional converter is readily available online on the official website and a few app stores. The program is purchasable but has a reasonable period of a free trial.