Spotify is one of the popular music streaming services in the market that allows users to access millions of digital music as well as a podcast, and video from various artist all over the world. As a Spotify user, perhaps you are also curious if there is Spotify to MP3 converter free to download your favorite tracks for offline use or for you to save your cellular data.
Luckily, I have good news for you because you can absolutely get your desired playlist with the methods that I will mention in this post. I will provide you details on what these ways would be. So, what are we waiting for? Let's start grabbing your favorite Spotify tracks now!
Contents Guide Part 1. Can You Convert Spotify to MP3 for Free?Part 2. Free Spotify to MP3 Converter Online (Windows, macOS, and Linux)Part 3. Free Spotify to MP3 Converter Online (Chrome)Part 4. Free Spotify to MP3 Converter Online (Android)Part 5. Best Free Spotify to MP3 Converter for Any DeviceConclusion
Part 1. Can You Convert Spotify to MP3 for Free?
Spotify remains the king of streaming music services as it comes courtesy of a robust musical catalog, podcasts, collaborative playlists, and a stacked Student plan that includes Hulu. You can enjoy online music by signing up for Spotify Free or Spotify Premium tiers.
TIPS: How To Download From Spotify Online
The paid tiers allow users to cache songs for offline playback on their computer, phone, or other devices. This tier also increases audio quality to 320Kbps. However, the songs downloaded with Premium are DRM-protected and can only be played within the Spotify app. Using the free tier, you must live with some sound quality limitations and built-in ads. What more, you'll miss out on downloading and offline listening.
If Spotify free users want to download songs or Premium users want to listen to offline songs on their desired device, the best way is to convert Spotify songs to MP3. Can you convert Spotify to MP3 for free? Yes! Here in this article, we will introduce some Spotify to MP3 Converter free and pick out the best one.

Part 2. Free Spotify to MP3 Converter Online (Windows, macOS, and Linux)
There are many ways you can convert your Spotify to MP3, one of these ways is using an audio recorder. If you are a Mac, Windows, or Linux user, you can try using Audacity. Audacity is a professional tool that adopted advanced technology for recording as well as for digital audio editing. This program serves as a recorder for your Spotify so you can use it as a Spotify to mp3 converter free program. The interface of the app is clean, well-organized, and approachable even for the most novice user.
The application makes it easy to get your equipment, like microphones, connected and ready to record. Audacity's versatile tools make the process of setting up, recording, editing, and polishing your tracks simple. So, here are the steps to follow how-to record then convert your Spotify to MP3 using Audacity but make sure that you already installed the software.
Open your Audacity. Click on the "Edit" button that is located on the upper left toolbar. Then choose "Preferences", next go to "Audio Host Box and click the "Windows WASAPI" button.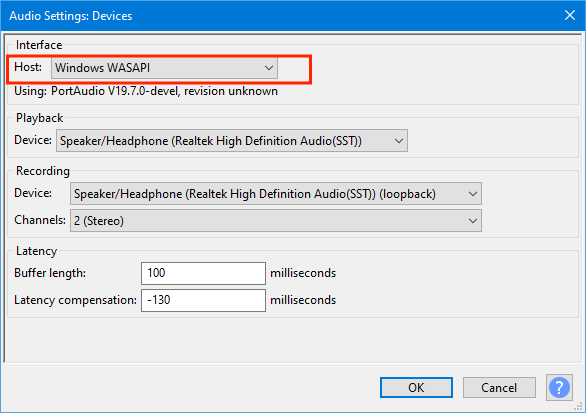 Next, you should turn Software Playthrough off when recording system sound in Audacity. To do this, please go to "Transport" > "Transport Options" > "Software Playthrough" to turn it off. Or you can do it by tabbing the "Recording" under the "Audacity Preferences".
When everything is all set, click the red "Record" button and start playing your desired Spotify music that you want to convert to MP3. This will be a real-time recording. Once the recording is completed, just press on the "Stop" icon so your recordings will be saved on your computer.
Because it is free, however, there are some drawbacks. Generally, Audacity is not as robust and polished as some other professional sound-editing programs, and there are some bugs in the software that can cause it to crash unexpectedly. The program is limited in its mixing capabilities.
Part 3. Free Spotify to MP3 Converter Online (Chrome)
There are also Chrome extensions that are also available online. But one thing to consider is that the quality of the audio might be affected while converting since there is no software to be installed. Now, let's discuss the Spotify to MP3 converter free online using the Chrome extension.
Spotify & Deezer Music Downloader
Another Spotify to MP3 converter free online is the Spotify & Deezer Music Downloader - Chrome Extension, as the name describe it is a Chrome free extension that can download songs from two music streaming service such as Deezer and Spotify, and convert them to MP3.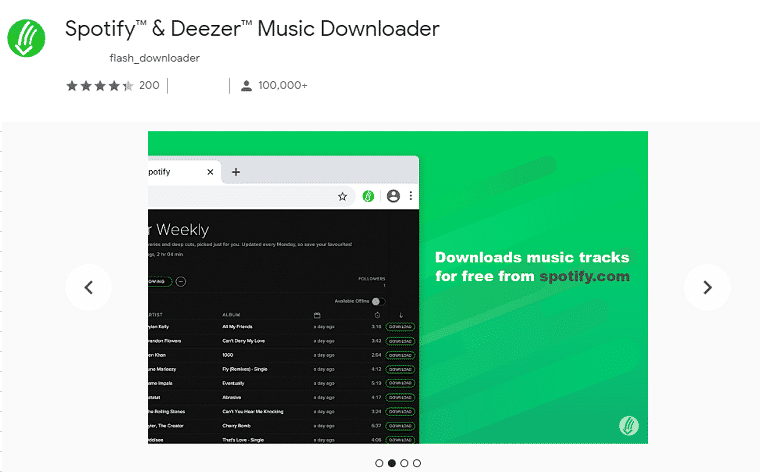 All you have to do is to download Spotify online using a Chrome browser and then use the web player Spotify. It allows you to download almost 70% of Spotify's music catalog absolutely for free. There is a heavy loss of the quality of the sounds. 128kps is the maximum quality of output. It May crashes often and is unstable.
Part 4. Free Spotify to MP3 Converter Online (Android)
If you are both Spotify and Android users, can you download Spotify music to MP3 format on your Android device? Apart from using the software and online converter that we discussed earlier, there is another way to convert Spotify to MP3 using your android smartphone directly. Two of these apps are Fildo and Telegram.

Fildo
Fildo is an exclusive Spotify to MP3 converter free app for Android that can you can use directly. Fildo has features that most downloaders don't have, such as showing artist recommendations and showing artist albums and songs with a sleek-looking UI. If you want to try this, its APK is available for download on its official website. The Google Play version of the app is a simple music player that doesn't have the option to download your tracks. However, Fildo does not provide high-quality streaming. Free of cost and full of ads. The Fildo app will pop up ads every time you open the app.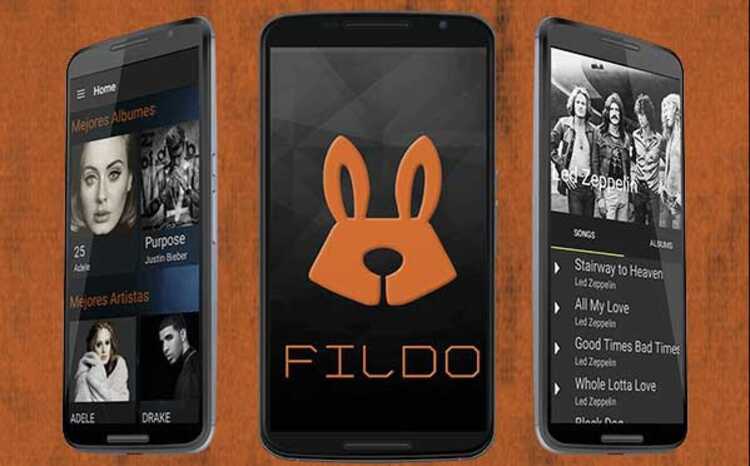 Telegram
Another Spotify to MP3 converter app for Android is Telegram. It is also available for iOS users. As we all know, Telegram is a free messenger app. But do you know that you can also use this to download music from Spotify? Yes, you've heard it right! A music bot for Telegram allows you to play, pause, resume, and download music from several sources to your Telegram.
Spotify Downloader Bot is a Telegram music bot. This bot is made by using Python programming. It lets you download songs from Spotify. You can also use this bot to listen to songs for free. When you input a Spotify track link, this bot will find a match on YouTube and then download the audio in MP3. But there are many experts in the cryptography community that have raised doubts about Telegram's security. At the same time, the fact that end-to-end encryption is only available for Secret Chats and voice calls worries many of us.
Part 5. Best Free Spotify to MP3 Converter for Any Device
Another way for you to convert your Spotify to MP3 is with the use of a professional Spotify to mp3 converter free tool which is the AMusicSoft Spotify Music Converter. We recommend this tool because not only it converts your Spotify to MP3, it can be also useful if you want to remove the DRM protection of your Spotify tracks which allows you to play the songs anytime and keep them as long as you want. This means that you don't have to worry about your subscription on Spotify because it is no longer restricted, you can also listen to your Spotify tracks even if offline.
AMusicSoft Spotify Music Converter lets you download your favorite songs, playlist, and album in groups and convert them to your preferred formats such as MP3, FLAC, WAV, and M4A. Once you have converted the tracks that you like, it will produce a soft copy in which you can freely transfer to any devices that you have.
Moreover, what's good about this tool is that it maintains the ID3 tags and metadata of the tracks which is very helpful especially in keeping your tracks organized without putting much effort. Let me guide you on how to use AMusicSoft Spotify Music Converter by following the simple steps below.
Step 1: This program is available for both Windows and Mac. On your device, launch the browser and search for the official website of AMusicSoft. This is where you can find and download the AMusicSoft Spotify Music Converter application. Install it on your device right after.

Step 2: After that, you can add the songs on the AMusicSoft Spotify Music Converter. To do this, you can just copy and paste the link or drag and drop the chosen music files.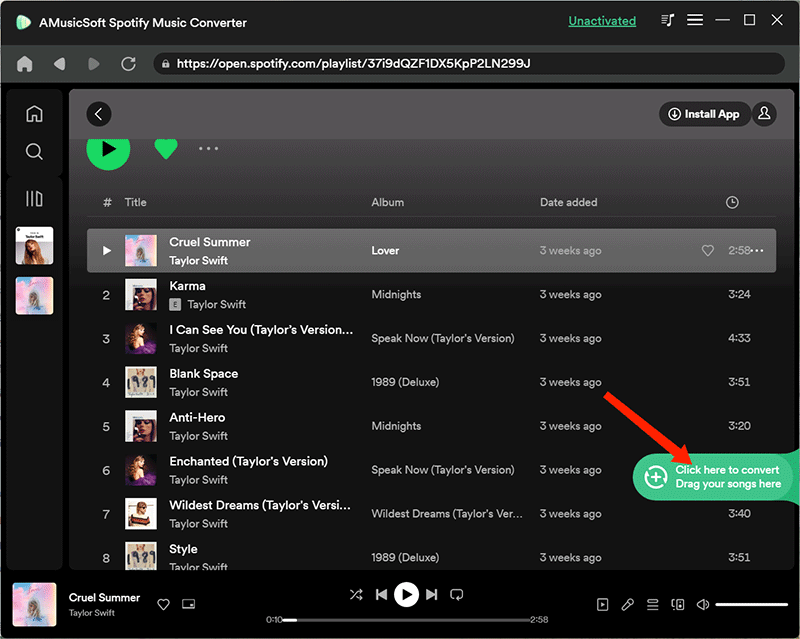 Step 3: Next, you can select the output format that you desired. Usually, it is advisable to use the MP3 format. You can also adjust other settings if you want to and you can decide which destination folder you want your converted songs to be seen or saved.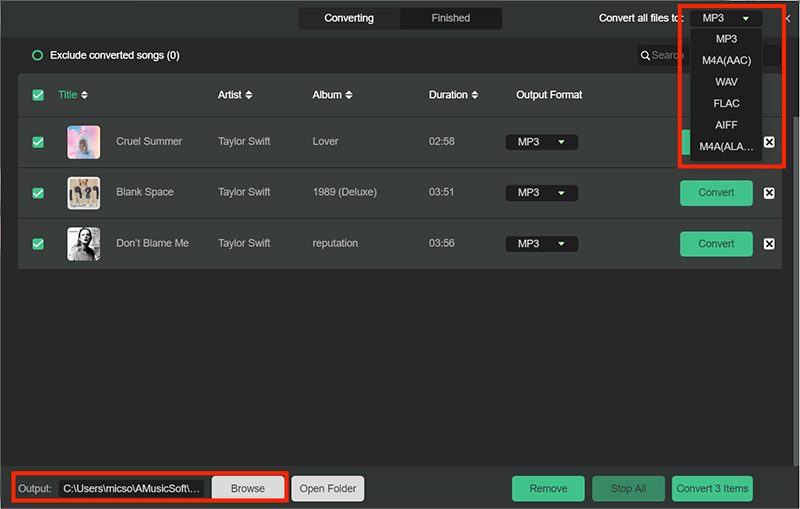 Step 4: Finally, when everything is all set, you can begin the process of converting your Spotify music, albums, and playlists to MP3 by clicking the "Convert" button. The time for the whole process to be complete depends on the volume of files you downloaded or want to convert. Once the conversion is done, you will be able to see the files that you converted to your chosen destination folder previously.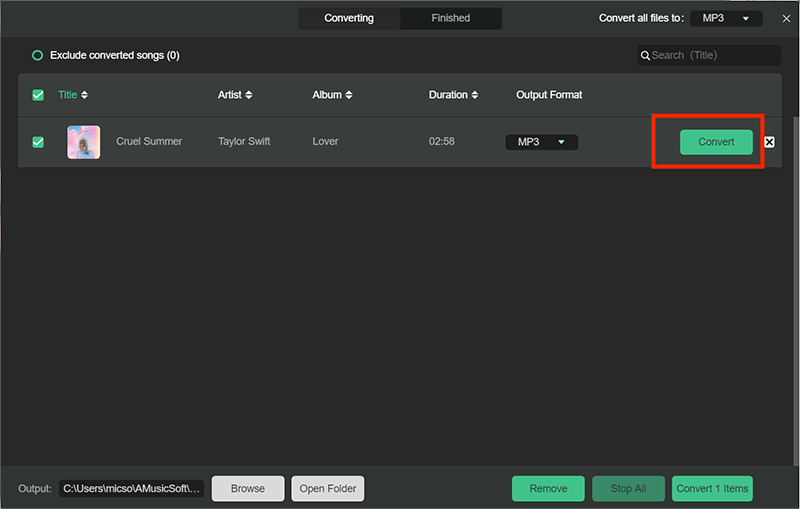 Conclusion
It might sound impossible to download Spotify and convert it to MP3 but by using Spotify to MP3 converter free online or offline program, it is easier for you to have your Spotify as MP3 and play it on any of your devices. You also found out about an amazing converter which is the AMusicSoft Spotify Music Converter.

In this way, you can have and keep as many Spotify tracks as much as you want. I hope you had fun with your discoveries! Now AMusicSoft offers a free trial, click the download button to export your music anywhere!