Spotify is one of the popular music streaming services there is now in the market that allows users to access millions of digital music as well as a podcast, and video from various artist all over the world. As a Spotify user, perhaps you are also curious if there is Spotify to MP3 converter free solutions that you can do so you can download your favorite tracks for offline use or for you to save your cellular data.
Luckily, I have good news for you because you can absolutely get your desired playlist with the methods that I will mention in this post. I will provide you details on what these ways would be which includes tools and online services that you can use. So, what are we waiting for? Let's start grabbing your favorite Spotify tracks now!
Contents Guide Method 1. Converting Spotify to MP3 using Spotify RecorderMethod 2. Converting Spotify to MP3 by using an online converterMethod 3. Converting Spotify to MP3 by using ALLToMP3
Part 1. How Do I Convert Spotify to MP3 for Free?
There are many ways on how you can convert your Spotify to MP3, some of these are Spotify to mp3 converter free software or online converters. I listed here some of the methods that will be helpful for you as well as their pros and cons, so you can select which one will work the best for you or will fit your preferences.
Method 1. Converting Spotify to MP3 using Spotify Recorder
If you are a Mac, Windows, or Linux user, one of the methods that you can try is by using a Spotify to mp3 converter free software which is Audacity. I know some of you might have already heard about it or perhaps been using this software for some time now, but this can also help do the trick.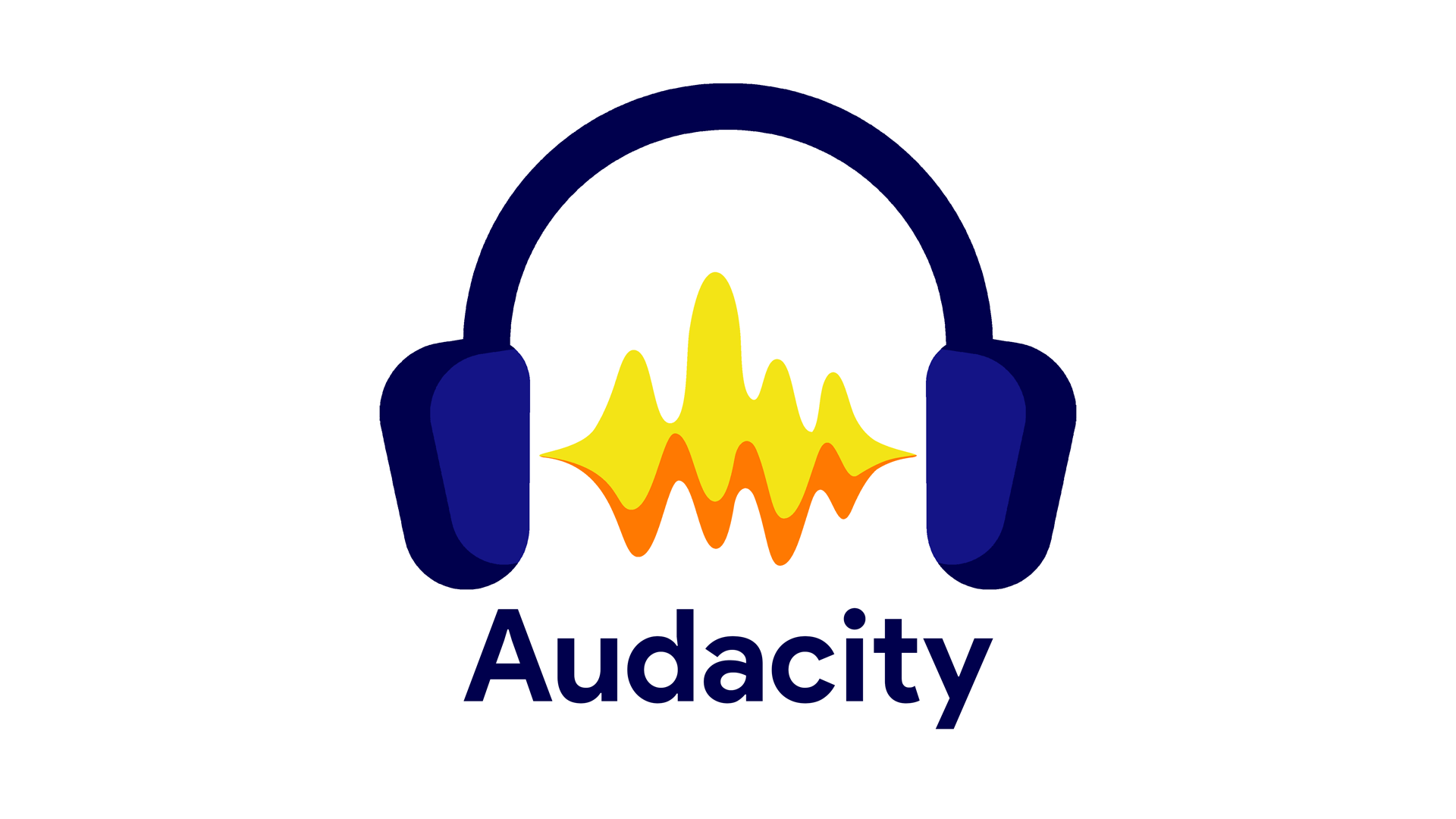 Audacity is a professional tool that adopted advanced technology for recording as well as for digital audio editing. This program serves as a recorder for your Spotify so you can convert it to MP3 easily. So, here are the steps to follow how-to record then convert your Spotify to MP3 for free using Audacity but make sure that you already installed the software:
Open your Audacity. Click on the "Edit" button that is located on the upper left toolbar. Then choose "Preferences", next go to "Audio Host Box and click the "Windows WASAPI" button.
Next, click on "Transport", then select "Transport Options" and click "Software Playthrough" so you can turn it off during the recording. Select the "Options" button to change the export format to MP3.
When everything is all set, click the red "Record" button and start playing your desire Spotify music that you want to convert to MP3. This will be a real-time recording. Once the recording is completed, just press on the 'Stop' icon so your recordings will be saved on your computer.
Pros:
You can record music from your Spotify and also using the microphone, or other sources
It is available in Linux and it is for free.
Can include ID3 tag info on the output files of your Spotify
Cons:
Beginners might find it difficult to use.
It will consume your time because the process is a real-time recording
Can't detect metadata instantly
Method 2. Converting Spotify to MP3 by using an online converter
There are also converters which are also available online, two of these are Apowersoft Free Online Audio Recorder and Spotify & Deezer Music Downloader - Chrome Extension. But one thing to consider is that the quality of the audio might be affected while converting since there is no software to be installed. Now, let's discuss these Spotify to mp3 converter free online resources.
1. Apowersoft Free Online Audio Recorder
Apowersoft is an audio online recorder that is lightweight and allows you to save your audio recording either using your microphone or computer's sound card to MP3. Once you recorded the Spotify music that you want to MP3 online, this downloader lets you make changes with the audio's output info such as the artist, title, genre, artwork cover, etc. However, if it is your first time using this online converter, you have to install this small launcher to make sure the recording process will be smooth.
Pros:
This converter supports Spotify output format to MP3, AAC, WAV, FLAC, etc.
You can include ID3 tags on the recordings.
You don't have to install additional software on your computer and is it absolutely for Free
Cons:
There might be a sound quality loss while recording
Can only automatically identify the music information when using the Pro version.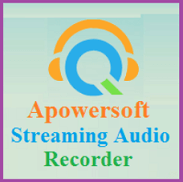 2. Spotify & Deezer Music Downloader - Chrome Extension
Another Spotify to mp3 converter free available online is the Spotify & Deezer Music Downloader - Chrome Extension, as the name describe it a Chrome free extension that can download songs from two music streaming service such as Deezer and Spotify and convert it to MP3. All you have to do is to download Spotify online using a Chrome browser then use the web player of Spotify.
Pros:
Allows you to download almost 70% of Spotify's music catalog absolutely for free.
Cons:
There is a heavy loss of the quality of the sounds.
128kps is the maximum quality of outputs
May crashes often and is unstable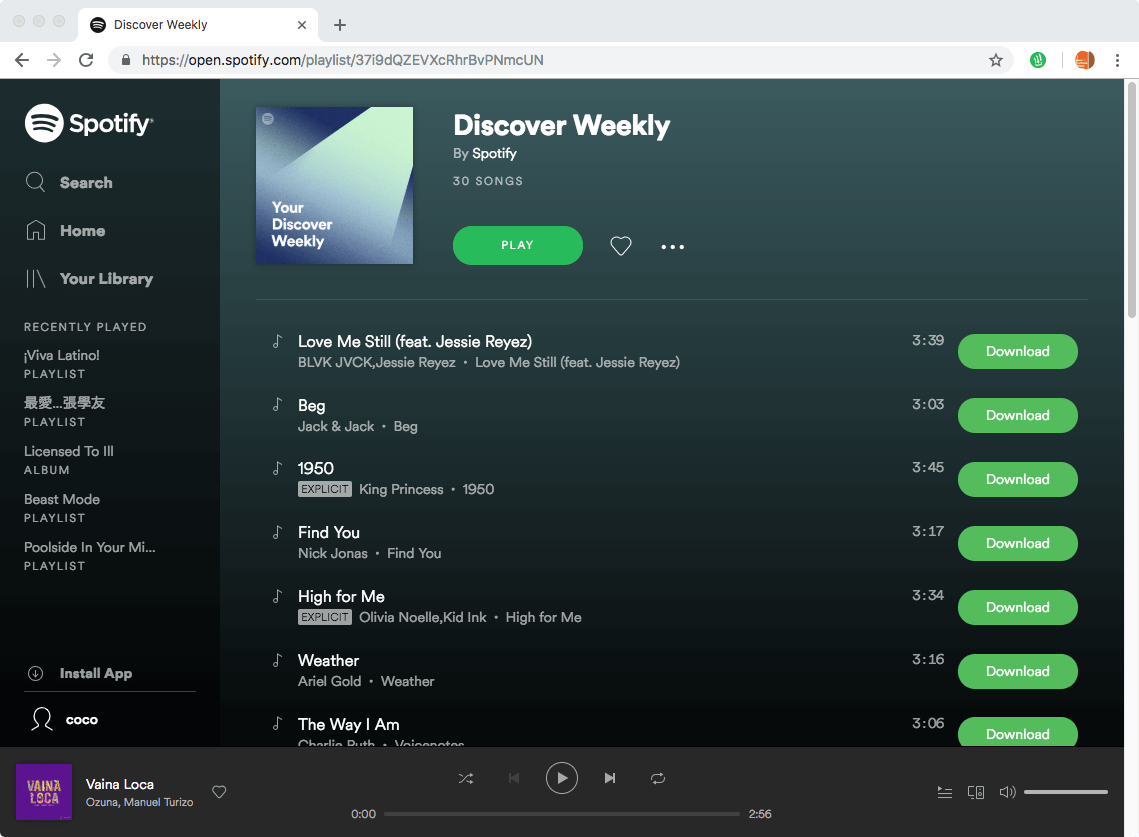 Method 3. Converting Spotify to MP3 by using ALLToMP3
AllToMP3 is also an open-source program that is similar to Audacity but is more user-friendly and lighter than the latter. By using this software, users can also download and save MP3 not only from Spotify but also to three other famous sites for music streaming in 256kps. Same with Audacity, it is also available in Linux, Mac, and Windows.
Pros:
Available in Linux, Windows, and Mac. Easy-to-use and absolutely for free.
Can save downloaded songs from Spotify to MP3 in 256kps.
Maintain the album art, lyrics, and also ID3 tags.
Cons:
Real-time conversion is unstable and may cause your computer to stuck up.
Before downloading, this application may crash.

Part 2. What Is the Best Spotify to MP3 Converter?
Another way for you to convert your Spotify to MP3 is with the use of a professional Spotify to mp3 converter free tool which is the AMusicSoft Spotify Music Converter. We recommend this tool because not only it converts your Spotify to MP3, it can be also useful if you want to remove the DRM protection of your Spotify tracks which allows you to play the songs anytime and keep them as long as you want. This means that you don't have to worry about your subscription on Spotify because it is no longer restricted, you can also listen to your tracks even if offline.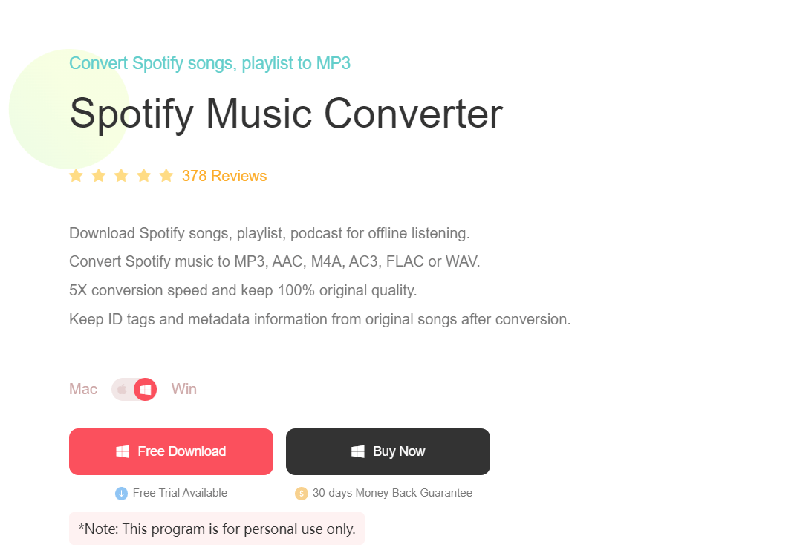 AMusicSoft Spotify Music Converter lets you download your favorite songs, playlist, and album in groups and convert them to your preferred formats such as MP3, FLAC, WAV, and M4A. Once you have converted the tracks that you like, it will produce a soft copy in which you can freely transfer to any devices that you have.
Moreover, what's good about this tool is that it maintains the ID3 tags and metadata of the tracks which is very helpful especially in keeping your tracks organized without putting much effort. If you want to try this amazing tool, you can visit its official website and download its installer, this program is available for both Windows and Mac. You can also get to know more information about AMusicSoft Spotify Music Converter there.
So, given that you already have the software installed. Let me guide you on how to use AMusicSoft Spotify Music Converter by following the simple steps below.
Step 1: Run the Spotify Music Converter
Launch AMusicSoft Spotify Music Converter on your computer by clicking the shortcut key on your desktop wait until it loaded.
NOTE: See to it that your Spotify is closed before you open AMusicSoft Spotify Music Converter and also, do not do anything on Spotify while converting the songs.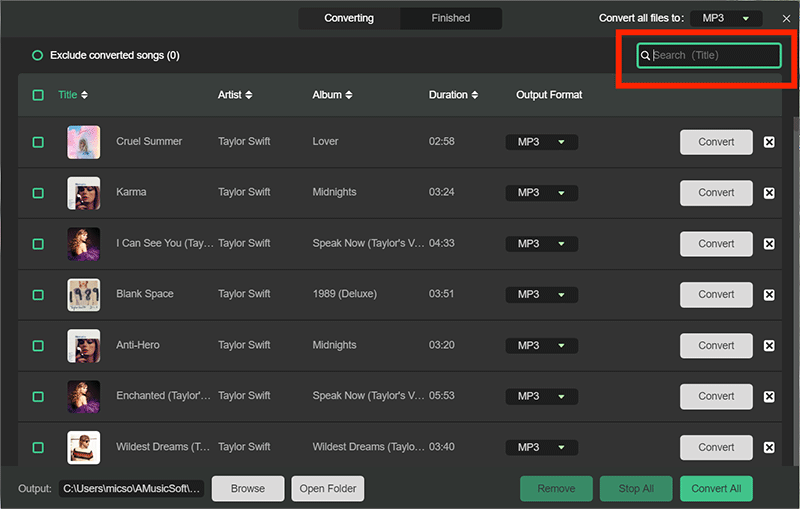 Step 2: Drag your Spotify tracks And Select the Output Format
After that, you can add the songs on the AMusicSoft Spotify Music Converter by dragging and dropping the songs, albums, or playlist on the interface. Next, you can select the output format that you desired. Usually, it is advisable to use the MP3 format. You can also adjust other settings if you want to and you can decide which destination folder you want your converted songs to be seen or saved.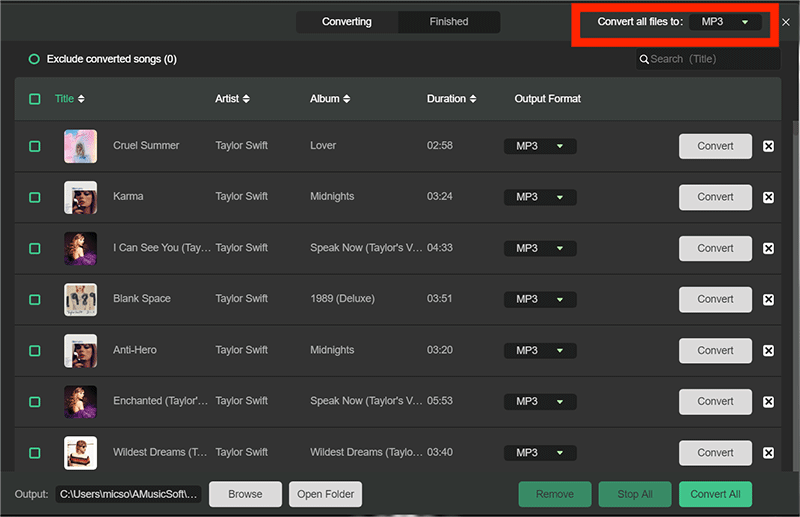 Step 3: Convert your Spotify to MP3
Finally, when everything is all set, you can begin the process of converting your Spotify music, albums, and playlists to MP3 by clicking the "Convert" button. The software is known for its x5 conversion speed however, the time of the whole process to be complete depends on the volume of files you downloaded or want to convert. Once the conversion is done, you will be able to see the files that you converted to your chosen destination folder previously.
At last, after following the above step and with the use of this Spotify to mp3 converter free tool, you can enjoy listening and playing your Spotify tracks offline and also to any devices without worrying about your Spotify subscription.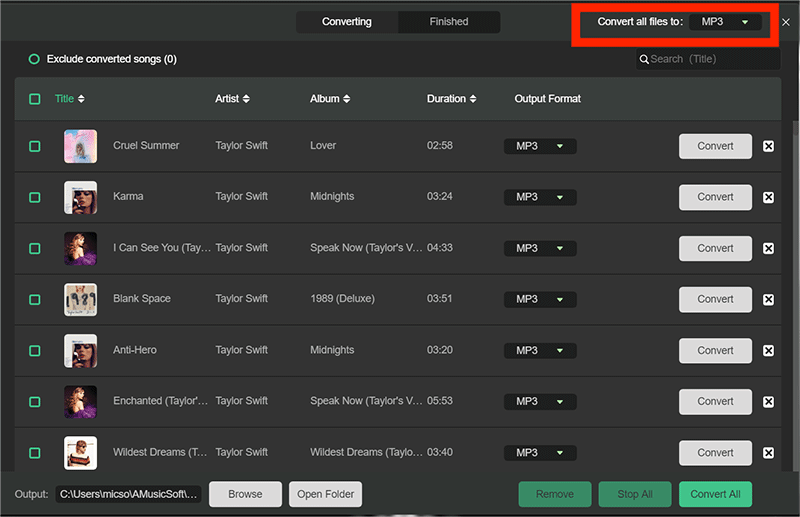 Part 3. Spotify to MP3 Converter Free on Android
Apart from using the software and online converter that we've discussed earlier, there is another way to convert Spotify to MP3 which you can also do using your android smartphones directly. Two of these apps are Fildo and Telegram. I will further explain both apps below along with the steps on how to use them.
1. Fildo
Fildo is an exclusive Spotify to MP3 converter free app for Android that can you can use directly. If you want to try this, its APK is available for download on its official website. Here's how to convert Spotify to MP3 using Fildo.
Download and Install Fildo APK on its website then once installed open it on your Android device.
Go to the "More tab" that is located at the bottom of the app, click it then select "IMPORT SPOTIFY."
You will be asked for your log in details in Spotify, enter account information then wait until it finished loading your playlist present in your Spotify library.
Once your playlist has been loaded, you can click on the dots next to the song so you can download it to MP3.
After finishing the steps above, you can finally enjoy your downloaded MP3 Spotify songs on your device as well as you can even use and set this as your ringtone.

2. Telegram
Telegram is known as a free messaging app that's available for both Android and iOS users. But do you know that you can also use this to download music from Spotify and converted it to MP3? Yes, you've heard it right! You can do a little trick using this app and here's how.
First, download and install first the Telegram app on your smartphones.
Next, Select the Spotify playlist or song that you like and copy its link.
Then, open your Telegram. Enter and type "Spotify Music Downloader" in the provided search bar. Next, hit the bot after the results showed and tap on the "START" tab located at the bottom of the screen.
In the chatting bar, paste the link from Spotify that you copied then tap on the send icon.
The bot will respond with a message that contains the song along with a download icon which you can tap on so you can able to download it on your device.
After downloading and following the steps above for each app, you can now enjoy playing your Spotify MP3 on your Android and even iOS device.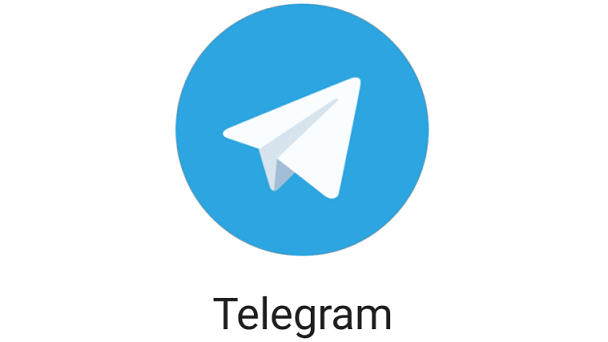 Part 4. Conclusion
It might sound impossible to download Spotify and convert it to MP3 but with the use of these Spotify to MP3 converter free solution, it makes it easier for you to have your Spotify as MP3 and play it to any of your devices.
You also found out about an amazing converter which is the AMusicSoft Spotify Music Converter. In this way, you can have and keep as many Spotify tracks as much as you want. I hope you had fun with your discoveries!