Many music streaming services surfaced in the market recently and every company tries to produce and improve the existing services that other music service offers for them to attract music enthusiast. One of the music streaming services that is getting popular is Tidal.
Tidal is said to be the first music service that offers High Fidelity sound quality by music journalists and because of this, some people want to experience that kind of music quality. However, it is tiresome to start creating your playlist again, for example, if you are a Spotify user, I guess you prefer to transfer Spotify playlist to Tidal if there is an easier way so that it won't take you so much time to select that songs that you already have or saved in your Spotify app and preventing you to begin from scratch.
Well, if this is one of your reason then this post can help you with that. Here, we will guide you on different possible ways to Transfer Spotify Playlist to Tidal from using a special too, through online transfer and with the use of a mobile phone. You can choose from those options which one is suitable for you. (Some of you may be interested in streaming Spotify tracks to Apple Music, we can give you detailed instructions.)
Contents Guide Part 1. Is Tidal Quality Better Than Spotify?Part 2. Get Spotify Playlist without Premium and Transfer to Tidal.Part 3. How to Transfer Spotify Playlist to Tidal Online?Part 4. Transferring Spotify Playlist to Tidal on Phone DevicesPart 5. To Summarize
Part 1. Is Tidal Quality Better Than Spotify?
Recently, Tidal won the product of the year in 2019 under the streaming service category What Hi-Fi? Awards over Qobuz, Netflix, Deezer, and Spotify. This means that Tidal's service is really outstanding. Now, let's compare Tidal with Spotify. It is said that the difference between the two is that, Tidal focuses more on the connection between artist and listener whereas Spotify focuses on an individual who wants to explore and discover new songs that they can share with other people. (Are you curious about how to download your favorite songs on Spotify without a subscription? We can offer you help.)
When it comes to quality, Tidal Premium has this "high quality" offers at AAC 320 kbps, you can also pay for a high-end Tidal Hi-Fi which will cost you $19.99/month, this includes access to a lossless content that is the same as CD-quality streams. Moreover, its music streaming with a bitrate of 1411kpbs and in the format of FLAC files with 16bit and 44.1kHz which make it far different when it comes to high audio quality from other rivals. On the other hand, Spotify offers a normal quality at 96kbps option on mobile phones but it also has a "High quality" free version at 160kbps and "Extreme quality" at 320kbps which cost $9.99/month for much better listening quality.
And So, to speak, Tidal is by far has the better sound quality than Spotify, especially if users are looking for a piece of hi-fidelity music. You can also appreciate this when you start playing Tidal Music using an external speaker, you can distinguish the difference in the audio quality. So, I guess if you are looking for better audio quality, try to consider Tidal too.
Part 2. Get Spotify Playlist without Premium and Transfer to Tidal.
If you wonder, if it is possible to transfer Spotify playlist to Tidal without premium? Yes, it is! all you need is to have this special tool which we definitely recommend which is the AMusicSoft Spotify Music Converter.
So, to give you an overview, this software is an all-in-one converter that can convert any Spotify tracks into various formats such as M4A, WAV, FLAC, and MP3. The reason why this software is what you need is that it also has this feature that can remove the DRM protection that is encrypted in each Spotify tracks which are responsible for why it is difficult to transfer playlist if you don't have a premium. Once this encryption is removed, it will be easier for you to transfer it to Tidal or any other device. Moreover, what's good about this, is that you can keep the converted songs as much as you like even you are out of a subscription.
In addition, this tool is known for its conversion speed of x5 and even with such speed, it doesn't affect the quality of the songs as if it still the original one. Aside from that, it keeps the ID3 tag as well as the metadata, so you can still keep your tracks organized right after conversion. So, if you want to try this amazing tool for yourself then just visit their official website and download its installer there.
Here's the guide on how to transfer Spotify playlist to Tidal using AMusicSoft Spotify Converter given that you already installed the software.
Step 1: Upload Spotify Playlist to AMusicSoft Spotify Converter
Launch the software on your computer, wait until it loads your Spotify App. Log in to your personal Spotify credentials and proceed to your music library. Select the songs that you wanted to convert either by dragging and dropping.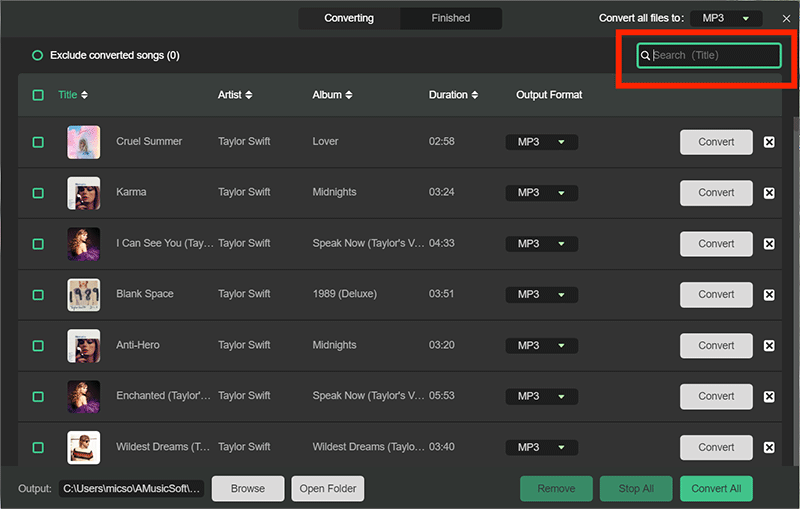 NOTE: See to it that you closed your Spotify app before you open the software and do not perform any changes to your Spotify while throughout the process.
Step 2: Choose the Format and the Destination Path
Once you selected the song, it is time to set your preferred format as well as the destination path where you want it to save the soft copy of the music files.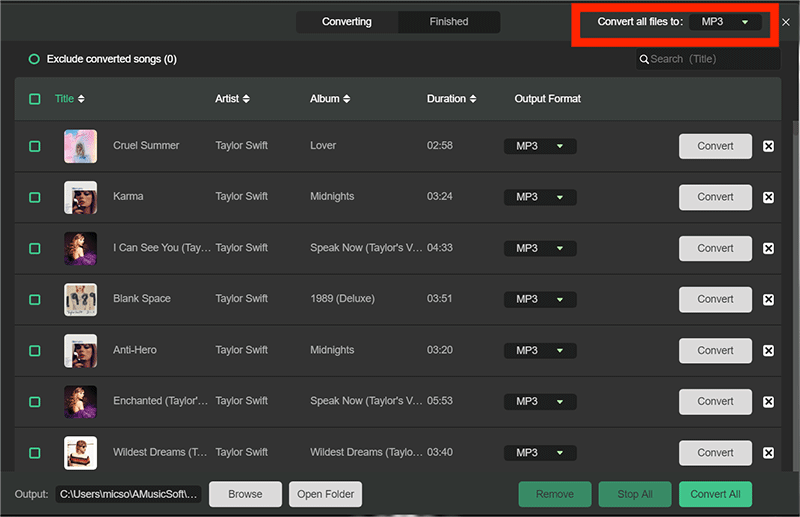 Step 3: Click the "Convert" Button to Start Converting Your Spotify Tracks
Once you are satisfied with your selected songs and the format, you can begin the process conversion by clicking the "Convert" button. The conversion time will be based on the number of files you converted.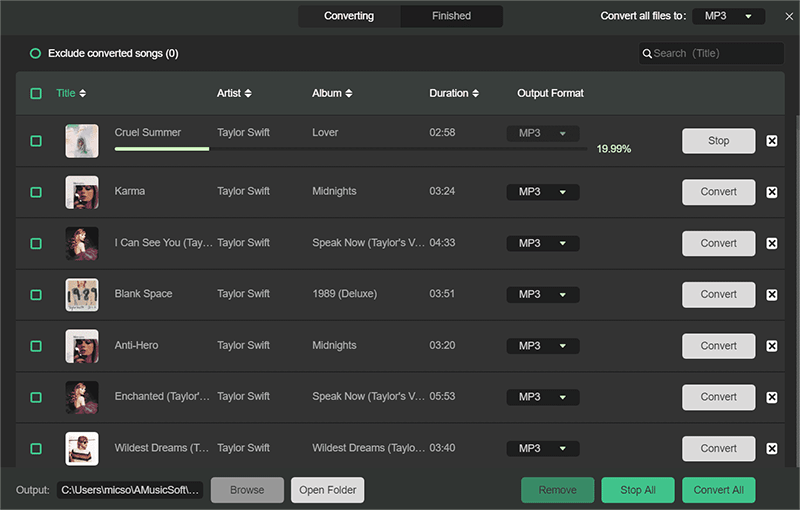 Step 4. Begin to Transfer Spotify Playlist to Tidal
Launch your Tidal on your computer, then just simply copy your converted Spotify playlists and paste them all to your Tidal folder. After that, you can finally enjoy your Spotify playlist on your Tidal for free! At the same time with wonderful high-quality music which you can listen to anytime and anywhere.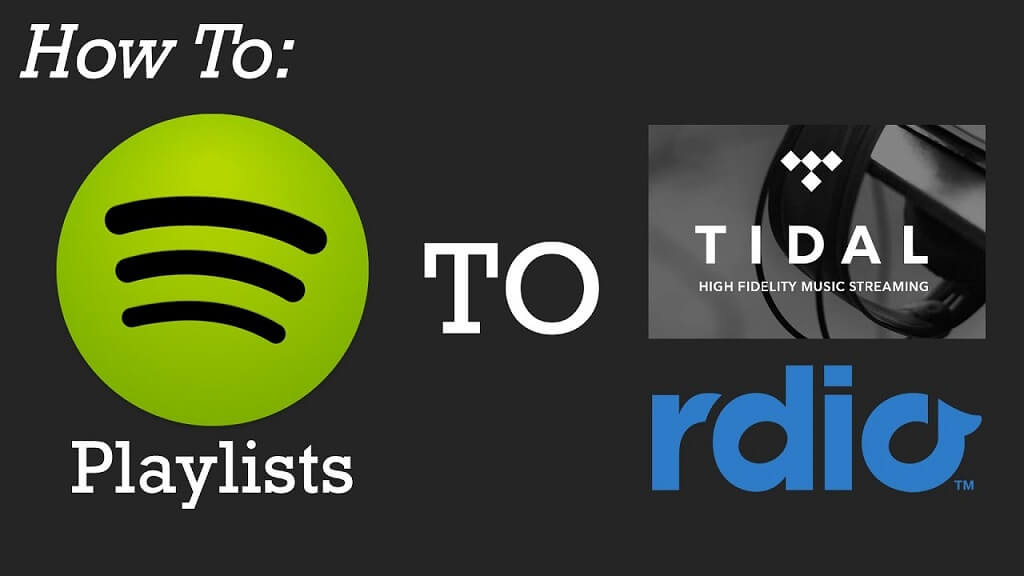 Part 3. How to Transfer Spotify Playlist to Tidal Online?
Do you know that you can also transfer Spotify playlist to Tidal online? Yes, you can! If you want to use this method, the one that we suggest is the Soundiiz. This online transfer can save you from the hassle as well as the time of transferring your favorite playlist from one streaming platform to another because Soundiiz is the one who will be going to do it for you!
So, as I mentioned earlier Soundiiz is an online tool that can transfer songs between music services. Do you know that it actually supports over 25 music services such as Spotify, Apple Music, Tidal, Qobuz, Deezer, SoundCloud, and more! It means that you have many options that you can choose from and you can also use this when you have other music streaming services that you want to transfer from one platform to another. Moreover, users find this tool also convenient because it allows you to sync in a daily frequency the playlist in between music platforms.
Now that you have an idea of what Soundiiz is, let me guide you on how to stream Spotify playlist to Tidal using this online tool using the following steps that I provided below.
Log in to your Soundiiz account. Create or Sign up if you still don't have an account.
Next, select the Platform to platform which is located at the left part of the screen.
Choose the streaming platform from which you want to get the playlist or the source of music you want to import. In this case, we will choose Spotify as the source platform.
Afterward, choose your preferred Spotify playlist or favorites that you like or prefer to import to TIDAL.
Then, you have to set TIDAL as the platform where you want to transfer your selected playlist.
Finally, let Soundiiz do its job! It is just easy as that.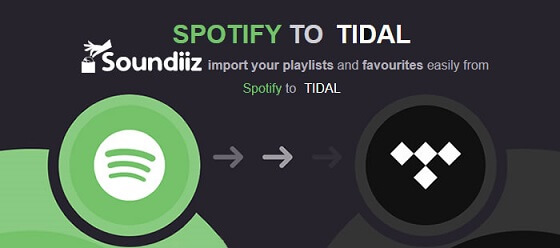 After you finish following the above steps, your Spotify tracks are now accessible too on your Tidal account. You can now freely listen and have a great time listening to your music in a high-quality experience. In the next section we will discuss another method that can help you transfer Spotify playlist to Tidal, so just keep reading.
Part 4. Transferring Spotify Playlist to Tidal on Phone Devices
In addition to the two methods mentioned above, there are also services or apps available on your mobile phones that can aid you to transfer Spotify playlist to Tidal. Yes, you read it right! Your phone can also be used as a tool for this. To make it easier for you, I listed below two of the useful apps which I recommend, that you can use or try to import your playlist or favorites to Tidal from your Spotify as well as the steps on how to use it.
1. FreeMyMusic
FreeMyMusic is one of the free apps that can help you transfer Spotify playlist to Tidal or even if you decide to use other music services. This app is compatible with both iOS and Android devices meaning you don't have to worry about which one you are using. So, here are the steps on how to use this app.
First, download and install the FreeYourMusic app. Open the app on your phone. Once opened, you have to set Spotify as the source platform, from there you can begin transferring your playlist music using FreeYourMusic.
Next, choose Tidal as the destination platform, wherein you will create a new playlist so that all the Spotify Music will be visible here.
After that, search for the albums, playlists, or tracks and choose all the music that you desire to transfer and move from your Spotify to Tidal.
Viola! You finally transferred the Spotify playlist to Tidal. You can start playing and enjoying these tracks on your Tidal in a high-quality experience.
2. Songshift

Another useful app that you can try is Songshift. However, unlike the FreeYourMusic app, the Songshift app is only available for iOS users, you can use this if you want to transfer Spotify playlist to Tidal on your iPad or iPhone effortlessly. So, want to know how to use this app? Here's how just see the following steps that I provided below:
First, download and install Songshift on your device, then launch it wait until it loaded. Once the app is opened, find and select the '+' icon so that you can choose the Setup Source.
You will be directed to the next screen wherein you have to select and add Spotify by tapping on Connect Music Service.
After that, you can set Spotify as the source and you can also choose the playlist or favorites that you want to transfer to Tidal.
Once you selected the playlist from your Spotify, you can now proceed and set Tidal as your destination platform.
If necessary, just keep repeating the same procedure when asked for you to give permission to Tidal. You can also have a chance to decide whether you will merge from the existing playlist or create a new one. Once done, just simply click on "I'm Finished".
It is as easy as that with the use of the above steps and methods you can finally listen and play your Spotify Music to Tidal using your mobile phones.
Part 5. To Summarize
Had fun knowing there are many ways to transfer Spotify Playlist to Tidal? I hope that this article gives you the information and the knowledge that you need. You can also use other methods like AMusicSoft Spotify converter in many ways. This software can be handy especially if you have to do things that are related to Spotify such as converting songs to different formats, removing the DRM, and also so you can transfer your Spotify Music to other devices.