Spotify, a giant music streaming service, is one of the most popular in its field. It operates on a freemium model. This means you can use the service for free. But, you can also opt for the paid packages for more features.
The premium version of Spotify comes with unlimited playback free of advertisements and unlimited skips. But, a lot of users ask how can you play Spotify on multiple devices simultaneously? In this way, they can take advantage of the features at any device at the same time.
But, is it really possible to play Spotify on multiple devices simultaneously? This guide will guide you through the said question regarding the music streaming giant founded in 2006. Plus, we will teach you a way around the problem, thus answering your query regarding the matter. Don't worry, we've got you covered. So, let's start jamming that music!
Contents Guide Part 1: Can You Play Spotify on Multiple Devices Simultaneously?Part 2: The Best Way to Play Spotify Music on Multiple DevicesPart 3: Other Ways to Play Spotify on Multiple DevicesPart 4: Conclusion
Part 1: Can You Play Spotify on Multiple Devices Simultaneously?
So, can you actually play Spotify on multiple devices all at the same time? The answer to this question is both a YES and a NO. Are you confused? Well, that's okay. We'll explain our answers below.
First, if you play by the rules, you "cannot" play Spotify on multiple devices simultaneously. One account can only play on one device at one point in time. That's what Spotify wants and they probably want it to stay that way. However, there's a way around this. Actually, there are five major ways around this. The first technique, we will discuss in this section. The other techniques will be explained in the following sections of this article.
The first way around it is to get a Spotify premium subscription. A standard plan will cost you $9.99 monthly while a student package will cost you a discounted price of $4.99 per month. If you wish to opt for a Family package, it will cost you $14.99 per month for six members of the same household. Now, once you get a Spotify premium on one account, you should start to download songs for offline listening on one device. Then, turn off the Wi-Fi for that device once the tracks are downloaded.
Here comes the magic! One device will be connected to the Internet using the same account. You can play on this device for as long as you want. While the other device, the one which doesn't have an Internet connection, can also play songs offline. That's it! You're playing on both devices simultaneously.
So, for instance, you have a computer that plays using the Internet on Account X. Now, your Android device will have to play the songs on the same account (Account X) while on Airplane Mode. But, of course, you have to download the songs for offline listening first.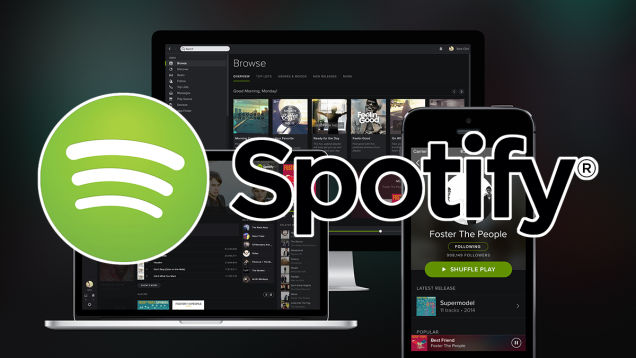 Part 2: The Best Way to Play Spotify Music on Multiple Devices
If you want to play Spotify music on multiple devices, what you can do is to grab these tracks and make sure they are transferred to the devices you want to play them too. So, how do you download these tracks if you're going for thousands of music, albums, and playlists?
You can use AMusicSoft Spotify Music Converter to download and convert thousands (or even millions) of albums, playlists, and tracks from the music streaming giant. Multiple output formats are supported including FLAC, M4A, WAV, and MP3. The DRM protection of these Spotify tracks is removed giving you your soft copies you can move to multiple devices instantly. ID3 tags and metadata are preserved keeping your tracks, albums, and playlists organized for future use.
Plus, once you grab the songs from Spotify, it is not necessary to purchase the monthly or annual subscription packages of the streaming service. The quality is preserved 100%, meaning, there is no quality loss experienced compared to other Spotify Music Converters out there. And, you don't have to wait long periods of time just for the conversion process to be complete. This is because the conversion speeds are 5x faster than the standard rate of other converters in the market.
Here are the steps on how to use AMusicSoft in order to play Spotify on multiple devices:
1. Download, Install And Launch The Tool
Your first step would have to be downloading the software from its official website. There are versions for both Mac and Windows operating systems. After that, it is necessary to open the installation file and follow the prompts on the screen to install the software. Once that is finished, you have to launch the software on your macOS or Windows computer.
2. Drag-And-Drop, Then Select Output Settings
The next step involves a drag and drop of the songs, playlists, or albums you wish to convert towards the interface of the AMusicSoft Spotify Music Converter. You can choose the output format that you wish afterward. For music tracks, it is suggested that you choose MP3. You can adjust other settings as well. Then you have to choose a destination folder where you want your files to be saved.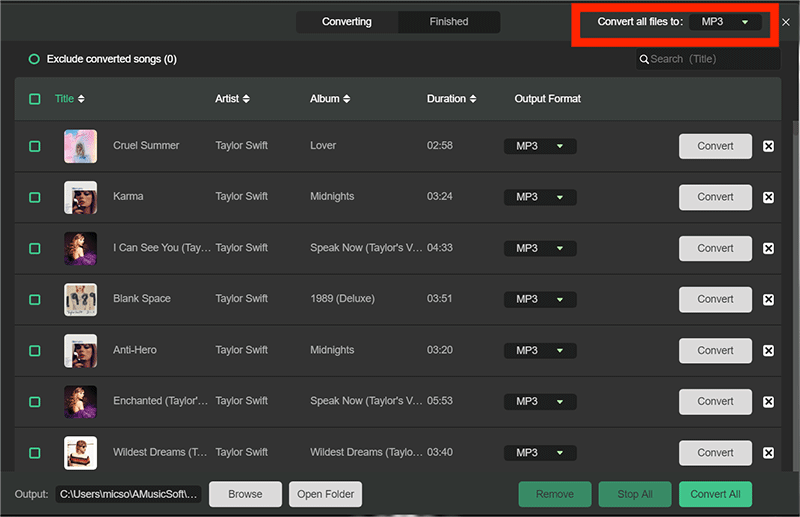 3. Convert Your Tracks to Chosen Output Settings
The final step involves clicking "Convert" in order to start converting your Spotify music, albums, and playlists to your chosen output format. You will notice that it has very fast conversion speeds. However, it will still depend on the number of files you wish to download or convert. Once the conversion process is done, you will see the files on the destination folder you have chosen in the previous step.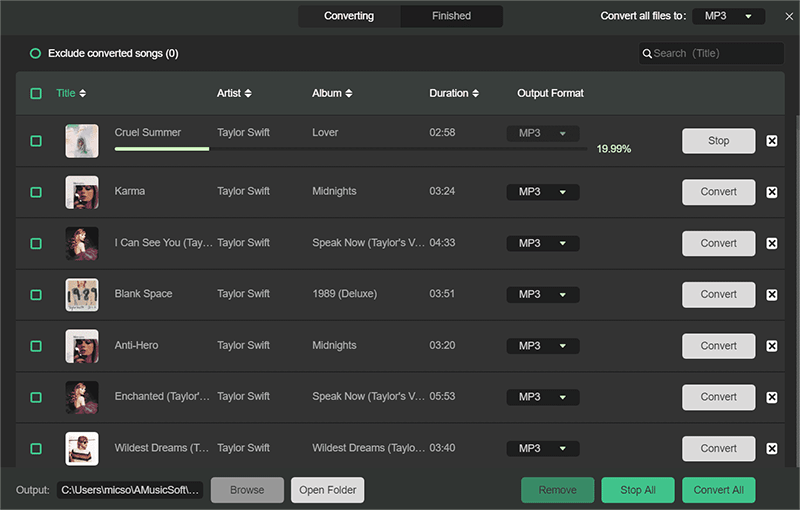 4. Transfer to Multiple Devices And Start Listening
Now, once you are in the destination folder of these tracks, you can copy and paste them (or transfer them) to other devices such as Android and iOS phones. You can also transfer them to other computers. Now, you can start to play Spotify on multiple devices with ease.
As you will notice, AMusicSoft Spotify Music Converter supports multiple languages making it easy to understand by a lot of people from around the globe. The settings are customizable allowing you to choose the output quality and modify other options to your liking. Plus, the drag-and-drop method is an easy process allowing for straightforward conversions.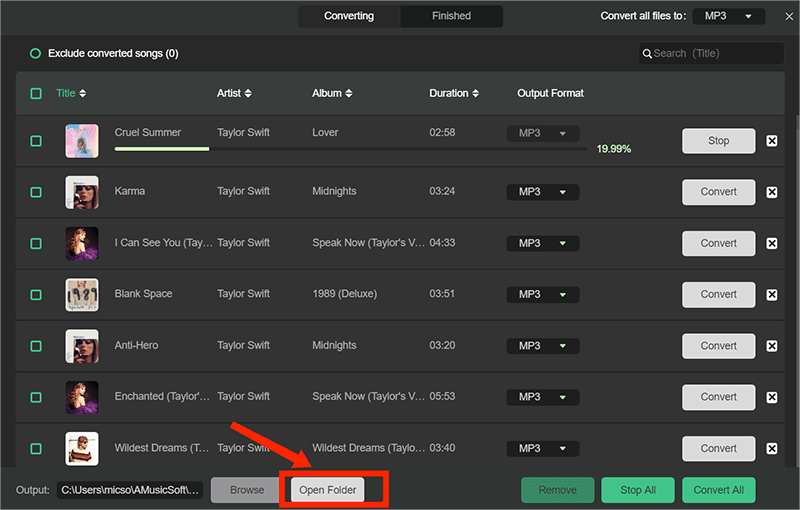 Part 3: Other Ways to Play Spotify on Multiple Devices
There are other ways to play Spotify on multiple devices. We will be showing you these ways in this section of the article. These ways can be implemented by anybody, even those who are not technically savvy. Check them out below:
Method 01: Using Premium Subscription + Offline Listening
The first "other" method refers to the one we have mentioned previously. In your premium subscription, you would need to download songs for offline listening in one device. This device would have a Wi-Fi connection off afterward. Then, you can simply play it on the device without the Internet connection while simultaneously playing it on another gadget that has an Internet connection. Simple as that.
Method 02: Using SoundHound to Play Your Playlists
Spotify has already terminated their partnership regarding lyrics with that of Musixmatch. However, they have been implementing ways to support third-party applications and help them detect so these apps can show lyrics for users who wish to see them. One such partnership they have is with that of SoundHound. This third-party app is similar to Shazam allowing you to display lyrics of songs from Spotify. However, there's something interesting about using it.
If you have subscribed to the Premium version of Spotify, the third-party app SoundHound has the ability to play the playlists without having an effect on your app for Spotify. In this way, you can play Spotify on multiple devices.
Here's how to do it step-by-step:
Download SoundHound from the Apple App Store or the Google Play Store and install it on your mobile device.
Launch the app and then tap on the button for "Play." This is located in the lower right part of the interface.
Press the button that says "Connect With Spotify".
Now, make your own SoundHound account and then allow it to gain access to your premium Spotify account.
Once these are finished, you can select a playlist from Spotify and follow it. Then, press "Spotify" as the streaming service you prefer. Now, you'll be able to play Spotify on multiple devices easily!
Playlists that play on SoundHound won't affect or even pause your Spotify account. Thus, you can use two devices all at the same time if you wish. In this way, you can also have two different speakers that will play two songs if you want to. The best thing about this is that when you use it, you won't have to listen to advertisements. This is because you are using a premium Spotify account. However, you will notice that the full features of Spotify won't be experienced with SoundHound.
You won't have the ability to search for different tracks. And, you won't be able to turn high-quality audio on. If you wish to listen to a specific track within SoundHound, you would have to visit the Spotify app. Then, you simply add the track towards the playlist before you are able to play it back within SoundHound.
Also, SoundHound is available for both Android and iOS. So, it is important to know that this trick will work on laptops and mobile devices. However, it won't work if you're going to use two different computers to play Spotify on multiple devices.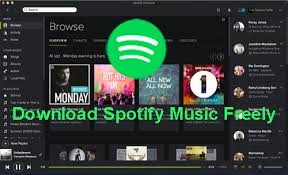 Method 03: Using Spotify's Family Plan
If you want to play Spotify on multiple devices, you can opt for a Family Plan. This costs $14.99 per month and allows up to six different premium accounts for members of the same household. This will allow you to play on two different devices with two different accounts sharing the same package you paid for.
It is important to note that the playlists for each account will differ. However, you can make these accounts follow the same playlists if you want to. You just have to do it manually. The best thing about this is you can share your package with other members for up to six different accounts.
It's more expensive compared to a standard account. However, it's still a better value compared to buying an entirely new account just to play Spotify on multiple devices. You'll save more money plus you can give accounts to other people within your household as well.
Method 04: Using Multiple Speakers
If you want to play Spotify on multiple devices because you want them to play the song in different rooms, the tricks above can be useful. However, these are not necessary to get what you want to achieve. Instead, it is recommended that you utilize Spotify Connect which allows you to play from the speakers of your phone, including Spotify's official roster of speakers it supports. When you use one of the speakers in the list, you can connect them to a single audio source and these will play the track on these speakers.
For instance, you can use different smart speakers such as Google Home and Echo Dot. These can be linked together to play a song from a single source. Thus, you don't need to get a totally new account with Spotify if you simply want to spread your songs across rooms within your house.
Part 4: Conclusion
We have given you the top five methods on how to play Spotify on multiple devices. For instance, you can use smart speakers, you can also use a premium Family account. As such, there is still one best way to do it.
We are referring to using AMusicSoft Spotify Music Converter to get the job done. The beauty of this method is you don't have to get a subscription once you have the tool. You simply grab the tracks from Spotify and copy them to personal devices you own. Getting AMusicSoft Spotify Music Converter is easy. Plus, you are sure that your entertainment needs will be satisfied with whatever device or gadget you use. Get AMusicSoft Spotify Converter now!