Spotify is one of the music streaming services that can be accessed and available to various devices like smartphones, smart speakers, tablets, and PC that's why many are also using this app, and because of the advancement of technology, would you believe that you can also play Spotify on PS4 now?
Yes, you read it right! You can listen to your favorite Spotify songs at the same time playing a game on your PS4. Of course, we can also play Spotify on various devices. If you haven't tried it before or having trouble playing Spotify on your PS4 then this article can help you with it. So, without further ado, let's get started!
Contents Guide Part 1. Why Won't Spotify Play on My PS4?Part 2. How to Play Spotify on PS4?Part 3. How to Play Spotify on PS4 without Linking Error?Part 4. Conclusion
Part 1. Why Won't Spotify Play on My PS4?
Some may encounter difficulty playing their Spotify songs on PS4 and it could because of these reasons: First, perhaps your PS4 is still not updated to its newest version so make sure you have the latest version, secondly, maybe your internet connection is unstable, or your Wi-Fi is not, it also could be that your music volume on your PS4 console or TV is not turned up or therefore better check that as well, and lastly, maybe you just need to restart your Spotify app on Ps4 so it will work.
But if ever you already did the appropriate measures and still you can't play Spotify on PS4, don't worry because we have a solution for that which we will discuss as we go along with this post.
Can't Link Spotify to PS4?
If you are having problems linking Spotify to PS4, it could be possible that you already linked your PSN on Spotify account before because if ever, you really won't be able to play it if there is another account that is linked. I included here the steps on how to log out your Spotify as well as all user account on PS4 and, also how to activate Spotify on a particular PS4 account
Steps on how to log out of your Spotify
1. Launch your PS4 user account where your Spotify is playing.

2. Open Spotify and log out of your account then close it.
3. Lastly, the most important is to log out all your PS4 accounts.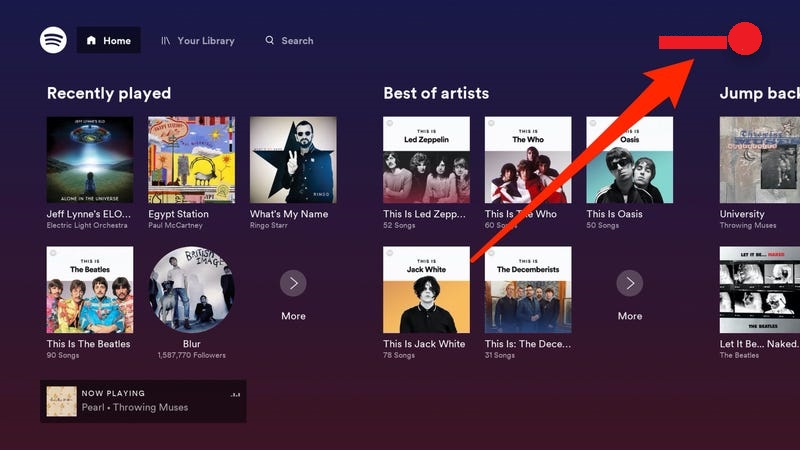 Steps on how to activate Spotify on a PS4 account.
1. Login to your PS4 account where you like to use your Spotify.
2. Launch Spotify and just enter your login details then that's it!
Part 2. How to Play Spotify on PS4?
So, now let's try to play Spotify on PS4. I provided you a guide that you can refer to in case you haven't played any Spotify tracks before on your PS4.
1. Connect Your Spotify to PS4 with Your Phone
Launch your Spotify, but first, you have to make sure that the application is already installed on your PS4. Then select its icon on your PlayStation's main menu so you can access your Spotify Account. You can also try to use Spotify connect which's available on your Spotify application and this is also considered to be the simplest way you can do.
To use Spotify connect
1. Open your Spotify app on your device, check if the device is connected to your PS4, If so, login to your account details and start playing.
2. Once it starts playing, click on Spotify Connect and choose PS4 on your list of devices.
3. Then a notice is going to appear on your TV, just answer it with agree.
4. After that, your PS4 will instantly be connected to your Spotify account making you able to play and listen to your favorite Spotify tracks on TV.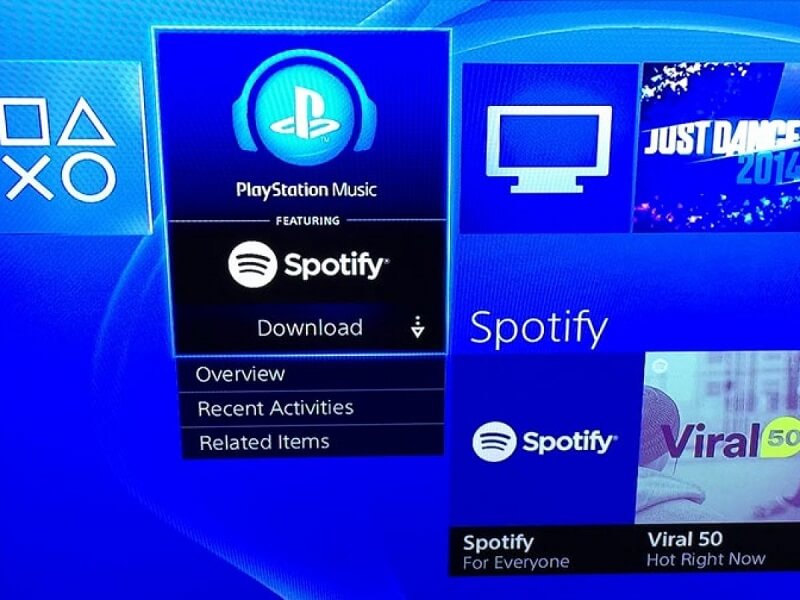 2. Use Spotify on PS4
Now that you have connected your Spotify on your PS4, let's now proceed on how to use and play Spotify on PS4. It is somehow intuitive how Spotify can be used on PS4 and even the free version of Spotify can access certain services like selecting the song the user wants to listen to (although from time to time, there are advertising messages that pop in).
However, if you are planning to create or edit playlists then unfortunately these two functions are only available for the Spotify app on tablets, PCs, and mobiles.
Therefore, what you will find from the application's main section is the summary of the contents and playlist that is being recommended by Spotify. If you are already played a song, then you will be going to see it on the lower-left portion of the screen, and on the upper screen are the other options like Your library, Search, Update, and your Account.
When you will click the account, you are going to find there is a button that can Activate your Playstation from Spotify. With the use of tablets, PCs, and smartphones thru Spotify connect, it also can allow users to "wake up" their console if it is already in sleep mode.
Apart from that, listening to Spotify songs in the background while playing games is one of the interesting parts of having Spotify on PS4. With the use of your console's controller, you can do things like pausing or resuming the song that is currently playing just by pressing the triangle button, pressing R1 and L1 to play the next song or the previous one respectively, you can also adjust the volume by pressing the square button and so on.
3. How to Disconnect Spotify from PS4
If you think of disconnecting your Spotify from the PS4 console, you also have the freedom to do that. All you have to do is to follow the steps below:
1. Open your Spotify app for PS4 with the use of your controller.
2. Then on the upper-right screen, choose the name of your account
3. Lastly, select and click on "Log Out."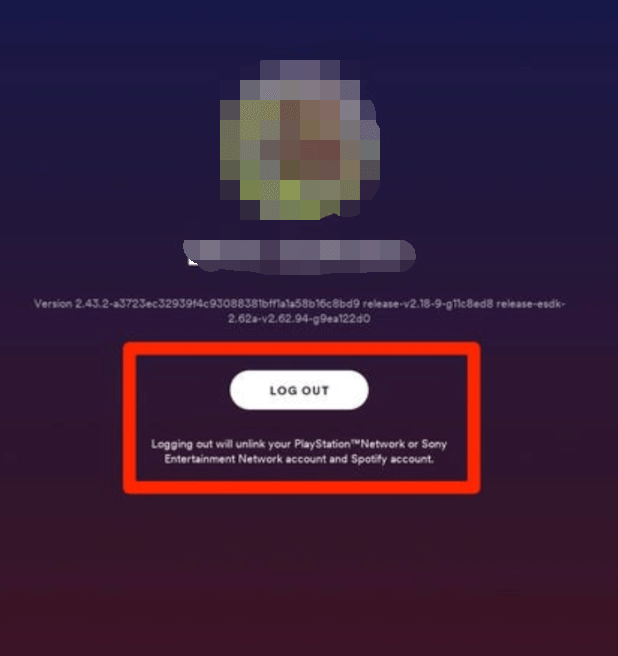 That's it! So easy right? You have successfully disconnected your Spotify account from PS4
Part 3. How to Play Spotify on PS4 without Linking Error?
There is another solution that I can suggest If you want to play Spotify on ps4 without linking error but first, you must have this professional tool which is the AMusicSoft Spotify Music Converter. This software helps you to download any songs that you like on Spotify and what's good about this is it doesn't require you to have a premium account for you to download the music.
One feature of this program is it can make your Spotify tracks DRM free which means that once it is no longer protected, you can just easily transfer them to any device that you want and, also you can keep them for yourself as much as you want to because it is no longer restricted.
Moreover, AMusicSoft Spotify Music Converter doesn't only downloads but also can convert your songs to any format of your preference like MP3, FLAC, WAV, etc. If you want to add local files to Spotify, please click here. If you worry about the quality of the song, then rest your mind because even this tool has a conversion speed of x5, still it maintains the quality of the songs. Aside from that, it also keeps the ID3 tag and metadata of each song making your tracks still organized.
So, if you're interested in this software just visit their website to download the installer and you will learn more about it there. Once you downloaded and installed it, just see the steps below on how to use AMusicSoft Spotify Music Converter and how to play Spotify to ps4.
Step 1. Select Songs from Spotify and Transfer Them to AMusicSoft Spotify Music Converter
Open your AMusicSoft Spotify Converter on your computer. Once opened, log in your Spotify details if asked then it will automatically load your playlist from Spotify. Next, choose the songs that you want to transfer, you can directly drop or drag them off the program's interface.
Step 2. Change The Output Format and The Output Path
After you selected the songs, you can freely set the output format that is supported by your device and, also the output path where you want to save the converted songs.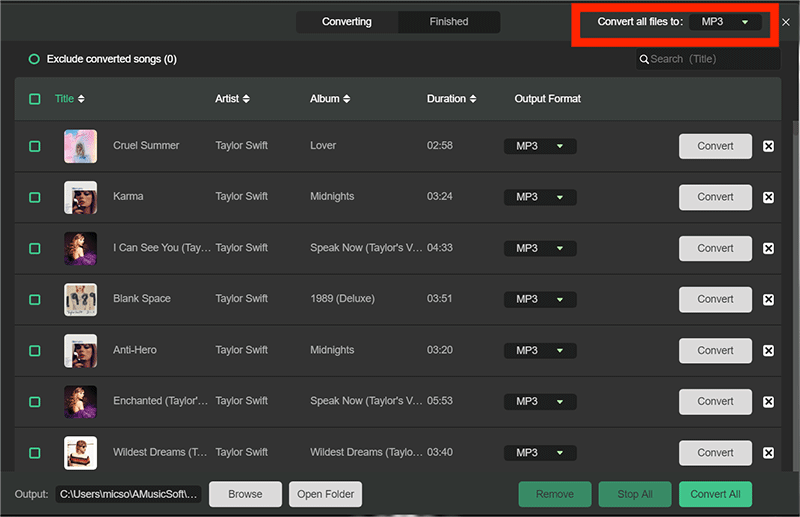 Step 3. Start The Process by Clicking The "Convert" Button
Once everything is all set, click the "Convert" button to start converting. Even if it has a speed of x5, the length of the conversion will vary according to the number of tracks that you are converting. Don't worry because the status can be seen on the main interface so you will be aware of it.
Step 4. Transfer Your Converted Spotify Songs to Your PS4
When the conversion is done, connect your computer to your PS4 using a USB cable, then go to your set output folder and transfer your converted songs to your PS4. With this method, you can finally Play Spotify on PS4 without Linking Error.
Part 4. Conclusion
You may find it difficult at first to play Spotify on PS4 but as you finished reading this post, you've realized that it is not that hard after all. You've learned much information like what could be the cause if you can't play Spotify on your console and how to troubleshoot it, logging and activating your account on PS4, linking and unlinking Spotify on your console, etc.
Apart from that, you learned another way of playing Spotify on PS4 without linking error by using AMusicSoft Spotify Converter. I hope what you've learned here can make your Spotify music experience more enjoyable using your PS4. That's all for now, see you again in my next post!