If you are looking for a music service that accesses millions of songs Spotify is your go-to choice. Spotify is immediately appealing because you can access content by simply signing up using an email address or by connecting with Facebook. However, does Spotify cost money? You'll find the details in this article. In this article, we will explore what it is, if Spotify cost money, and also if it's worth the money charged. Let's get into it!
Contents Guide Part 1. What is Spotify?Part 2. Is Spotify Free?Part 3. How Much is Spotify Premium?Part 4. How Can Download Spotify for Actually Free (Without Premium)?Conclusion
Part 1. What is Spotify?
Does Spotify cost money? Before we explore this question, let's know about what is Spotify. In simple terms, Spotify is a digital music streaming service that has instant access to an online collection of podcasts, music, and playlists. All songs of all genres and artists are available on Spotify. Whether you want to rock or reggae or hip hop they are all available in a well-organized format. For podcasts, you can listen to all manner of podcasts from crime stories to motivational speakers among others.

Spotify supports a wide range of devices. It can be accessed on the web player, desktop apps (available for Chromebook, Linux, Mac, and Windows), or mobile apps (available for Android, and iOS). You can also find Spotify on TVs, set-top boxes, smartwatches, and home video game consoles.
Part 2. Is Spotify Free?
Does Spotify cost money? You can use Spotify completely free of charge. Just download it from Google Play Store or Apple App Store. The basic, ad-supported version of Spotify is completely free. It offers unlimited access to the full catalog of music and podcasts but comes with a few drawbacks.
Listening to music on Spotify is entirely free, but you see banner ads within the official apps and hear the occasional audio ad between songs as a trade-off. These can really kill your groove if you're listening at a party. You're also limited to just a few song skips, and audio quality is slightly lower at 128kbp/s with the web player and 160kbit/s on desktop and mobile. If you're the kind of music lover who doesn't mind turning on your speakers and letting Spotify take control, Free might still be right for you.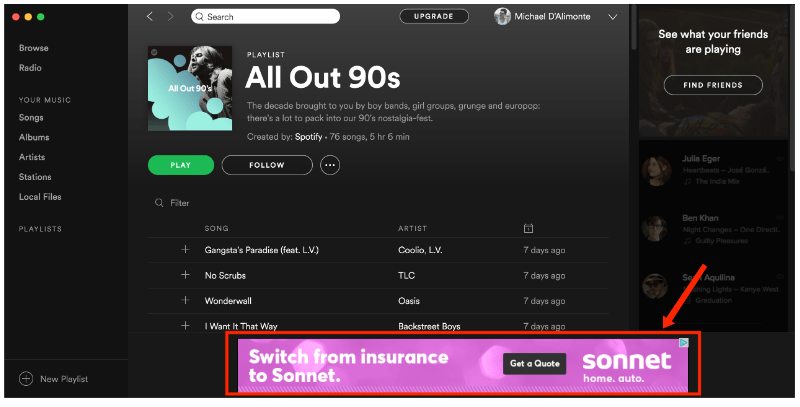 If you are looking for a way to evade the adverts, also enjoy high-quality music and then you need to pay is the essence of the premium version. It comes with no banner ads and also you enjoy up to 320 Kbit/s of sound quality. You can also download millions of songs for offline usage but get to know that if you cancel the subscription they become inaccessible. Unlimited skipping is a plus for the premium version. 6 skips per hour are what to expect in this plan. So, how much is Spotify Premium? let's break it down in the next part.

Part 3. How Much is Spotify Premium?
If you need to hear the latest songs, want full control over playback, save offline and avoid ads, Spotify Premium is more than worth the cash. does Spotify cost money? You can use Spotify for free, but its features are limited. You need to cost money to enjoy more features. Here is the answer to the question about how much Spotify costs in 2023.
Individual Plan- $9.99 per month
It's for single users. The Spotify Premium experience removes audio and banner ads. You can enjoy offline music listening and on-demand playback function. Premium offers a higher quality playback up to 320kbit/s. Premium users can listen to Spotify with up to five friends and take turns picking songs using the Group Session feature.
Duo Plan - $12.99 per month
Same features as Premium Individual. This plan includes two users within the same household. If you need a Spotify plan that only covers two people, Spotify Duo is the way to go.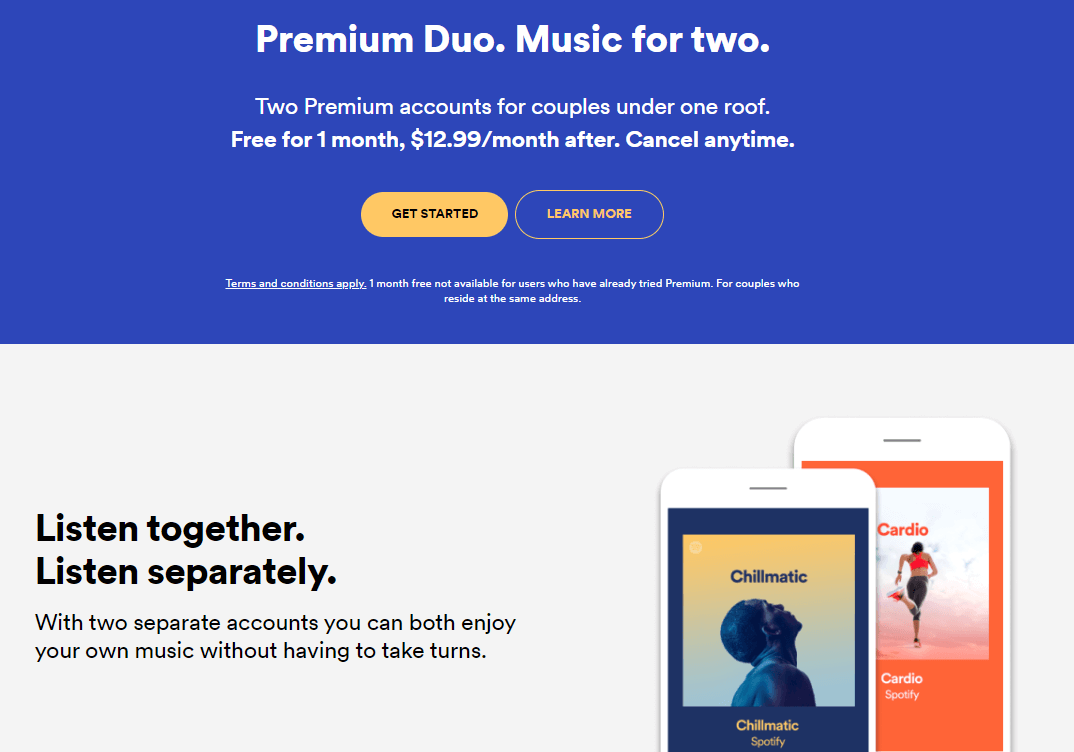 Family Plan- $15.99 per month
Same features as Premium Individual. Spotify's Family Plan grants six people individual premium accounts. Spotify's take on the family plan includes several cool features, such as Family Mix (a vulgarity-free playlist for your family) and Spotify Kids (a separate service aimed at children).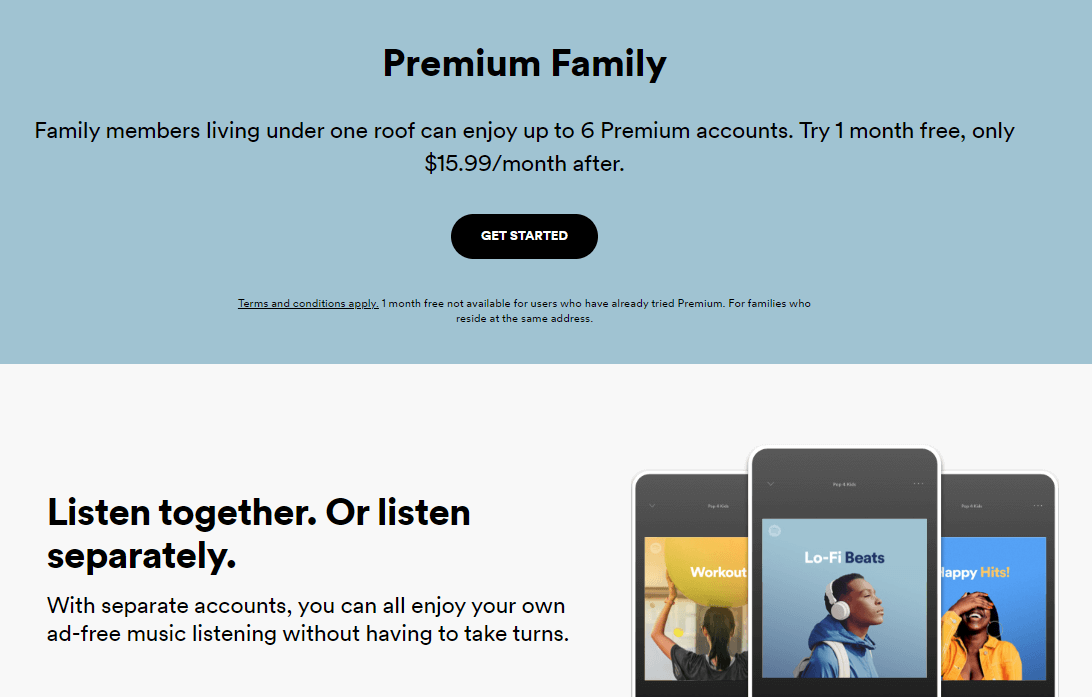 Student Plan- $4.99 per month
Same features as Premium Individual. This plan is available to students currently enrolled in an accredited college or university. This one also includes an ad-supported Hulu plan and SHOWTIME. Currently, there's no other streaming platform that offers this kind of deal.
Which is the best plan that suits you? All Spotify Premium accounts also offer a 1-month trial subscription, which is a pretty decent amount of time to get a real feel of the app and see whether you'd like to upgrade to a paid version or not.
Part 4. How Can Download Spotify for Actually Free (Without Premium)?
Does Spotify cost money? Spotify's free version won't cost you a thing. However, there are a few restrictions when compared to the paid version, Spotify Premium. But can you download music from Spotify for free?
Yes, as long as the device supports the Spotify digital solution then you can download the songs. The challenge comes when you want to play the music on offline version. Some of the music formats may be incompatible. That's why you need a toolkit like AMusicSoft Spotify Music Converter.
This app can do the removal of the songs' protection as well as aid in converting Spotify tracks to MP3 format that makes them flexible enough to be played on any device or media player. It also supports WAV, FLAC, AC3, M4A, and AAC. It has a fast speed and the ability to ensure lossless conversion.
You can then ensure that no quality loss will happen and that the important details of the tracks will be maintained and kept. Let us get to know the steps on how to use this very amazing Spotify downloader below.
Install the AmusicSoft Spotify Music Converter on your computer after completing and meeting all the installation needs of the app.
Afterward, you can begin adding the Spotify songs to be converted.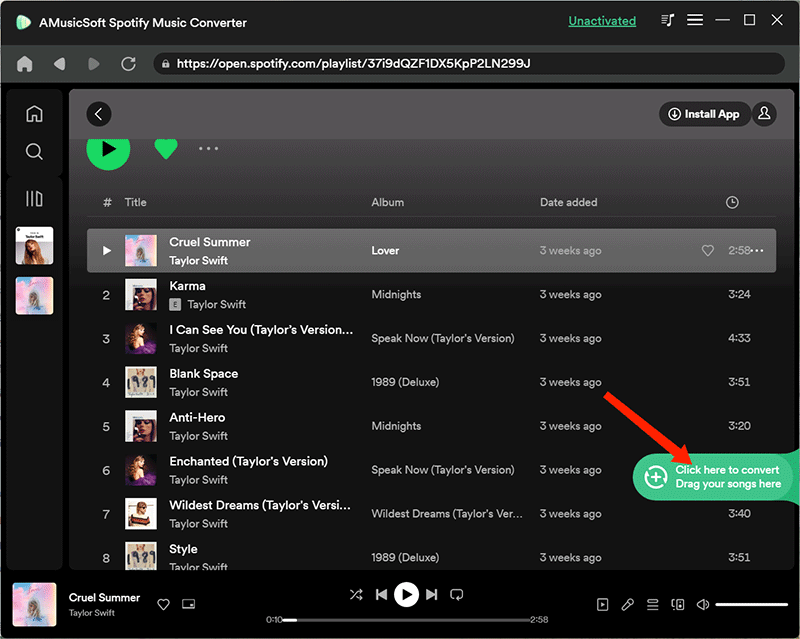 Choose the "Output" icon to choose the file formats among the list of the files that appear on the interface.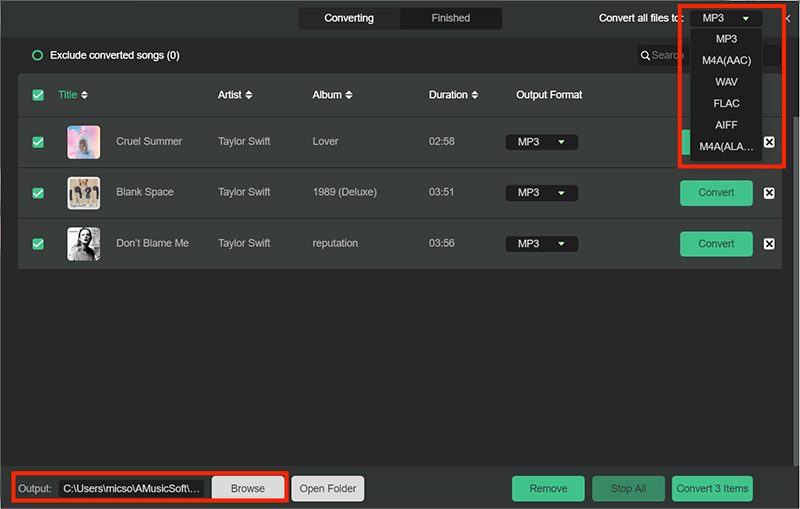 Choose the "Convert" button to start the conversion process and wait until its complete that you can see on the right side of the interface.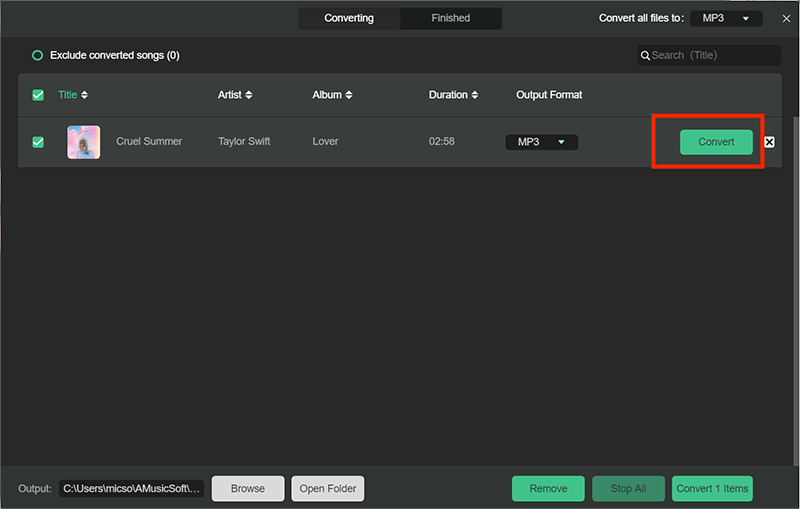 Conclusion
So does Spotify cost money? It does not cost anything if you're using the free tier. But naturally, this comes with a few limitations. The Premium tier of Spotify costs money. It has no ads and more selection of songs. You can also download songs for offline listening.
The best way to use Spotify free is with a Spotify converter tool. This tool is called AMusicSoft Spotify Music Converter. With this, you'll be able to download and convert Spotify songs even with a Spotify Free account. Through its use, everything that you wanted to listen to is possible, anytime or anywhere you are.

Robert Fabry
Apple Music, Spotify, Amazon Music senior users. Share various tips and solutions.
Last updated: April 12, 2023