Perhaps you have a scheduled flight or you are planning to go somewhere that requires long hours of travel and you are preparing the things you need so that you will not get bored throughout the journey. Then suddenly an idea pops up in your mind that is if can you listen to Spotify on a plane?
Most of us know, that not all airlines offer Wi-Fi while on board, and even if ever they have it, we have an idea that it would be costly. If you are looking for the solutions to this, well, congratulations because we will guide you through it. In this article, you will learn about how to listen to Spotify on a plane without WiFi or if you are a free user and don't have a premium. Moreover, you will get to know other music apps that you can use while in airplane mode. So, what are we waiting for? let's jump right into it!
Contents Guide Part 1. How to Listen to Spotify Music on a Plane Without WiFi?Part 2. How to Listen to Spotify Music Without Premium?Part 3. 2 Music Apps That Work on Airplane ModePart 4. Conclusion
Part 1. How to Listen to Spotify Music on a Plane Without WiFi?
How can you listen to Spotify on a Plane without WiFi? Well, most of us know that one way you can use Spotify even without WIFI is when you have a premium account because an upgraded account allows you to download any tracks in Spotify's music catalog and enjoy it offline. It is also applicable when you don't have a good internet connection. Here is how to enable Spotify Offline Mode so that you can listen to Spotify music on airplane.
Step 1. How to download your preferred songs
Open your Spotify and enter the details of your account.
Browse and select the songs, podcasts, or playlist that you wish to listen to while inside the plane. After that, switch on the download button so you can download the songs that you selected.
Now make your Spotify in offline mode.
Step 2. How to set-up your Spotify to offline mode

If you are using a PC: Click the three-dot icon on the right upper corner and then select "File". Once the drop-down list appeared, click "Offline Mode".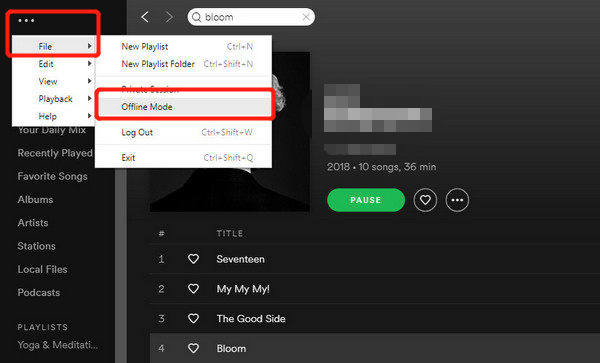 If you are using Mac: From the Apple menu, just simply click on "Spotify" then choose "Offline Mode".
If you are using your smartphone: Go to "Your Library" then tap on "Settings, after that choose "Playback" and just switch on the "Offline Mode"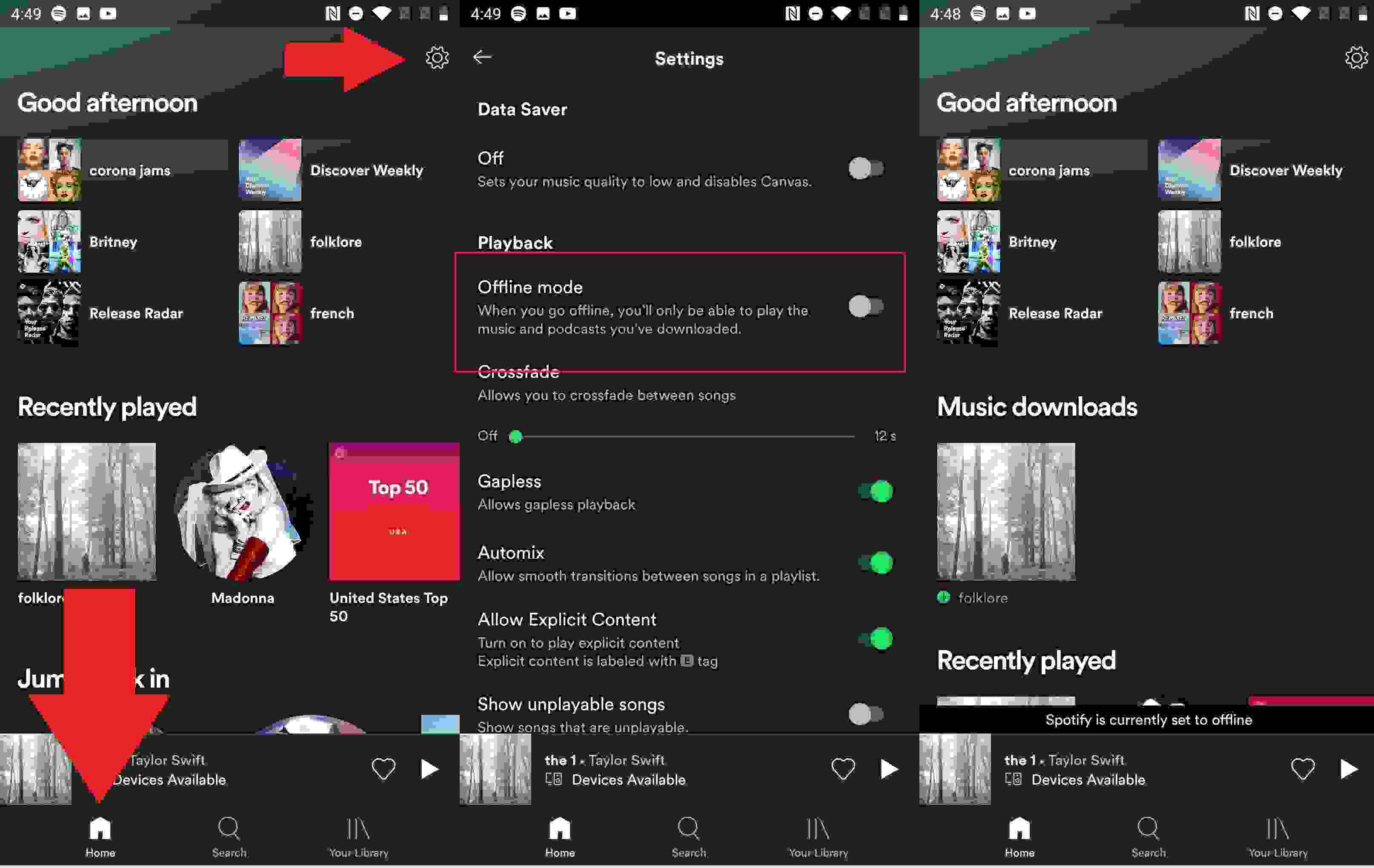 Once everything is set, you can finally listen to your downloaded Spotify songs comfortably while inside the plane in offline mode even you don't have WiFi.
Part 2. How to Listen to Spotify Music Without Premium?
What if you are a Spotify Free user, can you listen to Spotify on a plane? Yes, you can! All you have to do is to use this professional tool which is the AMusicSoft Spotify Music Converter. This software is capable of downloading any Spotify song because of its feature that can remove the DRM protection being encrypted on each track.
By removing DRM, you can now able to play and listen to any songs from Spotify's music catalog on any device even if you don't have a premium or in offline mode while inside the plane. Aside from downloading songs, you can also use this to convert your music to any audio format that you like such as MP3, FLAC, WAV, etc. As a bonus for you, since you already have the tracks DRM free and converted into a supported format, you can play converted Spotify playlists on Alexa. It also have them accessed effortlessly on other music players such as Sony Walkman, Android TVs, Xbox, Chromecast, Kodi, Roku and more.
It is also known for its conversion speed of x5 and even with such speed, it still maintains the quality of the song. Also, it keeps the ID3 tag and metadata of the tracks which makes your playlist still organized. So, if you are interested to have this tool then just simply visit their official website to download its installer which is available for Mac and Windows. After you download and install AMusicSoft Spotify Converter, how can you listen to Spotify on a plane? Just simply see the steps below on how to use the software.

Step 1: Run AMusicSoft Spotify Converter on your computer. Wait until your Spotify App is loaded then log in with your account details when asked. Next, select the songs that you like to use offline then drag or drop them on the software's main interface. It is worth mentioning that you can directly select your Spotify playlist to convert.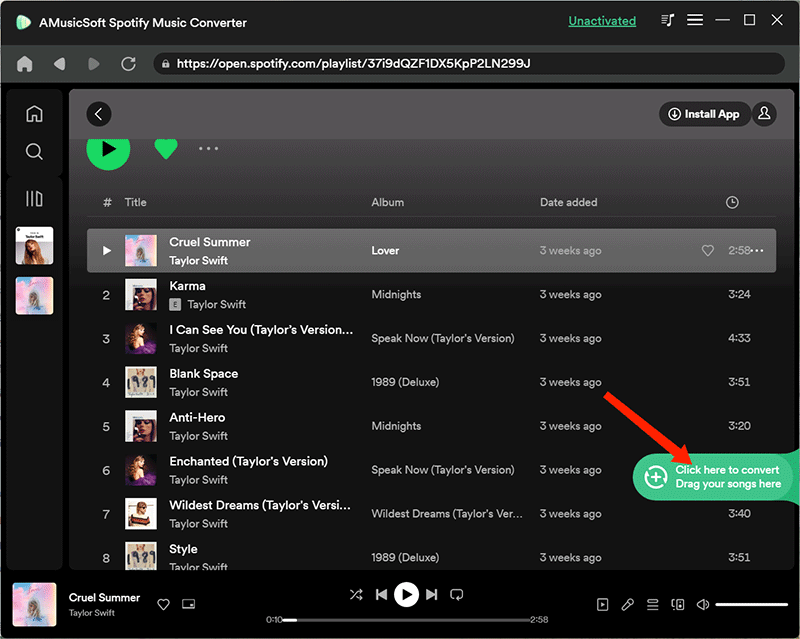 Step 2: Once you are done selecting the songs, you can now set the output format that is compatible with your device, as well as, the location where you want to save the soft copy of the tracks.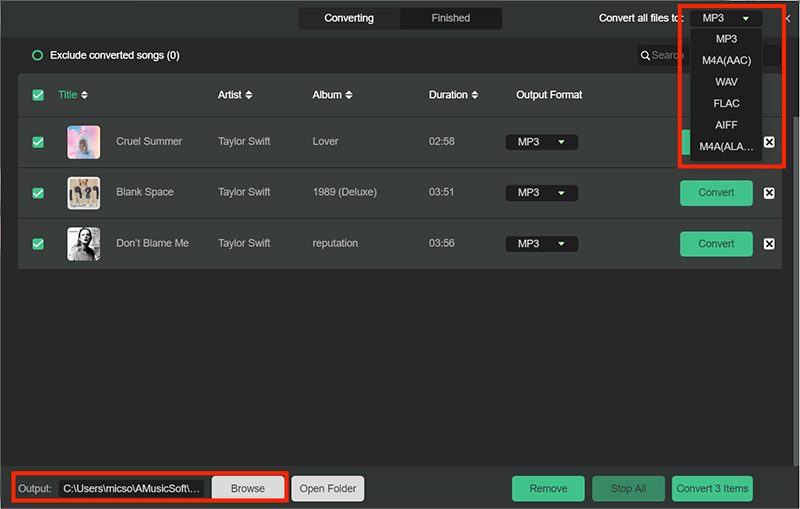 Step 3: When you are satisfied with the songs that you selected and also with the parameters, then we can now start converting it by pressing the "Convert" button. Take note that the length of the conversion will be based on the number of tracks you selected. When the process is complete, the converted songs can be viewed in the destination folder that you have set.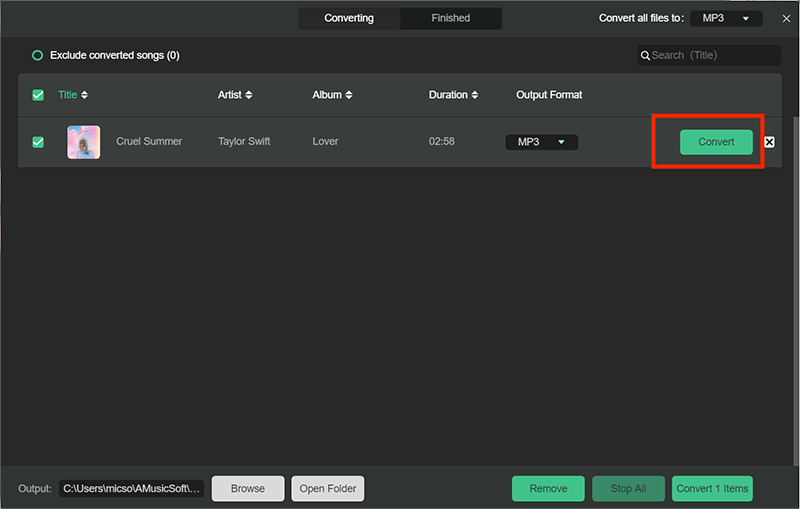 At last! You finally have your favorite Spotify songs even if you don't have a premium. Also, you can play and listen to them anytime for as long as you want while traveling inside the plane or even if you don't have a stable WiFi connection or data.
Part 3. 2 Music Apps That Work on Airplane Mode
Can you listen to Spotify on a plane? Now we know the answer is yes. Aside from Spotify, there are also other Music apps that you can use on Airplane Mode that is available for grabs. To make it easier for you, I listed here the 3 best music streaming services apps that are popular now in the market which you can choose from.
1. Apple Music
Apple Music is a music, audio and video streaming service developed by Apple Inc. It has a massive music catalog, great voice control integration from virtual assistant Siri, and good cross-platform support. Apple has made the service even better by offering lossless audio and Spatial Audio with Dolby Atmos support at no additional cost.
For the most part, you can add music to playlists and download it to your phone or tablet to listen offline. You are able to use Apple Music when offline as long as you have already downloaded the music. Most airlines allow you to use your devices during the flight as long as it's in airplane mode. However, you also need a subscription for you to experience this feature. You don't actually own those tracks and if you cancel Apple Music, you cannot listen to them any longer.

Compatibility: Android, iOS, Mac, Smart TVs, Gaming Consoles, Amazon Echo, Sonos, and Google Nest
2. LiveOne
LiveOne is one of the best choices if you are fond of listening to different radio stations. LiveOne (formerly known as LiveXLive) is a music streaming platform that combines audio and video that is available in the US and Canada.

LiveOne offers three listening plans. As with any service that's free, you'll find advertisements and commercials. You might find this acceptable, though, considering all the music is free. Plus, you eliminate them by upgrading to the $2.99-per-month Plus plan or $9.99-per-month Premium plan. The premium membership also lets you cache playlists and albums for offline listening on mobile devices, and play songs and albums on demand.
Compatibility: iOS, Android, Windows, Smart TVs, and Smart Speakers
Part 4. Conclusion
How can you listen to Spotify on a Plane? There are various ways to make it possible. You learned here different things like how to download Spotify Music even without WiFi as well as how to use a special tool which is the AMusicSoft Spotify Music Converter that can download songs from Spotify even if you are a free user or don't have a premium account.
You also discovered that there are also other music applications aside from Spotify that offers Airplane mode or can be used offline like Apple Music, and Gaana. I hope that you had fun and enjoy the things that you learned here and I wish that after reading this post, you can finally prepare the songs that you wanted to play and listen to while you are traveling inside the plane so you will be comfortable and won't mind the long hours of the journey.