Nowadays, people won't stick to using CDs or buying individual tracks on any app if they can use almost the same amount to enjoy millions of songs in one go. Well, that is what the Spotify application can give to its users.
If you have been encouraged to use this streaming app, you are lucky because apart from the advantages that you can enjoy while using the app, you can also have those favorites saved! There are actually some easy ways to download Spotify for Mac or even for Windows PC, android, or even iOS devices.
It is true that many music streaming platforms are actually running the music era. You have Apple Music, Google Play Music, Amazon Music, and a lot more. But surely, everyone will agree that the Spotify app is as well a big player in the music industry with millions of subscribers all around the globe.
Using any of these popular music streaming applications would of course have the users think of an idea of keeping their favorites for easy access anytime and anywhere they want to. Since we will be focusing more on Spotify and how one can download Spotify for Mac with ease, we will be sharing the easy steps as you continue reading this post.
How can this be done? Answer this by continuously reading this article's content.
Contents Guide Part 1. Can I Download Spotify on My Mac?Part 2. How to Customize Spotify on Mac?Part 3. How Can I Get Spotify Premium Free Forever?Part 4. The Conclusion
Part 1. Can I Download Spotify on My Mac?
The Spotify application has been one of the biggest runners in the music industry because a lot of users are finding it very easy to use. Apart from this, there are a lot of things people can enjoy from using this app.
Via the Spotify application, you can also check out some new releases (you have not yet listened to). Also, if you are unsure which or what playlist and albums to listen to, the app can create music recommendations and even suggest content or tracks that are solely based on your music preference. The more you stream the songs you love, the more recommendations aligned to your likes will be recorded and used by the app.
Apart from the above, the Spotify application can also connect you with your Facebook friends and lets you see what songs they are up to (so that maybe, you guys can share those out with each other). And, talking about podcasts, the Spotify application would not let you down! You can also access great and famous podcasts via the app.
But the question is – can I download Spotify on my Mac? Of course! You can have this as long as you are a Spotify subscriber. You can get all those songs, albums, and playlist favorites! To get the Spotify application installed on your Mac or any device, you can simply visit either the Apple Store or Google Play Store.

We will show you the method on how you can download Spotify on Mac specifically.
Step #1. Using your Mac computer, you just need to firstly visit the Spotify website and log in using your Spotify credentials – your username and password.
Step #2. You will see a lot of options on the screen. You need to tick the "Download" option in the menu bar at the top area.
Step #3. A new pop-up will be displayed. You just have to click the "Allow" button to allow the app to allow the download process to happen.
Step #4. Head to your "Downloads" folder. Once you saw the Spotify installer, you need to unzip it.
Step #5. Now, double click and simply follow the whole process to complete the downloading.
Once everything has been completed, you can access Spotify from the folder called "Applications" (the same with other applications). If in case in the future – you faced an issue wherein your Spotify app won't open on your Mac computer, simply have the current one put into the trash location and download a new one from the site (following the same process presented again).
Part 2. How to Customize Spotify on Mac?
Another great thing that you can do on Spotify on your Mac computer is customization! You can do a lot of things if you want your Spotify application to reflect your personality as well. Here are some ideas for you.
You Can Change the Playlist Covers
If you think there are better playlist covers that you want to use, you can change the current ones on Spotify by using the desktop app. Do this just by simply hovering your mouse over the playlist's image and click the "pencil" icon. Now, upload the image you want and just save it!
You Can Change the Descriptions on Playlists
Of course, there is a way to change or alter the description of your Spotify playlists! Do this by hovering your mouse to the image of the playlist you want to edit (after choosing one) and by tick the "pencil" icon again, you will be allowed to change the name of the chose playlist or even alter the current description that it has.
You Can Also Add Some Folders
If you want to organize those Spotify tracks that you love and want, you can also add some folders. You can add a certain folder by heading to the left area of the screen and then right-click under the playlists. By doing so, an option to add a folder will be shown on the screen. You can also name it the way you want to. Under the playlist tab, you will also be allowed to drag and drop it to any location you want.
Visit the Spotify.me Site
If you have been using the Spotify app for quite a long time now, you are surely aware that there is this yearly Spotify review wherein you will be seeing your listening habits, songs, and playlists you have been up to until the end of the year. If you wish to know that immediately, there is no need to wait until the end of the year to see the list.
You can just visit the "Spotify.me" site and you will see your top artists already as well as those recent tracks you have listened to. You will be surprised to see the time of the day when you streamed the most and even tell you what kind of music streamer you are. Also, you can revisit those most played songs because a playlist will be made for you.
Even in the Spotify application, you can apply any personalization skills and make your app look the way you want it to be! Why not try any of the above now?
If you are curious about how to keep any Spotify favorites for free (even if you do not have a premium account), we have a way to do it! Learn more in the next part.
Part 3. How Can I Get Spotify Premium Free Forever?
It has been a dilemma for most Spotify users to get and save Spotify songs on Mac, PC, or any other devices because the Spotify songs are protected by encryption. Most are thinking that the only way to enjoy the songs offline is to get a Premium subscription. For tight-budget users, they have been surely asking and looking to get that Spotify Premium free forever, is it possible?
Well, the above is definitely possible! That is through the use of this AMusicSoft Spotify Music Converter. A lot of converters can actually be used but this one is one of the best. It can easily remove the DRM protection of Spotify songs while the conversion process is ongoing, convert the tracks to supported formats, keep the original information of songs, and even lets you get high-quality output files!
Here is what you need to do to use this AMusicSoft Spotify Music Converter and finally get Spotify Premium for free forever.
Step #1. Import All The Spotify Songs to Convert
Once you have the AMusicSoft Spotify Music Converter installed on your Mac computer, you just have to open the app and drag and drop the Spotify songs you want to convert and download for forever keeping on your Mac computer or any other devices.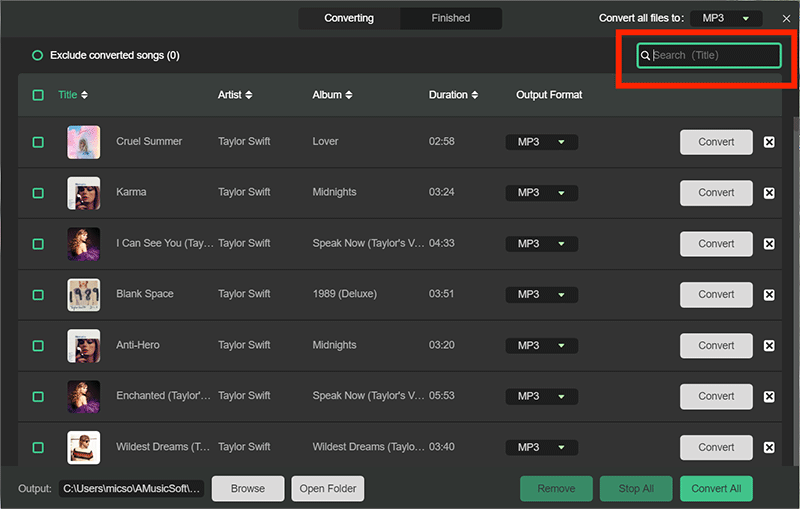 Step #2. Choose MP3 or Any Format
You need to set an output format that you want the Spotify songs to be converted to. After choosing one, you can also specify the output folder for easy access after you have the Spotify songs converted to the format desired.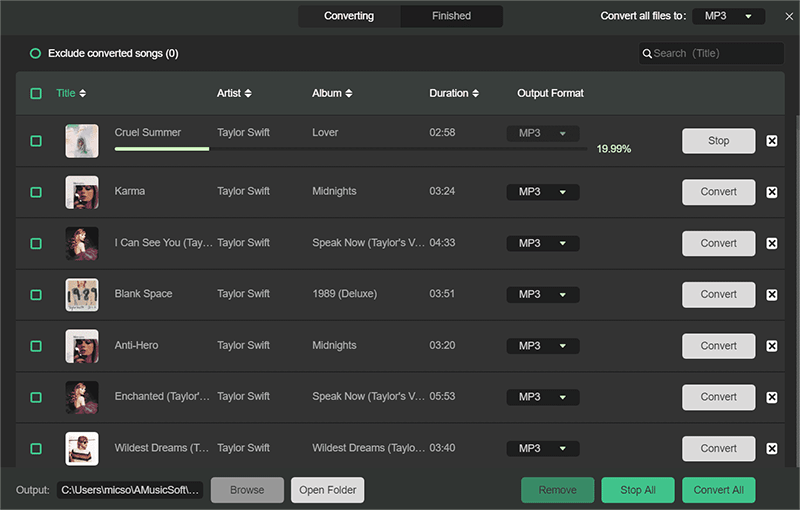 Step #3. Click The "Convert" Button
By clicking the "Convert" button at the lower part of the screen, you are allowing the tracks to be converted. You just need to wait for a few minutes until the process is completed. The DRM protection will also be removed while songs are being converted.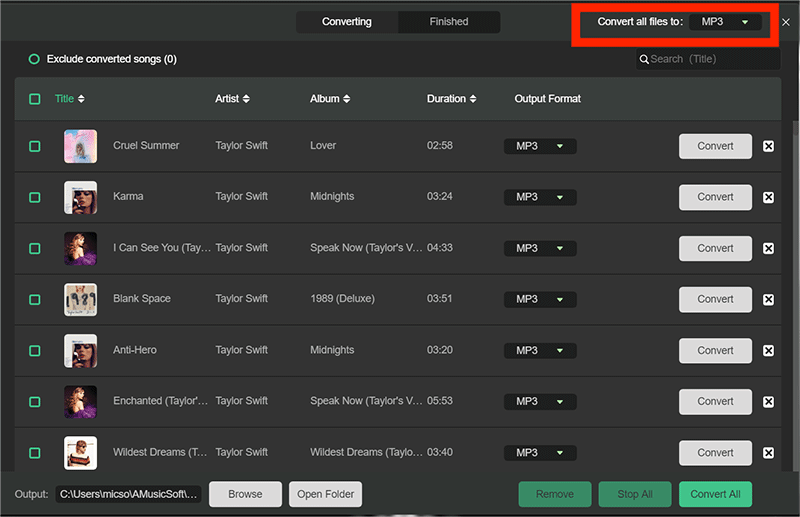 Part 4. The Conclusion
There are a lot of strategies and procedures on the web presented to users in order to download Spotify for Mac and even to several other devices like PC or mobile gadgets. However, the easiest and the most recommended among all is the use of third-party applications like this AMusicSoft Spotify Music Converter. If you wish to convert your Spotify favorites, why not try the above procedure presented and enjoy all songs forever for free?