Apple Music is Apple's streaming music service, comparable to similar streaming services like Amazon Music Unlimited, Tidal, and others, but it has a leg up over many of its competitors with radio stations, curated playlists, and excellent, music-related content. To use these music services, you have to pay for a monthly (or any term) subscription.
When piled up for years, this can be a hefty load on your bill. Can you get Apple Music free? This guide will help you how to listen to Apple Music free via some free trial plans. Our detailed steps are easy to implement. We will also share a useful tool to learn how to get Apple Music free forever. In this way, you don't have to pay $10.99 per month at least for music services. So, buckle your seatbelt, cause you're in for an informational ride.
Contents Guide Part 1. Can I Use Apple Music for Free?Part 2. How to Get Apple Music Free Trial?Part 3. How to Get Apple Music Free for a Lifetime? Part 4. Conclusion
Part 1. Can I Use Apple Music for Free?
Launched in 2015, Apple Music lets users select music to stream to their device on-demand, or they can listen to existing playlists. The service also includes the Internet radio stations Apple Music 1, Apple Music Hits, and Apple Music Country, which broadcast live to over 200 countries 24 hours a day. Apple Music boasts access to more than 100 million songs. Apple Music integrates with your existing iCloud Music Library, which means you can use the platform to manage songs you got from iTunes, and from web downloads.

But can you get Apple Music free? No. Apple Music is a paid-only service. A subscription paid for Apple Music allows you to enjoy all benefits offered. Unlimited skips for that radio stations, infinite listening to the whole catalog, and access to the ripped and purchased library are possible when paying for the package provided by Apple Music. Apple Music supports Spatial Audio and Lossless Audio, two features that are being provided to Apple Music subscribers at no additional cost. Finally, the most important part of a paid Apple Music subscription is that you'll be able to listen to music offline.
If you don't pay for the subscription, you won't get access to all features provided by Apple Music and this includes being unable to listen to tracks without the Internet. How to get Apple Music free forever? The good news is that Apple offers various trials. In the next part, we will talk about how to enjoy Apple Music for free via these trials.
Part 2. How to Get Apple Music Free Trial?
1: Apple Music Free Trial
The trial is available to first-time Apple Music subscribers and lasts for one month. How to get Apple Music free forever? Is Apple Music free forever? No. But you save at least $4.99 through this trial, depending on which Apple Music plan is best for you. To claim your free trial, you need to visit Apple's website in your browser, then click the Try 1 month free button in the top-right corner or center of the screen. Follow the instructions to sign up and start streaming. You can also open the Apple Music app on your device to get a free trial.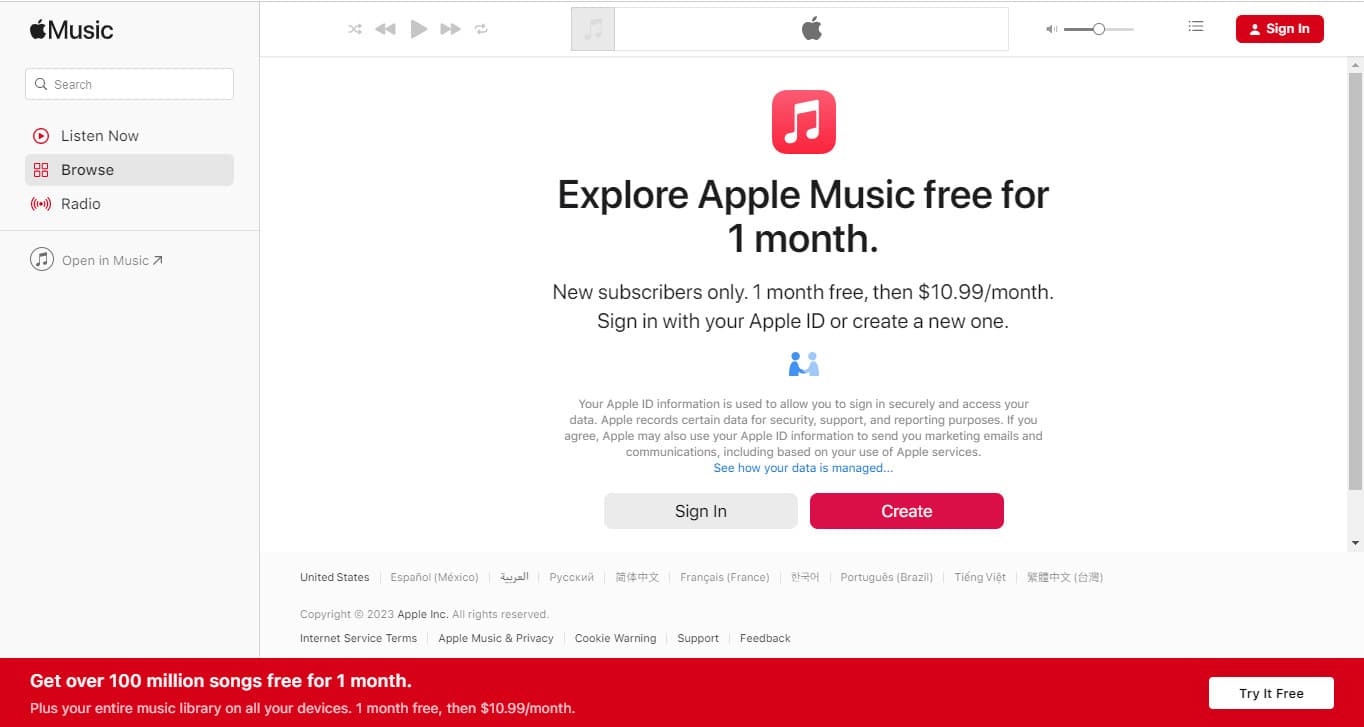 2: 3 Months of Apple Music Free with Shazam
Apple subsidiary Shazam is offering you a 3 free months trial of Apple Music despite having previously had Apple Music trials and being a lapsed subscriber. You'll have to claim your free subscription by heading over to the Shazam website. Next, you need to scan the QR code that shows up on the page using your phone. Once you have scanned the QR code, you will be redirected to the Shazam website through the web browser and asked to verify your identity with your Face ID or your Apple ID.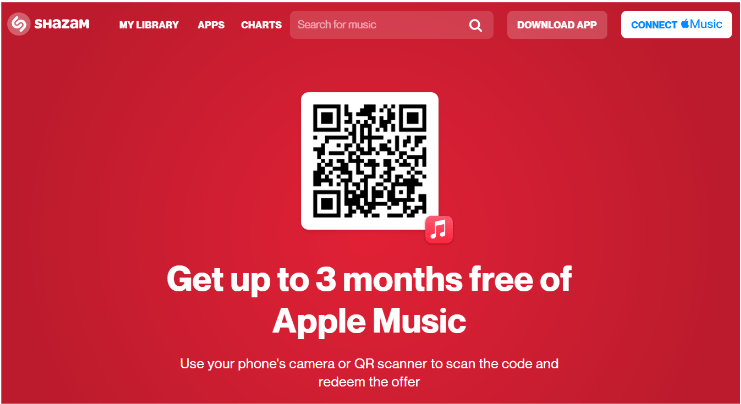 3: 6 Months of Apple Music Free with Eligible Apple Devices
Do you want a longer Apple Music trial? New Apple Music subscribers get six months free trial with an eligible audio device. However, they don't come cheap. The following devices are eligible as per Apple's promo terms:
AirPods Pro
AirPods (2nd and 3rd generation)
AirPods Max
HomePod & HomePod mini
Beats Fit Pro
Beats Studio Buds
Powerbeats
Powerbeats Pro
Beats Solo Pro
You have 90 days after first pairing your device to take advantage of your six free months of Apple Music. For current owners of eligible devices, you have 90 days after upgrading to the latest iOS or iPadOS to redeem your six months free.
4: 6 Months of Apple Music Free with Verizon
From time to time Apple or its partners also offers Apple Music trials of various lengths. Verizon is one of the options to get Apple Music for free. You should get a Verizon Unlimited plan to enjoy this offer. Apple Music is also included free with the 5G Get More plan, or get Apple Music on us for 6 months with 5G Start, 5G Play More and 5G Do More plans. That's a savings of $10.99 per month.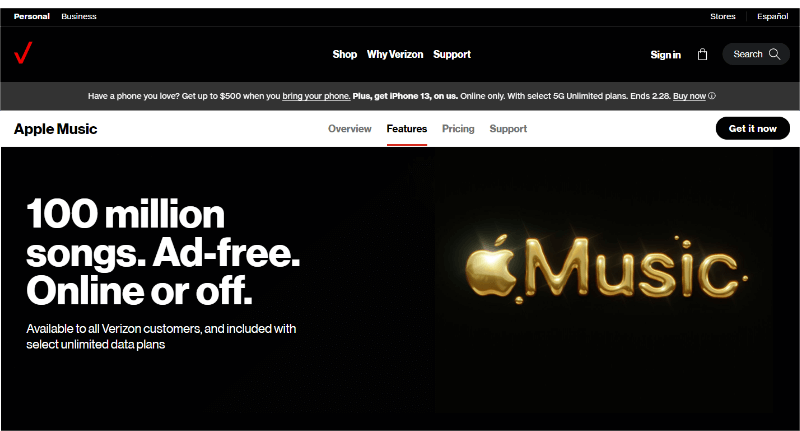 Please note that after the free trial we shared above is up, you'll have to pay a monthly fee. Otherwise, all songs that you previously downloaded from the Apple Music catalog will be removed from your devices. You can cancel your Apple Music free trial before then if you're not ready to start paying. How to get Apple Music free forever? How to keep your playlists or transfer your playlists to another device after the subscription cancellation? We cover these steps in more detail in the next part.
Part 3. How to Get Apple Music Free for a Lifetime?
To know how to get Apple Music free forever, you must know how to grab the songs, albums, and playlists that you want to listen to. For this, you can use AMusicSoft Apple Music Converter.
This is an amazing software that can help you grab Apple Music tracks from the service without limits. But, how does it do it? AMusicSoft Apple Music Converter removes DRM protection from your Apple Music tracks and converts them to a format that you like. The major formats that we can get from here include MP3, WAV, FLAC, AAC, AC3, and M4A. In this way, you get a copy of your favorite tracks, albums, and playlists without subscription.
From time to time, as you use the Apple Music service, there will always be cases when it would encounter an error or it will stop working. For example, the Apple Music app keeps crashing, Apple Music keeps deleting my downloads, the Music app stops when open Facebook, and more. Getting a soft copy enables you to transfer your tracks to any device that you like. In this way, you won't have the need to access the application ever or connect your device to the internet in order to listen to Apple Music offline.
The tool can be used in both Windows and Mac versions. It can work at a faster speed of 16x than the normal speed rates and can save ID tags from the files. Here are the steps to use AMusicSoft to get Apple music free forever:
Step 1: Download, Install, and Open The Software
First, you need to download the software from its official website on the Internet. Make sure you download the right version for your computer. It is available in Window or Mac. Then, it is necessary to install it on your Windows PC or macOS computer. After that, launch the tool on your computing device.
Step 2: Preview And Select Tracks
You will be presented with an interface that contains tracks from Apple Music and iTunes. From the tool's main interface, you can preview the various Apple Music and iTunes songs. Once you see these, choose the ones you want to remove the DRM protection for and convert them for listening offline.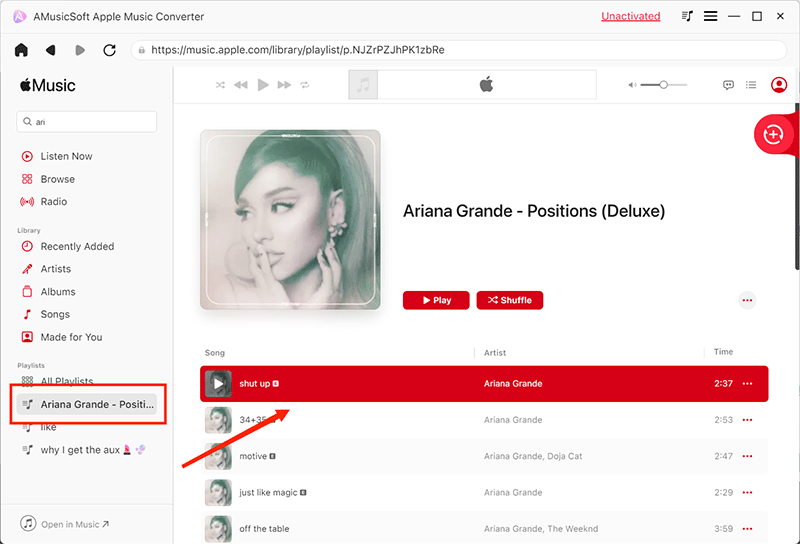 Step 3: Choose Output Settings
In the third step, you have to select the output format that you wish. If you're converting songs, it is recommended that you choose MP3. It is possible to adjust other settings too. Then, choose your desired destination folder within the computer. This is where the newly converted tracks will be placed after conversion.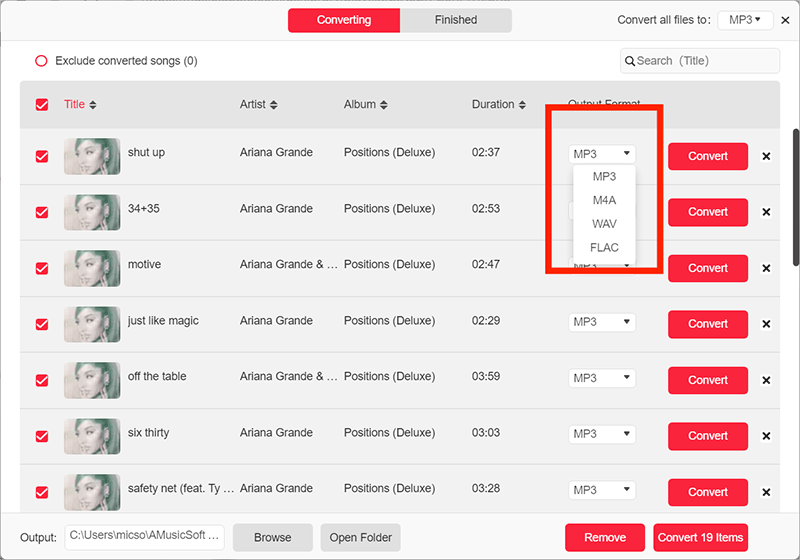 Step 4: Convert And Wait to Complete
Finally, you have to convert the selected files by clicking the "Convert" button at the lower right corner of the interface. Once the DRM removal and conversion processes are complete, you will be able to see the files in the output folder you set in the previous step. By this time, you can transfer them to any device you like for offline listening.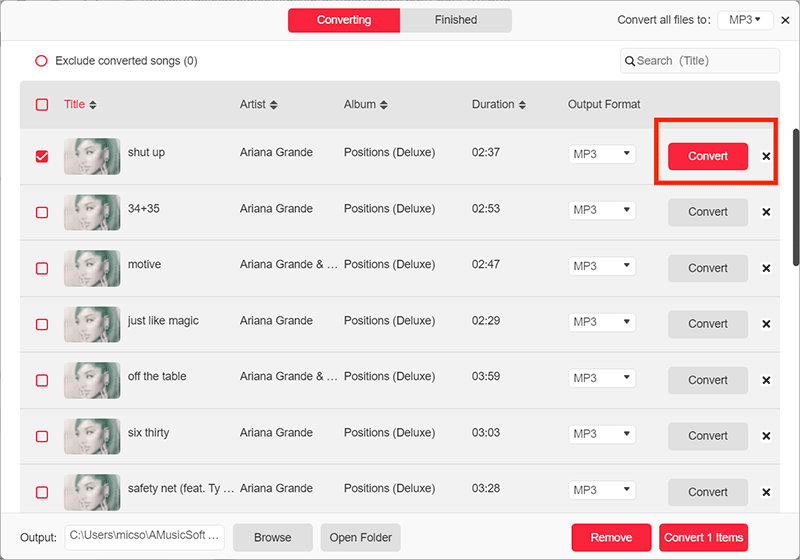 Part 4. Conclusion
Once your free trial on Apple Music expires, you have to pay for the monthly or annual subscription fee to make sure you can listen to the tracks without the need to connect to the Internet. As such, the bills can pile up. How to get Apple Music free forever? You can use AMusicSoft Apple Music Converter. AMusicSoft can help you remove DRM protection, convert tracks, and save them to other devices. Plus, it has a huge number of output formats to choose from before the conversion process. After that, you'll have full ownership of all the music files and you'll be able to listen to them any time anywhere without monthly payment.