Are you struggling when you're experiencing this iTunes get album artwork not working? Why it occurs and the way to repair this sort of issue? If you're also trying to find a solution to these questions then you're just in time, thus this text is the right for you, we'll discuss everything here, and we will offer you solutions.
We all know that music plays an important role by giving us the same moods and feelings every time we are in our happiest or saddest moment. But because iTunes get album artwork not working, you can't access your music stuff and it gives you frustration not listening to your favorite music and albums. If you are having problems locating album artwork in iTunes, having troubles accessing it through different software, then we will provide you the steps so, you could enjoy your iTunes subscription. Just check and apply the following options that you were able to troubleshoot on your own. So, without further delay, let's begin!
First, what is iTunes? It is an app that comes with your iPhone where it allows you to play, manage, organize, and import music, likewise as purchase content from the iTunes Store. It is also designed to permit you to access the iTunes Store so that you'll download music, movies, TV shows, and apps onto your iPhone. To set the music on your iPhone, you need to match with iTunes on your desktop computer. And, if you want to listen to music, use the iPod app and register for an iTunes account to use the iTunes Store App on your iPhone.
Contents Guide Part 1. How Do You Get Album Artwork If iTunes Can't Find It?Part 2. How to Fix "iTunes Get Album Artwork Not Working" on Windows 10 and iPhonePart 3. Fix iTunes Get Album Artwork Not Working on iPhonePart 4. How to Get Album Artwork from iTunes with Third-Party SoftwarePart 5. To Sum it up
Part 1. How Do You Get Album Artwork If iTunes Can't Find It?
Missing Album Artwork can be frustrating to many especially to those perfectionists who want a well-organized music library. I understand that it is indeed a horrible sight when most of the tracks are not in their respective artwork. Not only that it makes your library visually unpleasant but also it makes it looks messy and unorganized. But rest your mind because we will provide you a fix for this. There are many ways that you can do to solve this depending on which device you are using; it can be on your computer or iPhone. We notice that most of the problems arise when users upgraded their iOS. So, what are the possible ways that you can do so that you can get your artwork album back? I will further discuss the step-by-step instruction for each solution in the following section.
Part 2. How to Fix "iTunes Get Album Artwork Not Working" on Windows 10 and iPhone
So, here are the solutions that you could try if ever your iTunes Album Artwork is not showing on Windows 10 and your phone. There are 6 options that I included here that you can choose from
1. Reassemble iTunes Music Library
Though it is somehow expected for users to keep their iTunes updated, sometimes there are instances that this affects your iTunes library and causes it to corrupt. Under these circumstances, it is somehow helpful if you rebuild your iTunes music library. Here is the list of the steps that you can follow.
First, make a backup copy of your iTunes media folder. Once done, quit or exit your iTunes.
Next, go to the iTunes folder and duplicate the 2 files: iTunes Library.itl and iTunes Library.xml. (If you are a Mac user, you can find your iTunes folder on your home folder's Music. If you are using Windows, then the case will be different. You can simply search Music on your computer until you see the Music folder of your iTunes.)
Then, once you see your iTunes Library or iTunes Library.itl file, just remove or delete it.
Lastly, open iTunes, and select File, go to Library and then click Import Playlist. After that go to your iTunes Library.xml, open up (Windows) or you may Choose (Mac) depending on what you are using. Wait after some time until your iTunes music library is reassembled.
2. Clear Cache Folder
Whenever you are looking at your files in iTunes, iTunes would automatically check if there's an album artwork attached within the files or if it was downloaded separately. iTunes itself also generates a cache file of the artwork. This means that if ever we clear the artwork that is in the cache folder, iTunes would make a new cache folder again, making the iTunes get album artwork not working issue fixed.
Spot the music folder that is in your iTunes folder, exclude it by transferring it to your computer's recycle bin. Next, Unload the recycle bin, exit your iTunes, and relaunch it. Bear in mind that you need to exclude from cleaning the other folders for it contains other necessary items.
3. Adding Album Artwork Manually
If the given methods above didn't work for you, then the next option would be trying to manually add your iTunes album artwork.
First, secure the explicit information on the track, search it on Google, initialize the album artwork to your computer.
Next, return to iTunes and then choose the one without album artwork, right-click it. Click "Get Info" and then choose Artwork, then select add Artwork. Single out the album artwork you simply download, now you've got the album artwork that you added.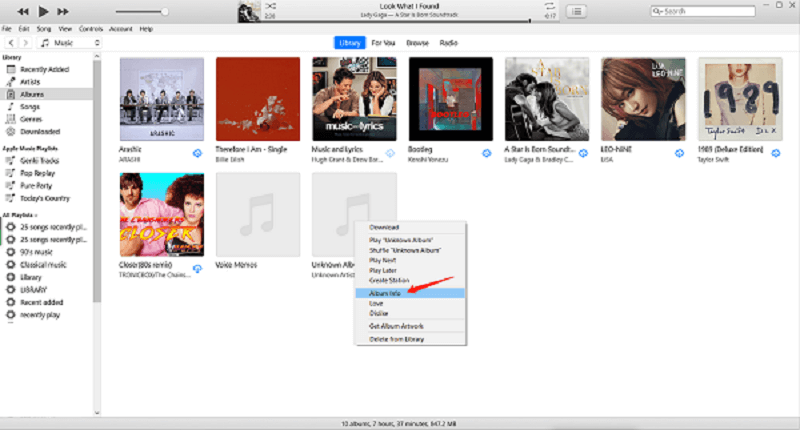 4. Update iTunes
For instance, your iTunes is not updated, then there could also be a bug that's preventing your album artwork from showing up on your iPhone. Bugs are quite common in old software and that can cause problems if not removed. Go and open iTunes. Click Help and check for the latest updates. Follow the steps on how to make your iTunes be on its latest version. Once you're done, you may confirm if the music cover is showing up by playing any song that is available on your iPhone.
5. Try Restarting iOS Device
If ever you're still not able to view the album artwork of your iTunes, one option that you may try is by restarting or rebooting your iPhone. If troubleshooting your iTunes app didn't work and the problem remains the same, then most probably, the concern is already on your phone.
So, to resolve this issue just what I mentioned try to turn your iPhone off then just simply turn it on again, just to refresh your device. Restarting your iOS device is considered to be one of the easiest options or ways that you can do to eliminate any system problems that might be preventing your iTunes Album artwork from appearing.
6. Hard Restarting the device
Another good way that you can do to resolve this issue is by hard restarting your iPhone, this means you need to forcefully restart your device. You can do this physically, manually, or with the aid of other methods asides from relaunching its software system. So, if you want to know how to hard restart your iPhone then here's how:
If you are using iPhone version 7 or above
Locate the sleep or wake key then press it.
After that, press the volume down key and hold it for a few seconds.
Wait until the Apple logo will appear on your screen.
If you are using iPhone version 8 or X
Swiftly press then release your device's volume up button.
After that, do the same thing on your device's volume down button.
Press the power button and hold it for a few seconds until the Apple logo appears.
Part 3. Fix iTunes Get Album Artwork Not Working on iPhone
The main reason your iTunes get album artwork not working when you're taking note of music is when there's a bug within the iTunes on your iPhone that stops the album art from manifestation. you would like to troubleshoot the album artwork for it to indicate up in Apple Music.
Whether on your Mac or mobile phone, paying attention to music has long been an important feature on Apple devices. With the Apple Music subscription service, it's easier to download and add more media. From the cloud going to your device, sometimes iTunes get album artwork not working. When this happens, there are some tips you'll be able to try, and you will be able to get them back.
Reset Album Artwork
The first thing you'll have to do is to reset your Album Artwork. after you reset your music cover, iTunes will restore the initial artwork that was related to the song. This could allow you to determine the music cover on your iPhone. So, how can you reset your Album Artwork? Just see the instructions below.
To reset the album artwork: Open iTunes, click on Library. Select Albums, this is often on the left-hand column. Right-click the iTunes get album artwork not working. Choose "Get Album" Artwork within the pop-up.
Check if the album cover has been restored once you play the song on your iPhone. If this did fix the matter, you'll have to copulate manually for all the opposite iTunes get album artwork not working.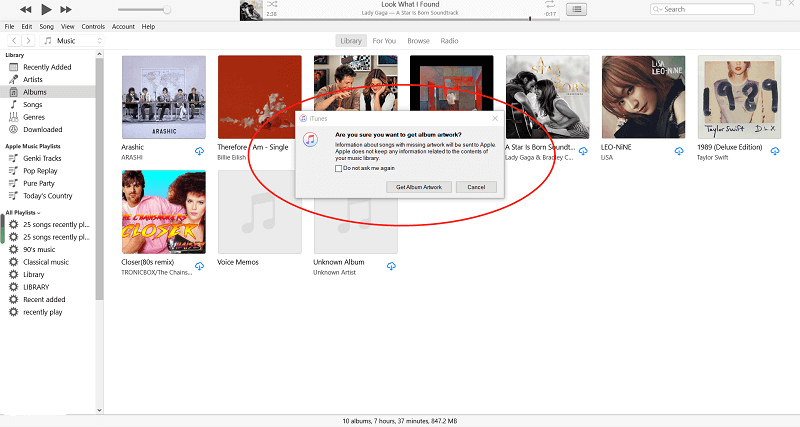 Part 4. How to Get Album from iTunes with Third-Party Software
It is better to get the whole album from iTunes in order to get rid of the "iTunes get album artwork not working" issue. The best professional converter we will recommend nowadays is the AmusicSoft Apple Music Converter. It is a high-quality music converter and also saves you a lot of time to get music from Apple Music and iTunes. You don't need to worry about the bad internet connection or file compatibility before playing the music. DRM (Digital Rights Management) also has been removed by this amazing tool.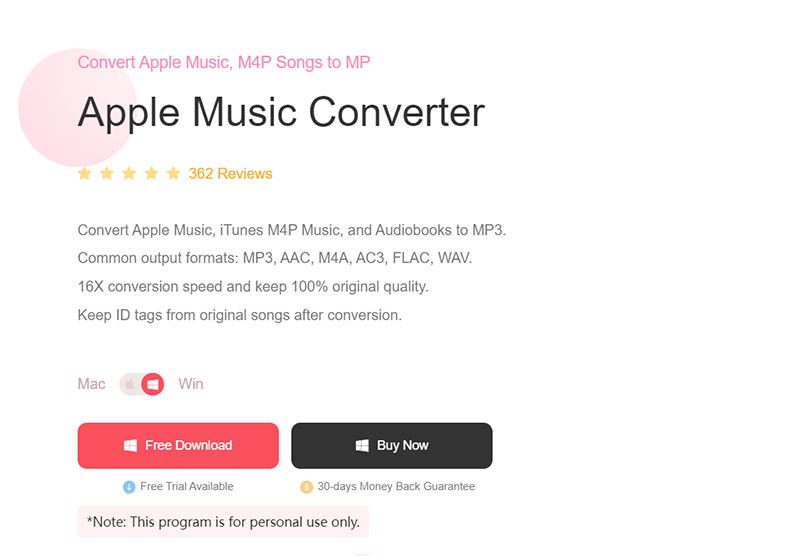 It can convert your music files in just a few minutes, you can even convert a whole set of songs through your playlists and curated albums. Imagine saving tons of your money since you do not have to worry about paying monthly dues to cover your subscriptions.
Part 5. To Sum it up
We tackled in this article the possible cause of problems of iTunes get album artwork not working, and its best solutions. With that solution mentioned above, you can troubleshoot any issue that may occur. And so, that would be all for now on how to fix, iTunes get album artwork not working, and easy way to rebuild iTunes music library. If you think this article helpful, give it a thumbs-up, and kindly share it with others.